Jamaica: Social enterprise clubs help young talent to shine
Hundreds of children are setting up their own social enterprises at clubs in schools across Jamaica. And new research reveals that these clubs are helping develop creative, well-skilled young people ready to solve the problems of the future, finds Radhika Holmström.
"The students in these schools have such a choice of clubs," says Allan Bernard. "It's striking how it's the social enterprise club that has brought them to this wish to give back to the community. It's something that jumped out at me."
Researcher Bernard and his colleagues have surveyed 420 students in 14 schools in Jamaica, along with their club leaders, trainers and teachers. The young people are taking part in the British Council's Social Enterprise in Secondary Schools Programme in partnership with Victoria Mutual Foundation which aims to teach students about social entrepreneurship while also developing core skills such as critical thinking and communication. To date, more than 300 young people have become involved in extra-curricular clubs, and they have launched enterprises including an anti-bullying t-shirt company, a business creating table mats out of recycled paper and a wellness centre.
Now those projects have progressed to the point where schools showcased the social enterprises that they have developed at Jamaica's second annual Social Enterprise Expo in November 2019.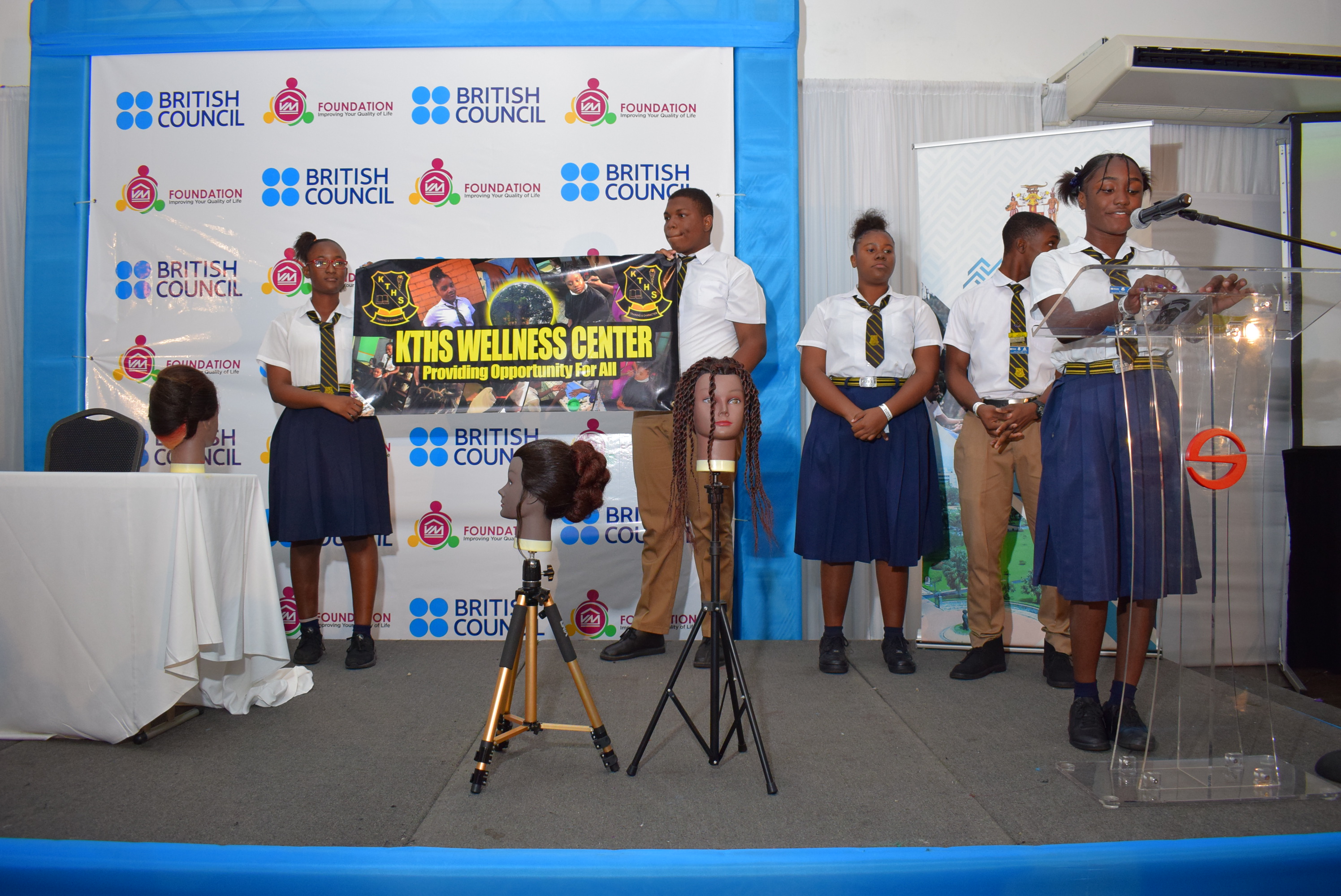 The research, produced for the exhibition launch, found that the Social Enterprise in Seconday Schools Programme is perceived as "unique and novel". It provides direct practical engagement as well as 'experiential learning' (learning through reflection on doing); and the students both enjoy and benefit from the opportunities to participate in business activities to tackle community issues. 
Students now see social enterprise as a route by which they as young people can bring about social change – and, what is more, they see themselves as agents of change too.  
Awareness, critical thinking and creative solutions
Allen highlights three key findings from the research work. First, he says there has been a noticeable impact on the students' awareness of social issues. 
Second, he praises the way that the students have "engaged with and grappled with critical thinking" – using terminology, he notes, that students at this level usually do not. 
And third, he explains that they have a "whole new insight" into tackling community issues. "The programme has opened up their creativity and their imagination, and they have shown a lot of insight in what they can do to tackle issues in their communities," he says.
He cites two examples of young people they talked to. "One youngster said before engaging with this club, she wouldn't be looking at problems – she would walk past," he says. "She said she thought seeing problems, and identifying and thinking about solutions, was what adults did, not children. Now not only does she see, but she is thinking about the response to the problem."
One student thought seeing problems, and identifying and thinking about solutions, was what adults did, not children
He adds: "And another told us, 'When I see an issue now, I think about it differently and come up with a solution.' And then he added, 'Sometimes the solution can either bring additional challenges, or over time that solution can become a problem.' What he is saying is that he's not daunted by that. He understands that is how society works and what we have to do is continue to look at and think about the issues critically."
Fellow researcher Dwaine Forbes adds another point. "We realised that the programme has also had an impact on teachers. They didn't realise before that their students could generate all these ideas and solutions." And a number of those teachers have also been at the forefront of the programme themselves, encouraging and supporting young people to extend their potential and do something new.
"They have a different walk"
Students at Guy's Hill High School, a secondary school in a small town in Jamaica, have developed an enterprise that creates light bulbs out of recycled materials – aiming to combat waste at the same time as making an income. 
So far, the enterprise is a success. One of the club members, student Nickalos Lewis, describes his motivations for being involved. "I want to see changes around me that can create a positive impact on everyone," he says.
Joan Davis, the principal, points out that the club members are proud of what they've achieved so far. "They have a different walk," she says, "they have a different pep because they think this is very special."
The students love being part of it
Teachers Stacy-Ann Robinson and Carla Graham work at Kingston Technical High School, and spoke to Pioneers Post in 2018 about their school's club as it was just starting out. The students had developed a social enterprise that offers beauty treatments, including a wellness centre for other students as well as a beauty lab offering certified training to students and other young people in the community as a way of developing skills and creating jobs.
Today, the wellness centre offers students are getting experience in everything from budgeting to braiding – alongside regular visits from mentors who are already involved in small business development. The building they hoped to construct for the purpose has had some budgeting challenges, so for the moment they are based in another "mini-lab". At the moment, 35 students are involved. 
"They love being a part of it, and they come to us constantly to ask to join," says Graham.
The focus on overall wellness means that the centre plans to provide a juice bar as well. "It will be a main part of our complementary services," Graham explains, "We want them to see that beauty isn't just on the outside, and incorporate healthy drinks in their daily living."
The teachers didn't realise before that their students could generate all these ideas and solutions
It does take considerable commitment; and both Graham and Robinson point out that they have to fit this in on top of their core work as teachers. "You have to know it goes through different stages, just as a child does," Graham says. However, they fully envisage that this project will become self-sustaining, and continue after the British Council involvement is finished.
Their head teacher, Moulton Campbell, agrees. "A programme like this should be available to all schools. If each child learns entrepreneurial skills, and that they can use the creativity they have create jobs for themselves, or services for others, I believe that's a way to build a country and change our economy."
Robinson agrees: "This project means that the students see the problem and they want to find a solution: we are their facilitators. We are just their platform for them to voice their opinion and bring their ideas to life."
Header photo: Students and teacher Conrad Brown at Guy's Hill High School's social enterprise club
Interested in social enterprise in education? Explore our growing collection about work in schools and higher and further education institutions around the world here.