How 60 young women could lead social innovation in Egypt
Zahraa crossed desert and mountains to make a difference – but she is not alone. Meet the teenagers committed to making a positive impact in Egypt, thanks to a collaboration between Ashoka, Red Ochre and the British Council. In this multi-media report, our DICE Young Storymaker Rehab Ismail captures the thoughts and hopes of the young women and the programme partners in words and on film.

Convincing her family that she could travel 273 kilometers to Egypt's capital was not an easy task for Zahraa Abdelrahman. A trip that would take this 18-year-old schoolgirl up to 10 hours from Arish City, North Sinai, across the wide desert and huge mountains.
Among the yellow dry mountains, you will find several green trees all along the road. Trees give hope that this holy land of Sinai has blessed the girl whose determination to make her mark on the world has been evident since her birth. "I was born after eight months of pregnancy," she says. "It is well known that most babies born in that month of pregnancy do not survive."
Zahraa says her early battle against the odds (the World Health Organization has found that only 50% of babies born one month premature in low and lower-middle income countries such as Egypt are likely to survive) inspired her to make a difference in her life: "As long as I fought to come to this life, I will not die before leaving a footprint."
"As long as I fought to come to this life, I will not die before leaving a footprint"
Zahraa's is just one story among 60, in which young girls aged 16 to 19, from more than 15 governorates across Egypt, were invited to participate in the Young Changemakers (YCM) Competition for teenagers who are leading impact initiatives.
The competition was launched in Egypt in July by global social entrepreneurship network Ashoka in partnership with the British Council and UK-based social change consultancy Red Ochre.
"I always had a dream of gathering young girls from different parts of Egypt to bring them early to the social innovation field, where they can support their communities with local initiatives," says Dr Iman Bibars, the regional director of Ashoka Arab World, who gave a keynote address to the young women at the launch event earlier this year.
Known as a pioneer of women-led and gender-focused development initiatives for over 30 years, Dr Bibars is also the co-founder of Egypt's very first microfinance organisation, the Association for the Development and Enhancement of Women (ADEW), and led Ashoka's Women's Initiative for Social Entrepreneurship – a movement aiming to elevate the power and place of women social innovators around the world.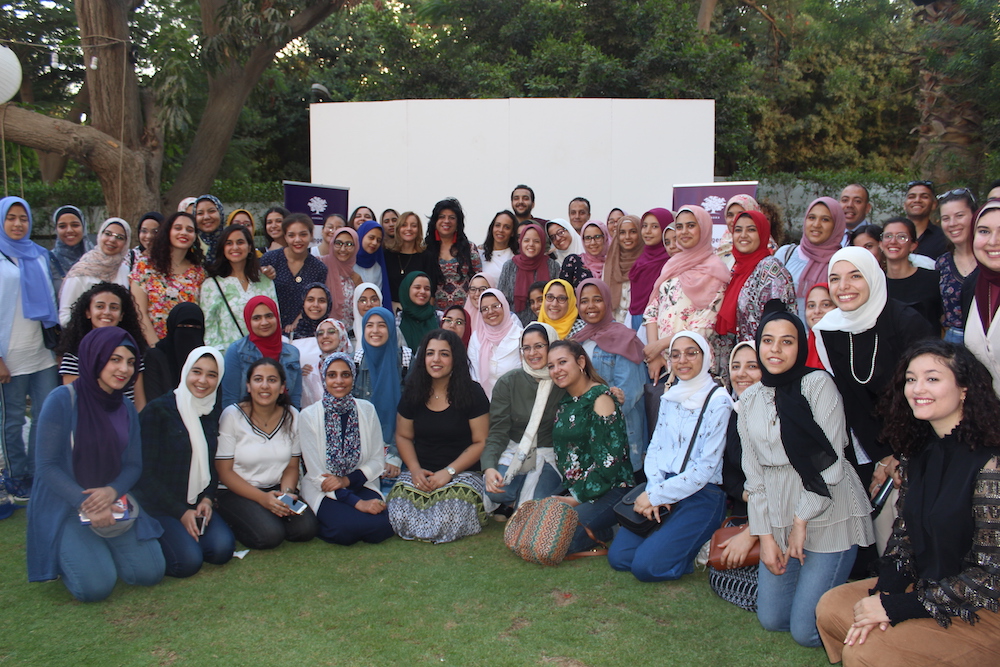 Above: Participants in the Young Changemakers programme along with Ashoka Arab World and British Council team members (credit: Rehab Ismail)
The programme has been made possible thanks to the support of the British Council's Developing Inclusive and Creative Economies (DICE) Fund, which supports the development of creative and social enterprises through partnerships between UK organisations and counterparts in five other countries: Egypt, Pakistan, Indonesia, Brazil and South Africa.
It aims to empower young girls and support them to develop their local communities. Ashoka and Red Ochre are working with participants to enhance their problem-solving and critical thinking abilities, learn more about social entrepreneurship, and acquire the necessary skills to successfully design and implement initiatives with a positive impact.
Egypt has more than 95m inhabitants, according to Egypt's Central Agency for Public Mobilization and Statistics. Figures from 2017 reveal about 9m people between the ages of 15 and 19. Females of this age group represent 4.2 % of the country's total population – a percentage which the DICE partners hope has the potential to empower their communities and make life better for themselves and for following generations. 
Egypt and entrepreneurship: some key facts
76% of Egyptians think entrepreneurship is a good career choice 
Young adults aged 25-34 are the group most likely to undertake an entrepreneurial venture 
One in every five established business owners in Egypt is a woman; however female participation in early-stage entrepreneurship is 7.5%, compared to 18.8% for men (globally, the female average is 10.4%)
Source: Global Entrepreneurship Monitor Egypt National Report, 2017/18
"The human potential when directed and focussed is capable of remarkable achievements," says Uday Thakkar, managing director of Red Ochre. "We expect that this programme will benefit current and future generations of young females and have a positive economic and social benefit to Egypt. Red Ochre is proud to be a partner in this programme."
Bridging the rural-urban divide
Although the signs for Egypt's economy look promising, there is an acknowledged gap that needs bridging between the economies of the main cities – some 19% of the total population are located in the Cairo and Giza governorates – and local communities in other parts of the country. Census figures quoted in the Egypt Statistical Yearbook 2019 show that of almost five million internal migrants, Cairo alone accounts for almost one million. Citizens migrate to the city for a number of reasons, including work opportunities and better education facilities. Marriage is also a key factor (where one partner works, the other will come to Cairo to be with them).  
"Human potential when directed and focussed is capable of remarkable achievements"
This state of affairs has created many opportunities for social entrepreneurs to work in rural areas. This is boosted by Egypt's Sustainable Development Strategy, Vision 2030, which outlines an approach to inclusive development through which cultivating prosperity, achieving economic and social justice, and reviving the role of Egypt in regional leadership can be realised.
Alex Lambert, deputy director and head of programmes at British Council Egypt, says a key focus of the DICE programme is the opportunity for collaboration between organisations that shared similar values and ambitions despite being in different countries: "This programme is a collaboration ground the British Council has made available for Egyptian and British organisations to work together."
The British Council launched the DICE programme in 2018 with a £2m fund that provides partners with grants to co-deliver projects that support creative and social enterprises to empower women, boost work opportunities for youth or include disabled or marginalised people in an inclusive economy.
Watch the film above to hear from Zahraa and Dr Iman Bibars, and explore more insights on entrepreneurship and job creation in Rehab's interactive infographic.
Rehab Ismail is a DICE Young Storymaker – one of fourteen young journalists recruited by Pioneers Post and the British Council from six countries to report on social and creative enterprise.