Sewing circle: How Women of the Global South helps refugees stitch together new lives in Brazil
Women fleeing to Brazil may arrive empty-handed, separated from family members and unable to speak the language. Our Young Storymaker Pedro Lira reports on an award-winning social enterprise helping some of these women to find their feet as micro-entrepreneurs, while serving Rio de Janeiro's flourishing catering industry.

Starting a life from scratch in a new country brings many challenges. However, an employer with an innovative, sustainable and human-centred business model can help destitute migrants get back on their feet. The living proof of this is Women of the Global South (WGS), a social enterprise founded three years ago in Rio de Janeiro that helps refugee women from Venezuela, Guinea-Bissau, Congo and Angola to become entrepreneurs.
"I didn't know the language. I only had R$60 (£10) and a teenage daughter with me," says Janete Garcia, who in 2016 left everything else behind in Venezuela to look for a better life in Brazil. She is now an independent entrepreneur and has brought her parents to live in her new house, in Itanhangá, a Rio favela. 
Most refugees arrive with nothing, and even get separated from their family on the way... Their psychological situation is very fragile
Venezuelan migrants like Garcia are part of the biggest exodus in recent Latin American history. Authorities in Brazil estimate that about 264,000 Venezuelans currently live in the country, but only 11,000 of these have been formally settled as economic refugees. Until the border was closed due to the coronavirus, an average of 500 Venezuelans crossed into Brazil every day for the past several years.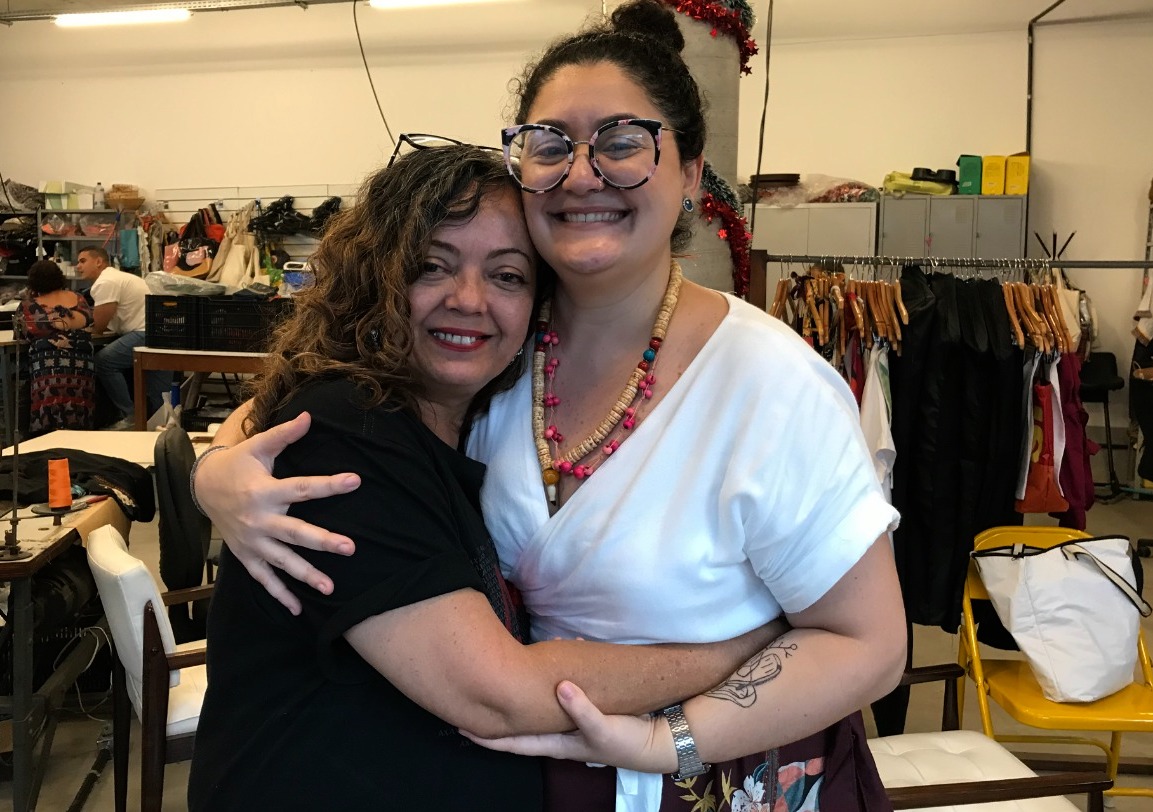 Above: Seamstress and entrepreneur Janete Garcia (L) with Emanuela Farias (R), founder of Women of the Global South
But when they get there, what are their options? 
"I raised my four children alone, so I always had to do whatever I could to earn money: cut hair, do craft work, sew," Garcia says. "But for the past few years, no matter what I did, there was never enough money." With immigration the only viable option, she picked Brazil because she was a football fan and had always dreamed of seeing Rio's carnival. "People used to tell me I was crazy [to choose Brazil] because I couldn't speak Portuguese. But everything went right, thank God."
Garcia is one of the 16 women who make a living by sewing at Women of the Global South, a social enterprise that provides refugees with capacity building, opportunities to earn an income and social support. "My goal has always been to include these women in the labour market and make them financially independent," founder Emanuela Farias explains. 
Business has been so good that Women of the Global South was able to open an office with a sewing studio and a stock room in Rio's city centre seven months ago. Airy and coloured by fabrics from Angola and finished products, ranging from bags to chef's uniforms, the space is alive with the sound of sewing machines and conversations in Portuguese and Spanish in different accents.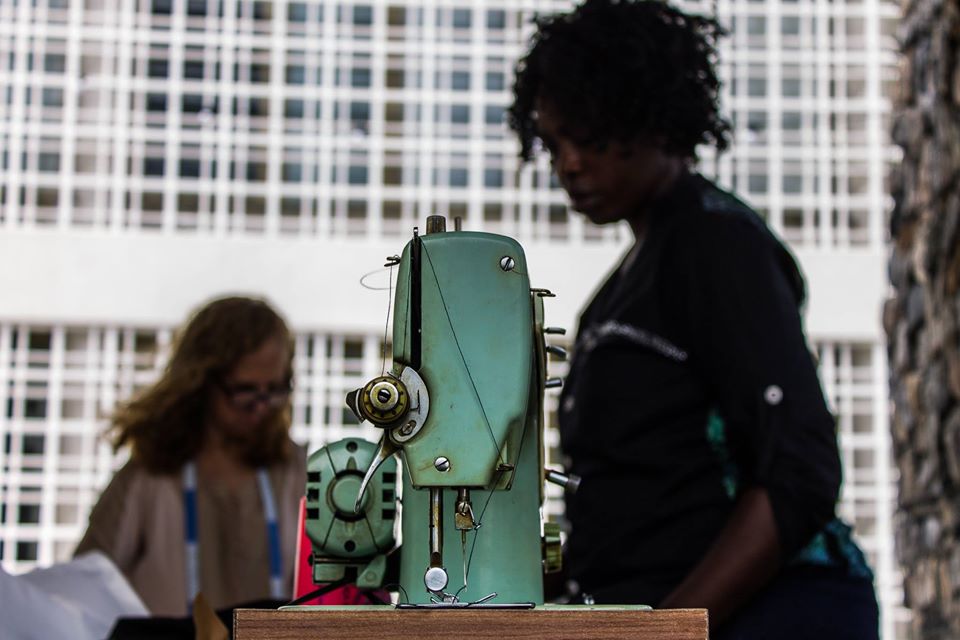 Above: The idea for Women of the Global South was sparked by the founder's trip to India, where she saw how sewing could give women a chance to make a living
Social and sustainable
How to invest in training for the women, while also generating enough income to sustain the business? That was Farias' challenge. From the beginning, she developed a business model that was tailored to the reality of these women's lives. "They live far away [from the sewing studio], have no family network, and need money today. They have nowhere to leave their children. They also need to be trained, because even the ones who know how to sew are not at market level," explains the entrepreneur. "I never wanted to make handicrafts, but market products, which people want to buy because they are well made."
I never wanted to make handicrafts, but market products, which people want to buy because they are well made
The idea of ​​Women from the Global South came after Farias took a career break and travelled in India. The trip helped her to see gender inequality and the relationship between women and sewing in a new light. "In India, there are open-air textile businesses where women sew on the side of the roads," she recalls. "Seeing it all, I felt powerless, but at the same time, curious about how the sewing machine promotes social transformation. I decided then and there to start my own project involving women and sewing back home in Brazil."
In the summer of 2016, the refugee crisis in Europe made global news headlines. One effect of this in Brazil was that the country began to report more on economic refugee immigration, especially from Venezuela. Farias, for her part, sought help  from Caritas, the international coalition of Catholic humanitarian and development agencies. She also formed her first group of seamstresses: seven Venezuelan and three Congolese women who already had sewing experience.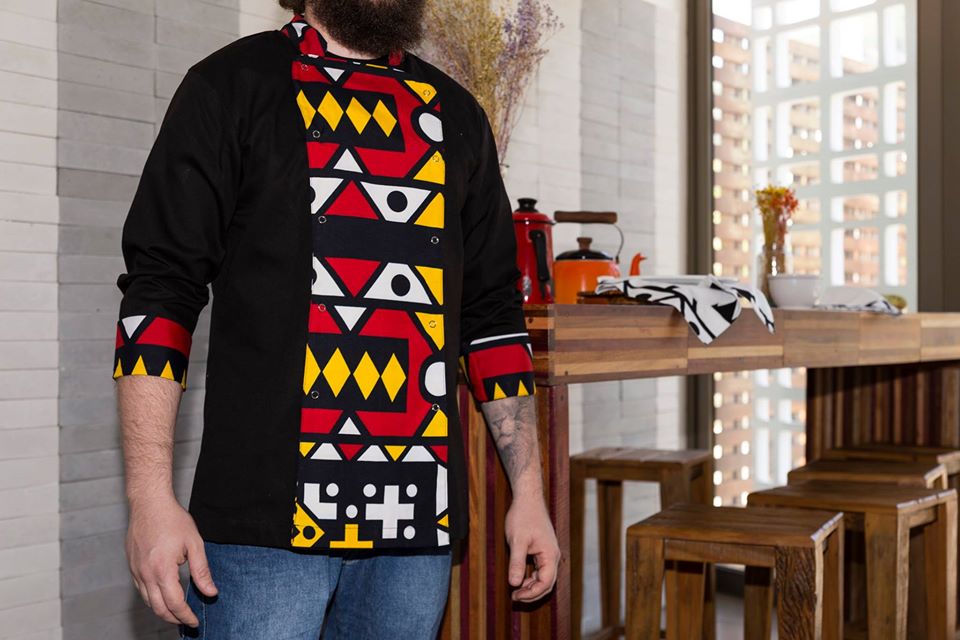 Above: By the end of its first year of operation, WGS was producing 32 types of chefs' clothing plus placemats, napkins, and more
Farias helped the group to set themselves up as independent micro-entrepreneurs (known in Brazil as MEI). This status enabled her to access support from governmental programmes, to offer them business capacity building and financial education workshops. The entrepreneur invested R$100,000 (approximately £16,600) from her own pocket to set up her social business and pay for transportation, classes and sewing machines for each seamstress to use at home. 
They worked separately but trained alongside a more experienced seamstress, who offered her studio for the classes. "It was fast and intense! It had to work. I didn't have the option of not working," says Farias.
But there was another question to which she still had no answer: what to produce? "I didn't know how to make clothes and I didn't want to promote a desire for consumption. The creation process was confusing. What product would I put out in the world to support the growing circular economy?"
What product would I put out in the world to support the growing circular economy?
It was at a gastronomic street fair, an event that brings together refugees from different nations living in Rio de Janeiro to sell typical dishes from their country, that the idea came up. Rio de Janeiro is the second-largest gastronomic market in Brazil. WGS would produce kitchen items, from chef's uniforms to aprons, gloves and placemats, Farias decided, made from donations of used materials. At the end of 2017, its first year of operation, WGS was producing 32 types of chefs' clothing plus placemats, napkins, and so on. For that production, WGS won the top prize in an awards programme run by Shell for young social initiatives. In the end, the collection was sold and the profits were equally divided between everyone.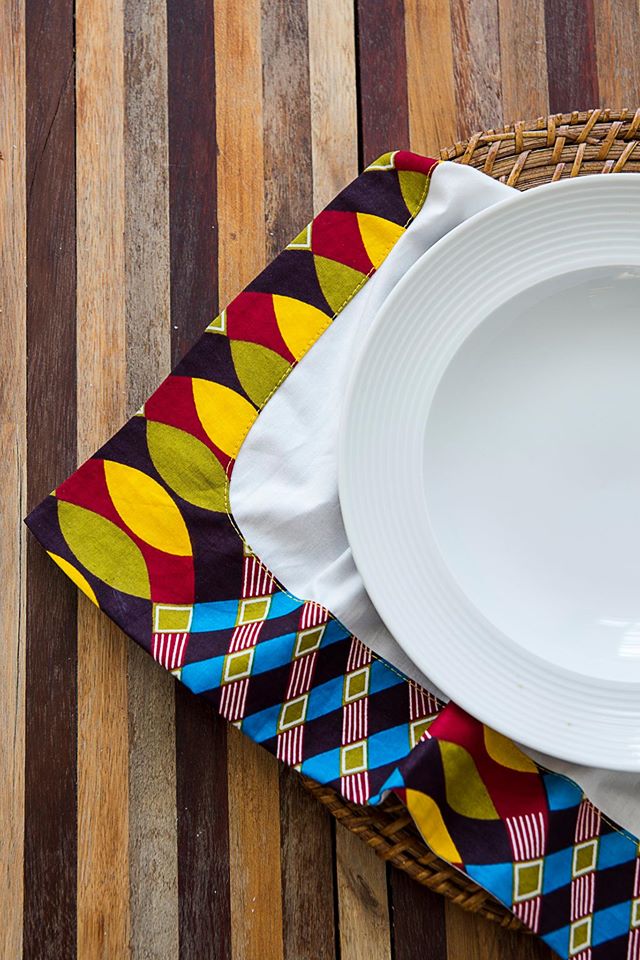 Today, Women of the Global South has a team of 35, of which 16 are refugee women, who are mainly responsible for production. Their products are sold to retail customers and small businesses via their showroom. They also produce wholesale orders with a range of more than 100 pieces for clients such as cookery schools and restaurants. 
In WGS' four-year history, the enterprise has experienced financial ups and downs. But they've won prizes: R$8,000 (£1,230) from the Shell Young Initiative programme in 2016 and another USD $10,000 (£8,020) in 2018 for the Shell Young Initiative Sustainable Development Seal. In that same year, they sold a total of R$110,000 (£17,000) worth of goods. "But more than cash income, I think a lot about the impact on the lives of these women and the circular production of pieces," says Farias.
Changing lives
"Today, I sew beautiful things, sell my products and participate in events and fairs. I have my own sewing machine and I am independent," says Yennifer Zarate. Zarate was a mineral engineer back in Venezuela and had to leave her country after losing her husband and baby son in a car accident. They were taken to a hospital that had no oxygen pump nor staff to save their lives. 
"In a crisis like that, you can have money, but you don't eat money – it cannot save your life," she tells Pioneers Post. "I had the money, but it didn't solve anything."
Brazilians were always cheerful and receptive. When I left Venezuela, I knew I should come here
Zarate had worked for multinationals for many years, where she frequently dealt with people from other countries and fell in love with Brazilian culture and people. "They were always cheerful and receptive. When I left Venezuela, I knew I should come here," she said. However, she didn't only encounter good people on her journey, which included working for a month without pay, and spending two days on the streets. It was only when Caritas found her a space at a shelter that her luck picked up.
With only her degree papers in her backpack, Zarate had dreamt of working in engineering in Brazil, but she did not have enough money to pay for her documents to be translated or her diploma to be validated.
According to Marlene Barros, the social worker responsible for the social support that Women of the Global South provides, this kind of story is more than common. "Most refugees arrive in the country with nothing, and even get separated from their family members on the way," she says. "Their psychological situation is very fragile, so we focus on tailoring the work to the needs of the individual, understanding that each case is different."
Barros' role includes helping contact family members, finding new homes and even providing cash for emergencies. "We do everything we can to help as much as possible," she concludes. 
Pedro Lira is a DICE Young Storymaker – one of 14 young journalists recruited by Pioneers Post and the British Council from six countries to report on social and creative enterprise.
Image credits: Women of the Global South