'It's really difficult to fight against perceptions' - Valérie Faillat, Sanofi Espoir Foundation
Lazy categorisations of big business as the bad guys and philanthropists as the good guys no longer hold fast – especially with a growing wave of corporate social investors forging a path that draws on the best of both worlds. But how do such organisations make the most of their parent firm's firepower? And what are the potential risks or tensions? We explore these questions with some of Europe's leading names in corporate philanthropy.
Pharmaceutical firm Sanofi is one of the world's biggest vaccine manufacturers, investing €6bn in research and development last year alone.
Lesser-known – and tiny in comparison, with an annual budget of €7m – is Sanofi Espoir Foundation, founded in 2010 to formalise 20 years of the French multinational's philanthropic efforts.
Headquartered in Paris, the foundation has just six staff, but taps into its parent company's 100,000-strong workforce around the world.
While Sanofi aims to 'empower life' through research, development and production of drugs, Sanofi Espoir is looking to improve access to healthcare by bringing a much broader lens – one that considers the many other factors that determine good health, as foundation head Valérie Faillat explains.
So, while Sanofi is now working – with its competitor GSK – on the development of a Covid-19 vaccine, the foundation has pledged its own actions on the pandemic, using €1m to fund things like awareness-raising, training, protective and respiratory equipment and preventative actions such as access to water.
Pioneers Post speaks to Faillat, who worked for nearly 30 years in Sanofi's regulatory affairs division, before moving to head up the Sanofi Espoir Foundation in 2017.
Pioneers Post: Healthcare is a very broad area. Why does the foundation focus on these areas – childhood cancer, maternal and newborn health, access to care in crises – in particular?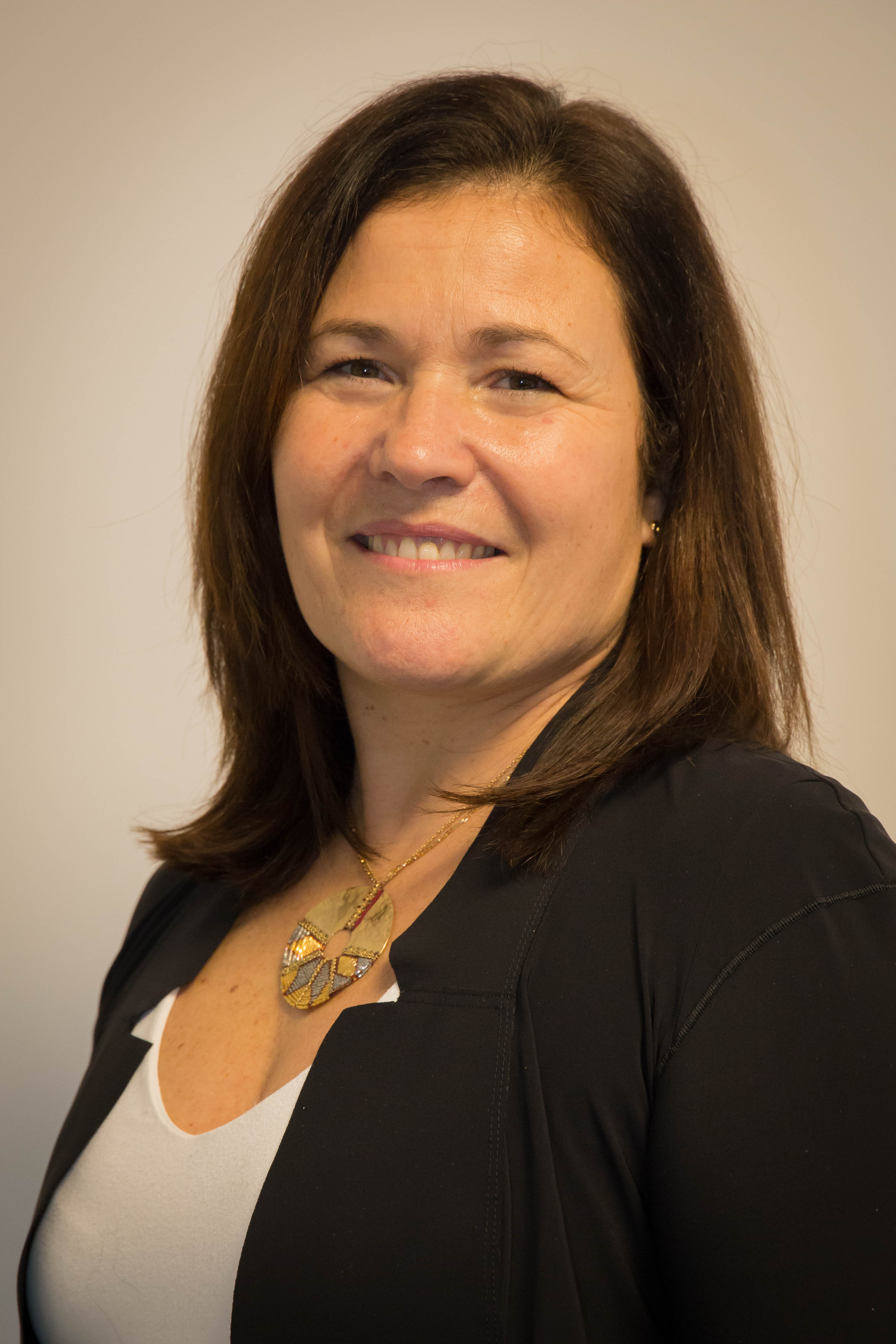 Valerie Faillat: Our vision is a world where everyone has a chance to be born healthy, to grow and to remain healthy.
Health inequalities start before birth, linked to the health of the mother. And maternal and newborn health remains one of the main markers of global health inequality. Today around 300,000 women worldwide die during or following pregnancy and childbirth. More than 2.5 million children die each year before the first month of life and another 2.5 million are stillborn. Most of these deaths occur in low and middle-income countries.
Cancer is a major cause of death of children and there is huge inequality: only 20% of children with cancer in low- and middle-income countries recover compared with 80% in a high-income country. But if diagnosed early, there is more chance of them growing up healthy and active.
Some health inequalities are caused by the context: during a humanitarian crisis access to health is very complex and women have a 14 times higher risk of dying than men.
In France we have a good health system, but poverty is not declining. Health is closely linked to education, housing, employment and so on, and when you are in a really vulnerable situation it requires a wider approach towards healthcare.
So, all these axes are really linked to our vision of a fair chance for everyone.
PP: What makes Sanofi Espoir Foundation well-positioned to work on these goals? And what impact does the connection with Sanofi have?
VF: Sanofi Espoir Foundation is the corporate foundation of a global leader in health working in medicines and vaccines, so our missions are really aligned.
It's clear that we bring the power of the company, with all the employees, all the knowledge and expertise within the company. Sanofi is everywhere in the world, with more than 100,000 employees. It can support our work in many countries: bringing expertise on project management, knowledge of the context, human resources expertise, audit expertise, communications... It really depends on the project.
Often our partners also benefit from our network, meaning that they receive funding from Sanofi Espoir Foundation, but also get access to Sanofi Espoir partners in various countries.
It's really seeing access to health in a broader manner. It's completely different from what the company is doing, although complementary
Sanofi Espoir Foundation fast facts
Founded: 2010
Mission: To reduce health inequalities, with three areas of focus – fighting childhood cancers in low-income countries; improving maternal and newborn health; improving access to care for those most in need in France or abroad in situations such as humanitarian crises
Activity: Gives around €7m yearly; money is channelled through local partners in philanthropic grants (it does not issue repayable finance)
Impact: As of 2019, 950,000 people reached with prevention, awareness and access to healthcare; 5,775 health professionals trained
Legal status: corporate foundation (a specific legal form in France, a fondation d'entreprise)
Funding source: Commitments from Sanofi every three years, as well as a small amount from Sanofi employees and from public institutions. As a fondation d'entreprise it is not allowed to fundraise from the public
Governance: Several Sanofi figures, including the CEO and chair of the board, sit on Sanofi Espoir's board, which sets the foundation's strategy and approves projects of €200,000 and above
PP: Can you share an example of how the company and foundation work alongside each other?
VF: A good example is echOpen, a French association that's developing and promoting  echostethoscopy (ultrasound technology). We're providing a three-year grant to the project, but because the company Sanofi is part of EIT Health, a knowledge and innovation community of the European Institute of Innovation and Technology, Sanofi Espoir Foundation can be a linked third party and thus echOpen, as our partner, has been able to get access to European funds too.
EchOpen develops an affordable ultrasound device that plugs into an ordinary smartphone, providing medical professionals with universal access to diagnostic imaging. The tool could be used for humanitarian purposes, like maternal and newborn health in low-resources settings or very remote areas but also day-to-day in high-income countries. They have some planning to do around their business model in low- and middle-income countries, so we mobilised people within Sanofi to help them with this.
Part of our role is to de-risk a project developed by a non-profit organisation. The foundation helps them put in place a proof of concept. When it works, the main question is: how can we exit from this project? Today the project is managed by echOpen, an association, but tomorrow with the scale-up, the organisation could move to a foundation, or a company, or a social business. If there's some form of profit, we'd expect that it is partly reinvested for humanitarian purposes. That's why we like to be part of the brainstorming on the business model, along with our Sanofi colleagues.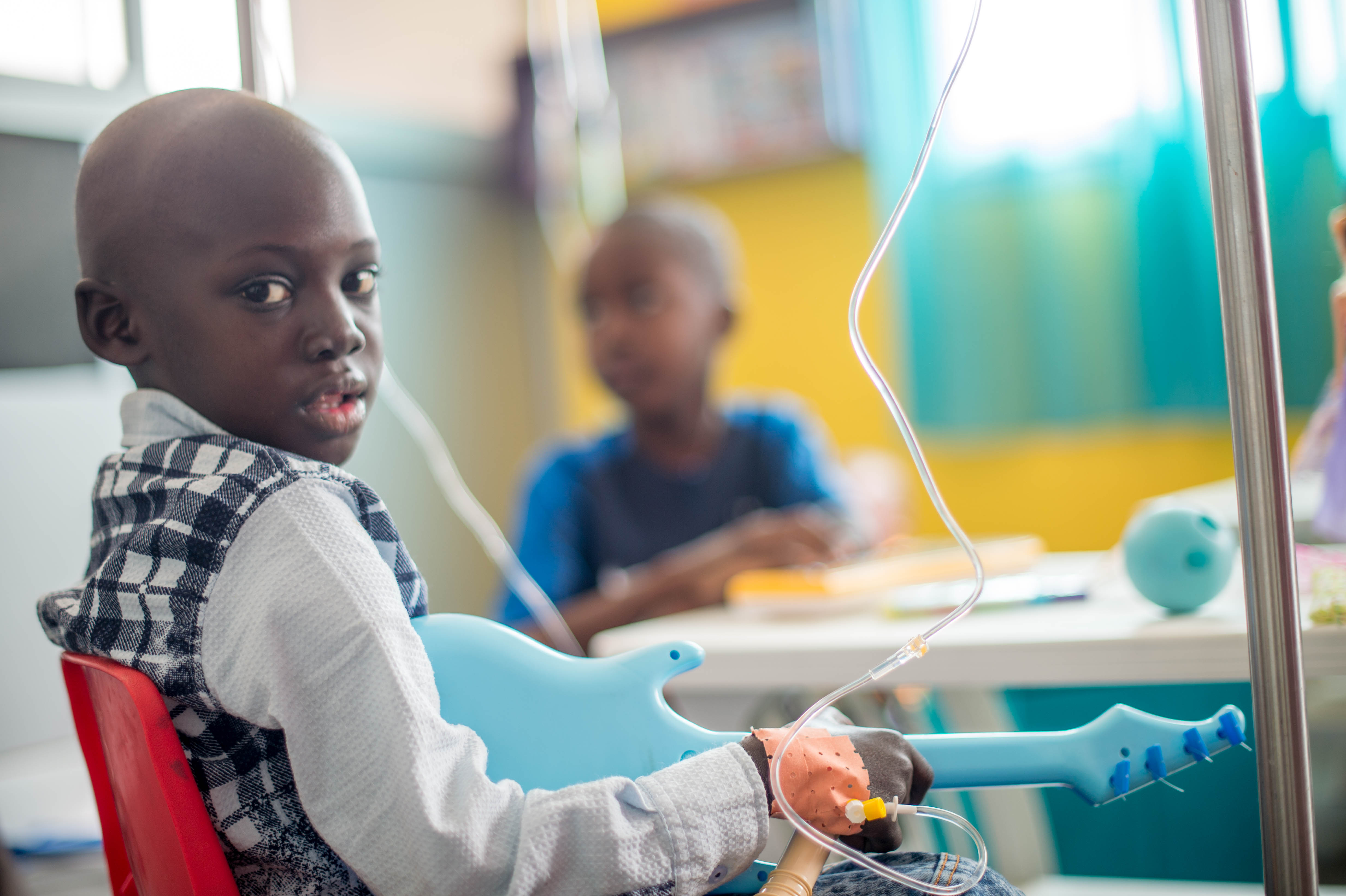 Above: a child being treated for cancer in Dakar, Senegal (credit: Stéphane Bot/Sanofi Espoir Foundation)
PP: Do you have a fixed agreement in terms of how much pro bono support Sanofi the company can give you, or is it less formal than that?
VF: I would say we have every type of arrangement. We try to really use the competency within the company but it's not always a formal, skill-based project. When echOpen had questions about purchasing raw materials in Asia, people from Sanofi's Asian division came for just two hours and talked to them about the local market. Other times it's more formalised – we had one Sanofi employee who joined the partner organisation for 18 months, part-time, to help them think about their business model.

PP: Is it possible that too close an alignment between company and foundation would be unhelpful or damaging? How do you avoid that?
More and more we see some openness for public-private partnerships, it's more recognised, and more accepted.
But sometimes [our connection with Sanofi] closes the door to the public sector, because they are afraid of a potential conflict of interest. So, we are really careful about that. For example, say we have a request of support from UNICEF or one of the NGOs during a humanitarian crisis. When they request funds, we completely exclude the purchasing of drugs and vaccines, otherwise the foundation is donating money to buy what may be the drugs of the company. Of course, there are other companies selling medicines, but to avoid any risk, we exclude that in any project we support.
If the main need is for drugs, and no other funder will fund this, we would ask Sanofi to donate drugs directly. The company already does this – last year it donated 3.5 tonnes of medicines to an association that makes available emergency kits containing essential medicines adapted to emergency situations. In this case it still goes through the foundation – we're a sort of facilitator. 
The second thing is footprint: we are very clear about what the foundation is doing, and what the company is doing. The Sanofi Espoir Foundation is neither working on R&D nor on production of medicines or vaccines of Sanofi's portfolio. That is really important, but better health is also linked to things like access to well-trained healthcare professionals. So, the foundation raises awareness and provides information and training. We'll need more than nine million additional midwives and nurses to reach universal healthcare coverage by 2030 – we are focusing on training for nurses specialising in paediatric oncology, and have awarded grants for specific projects in this field.
It's really seeing access to health in a broader manner, perhaps a little bit outside of the purely technical or medical point of view. It's completely different from what the company is doing, although complementary. This means we create our own expertise, our own footprint. If that's accepted, then the door [to potential partnerships] is open, because it's really the action of the foundation.
PP: Large multinationals – especially pharmaceutical companies – sometimes have a poor reputation, and a cynic might see their philanthropic efforts as just a PR exercise. How do you counter that perception?
VF: It's probably one of the main challenges. It's really difficult to fight against perception. I'm not sure that words are enough to transform the perception of a company or a sector – what people need is the proof that what we are doing is ethical. The integrity of the company and of the foundation are really important.
The second thing is to measure and evaluate what we are doing. In the past, philanthropy was more or less a one-shot communication. We can see that as well during the current crisis. There is a sort of competition around one-shot announcements about who is putting a lot of money on the table to fight Covid. We need money to do things, but it's not enough and sometimes you can do impactful things with less money. The question is really to see what the impact is.
There is a sort of competition around one-shot announcements about who is putting a lot of money on the table to fight Covid. Sometimes you can do impactful things with less money
In Mayotte [an overseas department of France in the Indian Ocean] the budget that small organisations asked us for was really low, about €10,000. Many people in that area get water from payable water fountains, but since informal businesses have been shut down they've had no money to pay for it. So we funded associations to distribute prepaid cards to the poorest people to provide access to water for hand-washing. It doesn't solve the issue of poverty, but it's putting in place one of the measures needed to prevent Covid transmission.
PP: Which 'demon' of social change funding would you love to get rid of?
VF: Time pressure! It's hard to find time to dig into so many projects around the world. And the language: there are a lot of people speaking about 'co-creating', 'collaborating', when it's really just co-funding.
PP: And who's your social change 'angel'?
VF: Many people and many organisations have been a source of inspiration. But if I had to mention one, it would be Drugs for Neglected Diseases Initiative (DNDi), a not-for-profit research and development (R&D) organisation that develops new, improved, and affordable medicines for deadly neglected diseases that afflict millions of the world's poorest people. They developed an innovative model and succeeded in bringing many drugs to the market for those most in need.
There are a lot of angels. It's incredible how people are engaged – in current society we say people are thinking about themselves first, but through this job I see a lot of engagement and solidarity everywhere.
To connect with more leading venture philanthropists and corporate social investors from around Europe, don't miss the chance to attend the EVPA annual conference, this year focusing on 'Building Alliances for Impact', on 21-24 September. More info and tickets available here.
Portrait image credit: Regina Vollaire