When Covid is a catalyst for innovation
How can a social innovator turn crisis into opportunity?
Eight impact businesses from the SIT Alumni Network – a cohort of more than 100 ventures supported by the EIB Institute – shared their experiences of adapting, pivoting and even expanding since the Covid-19 outbreak at today's EVPA conference. 
Their agility showed how the pandemic could be a "catalyst for innovation", said Filipe Santos, dean at the Católica-Lisbon School of Business & Economics, which previously supported the eight ventures through its scaling programme. Unlike more commercially-minded entrepreneurs, this group was taking "very much an ecosystem view" of the problem, he added – finding ways to achieve impact that did not only involve growing their own company.
Below are just three of the stories we heard.

Knok – exponential growth through B2B services
Knok, a Portugal-based healthcare video platform, had "grown and adapted a lot" this year, said founder Jose Bastos (pictured). That included using the pandemic as the impetus to start selling its software-as-a-service to other companies and healthcare providers. It's now present in six countries, with a deal "almost near handshake" in India.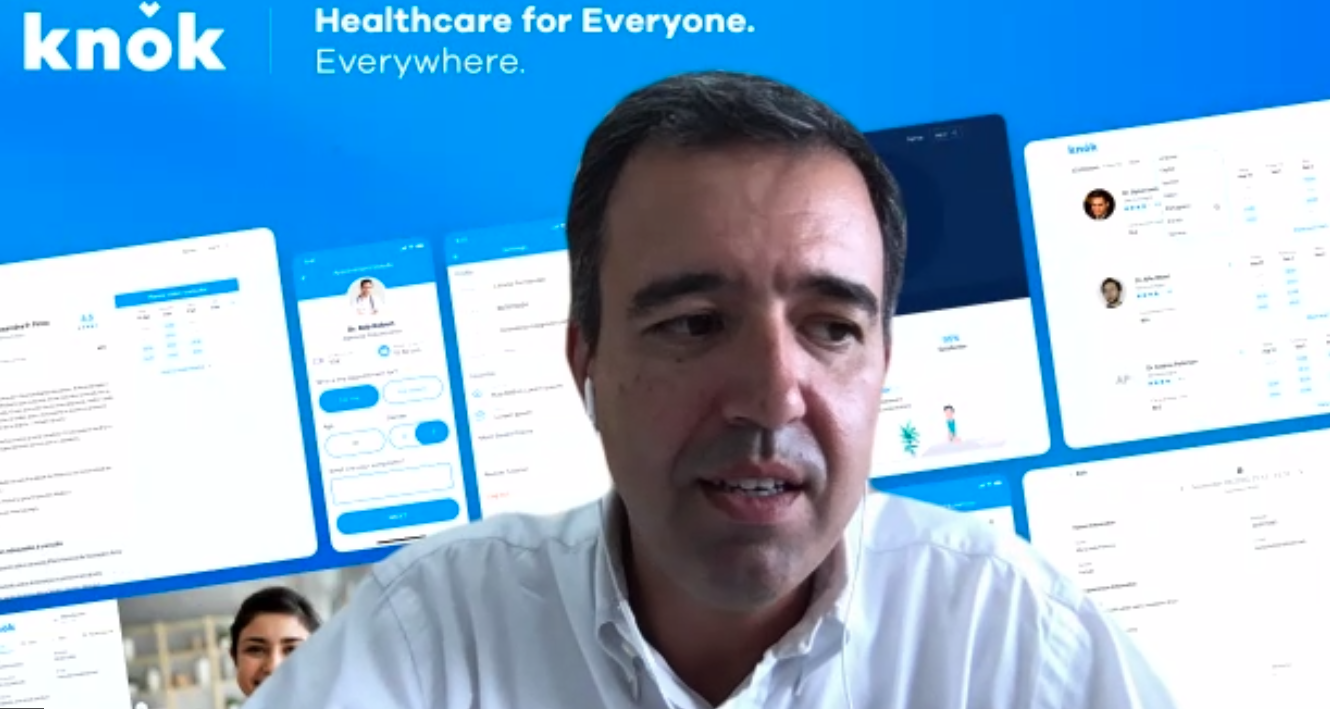 Prior to Covid, a B2B service had been a "dream" but something the team had not yet acted on, said Bastos. Then a company called up wanting to use just Knok's platform, but not its doctors or service. Within 40 minutes, the team was able to call them back, confirming that they could deliver this – and in under a week the client had the service up and running. "Learning from this experience, we said, why not go to other providers in other geographies. Today, software-as-a-service is about 20% of our total revenues, which for a business [stream] that's six or seven months old is really promising."
Learning from this experience, we said, why not go to other providers? Today, software-as-a-service is about 20% of our revenue
Bastos said the new approach meant the firm's ability to deliver impact was growing "exponentially", something he wouldn't have dared imagine when starting out a few years ago. Knok's investors – Mustard Seed Maze and Portugal's Social Innovation Fund, credited as key to the company's growth to date – are now helping the business to tighten up its internal processes and introducing it to potential partners. 
Adopta un Abuelo – a lean ethos ready to go
Spain's Adopta un Abuelo ('Adopt a Grandparent') connects elderly people facing loneliness with young people "to make them feel listened to and loved". Until Covid, it ran in-person events and visits to nursing homes. The revenue model is unusual: it's the volunteers who pay a small subscription fee to join in.
Covid-19 threatened to put an end to that. "Our model was completely damaged – we finished our activity on 7 March," said founder Alberto Cabanes. Just 19 days later, though, the company had designed and launched a new means of remotely connecting elderly people who were isolated at home with volunteers. The Cloud-based phone system required coding – and a new staff hire – but it subsequently generated four times more income than in 2019, and allowed them to support about 2,000 elderly people. Adopta un Abuelo has also signed an agreement with Amazon, with plans to test the use of Alexa, Amazon's voice-controlled virtual assistant, to reach more people. 
We have the lean startup process in our DNA
And a new business stream came about when corporates approached the startup, having seen how quickly it had adapted to lockdown: unlike many NGOs relying on manual processes, said Cabanes, "we have the lean startup process in our DNA". The existing revenue model transferred well to a corporate volunteering arrangement, under which companies pay for employees to volunteer. That's both more profitable than the consumer-facing side and easier to implement, said Cabanes. 

Speak – revisiting the value propostion
Portugal-based Speak helps refugees and migrants to connect with locals through language and cultural exchanges. They sign up online but meet offline, and Rita Brito e Faro, financial controller and people operations manager at the startup, says the real goal is less about formal language skills, and more about people meeting as equals and forming strong relationships. Speak also trains individuals who want to set up the programme in their city, under a social franchising model – and it's now in 26 cities in 12 countries.
At the time this was the best we could do to help our community... What people needed was to keep connected
Covid-19 was a blow to the company's activities, while worsening the social isolation of many vulnerable newcomers. "So within a week we changed our methodology and our technology to offer intensive online language groups," said Brito e Faro. That allowed them not only to continue working in existing locations, but also to partner with organisations in new places, leading to participants joining from Syria, Iraq and Mexico for example. So far this year the enterprise has had 11,000 applications to join its online language groups – well over double the number for its offline activities last year, and 98% of participants said they felt more connected during the lockdown thanks to Speak.
The company is now moving to a hybrid model – starting offline activities where it's safe to do so, but otherwise maintaining the online offer. That path wasn't obvious initially. "We had to decide if [going online] made sense for us, because it's not our value proposition at all. Speak connects people who live in the same city, that's what allows newcomers to have access to the same opportunities as locals. Online connections will not allow that," said Brito e Faro. "But at the time this was the best we could do to help our community. We saw that relationships during these exceptional times were even more meaningful than before... What people needed was to keep connected."
Thanks for reading our stories. As an entrepreneur or investor yourself, you'll know that producing quality work doesn't come free. We rely on our subscribers to sustain our journalism – so if you think it's worth having an independent, specialist media platform that covers social enterprise stories, please consider subscribing. You'll also be buying social: Pioneers Post is a social enterprise itself, reinvesting all our profits into helping you do good business, better.