SEWF 2020: Why music legend Nile Rodgers backs young changemakers
Throwing money at a problem doesn't work. Instead you need to invest in young people who are solving their own communities' challenges.
That was the message from Nile Rodgers – the legendary disco-funk guitarist and co-founder of Chic – described his philanthropic journey at the closing session of the Social Enterprise World Forum 2020. He was interviewed by Chmba, one of the foundation's team members and founder of Malawian women's empowerment organisation Tiwale.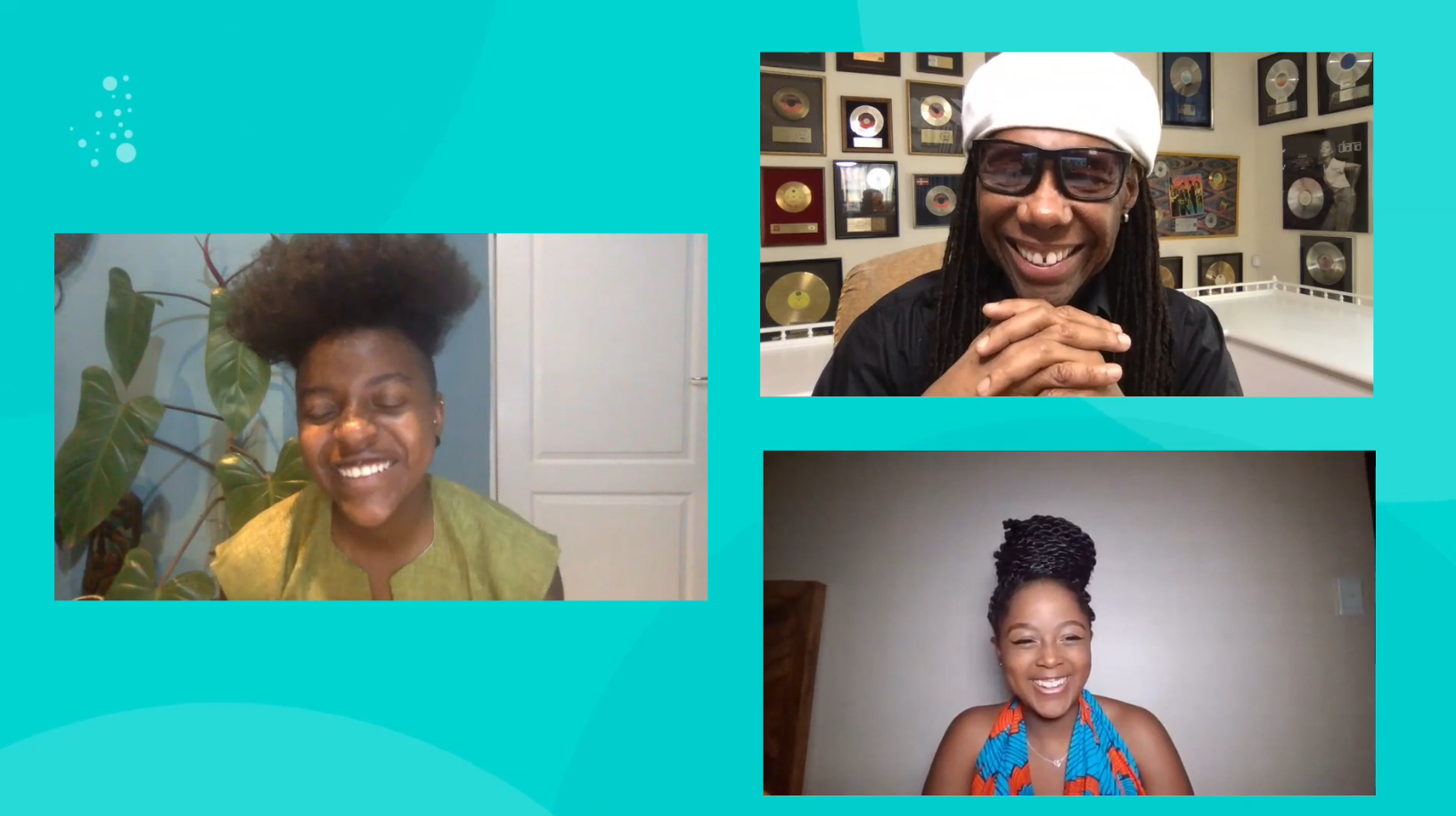 He said he founded the We Are Family Foundation – named after Sister Sledge's hit, written by Rodgers – in the wake of 9/11 to build bridges between divided communities. He quickly learned how philanthropy could have the most impact, he said.
"Typically, we just raise money and we throw money at things," he said. "That's not really effective. It's a nice gesture… but money alone isn't usually the answer to the situation."
He explained that the foundation learned that focusing on meeting basic needs – such as for shelter, clothing and food – was a way to build peace. 
Then, he said, "we noticed that teens were solving these basic human needs problems... That changed our focus and our effectiveness."
I hope young people stay focused, stay in the game. We have got so much to do
Today, the We Are Family Foundation supports young people around the world "who are changing the game with their idea, innovations and social good solutions".
One of them is South African Amonge Sinxoto, who is one of the foundation's "Global Teen Leaders". She joined Rodgers on SEWF's virtual stage to talk about her journey as a social entrepreneur which began when she was just 15. 

She said "Gen Z" South Africans, often labelled "born-frees" as they were born after the fall of apartheid, were frustrated with the problems that they still faced.
They were "tired of waiting for someone else to fix our problems", she said. So, she built her own website to represent her peers and this eventually became Blackboard Africa, which offers mentoring and leadership to young people.
• "It was time for our generation to create the change we want to see" – read Amonge's journey to creating Blackboard Africa
"Our programmes and our teens have touched millions and millions of people," said Rodgers. "We've gone much further than just throwing money at people like we were doing in the initial phases."
He added: "I hope young people stay focused, stay in the game. We have got so much to do." 
Thanks for reading our stories. As an entrepreneur or investor yourself, you'll know that producing quality work doesn't come free. We rely on our subscribers to sustain our journalism – so if you think it's worth having an independent, specialist media platform that covers social enterprise stories, please consider subscribing. You'll also be buying social: Pioneers Post is a social enterprise itself, reinvesting all our profits into helping you do good business, better.