Fighting the 'Amazonification' of Christmas: Cockpit Arts supports its independent artists to survive a pandemic festive season
As online shopping has surged during the pandemic, independent artists have been struggling to make sales. London studio and business incubator Cockpit Arts aims to reconnect makers with buyers with its latest project – helping to resist global corporations' dominance of our economies.
The creative industries are among the worst hit by the coronavirus crisis. Creative, arts and entertainment activities were down 62% in August 2020 compared with February levels, making this the third worst-affected sector in the UK economy after travel agencies and air transport, ONS figures show. As many as 409,000 jobs could be lost in the creative sector as a result of the pandemic, according to a study by Oxford Economics. Among those struggling are artists and craftspeople: the crafts sector is projected to lose £513 million in turnover in 2020 compared with last year – a 53% drop – putting thousands of makers at risk of unemployment. 
The already growing "Amazonification" of Christmas gift-buying will be amplified by the pandemic this year, a blow for artists and craftspeople who are struggling to sell their work without physical markets, warns Cockpit Arts, a London-based studio and business incubator. To help reconnect the artists and craftspeople that it supports – its community of 'makers' – with customers, the social enterprise launched the Cockpit Makers' Market – which it describes as "an online emporium of gifts and collectables" – on 26 November. 
Cockpit is home to 145 makers, 30 of which are early-career artists receiving full bursaries funded by City of London Livery Companies, trusts and foundations and individual and corporate sponsors. The bursaries fund their studio space, business support and equipment. All studios are subsidised, and makers pay a licence fee to use them. Cockpit also runs schemes to help artists start their businesses and offers guided tours of the studios to visitors.
"We've always stood for helping people who've got the talent, vision and skills to start in business and then grow, make a success and reach their potential," says CEO Annie Warburton, adding that makers' "tremendous creativity, skill, care and meaningfulness" have been "slightly overlooked" during the crisis.
 
Career-threatening impact
The impact of the pandemic is career-threatening for many craft artists, who are experiencing a considerable income loss due to the lack of opportunities to exhibit and sell their creations. Many of them are sole traders or self-employed and fell through the cracks of government support schemes, and the number of people working in the crafts sector (whether employed or self-employed) is expected to plummet from 129,000 in 2017 to 65,000 by the end of 2020, according to Oxford Economics. 
The digital makers' market will replace the annual in-person Winter Open Studios which normally represents a "big chunk of sales", says Warburton, who is one of Pioneers Post's WISE Women of Inspiration nominees this year. Cockpit created a dedicated platform where the artists will have the opportunity to sell their work, with some of the pieces created exclusively for the occasion, and makers will be conducting virtual studio tours. 
Every sale gives makers the best chance of sustaining their career, according to the company. 
"No matter how modest the gift, buying direct from an independent maker is a bold choice for a better future, one no longer dominated by global corporations," says Warburton. 
"It's a statement of belief in skill, care, and the enduring power of creativity as a force for good in the world."
No matter how modest the gift, buying direct from an independent maker is a bold choice for a better future
Since the beginning of the pandemic, Cockpit Arts has taken a number of steps to help its resident artists, starting by slashing the makers' licence fee by 67% for three months (they now have a smaller discount of about 30%).
The decision cut a major source of cash for Cockpit – which generates over 80% of its income through earned revenue – but Warburton was worried that she would see makers leave the studios in a "mass exodus". The effort paid off: 145 out of 147 makers are still in place. 
The company also lost revenue from visitor studio tours, so Warburton had to seek alternative support, furloughing nine out of the 11 staff members and successfully securing grants from the Arts Council and the Mayor of London.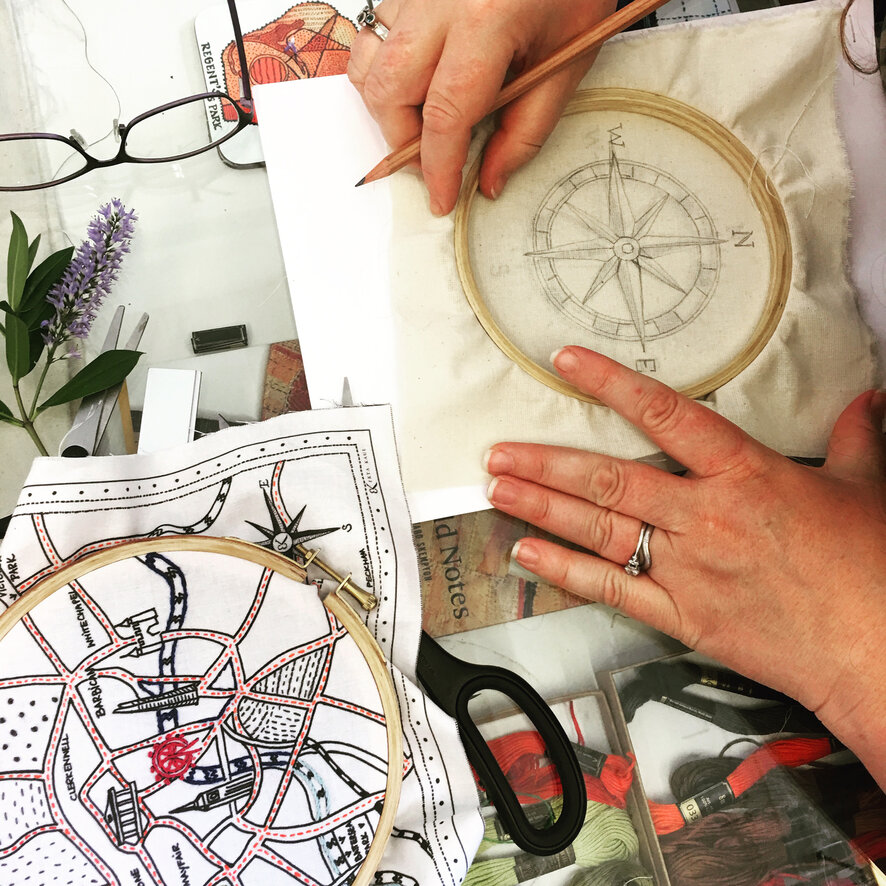 Above: textile artist Ekta Kaul at work 
Cockpit also continued to offer its business support programme digitally to help makers adapt and survive through the crisis. Some have also turned to teaching online as a new source of revenue. 
"At a time when my year's worth of exhibitions, selling events and teaching commitments disappeared overnight, having the support of the Cockpit Arts team meant that I didn't feel isolated or overwhelmed," says textile artist Ekta Kaul. 
Kaul says Cockpit's business incubation team support and the studio fees discount helped her to cope with the early phase of lockdown and allowed her to focus on a longer-term strategy. 
"I am facing the challenges of our current times with confidence and optimism," she adds.
Header image: Ekta Kaul, a textile artist based at Cockpit Arts studios
Thanks for reading our stories. As a social entrepreneur yourself, you'll know that producing quality work doesn't come free. Pioneers Post is a social enterprise itself, with a mission to help you do good business better through our content. We rely on our subscribers to sustain our journalism – so if you think it's worth having an independent, specialist media platform that covers social enterprise stories, please consider subscribing.