Ford Foundation boss: Philanthropists need to 'get uncomfortable' – and fund the troublemakers
Philanthropists should go beyond charity and pursue "justice and dignity", according to the boss of one of the largest private foundations in the US – and in doing so, acknowledge that they themselves may have benefited from systems of inequality. 
Speaking at the Reuters Next virtual summit on Wednesday, Darren Walker, president of the Ford Foundation, said there was a difference between the goals of "generosity and charity" and "justice and dignity".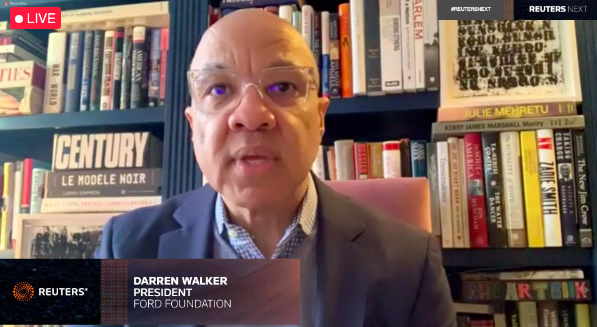 A focus on the latter would require a philanthropist to "get uncomfortable" by acknowledging "his or her culpability in the conditions that bring about injustice, especially economic injustice", said Walker (pictured).
"There are many philanthropists today who have benefited from a system of inequality. We have a system of taxation which favours privileged people like myself and other people who have assets and wealth, over the average working American."
Asked what non-political foundations could do to change policy, Walker said the mandate of the New York-headquartered Ford Foundation included strengthening democracy, and it could therefore support non-partisan activity "to ensure that every American votes".
'Imbalanced' funding
Walker also said that both philanthropic and government funding were "imbalanced" – skewed towards restricted funding. Too many philanthropists treated nonprofits like "a contractor", providing funding for specific projects only, and not covering the costs of running the organisation.
"We know that the most precious and important dollars to a nonprofit... [are] unrestricted dollars, because that gives management a chance to deploy those dollars as they see fit." 
We know that the most precious and important dollars to a nonprofit are unrestricted dollars
Philanthropists should act as "venture investors", he added, by finding and backing the best ideas and the best people.
Backing troublemakers
Walker revealed that his foundation's support for efforts to "disrupt" the status quo in US philanthropy – including research by Ray Madoff, a professor at Boston College – had prompted alarm from some.
"People don't like it – I've had a couple of other foundations say to me, 'Why is Ford funding this troublemaker?'"
People don't like it – I've had a couple of other foundations say to me, 'Why is Ford funding this troublemaker?'
Answering his own question, Walker continued: "Because as [the late politician and civil rights activist] John Lewis reminded us, sometimes we need those troublemakers to make trouble, to hold us to account, to challenge our privilege and our power. Even if it makes us uncomfortable." 
The Ford Foundation was created by the son of the founder of the Ford Motor Company; it now has a $12bn endowment and gives grants of $500m around the world every year. Among its trustees is Samantha Power, a former US ambassador to the UN, who this week was named by the incoming Biden administration to head up the US Agency for International Development.
At Pioneers Post we're working hard to provide the most up-to-date news and resources to help social businesses and impact investors share their experiences, celebrate their achievements and get through the Covid-19 crisis. But we need your support to continue. As a social enterprise ourselves, Pioneers Post relies on paid subscriptions and partnerships to sustain our purpose-led journalism – so if you think it's worth having an independent, mission-driven, specialist media platform for the impact movement – in good times and in bad – please click here to subscribe.