Turbulent times fail to temper hopes of Hong Kong social entrepreneurs
Social unrest and Covid-19 appear to have dented the strong upward trend in new social startups, but Hong Kongers are hopeful that the small, but maturing, sector will take off once more. And, says one UK expert, now is the time to think about identifying the right financial support to help start-ups to grow and survive into the future.
Social unrest and Covid-19 have interrupted Hong Kong's strong upward trend in the formation of new social enterprises, new research suggests – but experts believe that with the right support the sector can continue to flourish.
A report published this month by the British Council, The State of Social Enterprise in Hong Kong, found that almost half the region's social enterprises had been operating for four years or fewer – but that just 16% of those polled were formed after 2019.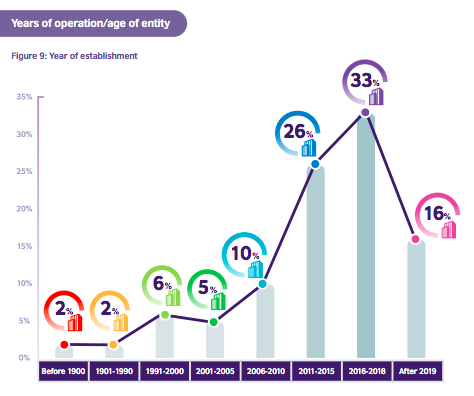 Hong Kong's upward trend in social enterprise start-ups has been hit by the pandemic and social unrest. (Graph from 'The State of Social Enterprise in Hong Kong)
Since 2019, Hong Kong has endured periods of unrest, after the authorities proposed new legislation that would allow fugitives to be extradited to mainland China. While the territory has not been as hard hit by the Covid-19 pandemic as some other parts of the world – with 10,800 cases among a population of 7.5 million to date – businesses have nevertheless faced strict closure rules and ongoing uncertainty. More than 40% of social enterprises saw their revenue drop by at least half due to Covid-19.
Researchers note that the apparent drop in the social startup rate may be distorted by a bias in survey respondents (a total of 146 social enterprises). However, their interviewees also suggested that the two major events of the past two years had "likely led to fewer entrepreneurs willing to form a social enterprise".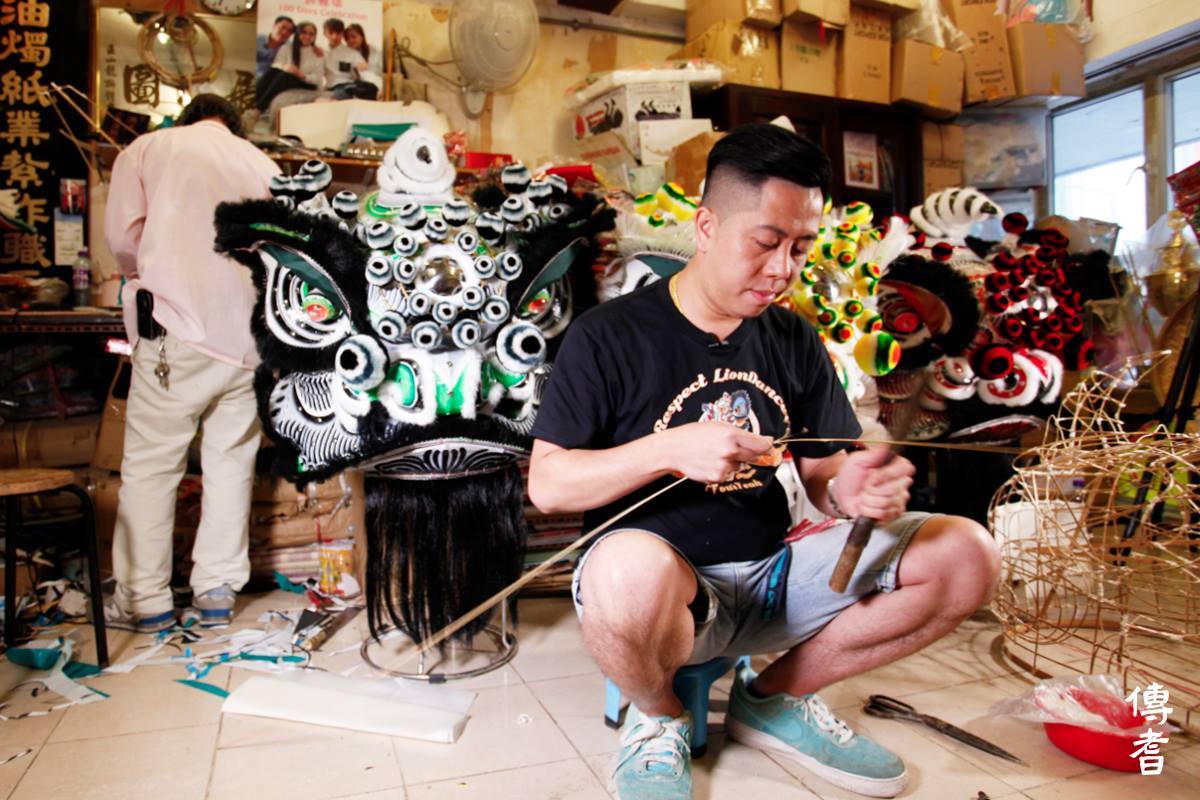 Above: Social enterprise Eldage promotes traditional culture through craftsmanship, workshops and selling handicraft products
Despite the recent decline, the report's authors write that the city boasts a "longer-term upward trajectory in social enterprise formation". 
Speaking at the launch of the research on 4 February 2021, chair of the Hong Kong Social Enterprise Summit Rebecca Yung said social enterprises had "achieved solid growth in terms of numbers, diversity in services and modes of operation". Although mostly small in size (70% have fewer than 10 full-time staff) and mostly newly-formed, they had "created tremendous impact", she added.
Social enterprises have achieved solid growth in terms of numbers, diversity in services and modes of operation
Joining the event remotely from London, Hong Kong-born Karen Ng, director of investments at UK social investment wholesaler Big Society Capital, said it was important to focus not just on the number of new startups, but also on ensuring the survival of existing ones – including making sure they had sufficient cash flow to continue.
While it is unclear when the Covid-19 effect might lift, Ng said she was hopeful that, worldwide, accumulated household savings and "huge pent-up demand" in areas such as travel, food and beverages, and retail would soon benefit social enterprises' bottom line.
The optimism appears to be shared by Hong Kong's entrepreneurs: 49% of those surveyed said they expect to increase their revenue over the next year, and the majority had not had to make changes to the size or salaries of their workforces as a result of Covid-19.
Up to 5,700 social enterprises in Hong Kong
Around 700 organisations are listed in Hong Kong's Social Enterprise Business Centre directory. 
However, there is no legal definition of social enterprise in Hong Kong. Taking into account a broader range of organisations (including micro, small and medium enterprises, co-operatives, and non-governmental organisations) which may not self-identify as social enterprises but which nevertheless met its criteria, the British Council research estimates a much higher total of between 3,000 and 5,700. 
The most popular UN Sustainable Development Goals targeted by social enterprises surveyed were health and wellbeing (14%) and sustainable cities and communities (12%). These priorities were generally aligned with Hong Kong's current challenges, such as an ageing population and urban waste, said Jessica Tam, head of the Social Enterprise Business Centre, which is one of the partners behind the research project. 
However, just 7% of social enterprises focused on SDG 1 (ending poverty), she noted, despite Hong Kong's government putting in "a lot of effort to regard social enterprise as a means to alleviate poverty and also to create jobs for the unemployed".

'Small is quite difficult'
The significant rise in social enterprise startups from 2013 onwards coincides with the establishment in the same year of the government's HK$500m (£47.7m) Social Innovation and Entrepreneurship Development Fund (SIE Fund), which aims to reduce poverty and social exclusion. (Despite the territory's wealth, 15% of the population live in poverty, according to Oxfam figures.) As well as focusing on building capacity across the sector, and leading research, the SIE Fund also provides funding to innovative ventures – including to just under one-third of the enterprises polled in the British Council research. A total of 230 projects have received funding from the SIE Fund since its creation.
But, while other sources of funding – including other government funds and the Hong Kong Jockey Club – were significant, the most cited was personal income, used by one-fifth of Hong Kong's social enterprises. This is similar to the broader SME sector, where the majority of SMEs rely on self-financing as their primary source for raising capital. However, SMEs' second-largest source of finance is loans from commercial banks – used by just 1% of social entrepreneurs.
Andy Ng, chair of the Hong Kong General Chamber of Social Enterprise, said the typical size of social enterprises in the region was a concern.
Half of those polled said their annual revenue was under HK$500,000 (£47,000) – a sum that would be eaten up by the salaries of just two university graduates at HK$20,000 a month, Mr Ng said. "People say small is beautiful, but in business terms, small is quite difficult."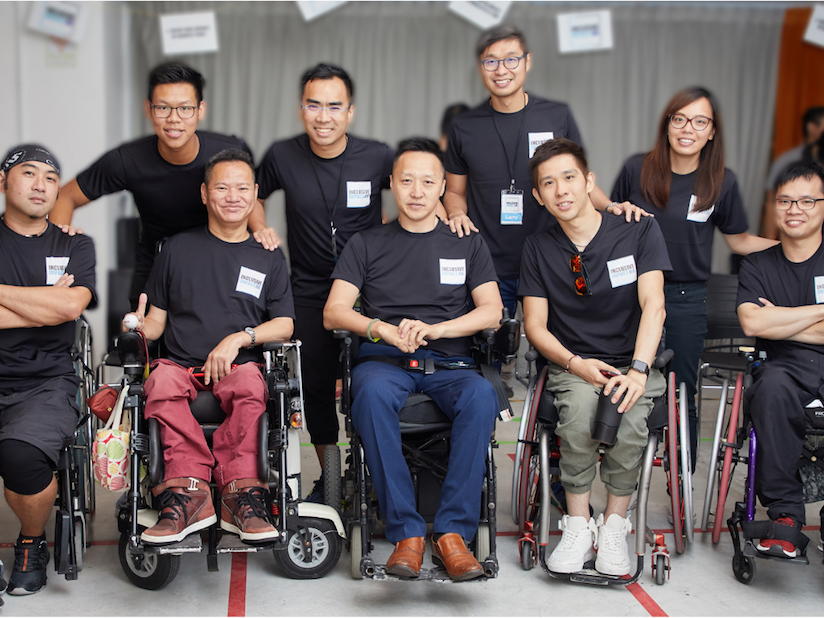 Above: Inclusive Impact helps organisations to innovate with social values through corporate training workshops, which are held by Hong Kong elite wheelchair para-athletes
Funders of the future
However, the research shows signs of a sector growing in maturity. Almost a quarter of social enterprises are reaching 1,000 or more beneficiaries, and 41% said they had increased the number of beneficiaries reached in the past year. More than 60% measure their impact themselves (or, for a minority, have their impact independently verified). 
But the research highlighted what the authors called a "disconnect" between social enterprises and beneficiaries – one that could negatively impact the effectiveness of their work and both their social impact and financial returns. Less than a quarter have representation of beneficiaries in their leadership teams or governance structures, and interviewees told the researchers that many social enterprise leaders were "business professionals" who, though keen to contribute and bringing valuable business skills, "may be inexperienced in understanding social need". 
Social enterprise leaders, though bringing valuable business skills, may be inexperienced in understanding social need
To address this, the report recommends that funders and support organisations consider ring-fencing financial or non-financial support to help beneficiaries or vulnerable groups to set up and run social enterprises; matching "innovative social practitioners that have deep knowledge and understanding of social needs" with "business-savvy partners"; and making understanding of beneficiary groups a stronger element within academic and other social enterprise programmes.
Further recommendations include ensuring more recognition of the various legal forms used by social enterprises, more tailored non-financial support, and more options when it comes to financial support.
On the latter, Big Society Capital's Karen Ng suggested funders and enablers start thinking now about how, in the long term, Hong Kong would fill the "missing middle" financing gap. While not many of its social enterprises were in that post-startup growth stage yet, it was worth "thinking really proactively about how to engage with a wider group of funders in advance of this trend happening". 
Experience from the UK showed that commercial lenders, venture capitalists and private investors were viable routes to consider, she added. "There's a lot of very rich people in Hong Kong, so perhaps that could be another stakeholder group that we could start proactively engaging."
Hong Kong's social enterprises have typically come from the civil society or NGO sector, while the territory is dominated by its role as a business and financial centre. But this once "quite fragmented" situation appeared to be changing, said Tristan Ace, who oversees the British Council's global social enterprise programme in East and South Asia, with opportunities for "cross-learning" from both the NGO side and the business startup side. "It's an opportunity to think about the ecosystem as a whole," he said.
Header image: LUÜNA, a Hong Kong-based company that combats period poverty in Asia through a social impact business model
Thanks for reading our stories. As an entrepreneur or investor yourself, you'll know that producing quality work doesn't come free. We rely on our subscribers to sustain our journalism – so if you think it's worth having an independent, specialist media platform that covers social enterprise stories, please consider subscribing. You'll also be buying social: Pioneers Post is a social enterprise itself, reinvesting all our profits into helping you do good business, better.