More than bricks and mortar: how St Paul's Learning Centre is reuniting a community
Is a social enterprise workspace really 'better' than any other kind of office building? The people who work for and with Ethical Property Company would have us believe so. When a workspace also operates as a social enterprise, they say, it becomes more than just a building: the relationship it has with – and the responsibility it takes for supporting – not only its tenants and other users but also the community around it, make it fundamentally different.
In partnership with Ethical Property, we take a (socially distanced) look at St Paul's Learning Centre in Bristol, to understand the impact of such buildings as community assets, and the role that social enterprises play in making them financially sustainable as well as a thriving hub of support and creativity.
Security guarding the doors, closely monitored activity, a hostile and sterile environment. A once thriving community hub had become almost unrecognisable, barely keeping its doors open.
This was the situation just a few years ago at St Paul's Learning Centre in Bristol, south-west England. It had been running for 15 years and had strong ties with the local African-Caribbean community who were desperately trying to turn things around. They were a community engaged but powerless – feeling pushed out of the council-run space which, after years of government cuts, was on the brink of closure.
Then, in May 2015, events took a positive turn. With the help of a grant from Bristol City Council, the Ethical Property Company acquired a 15-year lease of St Paul's Learning Centre through a community asset transfer. Ethical Property is a social business that provides office and meeting space to charities, not-for-profit organisations and voluntary groups across the UK. Combined with its building management expertise, the organisation recognised the spirit of the community and saw the potential in supporting the centre to become a hive of social impact activity once again.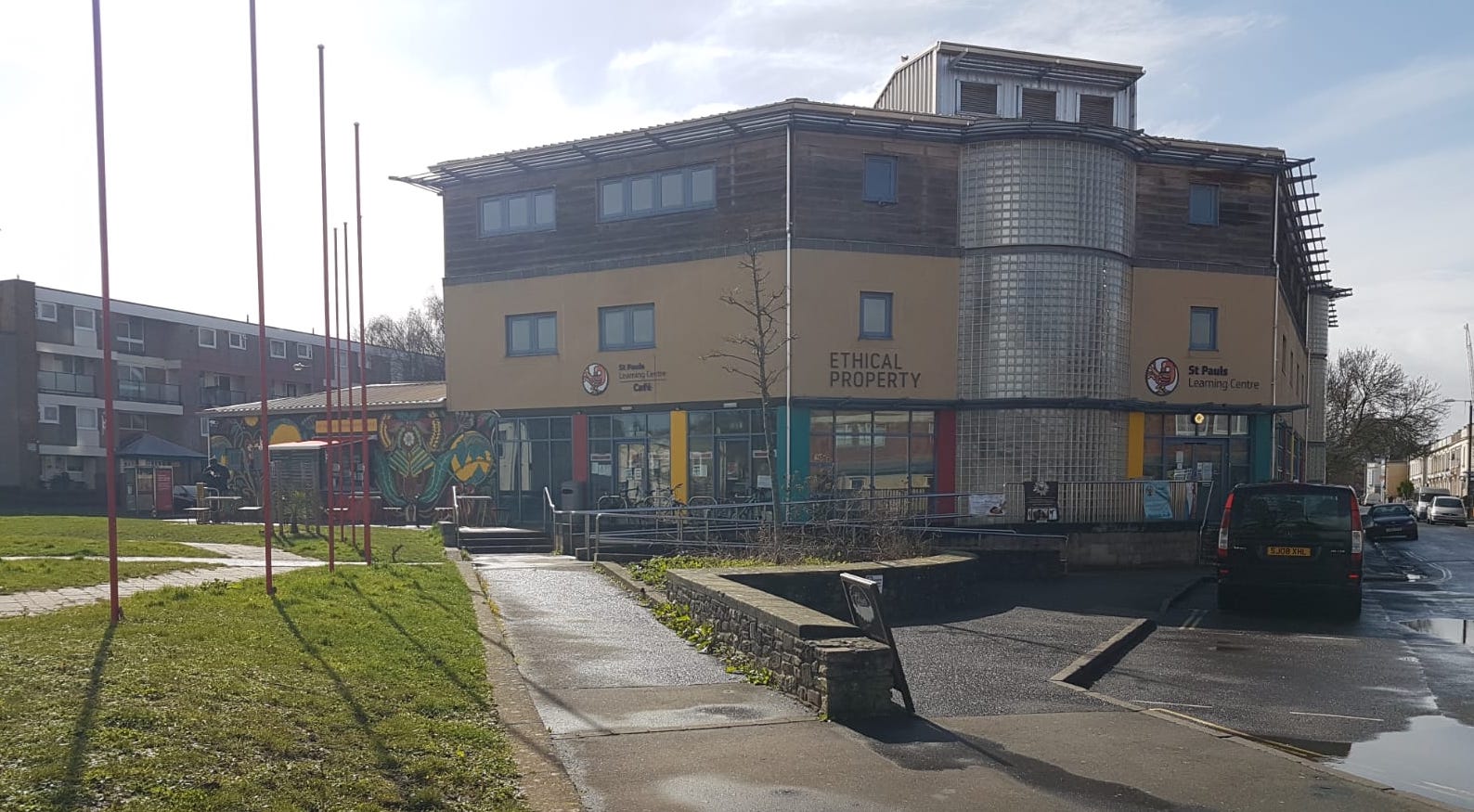 Above: St Paul's Learning Centre, in the St Paul's suburb of Bristol, has strong ties with the local African-Caribbean community
A stake in the community
Having a physical presence, in the form of a building, provides a strong foundation for strengthening an organisation's relationship with – and support for – a local community. It's "probably the most secure and important thing that you can do within a community," says Gem Burgoyne, the centre manager.
She had been burned in the past. Gem worked at one of Bristol's biggest creative community hubs when a decision was made to convert the centre into housing. Community groups had expected the building would be sold to them, but instead the 500 artists, community groups and social enterprises using the space found themselves without a home.
Sadly this isn't an isolated story. Across the UK, many community resources have already disappeared or look like they will very soon, with buildings often demolished or sold cheaply and redeveloped by private companies with little benefit for the communities around them. Ethical Property's ownership of the learning centre in Bristol suggests there is a viable alternative to this.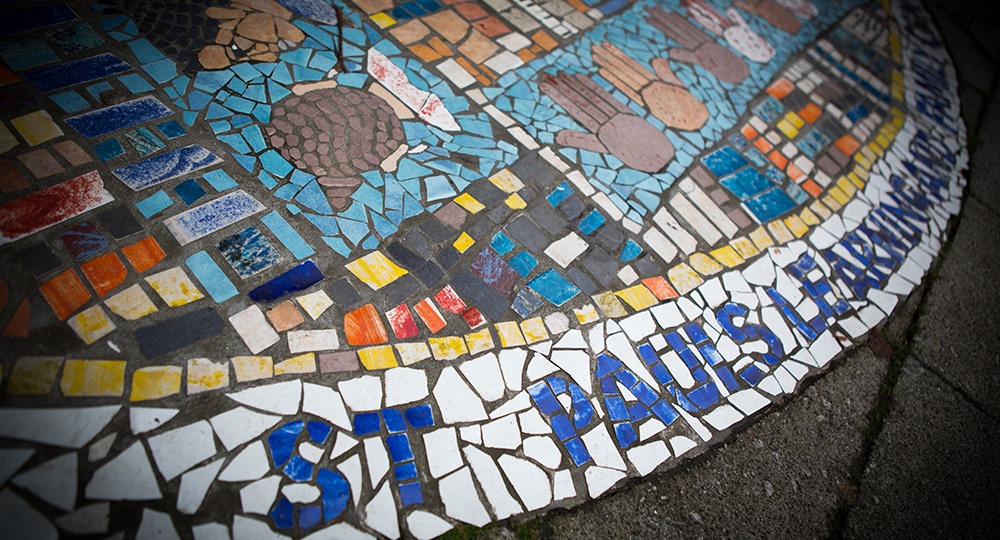 Above: a mural created at St Paul's Learning Centre 
Thriving once more
"I was really inspired by the company and realising that not all landlords working in the community sector are in it for the same reasons – it can be done with a triple bottom line," says Gem, referring to the balance between people, purpose and profit. The now-bustling centre has a café, library and computers available to use, as well as providing free English lessons for refugees or functional skills classes for people looking for employment.
Not all landlords working in the community sector are in it for the same reasons – it can be done with a triple bottom line
Gem manages this daily activity, and knows first-hand the importance of the centre for its users. When the hub first opened 15 years ago, it was thriving like it is now. At the time, Gem had two young children and was living on benefits. She frequented the centre, enrolling in several subsidised workshops including one on printmaking, while her children were safe in the creche. "They really changed my wellbeing and my outlook," says Gem, who as a young parent found herself lacking the confidence to get back into work. 
The centre balances free and subsidised support work with resources and classes that people are happy to pay for, like access to a photography dark room and craft-based workshops. It also hires out its work spaces to local groups to run activities – thus becoming the facilitator for an ecosystem of community services and events.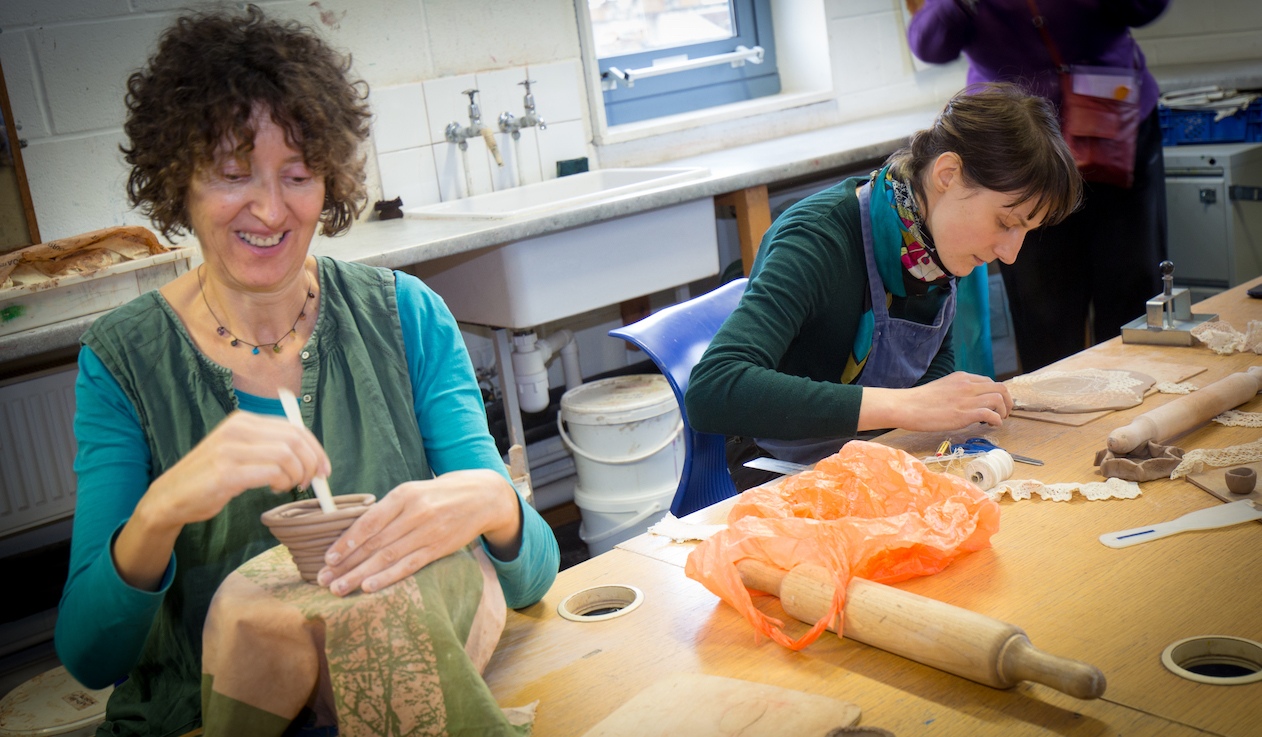 Above: The centre balances its free and subsidised activities with resources and classes that people are happy to pay for – like access to a photography dark room and craft-based workshops
As its name suggests, St Paul's Learning Centre places great emphasis on training and education. It is proactive in seeking out providers that can help with access to education courses and provide pathways to employment. Increasing numbers of organisations are now approaching the centre with offerings to benefit the local community. For example, in a bid to bridge the gap between higher education and the local community in lower income areas, the centre has linked up with Bristol University to run courses in philosophy and English. These typically academic or theoretical subjects were taught in accessible ways to people who would not normally have been able to access them.

Common ground
First and foremost, Ethical Property provides workspaces for organisations dedicated to social and sustainable change. This is where it really comes into its own at St Paul's Learning Centre – tenants and users of the centre overlap and interconnect.
A good example of this is NLS Solicitors, a tenant specialising in immigration law. The firm is able to provide services to asylum seekers and refugees coming into the centre, and has also referred service users to fellow tenant, the Trauma Foundation South West, which offers free counselling for asylum seekers and refugees suffering from trauma.
Being under the same roof allows tenants to get to know each other and the community that they are aiming to serve – a win-win for everyone.
Ackee and saltfish
All of these opportunities require people to take them up. But how do you get locals through a door that previously read 'do not enter'?
Attracting the crowds is local resident Glen Crooks, who runs the learning centre's café, Glen's Kitchen. "I've been cooking for years in the community… everyone knows who I am – I'm well known!" says Glen.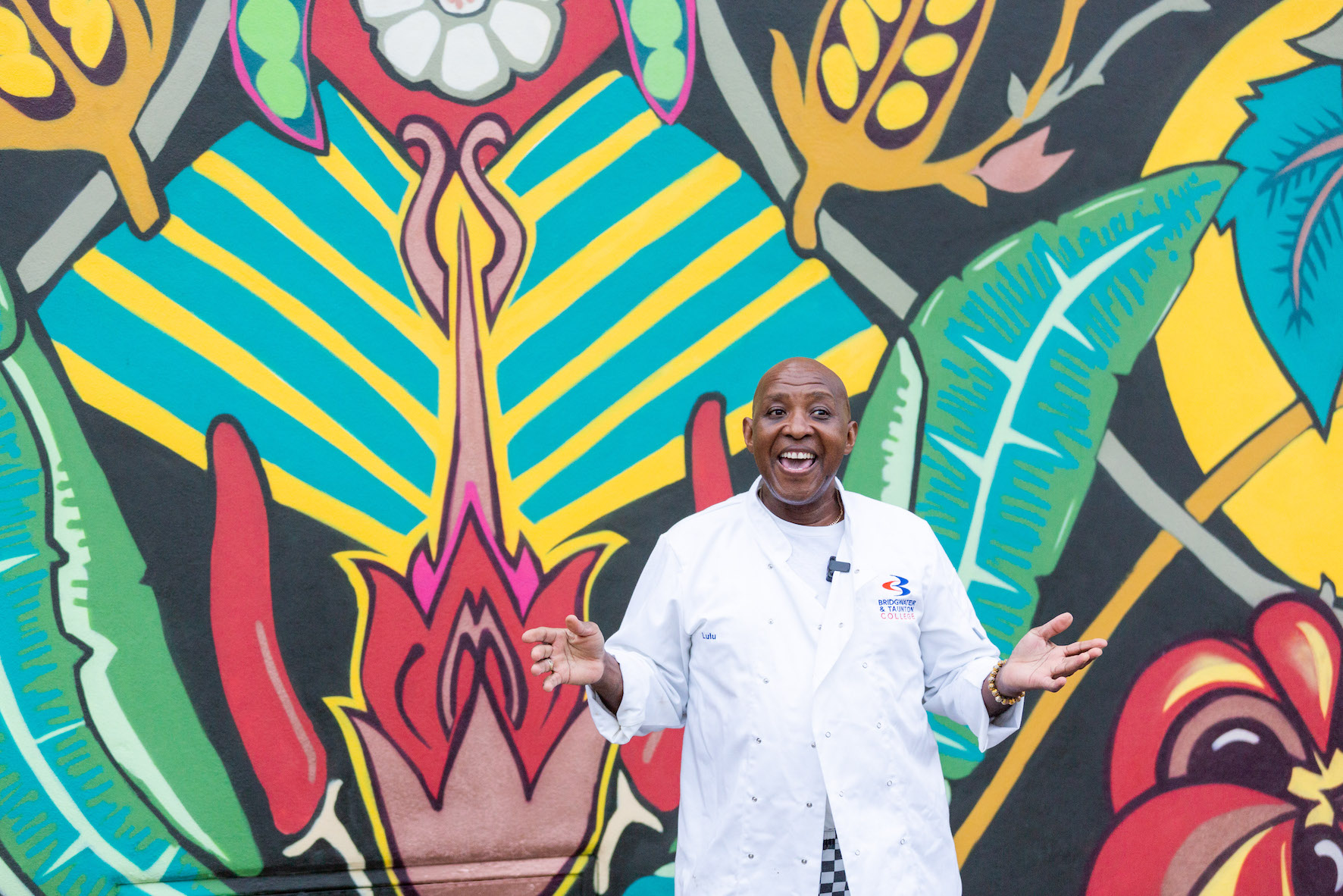 Above: local resident Glen Crooks runs the learning centre's café, Glen's Kitchen
Glen moved from Jamaica in 1967 during the time of the Windrush generation, and has been serving up his Caribbean food in different kitchens across Bristol for more than 30 years. He has cooked at St Paul's Learning Centre for the past four years, and locals come in just to catch up with him. This kind of cultural and social connection is key in the St Paul's community, where word-of-mouth is vital for building trust.
"Nothing used to happen here, people didn't see it as somewhere for them to come, they didn't know about the learning centre before," says Glen. "But now, it's as though people have somewhere to go. It's a social place, it's very important to have somewhere like this," he says.
Now, it's as though people have somewhere to go. It's a social place, it's very important to have somewhere like this
Stopping into Glen's Kitchen for ackee and saltfish (a typical Jamaican dish) or curried goat brings people into the building – in turn, meeting staff, tenants, using the computers and finding out about activities and workshops. In this way, Glen has invited in a demographic who previously felt alienated from the building.
And a pandemic hasn't stopped him. His kitchen remained open for takeaway over the past year, for people to grab a hot meal and see a friendly face. "People stay at home and get depressed," Glen suggests. "They need to get out and see people. They get food and then they see somebody that they know, see a friend, see someone."
Social enterprise security blanket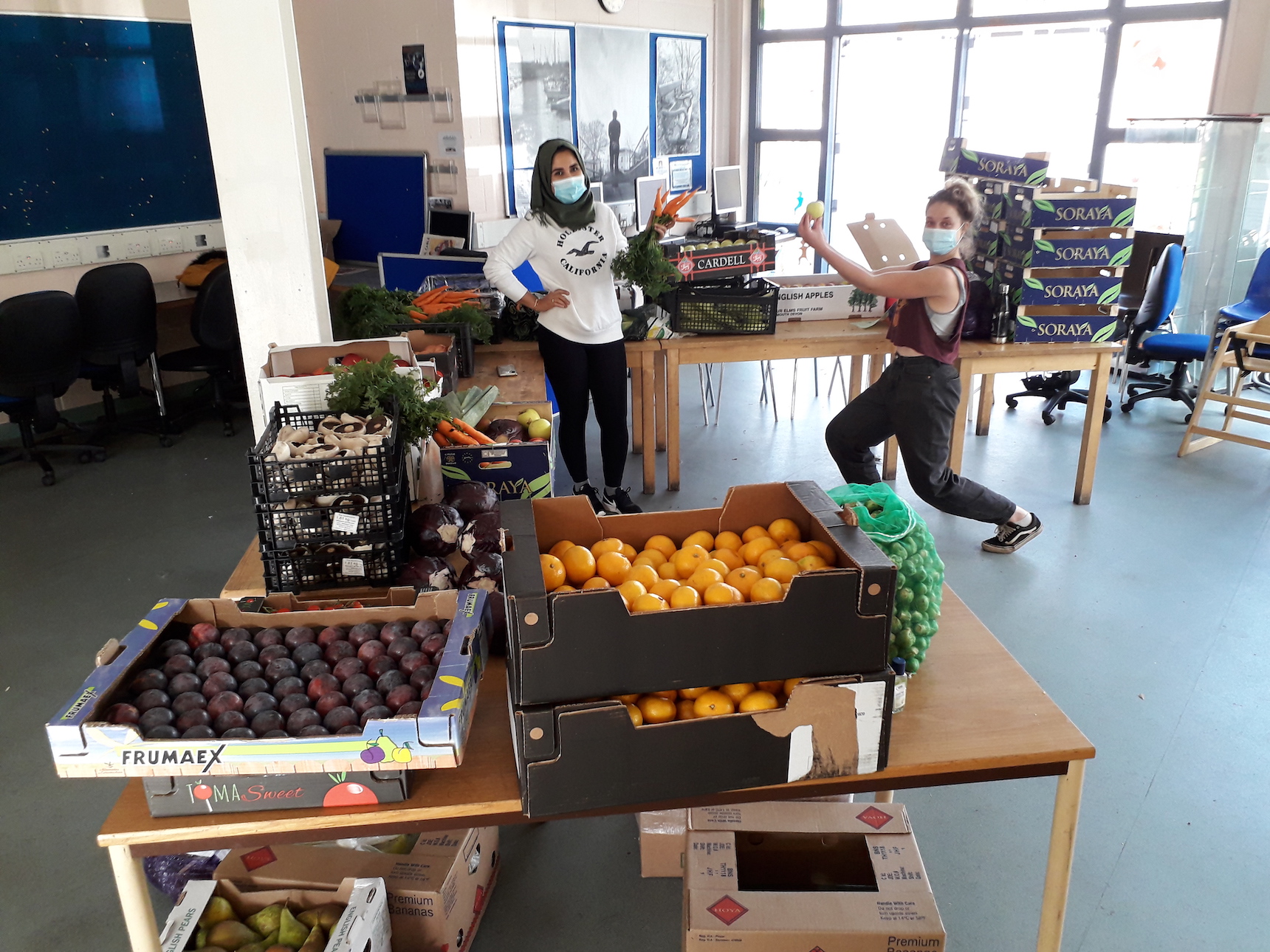 Over the past year, the centre has still been open for essential community support groups as well as tenants delivering necessary services, with strict safety measures in place in the building.
"We haven't been open to people just walking in off the street in all of that time. That has been a huge impact because we were like the local park – everybody was coming in!" says Sarah Campbell, regional manager at Ethical Property. 
But she is hopeful that doors will fully open by June, with more courses gradually restarting over the next few months. "We are hoping to follow the same path backwards as we did when we went into lockdown and we went through different phases," Sarah explains. 
How have they weathered the storm when so many other community organisations have vanished? For Sarah, it's about the financial sustainability of the social enterprise model: "It's the security blanket, it means that you know that you will be okay".
It's like a phoenix at the moment, it's rising from the ashes
Prior to joining Ethical Property, Sarah was head of fundraising for national charity, but became disillusioned with its inflexible and "single-minded vision". "When you're in a community, you really have to be able to bend and sway with what's going on. And if it means reacting quickly, you need to react quickly," she says. Unlike a charity, Ethical Property's property management experience comes with a knowledge of compliance and how to run a building, in combination with the money to invest to put things right when they, inevitably, go wrong.
Ethical Property is showing how – through providing support and space – social enterprise can work hand in hand with charities. With different but complementary business models, the social business' financial security enables it to support a number of its charity tenants and the work they do, sharing many of the same social goals. "It was something that we could add benefit to and get benefit from," says Sarah. A two-way street of social impact.
St Paul's Learning Centre has been given a new lease of life. And now, it's much more than just a building – the pandemic aside, it's a building with people in it. As Sarah says: "It's like a phoenix at the moment, it's rising from the ashes. But the people are what makes it dynamic."
This feature was produced as part of a content partnership with Ethical Property. 
Photos courtesy of Ethical Property and St Paul's Learning Centre