Mowgli's dilemma: Building an ethical property business in the urban jungle
Formed in 1998 in Bristol, Ethical Property's footprint now reaches across the UK, with its 22 workspaces home to some 1,050 social impact organisations. Pioneers Post finds out more about the man at the helm, managing director Conrad Peberdy, and explores the dilemmas and trade-offs that come with running a business in the highly competitive and commercial world of property, both viably and ethically – not least in times of huge economic upheaval.
The first in our 'Ethical Dilemmas' series, in partnership with Ethical Property.
Conrad Peberdy is speaking to Pioneers Post from his home outside Oxford, England, but the story of what brought him to Ethical Property begins on the other side of the world.
His mother, an anthropologist, had brought the family to Papua New Guinea to study witch doctors. But it was his dad's job in agricultural development that was the "real eye-opener", for both father and son. The communities weren't interested in learning to cultivate grain: they simply wanted their land, much of which had been leased to foreign corporations, returned to them.
"I remember going to these remote tribes and they were really upset and angry," says Peberdy, then still a child. "Then we drove past signs – for Coca-Cola and Marlboro cigarettes – and I thought, this is what 'development' means: we take your land, we change your way of living, and in return we give you cigarettes and fizzy drinks."
PODCAST: Listen to an audio version of our interview with Conrad Peberdy here – and find lots more Pioneers Post podcasts on iTunes and Soundcloud.
The family moved back to the UK in time for Peberdy to start secondary school there. It was quite a transition for a pidgin-speaking kid who'd grown up "a bit like Mowgli". But his early years had left him with a desire to work in the kind of international development that prioritises community needs. Years later, studying in Bristol after several jobs in the private sector, he would discover that deprivation was rife in Britain, too. To make a difference he wouldn't need to go abroad.
After graduating, Peberdy worked for local government, but found public sector culture, as he puts it delicately, not one that "would enable me to shine or prosper". It was his next career move – as managing director of a regeneration charity – that led him to step into his first Ethical Property centre. "I turned up for my first day in the job and found this great workspace," he says, and "quickly discovered that we were surrounded by a range of really like-minded organisations and people."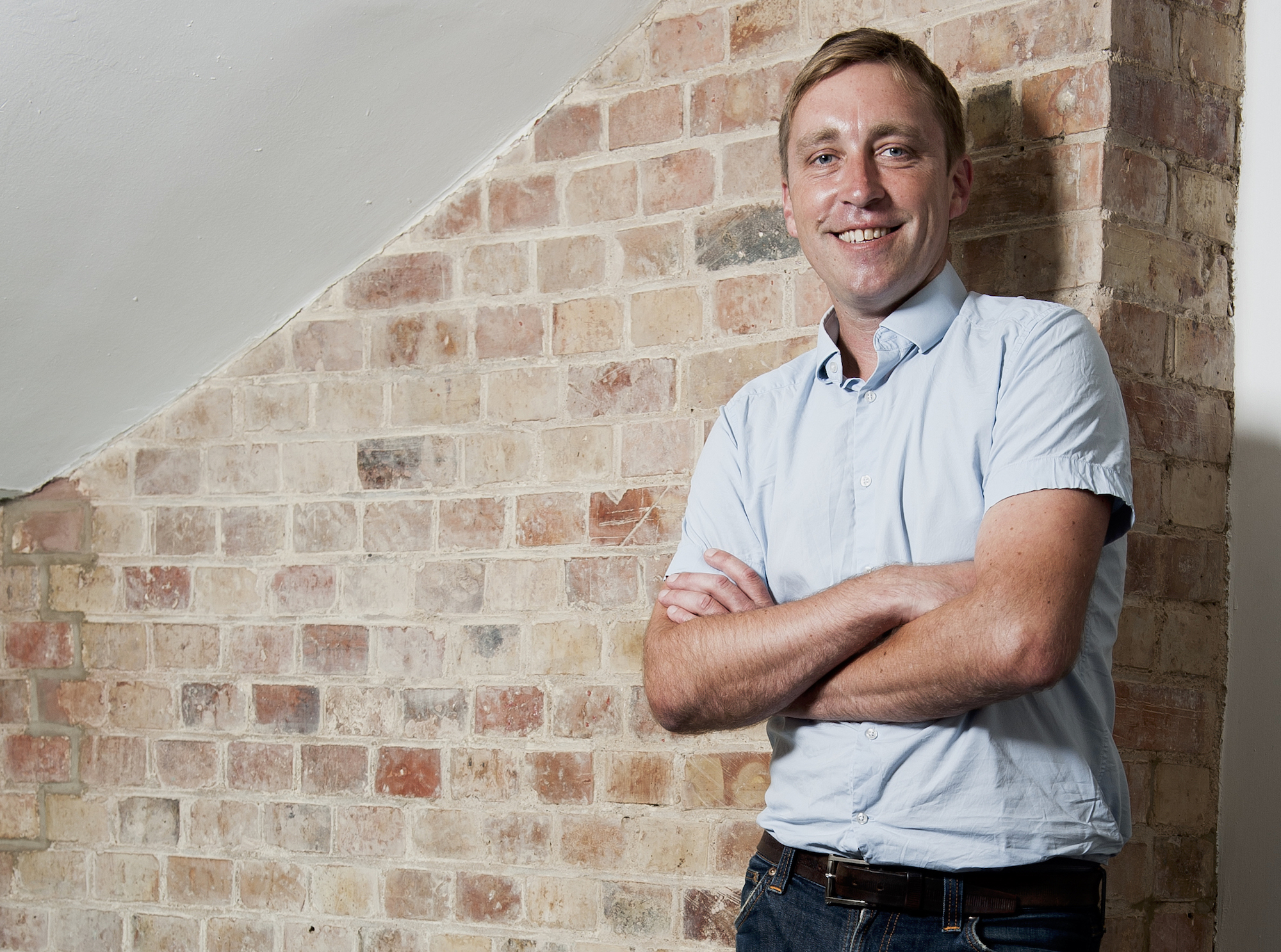 Conrad Peberdy's career choices were prompted by his childhood experience in Papua New Guinea (credit: Lisa Payne)
In 2009, Peberdy joined Ethical Property as its director of development, and was appointed managing director in January last year. The big change, though, was not switching from tenant to landlord – but discovering social enterprise, which he describes as "a really, really refreshing change".
"When I'd worked with business it was very much around maximising profits. When I'd worked with a local authority, decisions were made on short-term political lines. When I worked for a charity, while we had a lot of independence, we were very reliant on grant aid. So there were a lot of limitations around what we could do."
We're probably one of the first vehicles that offered people that ethical investment opportunity
Social business Ethical Property, on the other hand, was "liberating", partly because of its investors – who, since 1999, have sought environmental and social results as much as financial ones.
"We're probably one of the first vehicles that offered people that ethical investment opportunity," Peberdy says. Investors are in it for the long term, and that means a certain autonomy to those running the business. "That really had an impact in terms of what we could do."

Due diligence
The term 'ethical' can be a woolly, subjective one. For this company, it comes down to the triple bottom line – working not just to maximise profits but for wider social and environmental benefit too. That's also what they expect of any prospective tenants – who may be charities, businesses, political groups or something else, as long as their core purpose convinces them.
In practice, this means due diligence around things like source of funding – and turning down potential customers that don't meet the criteria.
"You might have a large corporation with quite a bad reputation, let's say within the environment. And so they may set up an organisation to better promote themselves in that arena. Moving to one of our centres is an opportunity to try and enhance their credentials and put a bit of 'ethical wash' onto their activities. That is something we've got to be really, really careful about."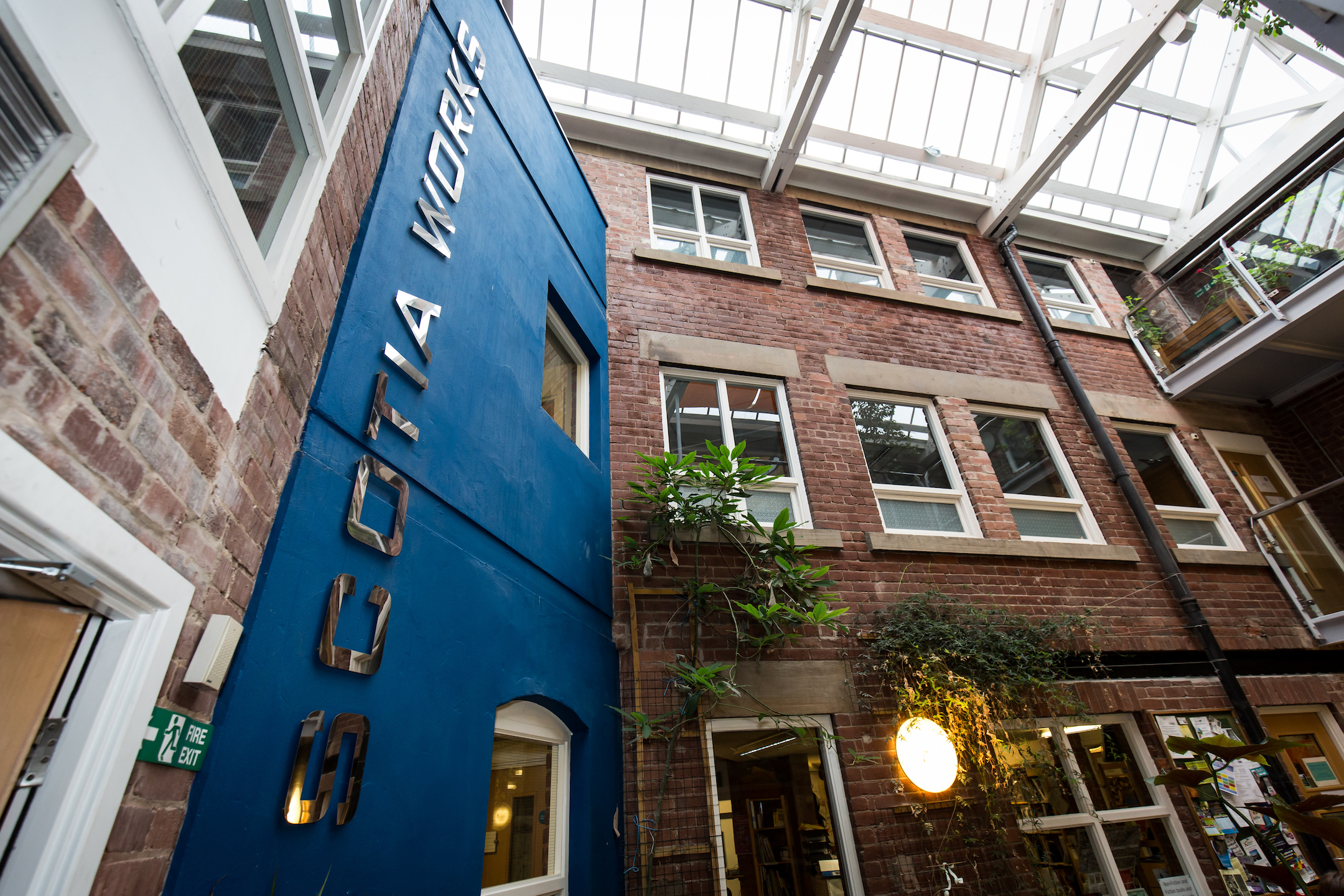 The Scotia Works building, in Sheffield, is a refurbished cutlery works
Others get turned down, not because the ethical credentials don't stack up, but because their work area doesn't fit the niche of a particular Ethical Property centre. One London workspace is focused on tackling poverty, for example; another on human rights: both are seeing "a lot of demand for space", according to Peberdy. "So actually, there's also a positive filter: which groups are going to add most to the community and work effectively within that?"
The grilling goes both ways, though, with prospective tenants increasingly interviewing the company in return – about its values, how it treats staff, its commitment to the environment, its source of capital. Such a line of questioning within the property industry is, he says, "a real growth area".
'Ethical wash' is something we've got to be really, really careful about
In a more competitive field, the rise of the discerning tenant should play in Ethical Property's favour. It also hopes to stand out by promising flexibility: its newest building in east London, The Green House, for instance, offers a five-year flexible lease which the tenant, and only the tenant, can end at any time. It can offer slightly more affordable rates, Peberdy says, due to higher than average occupancy (around 94%, compared to an industry average of 80%) and due to less pressure than commercial providers face to generate high profits. Indeed, one centre, in the St Paul's neighbourhood of Bristol, has only just broken even: the goal, says Peberdy, was never to make a profit but to revive and sustainably operate a community centre on the brink of closure.
Still, with the name it has chosen, Ethical Property can hardly avoid scrutiny. How does it prove its credentials?
The firm is audited annually on its adherence to a social and environmental code – a requirement that was recently formalised in the company articles. That triple bottom line focus is "like sitting on a three-legged stool, you have to consider the social environmental and financial impact of every decision", says Peberdy. It's much more complex than running a purely commercial company, but "ultimately much more rewarding".
To help meet environmental targets, the company aims to repurpose existing buildings: its portfolio so far includes a former train station, factory, and department store. That makes each building very different – nor are they branded heavily inside. Peberdy admits that brand recognition is "something we need to get better at", but says the goal is more about putting tenants first: "In a sense, we're more like a third-tier infrastructure organisation that enables groups to achieve more… as opposed to a property brand".
We're more like a third-tier infrastructure organisation that enables groups to achieve more, as opposed to a property brand
There are other trade-offs. The company has committed to not using cars for work travel, so relying on rail to visit other centres across the UK – which Peberdy does two or three days a week – can be time-consuming. Integrated heating and cooling systems use less energy, but don't allow individual users to adjust the temperature in their own space. More eco-friendly options, such as non-bleach cleaning products, cost more.
How does the management make decisions in such cases? Peberdy returns to his triple bottom line mantra: the goal is the "optimum outcome" based on a combination of environmental, social and financial factors. That makes it "a lot more subjective" than simply calculating what's most profitable. "We don't always get it right", he admits. In such cases, colleagues don't hesitate to challenge their boss: "If they think we're making the wrong call... I will be scrutinised".
Scrutiny comes from tenants too, who have previously complained about the use of bleach cleaning products and challenged Ethical Property to improve its employment contracts. In both cases, the company agreed to make changes, but said it would have to pass on costs to them: in both cases, tenants agreed. If it sounds too good to be true, Peberdy is quick to acknowledge that consensus isn't always achieved. "Some people are really upset by a cooling system if it means their office is too hot."
Covid-19: a mixed picture
Making the right decisions took on a new urgency in March this year, as Covid-19 led to a government-imposed closure of all but essential businesses.
Peberdy and most of his staff have been working from home since then. But all but one of the Ethical Property centres have remained open (safety measures in buildings include extra cleaning and new social distancing protocols), because many tenants are classified as key workers, supporting vulnerable people: "It's essential that we enable them to carry on."
That includes the likes of domestic abuse charity Women's Aid, and Papyrus UK, which focuses on suicide prevention. 
Many other tenants, though, will have paused their work as income dries up. How does Ethical Property sustain its own cash flow without eating into that of the organisations it's supposed to support?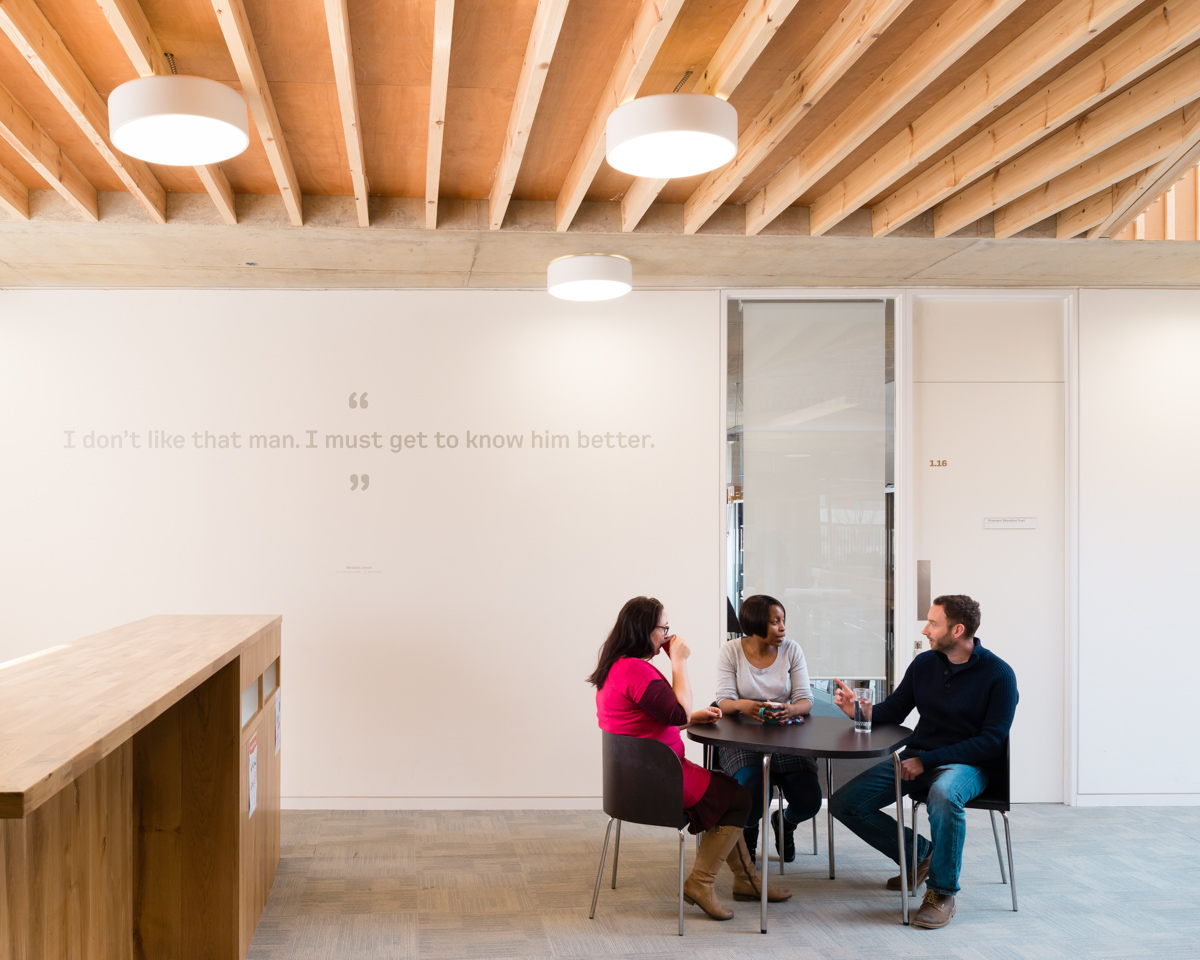 Inside The Foundry, in London's Vauxhall. The redeveloped building – a former shoe-polish factory – opened in 2015 as a centre for social justice and human rights organisations and is a joint venture between Trust for London, Joseph Rowntree Charitable Trust, The Barrow Cadbury Trust, LankellyChase Foundation and The Ethical Property Company (credit: Jim Stephenson)
The company was able to cut back some spending and pass on savings to tenants, Peberdy says. Tenants can claim a 50% discount on service charges until the lockdown finishes, and can apply for a rent deferral scheme (it's not clear how many have applied so far). But he acknowledges that some organisations will fold: "There'll be some that simply run out of money".
So far, only a very small percentage have terminated contracts. And while some tenants are likely to decrease the amount of space they rent to cut costs, others may well do the opposite.
We're going to see greater economic and social challenges... many of our tenants are brilliantly placed to help support
"That's for two reasons – some are obviously considering social distancing needs. But also if you look over the coming months and years, we're going to see greater economic and social challenges facing society and many of our tenants are brilliantly placed to help support." Many Ethical Property tenants will see "increasing demand" for their services, including more public sector contracts to deliver their work, predicts Peberdy.
What of a future where previously reluctant employers start to embrace home working, and where employees want to avoid the health risks of taking public transport to travel to work? He's upbeat on this too. "On the one hand, they may need less workspace. On the other hand, there is a silver lining to us because it enables us to support more groups – if every organisation has slightly less space then ultimately we end up with more tenants." And, longer term, Ethical Property is in an enviable position of owning almost all its properties, rather than leasing them, as some of its competitors do. "It means we can repurpose buildings, we can change the design, modify them in response to needs."
Racing to the top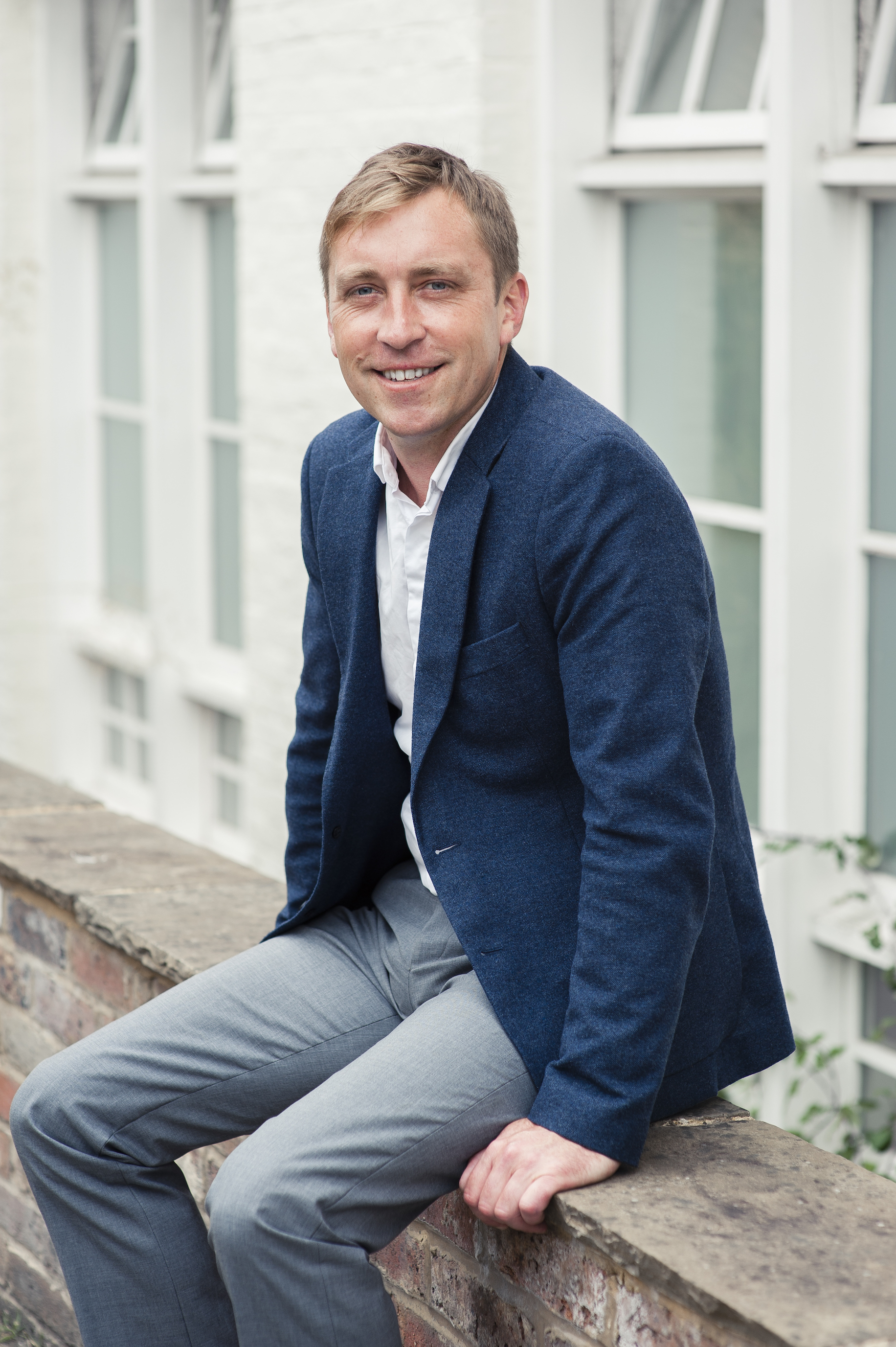 Peberdy describes the past few months like running a race, but one where "you don't know if it's 10k, half a marathon, a full marathon – it just doesn't stop." It means knowing how to pace yourself is "a challenge".
It sounds like an understatement. How is he really feeling about the future?
"Obviously on the one hand I am upset and depressed about the impact it's having on people's lives, the longer-term impact on the economy." With his partner working in a hospital, he's all too aware that his own concerns are "nothing compared to the kind of sacrifices that many people are making."
And there are positives: seeing how the environment "can bounce back" quickly when human behaviour changes; the "fascinating" way that people are stepping into leadership roles, and the wave of kindness seen among communities. The latter bodes well for the future of the Ethical Property community. "It's many of the organisations we support who are kind and are doing great work," he says. "So personally, I think our sector has a lot of opportunity to grow."
Ethical Property itself also has its sights set on growth. Despite current challenges, Peberdy says they are "still incredibly keen" to expand; he has ambitions for an Ethical Property centre "in every major urban conurbation" around the country.
Such ambitions would require a huge amount of capital.
Last year, the board agreed to change the company back to a plc, a status it had until 2010, which would give it flexibility to raise further investment. But the company is not looking to stray far from the type of investor base it has found in the 1,300 or so signed up through ethical investment platform Ethex (which itself is headquartered, incidentally, in Ethical Property's Oxford building).
We want to grow, but what's really, really important to us is that we attract capital from the right type of investors
"We want to grow and we want to secure more capital, but what's really, really important to us is that we attract capital from the right type of investors," says Peberdy. By this he means those in it for the long term, and those who "share our values and our mission" – rather than the speculative investor who might see a property company holding £45m in assets and think about short-term financial gain. For that reason, company articles prevent any single investor from holding more than 10% of shares, and Peberdy says that, although he "would love" to get to the position of floating on a public stock exchange, this would not happen without "sufficient mechanisms" to protect the company's mission. "Currently, there are very, very few examples of any companies that have successfully [been listed and retained their social mission]."
The legislative changes needed to protect listed social businesses may take some time. In the meantime, Peberdy suggests demand from investors could push change from another direction.
"I think many of my investors would love to see Ethical Property being the norm… to see all landlords taking the same approach as ours."
It's a vision that would, of course, dilute the company's brand further. That, no doubt, is one ethical dilemma this adult Mowgli would easily accept.
This feature was produced as part of a content partnership with Ethical Property.