UK: Social enterprises on Labour's radar as deputy leader picks Impact Hub for policy launch
Hopes have risen that social entrepreneurship is back on the UK opposition party's agenda after Labour's deputy leader picked a social enterprise as the backdrop to launch the party's new policy on jobs on Monday.
Angela Rayner, MP for Ashton under Lyne, chose Impact Hub King's Cross, a Pioneers Post and NatWest SE100 top 100 social enterprise which offers coworking space and business support for social entrepreneurs in London, to announce the party's "new deal for working people". The policy proposal focuses on improving job security, better pay, and creating quality jobs.
Managing director Devi Clark said Rayner's choice of location was "a real recognition that social enterprises are great employers". She added that data shows that they tend to be more inclusive than other businesses, in particular when hiring women or people from excluded groups such as refugees or ex-offenders.
Rayner said: "Today, I've come to visit the Hub here in King's Cross and businesses that really want to look after their employees but also look after their communities and climate. We want to foster more of this."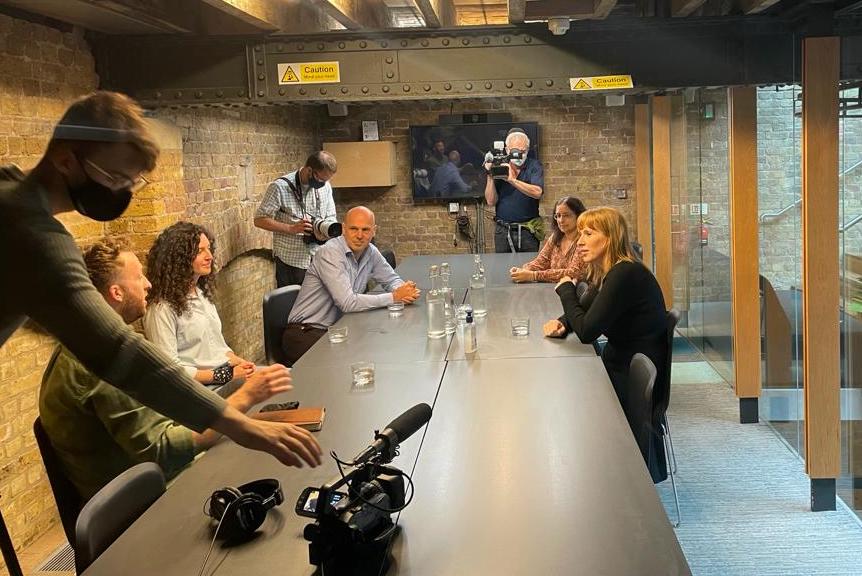 Above: Labour deputy leader Angela Rayner discussed inclusive entrepreunership with the Impact Hub King's Cross team
Andrew O'Brien, director of external affairs at Social Enterprise UK, said Rayner's choice of location was "very significant", signalling an uptick in interest in social enterprise among Labour politicians in the past few months. Shadow chancellor Rachel Reeves visited Chocolate Films, also a social enterprise, earlier this year. On Tuesday, Anneliese Dodds, chair of the Labour party and former shadow chancellor, visited Nuneaton Signs, a social enterprise providing employment and job security for people with disabilities.
The Labour party has been in opposition for more than a decade and, over a year after it elected its leader Keir Starmer, is announcing a string of new policy proposals this week, starting with employment.
In a tweet, London Labour said Rayner discussed the "future of work" with the Impact Hub King's Cross team, who were "pioneers of impact-driven coworking". 
Clark said choosing a co-working space for social enterprises also showed an understanding of new working practices and that "flexible work needs to work for people as well as for employers".

Rayner discussed barriers to entrepreneurship during her visit, and Clark told Pioneers Post the MP was "very interested in hearing about our inclusive entrepreneurship programmes". She wanted to hear "what these barriers were and what needed to be done so all these economic choices are available for more people". 
Government uninterested
The current Conservative government has been heavily criticised for not backing social enterprises enough. 
For example, talking at an inquiry held by the All-Party Parliamentary Group for social enterprise last month, Alastair Wilson, CEO of the School for Social Entrepreneurs, said: "I've done my job 18 years and despite brilliant leadership of [Social Enterprise UK], I can't remember a time where we've had less profile in government, and we've been seen to be... as irrelevant a solution to deliver a levelling up agenda," referring to the government's promise to tackle place-based inequality.
I can't remember a time where we've had less profile in government
O'Brien said social enterprises had a "fantastic record" on job creation and working with disadvantaged communities, and that the model fitted naturally in the Labour agenda of a progressive kind of business. 
"I wouldn't be surprised if we saw more engagement from Labour," he added.
While Clark said interest from top politicians was positive and helped to start a conversation, she emphasised that the topics covered with Rayner "would appeal to all political parties".
Top picture: Angela Rayner visited Impact Hub King's Cross to announce the Labour party's new policy proposal on jobs
Thanks for reading Pioneers Post. As an entrepreneur or investor yourself, you'll know that producing quality work doesn't come free. We rely on our subscribers to sustain our journalism – so if you think it's worth having an independent, specialist media platform that covers social enterprise stories, please consider subscribing. You'll also be buying social: Pioneers Post is a social enterprise itself, reinvesting all our profits into helping you do good business, better.