ChangeNOW's Santiago Lefebvre: 'Paris will be the Florence of the green Renaissance'
It's one of the biggest impact gatherings in the world, uniting 'radicals' and realists in a bid to save the planet. But, says the ChangeNOW founder and CEO, it only came together thanks to a huge leap into the unknown, a flair for showbiz – and some inadvertent help from Donald Trump. 

June 2017. Santiago Lefebvre and his wife Rose-May Lucotte have invested all their savings to book one of Paris's hottest new venues, for what could seem like a mad project: to bring together a vast range of people – entrepreneurs, innovators, business leaders and policy-makers – to find concrete solutions for a more sustainable world.
But there's a problem: despite months of knocking on funders' doors, the money to actually run the event just isn't there – and it is just weeks away. 
Fast-forward three months later: 2,000 people from 27 countries gather at Station F, the French capital's newly opened startup campus. The first edition of ChangeNOW is hailed a success by entrepreneurs, activists and Silicon Valley veterans alike. How did that happen?
Like many things in 2017, some of it had to do with Donald Trump.
The vision
Santiago Lefebvre grew up in a tiny village in rural France, in what he describes as a rather "humble family". His father is an electrician, his mother volunteers in local charities; there isn't much money around. As a kid, he develops an early sense of entrepreneurship for good: aged seven, he sells home-made newspapers to his neighbours, then uses the money to send letters to support animal rights petitions. At the same time, he develops a love for the stage as he takes part in local performing arts initiatives where his mother volunteers.
But life will pull him away from those early passions – because he also wants to escape a world where the fear of need and poverty is everywhere. He works hard at school; an eagle-eyed teacher advises him to take the competitive higher education pathway that opens doors to the country's top business and engineering schools. He follows his advice, gets into EM Lyon business school and glides into a top job in bank audit. His career is mapped out. Or maybe not.
"After three and a half years, I left. My inner fire was starting to weaken," says Lefebvre. "If you know what you're going to do after 10, 20, 30 years, your world of possibilities becomes a lot less exciting."
If you know what you're going to do after 10, 20, 30 years, your world of possibilities becomes a lot less exciting
It's 2010, startups are the next big thing and Lefebvre's entrepreneurial instinct drives him to take the plunge into starting his own company.
"At the time, I had the feeling that if you wanted to have an impact, you had to go into tech entrepreneurship," says Lefebvre. But he soon realises it's not a panacea: "I founded a startup in skills gaming – online educational games – it lasted three years… Well, it mostly taught me the business of entrepreneurship."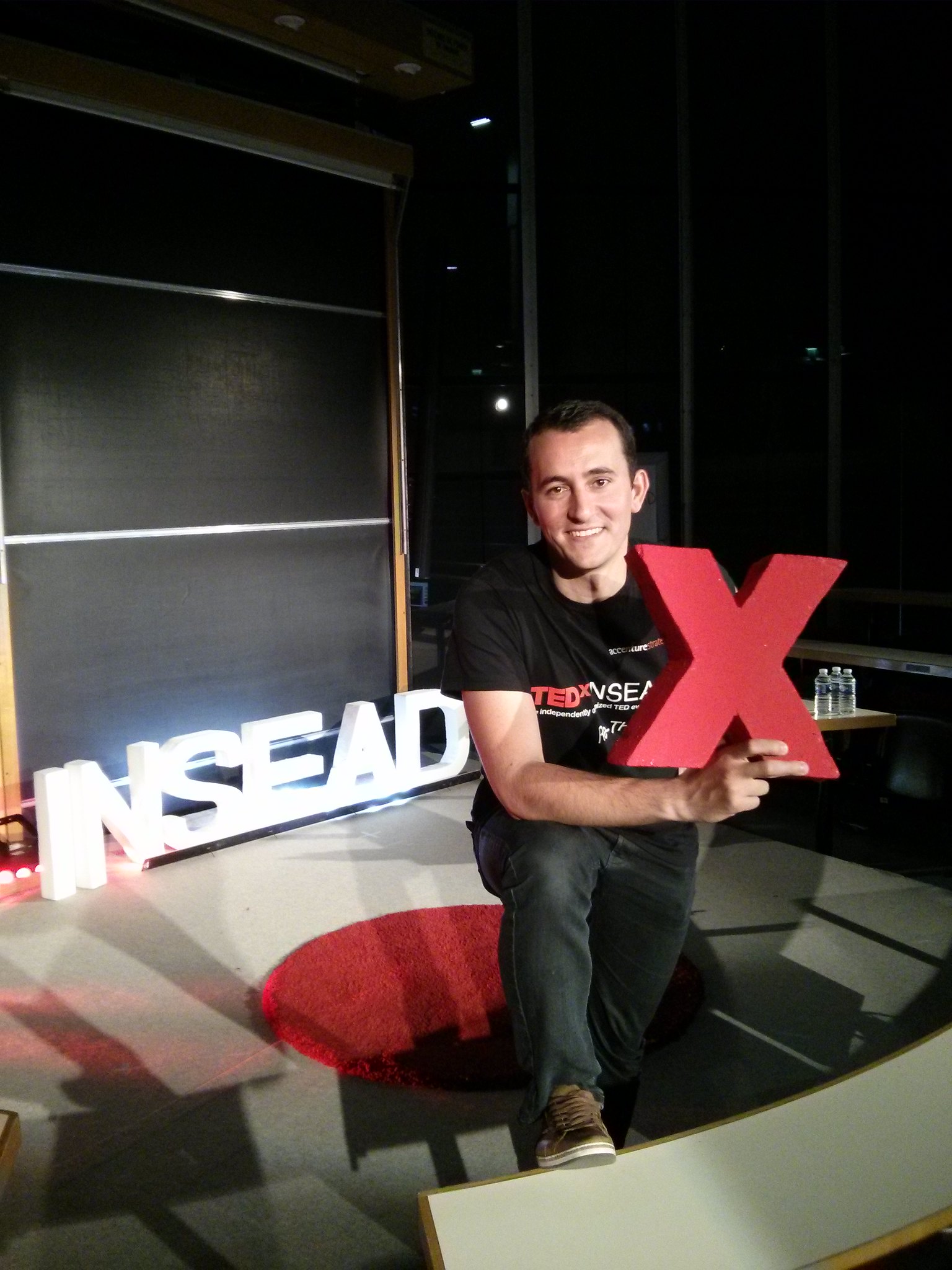 The pivotal time came with an MBA at Insead, one of France's top business schools. "There was a before and after, very clearly. I learned a lot about myself." There, he launches Insead-TEDx (pictured), a series of talks taking place at the university. He brings human-centred, progressive ideas and speakers to a business school that some might describe as conservative; Lefebvre chooses the words "quite classic, in terms of business education". He also reconnects with his seven-year-old entrepreneur and performer self. 
And he gets to attend COP21, the United Nations Climate Change Conference, in Paris. "COP in 2015 was really a confrontation of politics, activists and civil society… the missing link here was the private sector, entrepreneurs [who could bring] concrete solutions."
He continues: "How were we going to activate all these people so that they could build new models? If you look at history, and big changes in civilisation, like tech: tech could thrive like it did because it had an ecosystem that was strong enough to enable the creation of new projects, the training of new talent, the flow of funding and so on. In 2015, 'impact' was not a thing. How do we build this ecosystem? We needed to crystallise, bring together, build a critical mass and create the equivalent of what CES is for tech, or the Bourget [Paris] Air Show is for aviation. This is where the first vision for ChangeNOW came to be."
When you nourish plans that are a bit crazy, it's hard to open up about them
But while the vision crystallises, Lefebvre keeps his thoughts to himself for now: "When you nourish plans that are a bit crazy, it's hard to open up about them, you're scared of being judged." 
When he eventually mentions it to his wife, she tells him to go for it. He is doubtful – he's just been offered a job, as country manager for a Spanish car park company. "My wife told me: Santi, do you want to change the world, or do you want to open car parks in Spain?"
Crazy bet
It's 2015. The couple have just had a child, Lucotte leaves her job at Nestle to join Lefebvre in the project full-time. Kevin Tayebaly, whom Lefebvre had met at Insead, also comes on board. 
"I had a big student loan to repay, and we put all our savings into the creation of ChangeNOW," Lefebvre says. "It was really a crazy bet. Once or twice, we really thought: what are we doing?"
Once or twice, we really thought: what are we doing?
One of those times was June 2017. The team has managed to secure Station F – "we convinced them with an A4 sheet of paper. I think they were intrigued," says Lefebvre. "Then we created the contents – speakers, solutions… we're building something awesome – but we have zero euros of funding." The first partner, Accenture, comes on board but with only half of the funding hoped. People tell them to give up.
But June 2017 is also when Donald Trump announces he will pull the US out of the Paris agreement signed at COP21. The then freshly-elected French president Emmanuel Macron responds with a speech that calls on the world to "make the planet great again", and makes it a government-wide policy. In France, saving the planet becomes everyone's obsession – policymakers, corporates, investors; the funders rush back to ChangeNOW, and within a month all of the money needed to run the event is secured. Half of the first edition will even be funded by La French Tech, a government initiative to nurture startups in France, eager to back an event that showcases "tech for good".
The second edition in 2018 gathers 6,000 people, but it's when the summit moves in early 2020 to the Grand Palais, an iconic Parisian exhibition hall built for the international expo of 1900, that ChangeNOW really accelerates. The pitch has become tighter: ChangeNOW wants to be, for the environmental and social revolutions, what the universal expos were for the industrial revolution – in other words, the universal expo of innovations for the planet. For the Grand Palais, it's an easy decision to get on board.
The Grand Palais edition brings together a whopping 28,000 people. The ChangeNOW team grows to 15 – and looks for investors, which they find in the media group Les Échos-Le Parisien, owned by LVMH, giving ChangeNOW both the media exposure and the funding it needs. 
The 2020 event takes place in January – a "stroke of luck" as it's just before Covid-19 shuts everything down. The 2021 edition takes place online, with 55,000 visitors. Switching to an online format means losing revenue from ticket sales – ChangeNOW wants to offer most tickets for free – but partners remain committed, which covers the costs.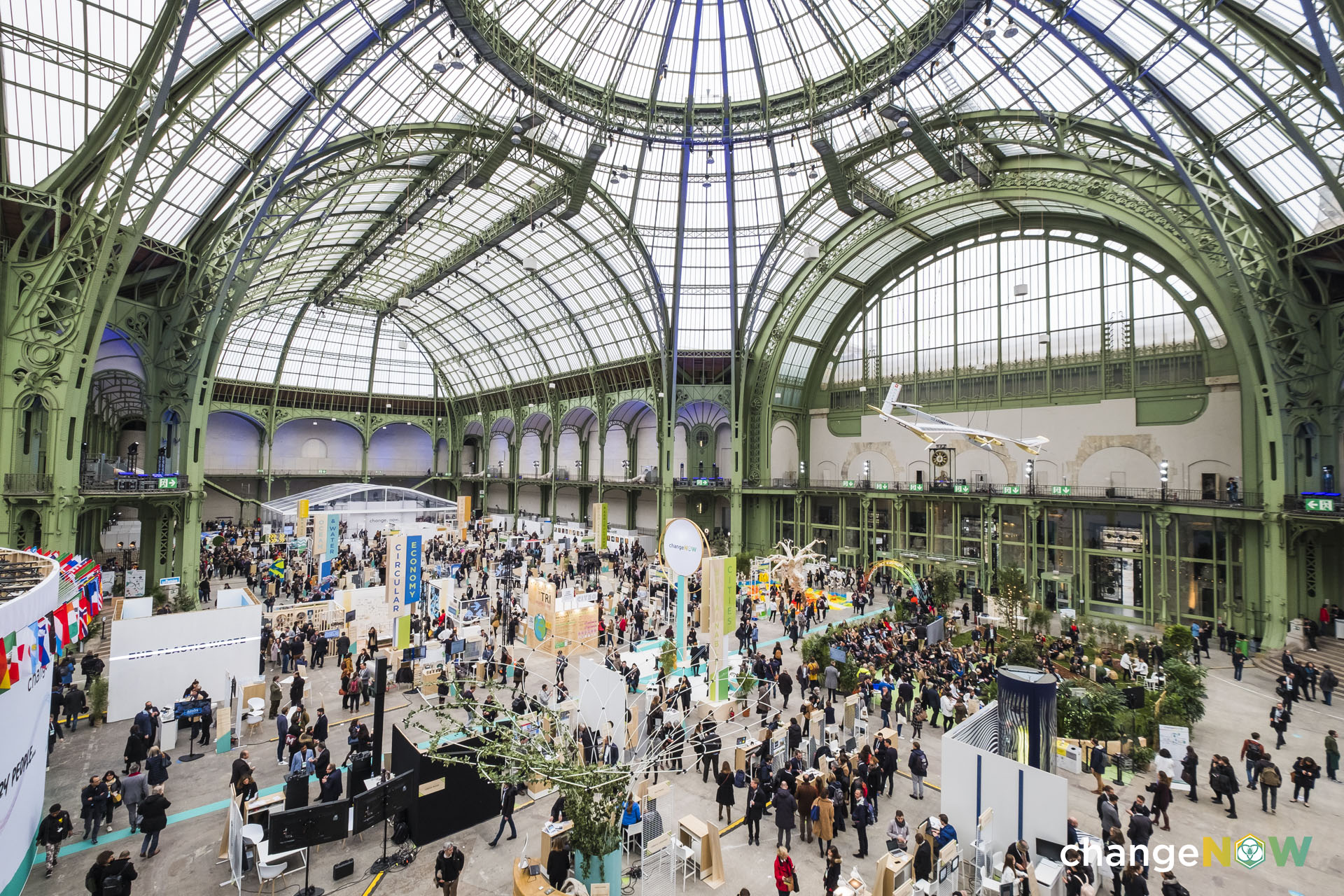 "We wanted to make a strong statement," says Lefebvre. "It was a time when the COPs, the big meetings were being postponed or cancelled; but no matter what, we would be there. Digital is always weaker in terms of impact, but it was also a way of saying: we're there now, we'll be there for the future and we're going to change things together."
In spring 2022, the summit returns to an in-person event, welcoming 33,000 attendees from 120 countries; there are 400 speakers – including star speaker and 'doughnut economics' creator Kate Raworth – plus 1,000 concrete solutions for the planet presented, and 1,200 investors. And Lefevbre's bet seems to have paid off: ChangeNOW is now breaking even.
Here to stay
Lefebvre and Lucotte now have two children, aged two and seven, who have already been brought along for litter-picking walks on the beach. With raising children come more fundamental questions for this new generation. "What model of success do I want for my children?" says Levebvre. "I want them to not be in need, to be happy, and to know that they'll bring a positive contribution to the world."
Success for ChangeNOW, meanwhile, means positive feedback from participants, who say that the event has led to new partnerships, ideas and the "concrete solutions" Lefebvre is so keen on. A number of other impact events attract large international audiences and have been running for many years. But they tend to focus on a certain segment of the ecosystem: the Social Enterprise World Forum, which moves to a new destination each year, mainly targets social entrepreneurs; San Francisco's SOCAP, also established around 15 years ago, draws a large number of (particularly US-based) impact professionals.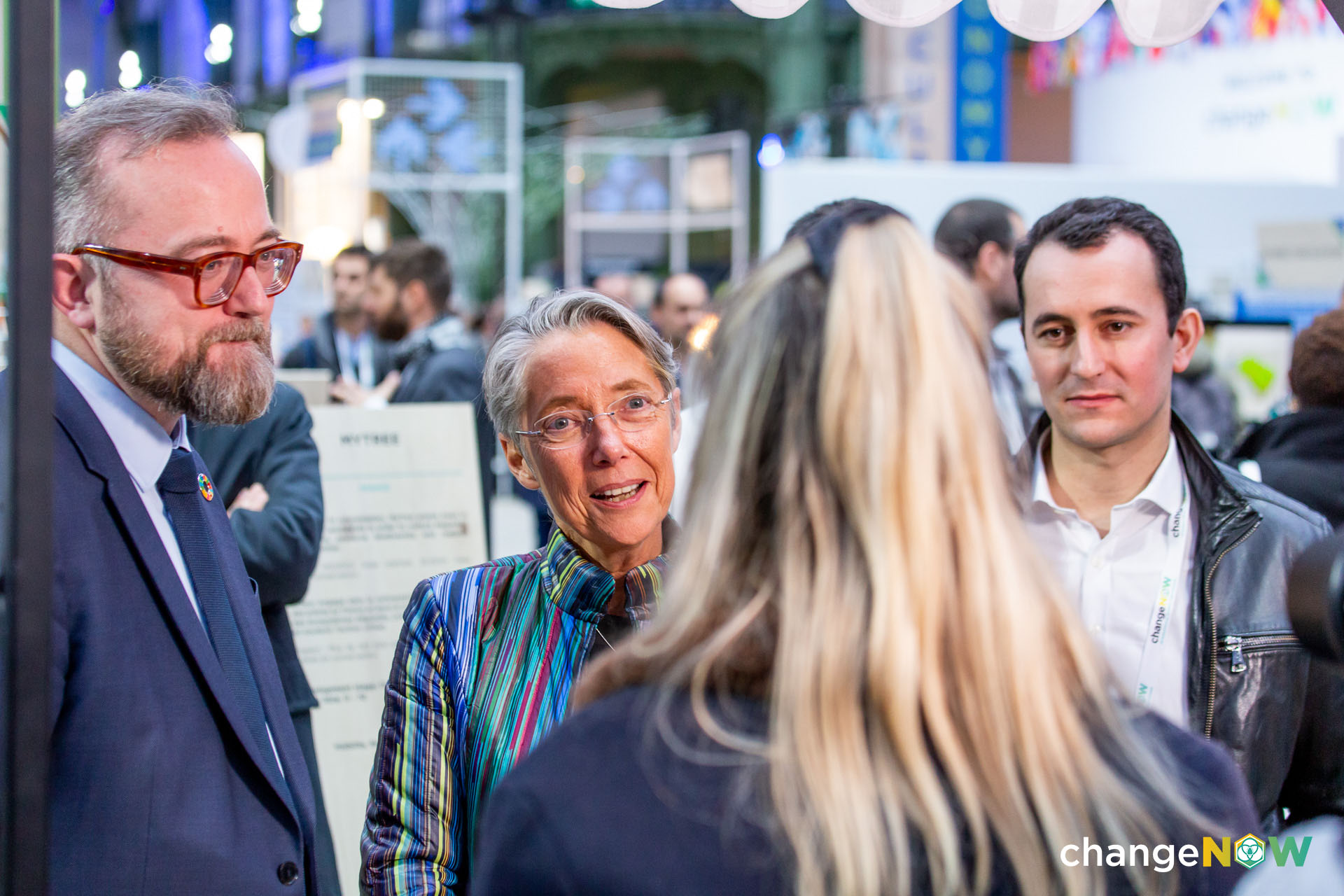 ChangeNOW casts the net a lot wider to reach far beyond its "early adopters" of impact, to involve a general audience, too – and that requires shaping the narrative carefully. Levebvre says ChangeNOW has a vocation of explaining how the impact economy is developing among the "avant garde and radical innovators" – but in a language that speaks to a wider and growing group of people backing the idea of a sustainability revolution – whether they come from business, finance, politics or beyond.
ChangeNOW has expanded its activities – holding additional events including an impact jobs fair, creating a university ranking for impact, which has been adopted by many of France's most prestigious business and engineering schools, and helping others to host events focused on sustainability. But 80% of the team's work is still focused on the annual summit.
Big changes in civilisation have been made possible thanks to a certain place that crystalised a new ecosystem... maybe Paris will be the Florence of the green Renaissance
"We're here to stay, because the topics we are addressing are going to require a lot of work, for a long time," says Lefebvre. "If we manage to contribute significantly to the emergence of new models and new solutions – these innovations that will help make the economy fit within planetary limits without collapsing public services and so on, then we'll have fulfilled our aim." 
While sustainability is gaining traction, serious obstacles remain; for Lefebvre, one of them is increasing polarisation. "The risk is that there won't be enough consensus to take sufficiently strong actions," he says. To avoid this, spaces for safe discussion and collaboration are needed, like ChangeNOW, he believes. In that, it differs from summits like the UN climate conferences, which he argues are, above all, power confrontations. Those events deal with negotiations and targets; at ChangeNOW, the key question is: "Right, so how do we do this?"
ChangeNOW's budding success has only made Lefebvre's aspirations bigger. "Historically, big changes in civilisation have been made possible thanks to a certain place that crystalised a new ecosystem: the Silicon Valley for tech, Florence for the Renaissance… maybe Paris will be the Florence of the green Renaissance."
This article was produced in partnership with ChangeNOW.
Photo of Santiago Lefebvre at TEDxInsead: TEDxInsead; all other photos courtesy of ChangeNOW
Thanks for reading our stories. As an entrepreneur or investor yourself, you'll know that producing quality work doesn't come free. We rely on our subscribers to sustain our journalism – so if you think it's worth having an independent, specialist media platform that covers social enterprise stories, please consider subscribing. You'll also be buying social: Pioneers Post is a social enterprise itself, reinvesting all our profits into helping you do good business, better.