Kate Raworth: We're going to redefine business
Is now the time for social entrepreneurs to shine? Julie Pybus explores with the influential Doughnut Economics author whether the Covid-19 pandemic and the climate crisis mean we've reached a "pivot point" in how we perceive business.
Kate Raworth talks fast. The self-styled "renegade economist" and Oxford academic whose Doughnut Economics theory has inspired millions of people to take a different look at the way markets and businesses should work rattles through theories, examples and ideas with passion and self-belief. 
And she's right to do so because we all know that time is running out. We're not only struggling through global economic turbulence as a result of the Covid-19 pandemic, but we're also facing a ticking environmental clock – the planet can't support our careless pursuit of ever-increasing financial wealth for much longer.
Social entrepreneurs and impact investors know this, but they are still waiting for wider recognition that they have some of the ideas the world needs for a better future. So when Raworth talks about a "pivot point" in the way we perceive business, their ears will prick up. Does this mean this influential theorist thinks that now – finally – is the time for them to shine?
Turning economics into a doughnut
Pioneers Post is talking to Kate Raworth because her 2017 book, Doughnut Economics: Seven Ways to Think Like a 21st-Century Economist, chimes with the beliefs and goals of so many people in the Pioneers Post community. In the book, she describes how she turned economics on its head and instead of starting with all of the conventional theories (of the laws of supply and demand, the goal of GDP growth, and so on), she started by considering humanity's long-term goals and moved on to considering what economic thinking would enable us to achieve them.
She explains in the book: "I tried to draw a picture of those goals and, ridiculous though it sounds, it came out looking like a doughnut." 
The inner ring is the "social foundation", and inside it lie critical human deprivations such as hunger and illiteracy. The outer ring is the "ecological ceiling" and beyond this are critical planetary degradations, such as climate change and loss of biodiversity. Between the two rings is the doughnut itself, "the space", she writes, "in which we can meet the needs of all within the means of the planet".
The visual simplicity of Raworth's doughnut theory is compelling, yet underneath it lies a complex argument of how economies should and can become regenerative, supporting people to meet their needs and thrive, but not destroying the planet in the process. 
In November last year, Raworth was the star turn at Social Enterprise UK's Social Enterprise Futures digital event. Introduced by Social Enterprise UK's chair Victor Adebowale as "the future of economics", she delighted the audience with a lively whizz through her economic theory and passionate support for what social entrepreneurs were doing. 
One of her key messages during that talk was that she believed we were at a "pivot point" in how we needed to see business in the 21st century.
So this is where we start our Zoom call earlier this month. Social entrepreneurs regularly hear talk of tipping points, burning platforms and similar urgent-sounding metaphorical moments, yet, for many of them, not much changes at the front line of their work – they're still on the outside looking in, trying to convince policymakers of the value of what they're doing. Can we now glimpse a future in which social entrepreneurs are playing a much greater role?
A new vision of business
Raworth emphasises that it's a long game. "I'm thinking longer than next month," she says. "I'm thinking in the long swings of the political and economic framework. We're swinging away from the norms of neoliberalism that my generation have grown up with, towards a new vision of business itself."
Raworth rapidly moves on to explain her goal – which is a big one. "We're going to redefine business," she says. That even means, one day, stepping away from the idea of social entrepreneurship – "because what's the rest of it, is it anti-social?" – so that all business is working towards meeting people's needs without overshooting the boundaries of the planet.
We're swinging away from the norms of neoliberalism that my generation have grown up with, towards a new vision of business itself
Raworth warns that her vision of what 21st century business should be runs deep. When she meets businesspeople, she says, from start-up social enterprises to Fortune 500 companies, they often focus solely on their products – what it's made from, where it was made, and so on. 
"We can talk all we like about the design of the product," she says, "but what ultimately matters is the design of the company itself."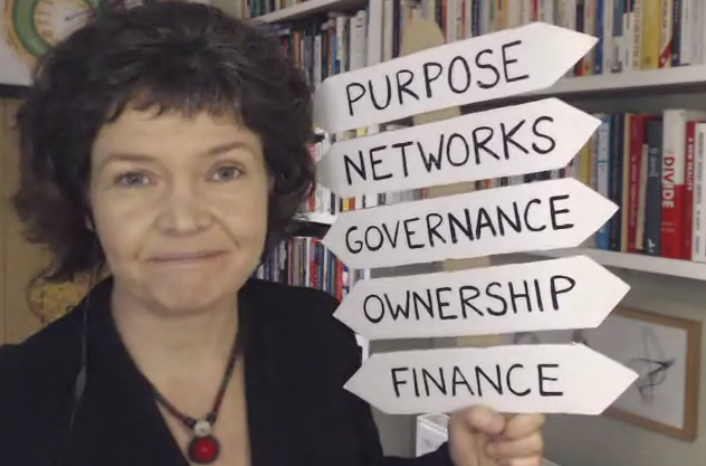 And she launches into her analysis of the design traits of a business (which she credits to corporate analyst Marjorie Kelly). She's got them written out and made into a signpost which she reaches behind her to hold up. ("The benefits of lockdown, things end up on a stick!" she laughs). They are: Purpose, Networks, Governance, Ownership and Finance (she's pictured here holding the signpost at the Social Enterprise Futures conference in 2020). The point is that being a good business has to run through the DNA of an organisation, otherwise "it's still stuck in the extractive economy", as opposed to what she calls a "regenerative economy". 
While today there are a growing number of legal frameworks around the world which allow different types of ownership, and different approaches to business, it's still a work in progress. 
"We're only just at the stage of defining these new dynamics and therefore the new designs we want to create," she says. She's frustrated too at MBA and economics courses where there's still an assumption that shareholders will want maximum financial returns and there is no chance for students to explore alternative business designs.

Purpose doesn't take you all the way
Raworth's focus on these design traits of business comes to life when we explore whether the vast majority of businesses that are not social enterprises could change for the better. While it's true that the conversation about changing the rules of business has been had among many different people in recent years, with even the former editor of the Financial Times, Lionel Barber, calling for an end to "unchained capitalism", Raworth warns about too much focus on the notion of purpose. "Just purpose alone is not going to get you there," she says. 
"You can superficially change your purpose by rewriting your mission on your website, you can profoundly change your purpose by having a CEO and a board who are really committed to a transformative purpose…but you have to realign the rest of the design of your organisation," she says.
It's about a company's relationships with its suppliers, about how it's governed, about how it treats its customers and the contracts with its employees, she explains. It's about the metrics by which a company assesses its success and, importantly, how it's owned, or who owns it, and what they expect.
"A little red flag goes up for me when I see big corporate initiatives saying we're talking about purpose-led business," she says. "And what about the rest of these design traits?"
A vivid example of this is the recent ousting of Emmanuel Faber as CEO and chair at Danone. Faber had been shifting Danone towards delivering more social and environmental benefits, but poor financial performance during the Covid-19 pandemic upset activist shareholders who forced him to go. This took place after our conversation, but Raworth tweeted that "only in business could 'activist' mean shareholder interests trump all".
In 2017, Unilever, which, under the CEO at the time Paul Polman was also aiming for more positive impacts, was subject to a hostile takeover bid (which failed within a few days). "This [bid] was a very public example of what happens when you get this split design, when purpose, governance and networks seem to be going in a progressive direction, but you're still owned, and therefore financed, in very mainstream ways, and they will pull you back," says Raworth. 
Double digit returns in what?
Investor expectations is another assumption that Raworth is keen to turn on its head. "We've inherited a financial norm from the last decades which says double digit returns, please, because that's what the financial markets want," she says. "But we need to start from somewhere completely different."
She says: "We need businesses that act as a vehicle for delivering double digit cuts in carbon emissions, double digit cuts in material use…then we ask ourselves what kind of financial returns can be delivered.
"That's where we really need the high returns ­– in the ecological recovery and in social reinvestment."
This isn't all just theory – doughnut economics is happening out in the real world. Raworth's Doughnut Economics Action Lab was founded during 2019 and is, it claims, "turning doughnut economics from a radical idea into transformative action". 
We need businesses that act as a vehicle for delivering double digit cuts in carbon emissions, double digit cuts in material use
One of the most high profile partnerships is with the City of Amsterdam, which has been working to develop its own local version of the doughnut. It's still early days, says Raworth, but she's impressed with the city's leaders for pushing ahead with their work during the darkest days of the Covid-19 pandemic last year to plan how to rebuild their economy in the future.
"Crises are opportunities," says Raworth, "they open up a crack in history for things to change, and either you seize that, or it will get seized to reinforce existing power structures."
What's more, the work that Amsterdam has done over several years to create what it calls its circular economy strategy means that it's home to many successful social enterprises, she says, including Tony's Chocolonely and Fairphone.
In Preston, in the north of England, which is also working with the Doughnut Economics Action Lab, Raworth points out the council is procuring from local enterprises. When mindsets like those in Amsterdam and Preston are in place, Raworth says, the social entrepreneurs will come, and step into a space that is designed to bring about a "regenerative, thriving local economy". 
Raworth says she sees no reason why other localities in the global north shouldn't do the same, but she's not going to push them to do it. "We go where the energy is," she says.
When to pursue economic growth
In developing economies, there are different challenges. The first point in Raworth's Doughnut Economics theory is that the goal of economics should no longer be focused upon chasing ever-rising GDP. But, she explains, some GDP growth is necessary. 
"There are places where they urgently need to see their economies thriving, so that they can meet everybody's needs for food and water, housing, health care, education, connectivity, income, dignity, community and opportunity," she says.
At the same time, she emphasises, these economies shouldn't be based on the industrial exploitation that we've seen in the global north because that will push everyone over the planet's ecological boundaries.
Pioneers Post readers know that in many developing countries there are plenty of social entrepreneurs with big ideas about the role they can play in creating strong and fair economies in their own countries. Raworth is clear that they need policy-level support to help them to thrive.
"Those enterprises need to have a legal form that recognises them," she emphasises (a view which goes against some social enterprise leaders' opinion that social enterprise-specific structure could hamper innovation). 
"Countries need laws that protect environmental resources and actually give an incentive to enterprises to be carbon efficient and to drive circularity, so that social enterprises succeed because they're social enterprises, not despite being social enterprises."
And these support mechanisms are still missing in many global north countries, which frustrates Raworth. "I would really like the UK government to recognise the importance and the strength of the social enterprise sector," she says.
I would really like the UK government to recognise the importance and the strength of the social enterprise sector
She's outraged that social enterprise is still managed under the Department for Digital, Culture, Media and Sport rather than being in the Department for Business, Energy and Industrial Strategy where social enterprises could be seen as part of the wider spectrum of types of business. "If you bring it into a similar department, you start to see that spectrum rather than saying, this is business and that's something else and we're going to put it somewhere else and treat it differently."
Read civil society minister Baroness Barran's views on why social enterprise is fine in DCMS in our interview
What matters most though, to Raworth, is not a specific policy, but a "shift in mindset". And that's going to take time. But she thinks things are changing.
"Some years ago, I'd say that social enterprise was seen by the mainstream as a bit of a fringe activity," she says. "But life evolves at the fringe – it's what's happening at the margins where the evolution is happening." Now it's being regarded by some as less of a "strange outlier" and more of "creative forerunner".
But we're at the beginning of this "long pivot point", she says. "We need more legal forms, we need more language that allows us to recognise these different designs. And we need new metrics. So I think social enterprise is crucial as a pioneer." 
Header photo of Kate Raworth by Roman Krznaric