TerraCycle boss: why sleepy social enterprise needs more 'punch to the gut'
Time magazine reckons TerraCycle could hold the key to mass-scale recycling. How has the social enterprise made such a splash? Ahead of a speaking slot at the ChangeNOW summit on 27-29 May, TerraCycle founder Tom Szaky shares some surprising advice on getting your message out there – including taking a lead from Fox News.

In 2009, National Geographic broadcast a documentary series about US-based recycling company TerraCycle. Billed as a tale of "young eco-capitalists" making "clever products that turn trash into cash", Garbage Moguls took viewers behind the scenes at a quirky New Jersey startup turning billboards into bags and Oreo wrappers into kites. 
The TerraCycle team hoped the series would show that waste management could, contrary to most perceptions, be fun and creative (it also meant they got paid to be featured, rather than paying for advertising). But viewing figures weren't particularly high, CEO and founder Tom Szaky says, so it ended after one season. It was, he thinks, just a bit too serious to get people excited.
A few years on, TerraCycle tried again, this time with semi-scripted comedy Human Resources, described by critics as "spunky" and "cheeky". It was screened on the now defunct Pivot Network, becoming its most popular show and continuing for three seasons until the network folded. Szaky plans to revive the show at some point.
The lesson – for TerraCycle and for others – was clear. "You have to focus on how to achieve the goals of whatever it is that you're working on first," says Szaky. For TV, that means audience ratings. "When you have that, then you have permission to try to put as much purpose and mission into it. We did it inverted with Nat Geo. It ended up failing."
ChangeNOW: three days of action for the planet
The fourth edition of ChangeNOW, 'the world's largest gathering of solutions for the planet', takes place 27-29 May 2021.
Visitors can follow live online sessions featuring 500 inspiring speakers on the circular economy, inclusion, education, climate, biodiversity, energy, health, mobility and finance. These include broadcaster and natural historian David Attenborough; Canadian prime minister Justin Trudeau; economist and author Kate Raworth; climate activist Clover Hogan; and founder of TerraCycle Tom Szaky. There is also a World Expo with 300 exhibitors, selected from thousands of applications.
All the conferences and the World Expo are free to access with a ChangeNOW Discovery Pass. Premium access passes, which include networking with participants, exhibitors, investors and speakers, access to workshops and details on exhibiting companies are also available. 
Not many social startups get the chance to become stars of the small screen. But the lesson holds in other areas, Szaky suggests. When you're trying to get new clients on board, for example, it's best to park the social or environmental message.
Focus on how to achieve their goals first. When you have that, then you have permission to put purpose into it
For Terracycle that means not pitching its services to big-name companies by highlighting the damage of products going to landfill – because that message relies on finding someone in the company who's sympathetic to that cause.
"It's much better to focus on and empathise with their goals – whether you agree with them or not, frankly – and really, deeply empathise with the goals they're trying to achieve," the Hungarian-born founder says. "Even if it's as uninspired as 'I want to sell more stuff'. And show them how they can achieve their goals by leveraging your purpose, whatever that purpose may be."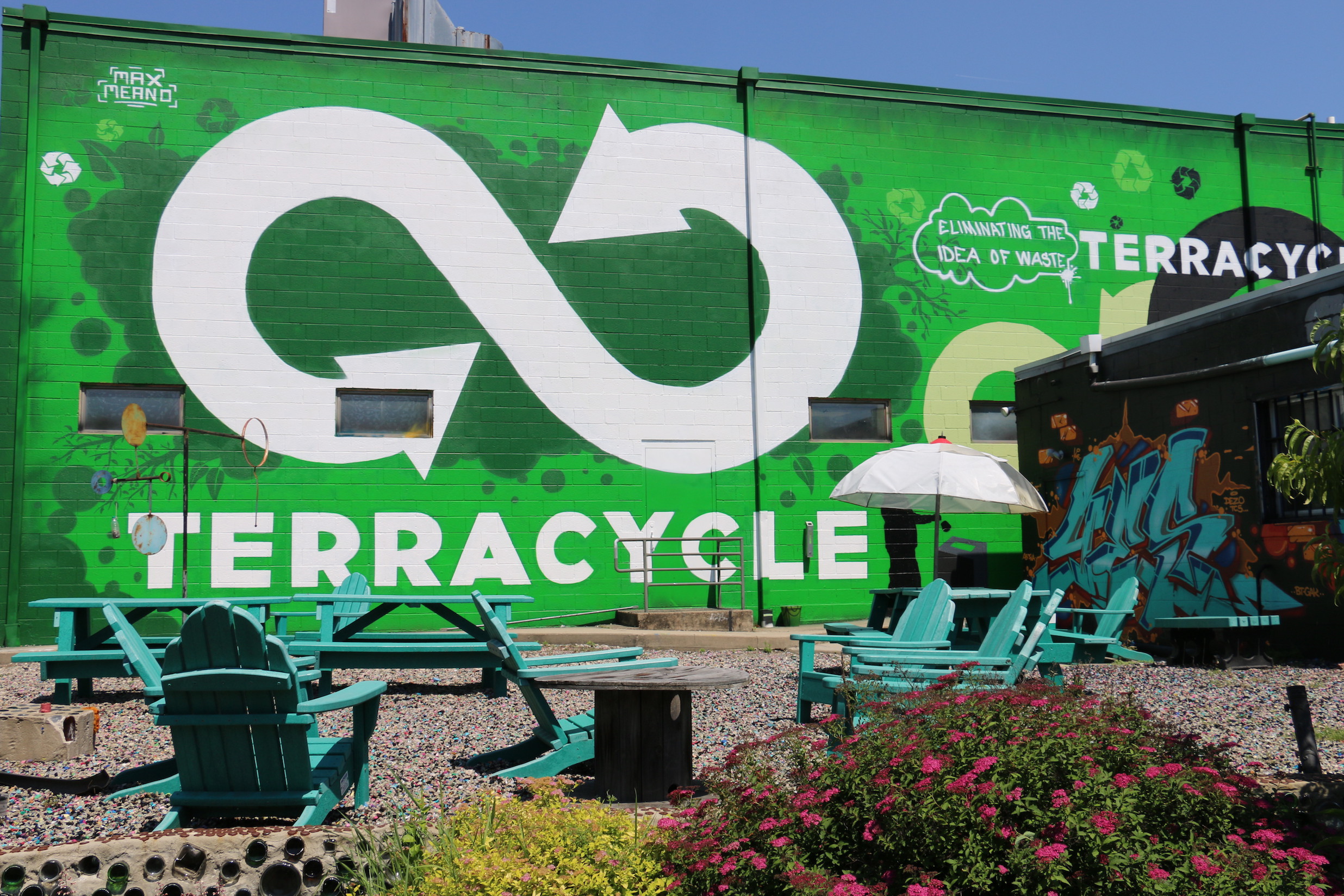 Above: TerraCycle's New Jersey headquarters demonstrates the creative side of the waste management industry. The building is often repainted by local graffiti artists 
Social entrepreneurs: 'chronically bad' salespeople
Focusing on how you can address a potential client's problem sounds like Sales 101. But while Szaky agrees it's "sort of obvious", he says the lesson still needs to be hammered home.
"Most people joining our company have to be trained. It is chronically badly done with social enterprise, because people are so mission-driven. They're blinded to what I just described." That blinkered view can be damaging, since people get upset or angry when others don't seem to care about the damage caused by their products: "It's almost like, 'F**k you, you should be responsible' – that emotion comes out," he says. "It's not going to further the mission."
Even if a deal gets done based on good ethics alone, it's on shaky ground, he believes – subject to being dropped as soon as your eco-conscious contact gets replaced by someone driven solely by profit. "This is the important test, in general for a social entrepreneur: could your action at the company survive if the entire [ethical] purpose of it disappeared?"
Empathise with their goals – whether you agree with them or not, frankly
Szaky reckons his own company, after 20 years honing the model, would pass that test. What started as a business idea for fertiliser made from worm-digested food waste – when Szaky was a 19-year-old student at Princeton University – now runs specialist recycling services in 20 countries (with its nonprofit foundation helping clear plastic waste in another two countries). The model is simple economics: companies, retailers and city authorities pay for services that consumers use for free, because it benefits their bottom line, directly or indirectly; TerraCycle then converts the waste into raw materials to find a new life as anything from a park bench to a watering can.
Loop: a modern milkman
The social enterprise has had some 200 awards and accolades, and last month, Time magazine named it among the world's 100 most influential companies, alongside household names like Tesla, Pfizer and Zoom. "Its sustainable model, buoyed by buy-in from corporations such as Colgate, P&G and Gillette, could be the key to unlocking recycling's full potential at scale," Time's writers said.
Its sustainable model, buoyed by buy-in from corporations, could be the key to unlocking recycling's full potential at scale - Time magazine
Some question TerraCycle's approach. After all, if Nespresso consumers can dispose of its capsules with a clear conscience, the coffee company has little incentive to design a less wasteful product. The question is understandable, Szaky says, but he argues that companies have voluntarily moved from "taking absolutely no action" on waste, to paying for a solution. He says they are "even more motivated" now to improve the design and therefore cut those costs.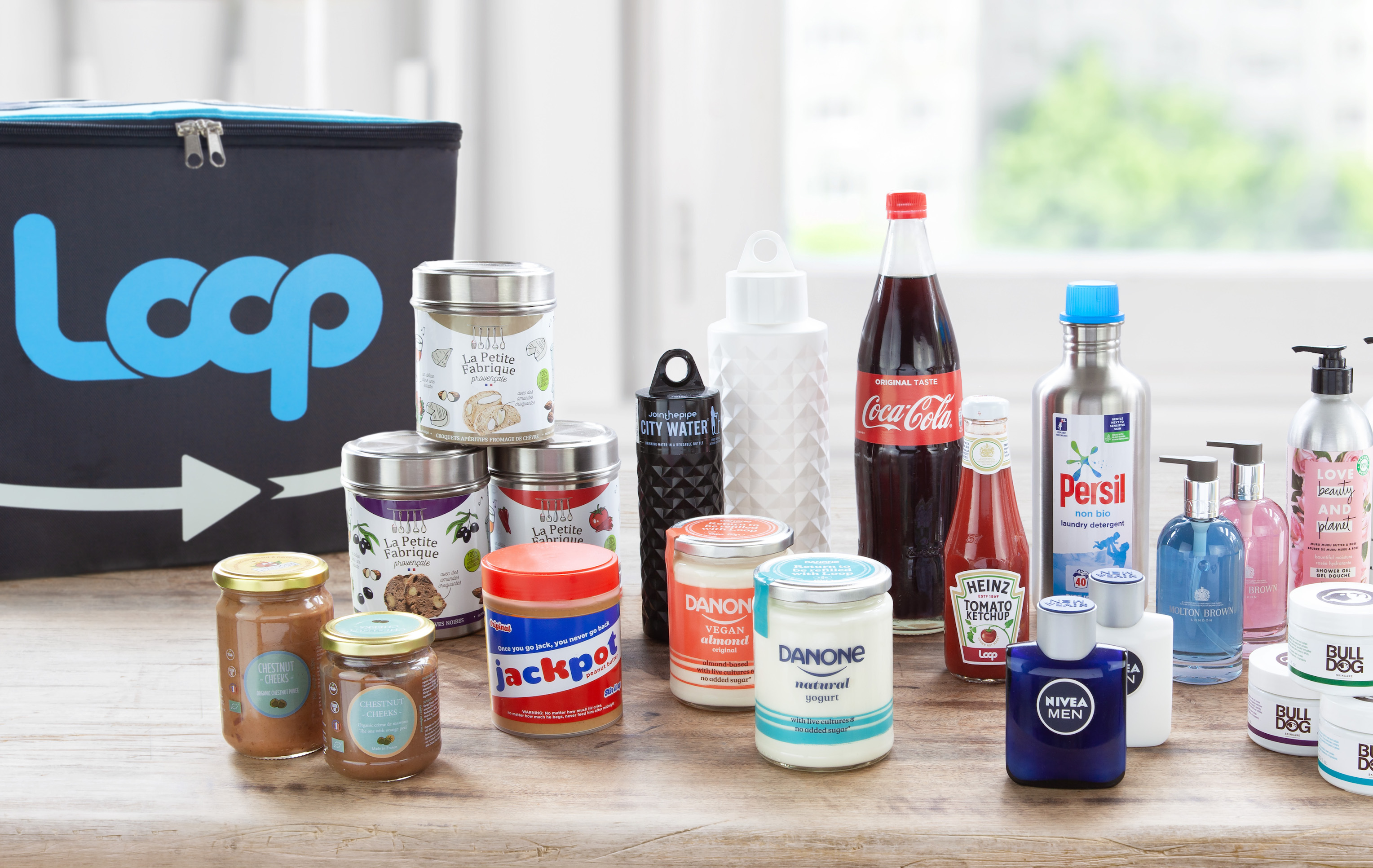 Above: Loop, launched in 2019, delivers household-name brands to consumers in durable, refillable packaging
TerraCycle's latest innovation, Loop, launched in 2019, takes a similarly pragmatic approach – appealing to consumers' desire for convenience and an 'improved shopping experience' rather than (solely) their wish to avoid waste. The '21st-century milkman', as it is described, delivers household-name brands to consumers in durable, refillable packaging. Customers pay a deposit for the packaging; after using up products, empty containers are collected by a delivery service, cleaned and refilled, and shipped again. In 2020 Loop raised $25m from investors including P&G, Nestlé, Suez and Sky Ocean Ventures.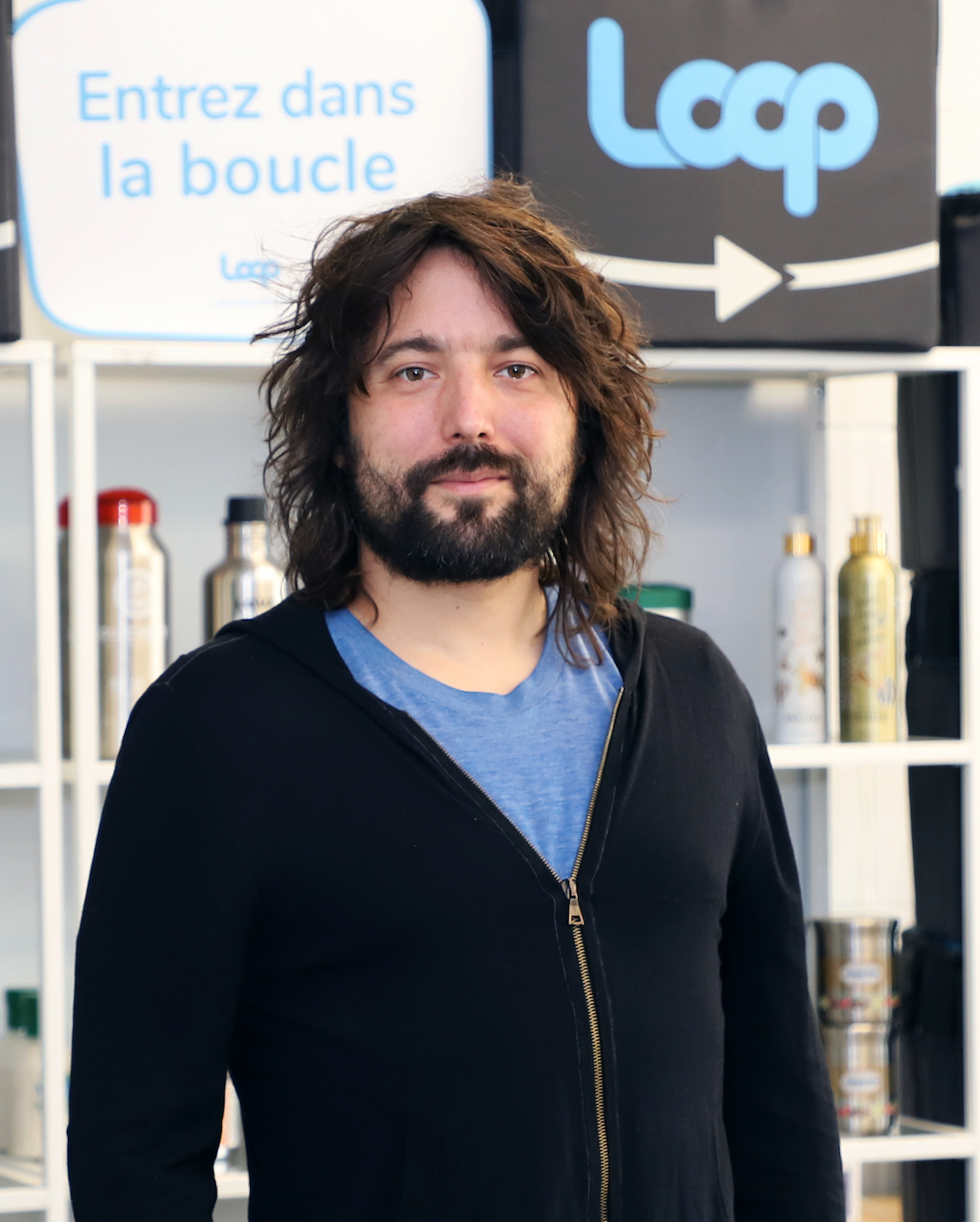 The Covid-19 pandemic has slowed the rollout of some Loop activity, but not stopped it, says Szaky. "Not one retailer has changed course, not one manufacturer has changed course, it's just taking us longer to get there… the appetite from brands and retailers is only growing and strengthening." Despite a "disastrous" time for the broader recycling industry – low oil prices, health and safety concerns, inability to move materials – TerraCycle's business model has weathered relatively well. It added 100 jobs last year – reporting revenue of $53m – and expects to add twice that in 2021.
That's because it differs from mainstream recycling business models, Szaky says: while others balance the cost of collecting and processing waste streams with the value obtained from selling resulting recycled materials, TerraCycle focuses on traditionally non-recyclable waste and finds funding to cover the cost of collection and processing, minus the value of the recycled materials. 

'Too utopian'
When it comes to Terracycle's influence, Szaky says he is most proud of getting "traditional corporate players" to "want to lean in" on sustainability. But there's still work to be done in getting them to see sustainability as "a core opportunity". The fact that many firms position their sustainability function within their legal or corporate affairs departments "means they see it overtly as a risk to be managed", while those who do so within the communications department likely see it as PR.
Where should it sit?
"It should be its own thing, right? It shouldn't be embedded into anything. And it should be something where all stakeholders inside the company are measured against it. Not just a nice to have, but something that can set firm direction, and ideally give it a budget."
How does Fox News communicate? Black and white, punch to the gut.. we've got to communicate a bit more like Fox News
Meanwhile, social entrepreneurs can continue to rethink their communication approach. Content marketing is one tool: as well as its two TV shows, TerraCycle has also produced four books, which Szaky describes as a "great way to create awareness" for free. He is such an advocate of the approach that 'negative cost marketing' is the subject of a forthcoming book.
But he also suggests we need a fundamental shift in messaging – getting away from the tendency to be "too utopian" in the belief that others will change. Perhaps controversially, Szaky argues that communicating sustainability issues in the nuanced, detailed style of American national public radio won't work. "It is complicated. I completely get it. But it puts you to sleep, right?"
Instead, we should be following the lead of none other than the conservative-leaning, Donald Trump-supporting news channel – because that's the style that grabs attention.
"I don't agree with anything Fox News puts out, but it doesn't matter. It is what most people watch. And how does Fox News communicate? Black and white, punch to the gut. Simple. And you know what, that's what people want to tune in to…. If practitioners want to get the message out, you've got to communicate a bit more like Fox News."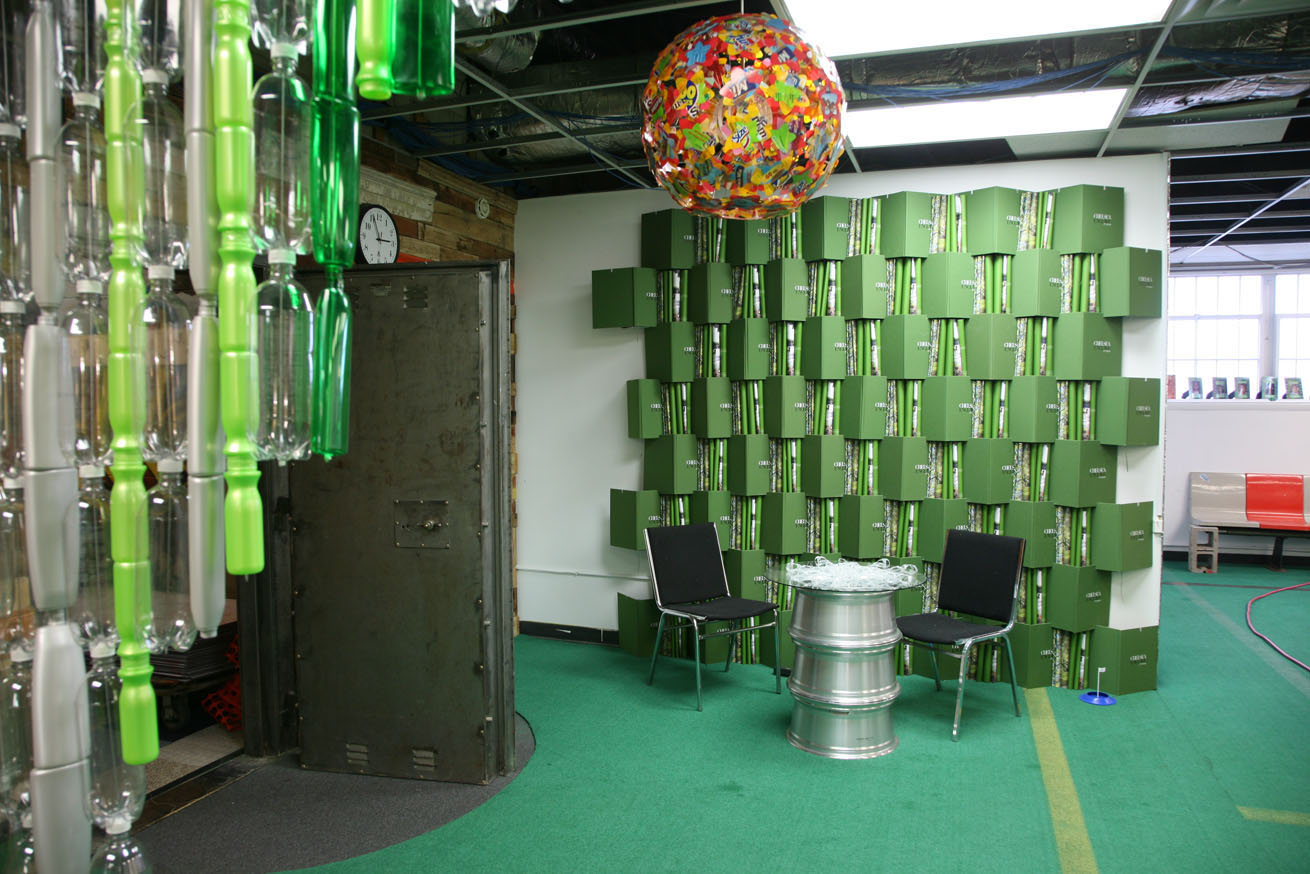 Above: a showroom at TerraCycle, which specialises in taking on waste that is traditionally difficult and costly to recycle
Nudging change at ChangeNOW
Szaky is one of 500 speakers on the agenda at the ChangeNOW summit, which takes place on 27-29 May (see box above).
Santiago Lefebvre, who co-founded the annual event in 2017, says TerraCycle's team embodies many of the qualities valued at ChangeNOW. "They gather three things we are looking for in all the heroes of change: creativity, impact and an ambitious vision for a better future."
Previous editions of the summit – which Lefebvre describes as the "accelerator event for changemakers" – helped attendees to get funding, visibility and access to new customers and talent. Last year, one startup met a new partner at the event, and subsequently expanded to 25 countries. 
But Szaky says it's not the potential business benefits motivating him to attend again this year. "I hope to be able to share what I've learned along the way. And I hope to attract more folks to spend their time focusing on things that have to do with purpose, rather than just making money. If I can help nudge in that direction, I feel like that's a really good use of time."
This article was produced in partnership with ChangeNOW. Pioneers Post readers can get 20% off the business pass with the code PIONEERSNOW: find out more and register.
All photos: credit TerraCycle