Issue #6: The Future of Doing Good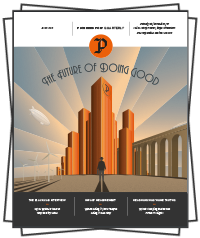 The digital version of the whole of the sixth edition of our print magazine Pioneers Post Quarterly can be found below. We'll be adding a selection of individual articles in their usual format over the next few weeks. Problems reading the issue? Contact us at hello@pioneerspost.com.
Cover feature: We've had quite a few years now of doing good but are we getting any better at it? We consider the future.
Global Focus: Exploring social enterprise in Argentina.
The Black Cab Interviews: Restaurateur with social meddling tendencies Iqbal Wahhab thinks charity sucks! We ask him to explain himself.
Impact measurement: The results of a survey present the most revealing picture yet about practices, uses and the tools that are used.
Behind the mask: CEOs are not the superheroes we thought they were. Turns out they have worries too - who knew?
PLUS: How tenants can help solve homelessness, we spend a night in a social enterprise hotel and also have a pint with Resonance boss Daniel Brewer.