A is for Anxiety: Worry is part of creation, don't let it paralyse you
In the first of a series of extracts from his latest book The Social Entrepreneur's A-Z, Liam shares his experiences of waking up at 4am with a head full of business worries – and how he deals with them...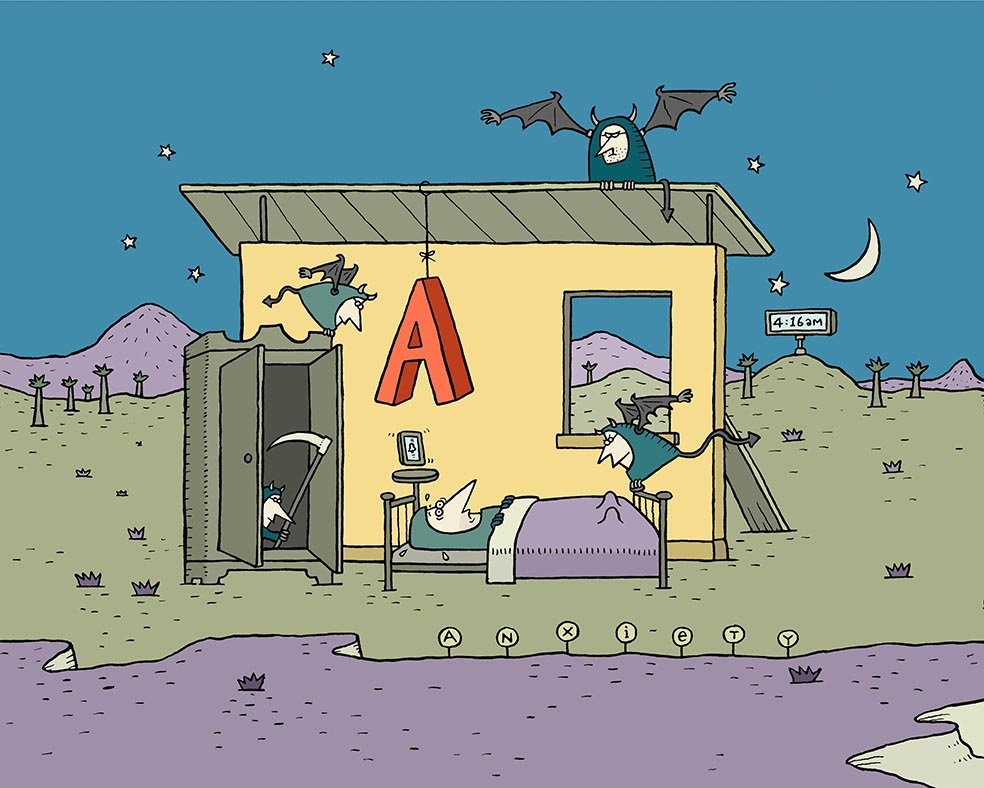 "Anxiety's like a rocking chair – it gives you something to do, but it doesn't get you very far." 
Jodi Picoult, author
I remember like it was yesterday. The bowel melting worry when my financial director Tony told me our monthly salary bill had passed £40k: "That's lot of sofas to sell, Liam," he deadpanned. 
I lay awake that night staring at the ceiling (in the spare room), my brain churning about the future of our social enterprise beside the banks of the Mersey. (Christ. What if we don't achieve £40k? We'll have to let people go… What about all those unemployed guys we've recruited?… What will everyone say… about the business? About me?) In and out of half sleep, coming wide-awake at 4am. (I don't know why but it is always around 4am for me!).
Creating, scaling and sustaining any enterprise is demanding and will really test you, so be prepared. Worry – and its pernicious first cousin, self-doubt – have been long-time companions of mine. You are in unknown territory so your mind will play all sorts of tricks on you.
A big cog in my anxiety generator has been the habit of comparing myself with others perceived as more successful, creative, happier, productive, famous. Try not to do this. Everyone's success is unique. You never know the full story of their struggles, mistakes and huge strokes of luck. Believe me it is always a lot messier and contingent than it looks! "Insist on yourself," said Ralph Waldo Emerson. "Never imitate."
"Everyone's success is unique. You never know the full story of their struggles, mistakes and strokes of luck."
In my fifties the things I worry about have changed as my life circumstances have shifted. The worries you have with small kids – Am I letting them down by not earning more money? Should I be at home more? Am I spending this last couple of decades of my working life the best way I can? Have I done my best work already?
I am much better at managing anxiety and, for sure, once you've been round the block a few times, you have more to draw on to help deal with it. When you've made some monumental cock-ups in your career you learn that you do survive and, if you've been acting with integrity and authenticity, then people, by and large, are forgiving.
So, if you are feeling anxious about how to start your socially enterprising journey, panicking about cashflow or lying awake worrying about how you exit – take heart. Worry is part of the process of creation. Don't let it paralyse you, it might help keep you honest. 
Fear – of failure, letting people down, losing money – can be a powerful fuel for your entrepreneurial drive. But it is deadly if you become driven by it.
The Social Entrepreneur's A-Z with foreword by Nobel Laureate Muhammed Yunus and illustrations by Spike Gerrell is available to order through Amazon here. You can read more details on the book itself here.
Tune in to the A-Z Podcasts!...
To accompany each chapter of his book, Liam met with successful social entrepreneurs, corporate leaders and some generally all round inspiring individuals to capture their personal business management experiences on audio. Pioneers Post has the great privelege of presenting these conversations to you in the form of a new podcast series. Find out what happens when you put Liam Black and a bunch of business leaders in a small recording studio in the centre of London here.