The investee who changed me: "That lunch turned an idea into reality"
Meeting the right investor can be game-changing for a social enterprise – but how does the relationship affect those putting down the funds? In partnership with EVPA, we're inviting social investors to share their personal stories of the investees who have changed their thinking. This time, Robert Manz, private equity veteran and co-founder and board member of the Valores venture philanthropy fund in Poland.
Back in 2011, I and some colleagues from my sector were keen to apply our experience in the private equity industry to help social causes, but we were looking for a more structured way to do it.
A colleague (Piotr Nocen, Resource Partners) and I set up a philanthropy committee within the Polish Private and Venture Capital Equity Association (PSIK), and an idea arose to start a mentoring programme for social entrepreneurs and their organisations. The concept was to connect experienced private equity professionals one-on-one with leading social organisations and facilitate a pro-bono knowledge and skills transfer.
That had never been contemplated before in our industry, and knowing how much effort would be needed to set it up properly as a scalable programme and organise it well, I wanted to meet a leading social entrepreneur who would potentially be part of this project, to test the concept. I thought, let's just sit down and discuss it, and see what's the reaction and the level of interest. If we walk away feeling that the project has potential and can make a real impact, we will go ahead – or if we don't get that sense, we might just kill it on the spot.
Ewa Konczal, at that time head of Central and Eastern Europe for Ashoka (now head of CEE at EVPA) and a co-creator of the mentoring project idea, arranged for a lunch meeting with Mr. Piotr Pawłowski, the founder and CEO of Integracja. It's one of the leading NGOs in Poland working to support persons with various disabilities.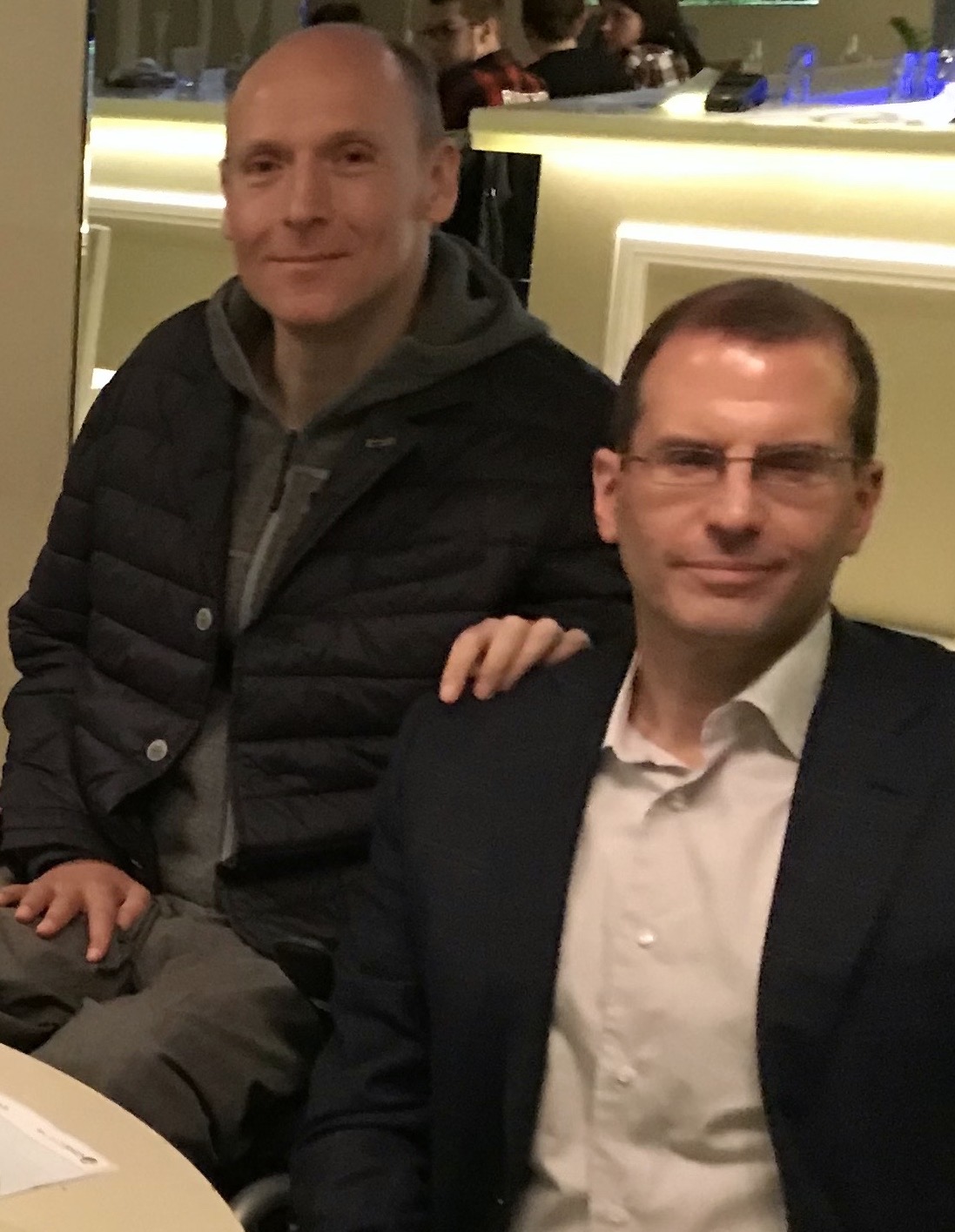 Well, I didn't realise it prior to the meeting, but Piotr [pictured, left; with Robert, right] was one of the most well-known, high profile, and leading figures in the Polish NGO world.
In my career, I've met many business leaders and entrepreneurs of all types and seniorities. But I hadn't really had much contact with leaders from the social economy. It was truly eye-opening to meet a "social entrepreneur" who was operating at the highest levels to tackle major social issues on a large scale.
Piotr understood immediately what we were trying to propose, in terms of a transfer of the private equity skill set, which is quite unique and a good fit for the needs of social organisations. He basically gave the feedback I was hoping for – that such skills and expertise would be very valuable to social organisations like his, and very importantly, it would be welcome.
We instantly became friends. We had this chemistry that just worked, immediately
Was there a lightbulb moment? This was probably close to it. That discussion over a couple of hours turned an idea into reality.
Right after that meeting we decided to launch. It's called the Social Business Accelerator (SBA) programme and we've already completed seven annual editions. Counting up, we've mentored more than 65 social organisations, and engaged over 50 private equity senior business professionals. It has generated some very interesting impact – for both sides.
But that lunch meeting imprinted on me more than just the professional feedback.
First of all, I personally became very inspired by Piotr's life story, his vision, his drive. At the age of 16, he had an unfortunate accident and became paralysed. So, when we met in 2011, he'd already spent about 30 years in a wheelchair. The things he has accomplished, professionally and personally, simply amazed me. It gave me a true source of inspiration and motivation, to work with him, and others like Piotr in the social space – social entrepreneurs fighting for important issues, across all types of marginalised or excluded segments of society.
The other outcome is that we instantly became friends. We had this chemistry that just worked, immediately. Over the years, he and his wife, and myself and my wife have had a number of great meetings, dinners and discussions together. I was privileged to see very close-up and personal how, despite Piotr's physical limitations, he was more active and optimistic than most people I know. He was a wine and food connoisseur, a lover of the arts and an accomplished painter himself, among many other interests.
If we had met someone else that day, would we have kicked off the programme? I don't know.
Piotr also became a sort of silent advisor to me, a constant inspiration and source of guidance for the SBA mentoring programme, and then when the Valores Foundation was created, a few years later in 2014. Valores is the first venture philanthropy fund in Poland and Integracja moved from being the first organisation in the first edition of the mentoring programme back in 2011, to being one of the first three organisations to join the Valores portfolio. Valores assisted Integracja from 2015-2017 in a three-year programme of financial and non-financial support.
So that first meeting was a starting point for the two important philanthropic programmes supported by the private equity and venture capital industry in Poland, which continue to flourish and are still going strong. The eighth edition of the SBA mentoring programme, launched this Fall, is the largest ever – more than 20 social organisations and mentors joined in this round. Earlier this year, we completed the second round of fundraising for Valores which was very successful at 3m Polish zlotys, bringing the total funding raised to date to over €1m, provided exclusively by individual donors, primarily from the private equity/venture capital industry.
In 2018, I initiated a discussion with Piotr about what more could be done beyond these two programmes – looking again for his input, wisdom and counsel. Unfortunately, it all got tragically interrupted when Piotr suddenly and unexpectedly passed away in October last year. That was a dramatic and huge loss for the community, for everyone whose lives he touched, for Poland and for me personally.
Piotr was a true entrepreneur. He had great vision and during that first meeting, he could quickly see the scope and power of the idea we proposed, which had never been undertaken before with private equity professionals in our region. He gave us the inspiration to move forward.
If we had met someone that day who wasn't as open-minded, would we have kicked off the programme? I don't know. We might have walked away saying, 'ah you know, I'm not sure it's worth going through all the effort'. Indeed, he was a major catalyst for getting us started, and I will always remember and appreciate that.
Want to share your own story about the entrepreneur or organisation that changed your life? Let us know: news@pioneerspost.com.
Hear more insights and share lessons learned with a whole community of investors and philanthropists at the EVPA annual conference on 5-7 November, the Hague. Tickets here.