Sankalp calls for inverted African 'enterprise pyramid'
There are lots of enthusiastic young social entrepreneurs in Africa, but there is little support to help them realise their dreams, according to a report launched during the first day of the Sankalp Africa Summit in Nairobi, Kenya. Stephanie Bauer, senior manager at global enterprise consultancy firm Intellecap which published the report, explains why the 'enterprise pyramid' needs to be inverted.
With almost 200 million people aged between 15 and 24 – and predictions that this figure will double by 2045 – Africa is the youngest continent in the world. 
Due to the lack of opportunities for traditional, waged employment in the continent's labour market, Africa's vast numbers of young adults are exploring entrepreneurship at scale. 
While many are starting businesses because of a lack of other options, there is also a growing trend of young people choosing entrepreneurship over secure white-collar jobs, not only to make profits, but also to address social issues. 
"There is a lot of optimism and hope for growth. A lot of young entrepreneurs are taking charge and solving the problems of our communities. It's now time for us – the youth – to rise and shine, and take charge of our destiny," says Herve Kubwimana, country director of African Innovation Prize, an initiative that encourages university students to start social ventures. 
Enterprises like Ensibuuko, an ICT company that connects farmers to finance opportunities as well as to the market, or Impact Africa Industries, a social enterprise that addresses menstrual hygiene issues that keep young girls from school, demonstrate how young innovators are acting as drivers of Africa's social and economic transformation. 
Entrepreneurship eco-system 
Catalyst for Change: Creating an Eco-System for Young Entrepreneurs in East Africa is new a report published by Intellecap and it focuses on understanding young entrepreneurs' challenges as they try to turn ideas into viable enterprises. 
The report highlights the need to create an eco-system for young entrepreneurs. While this might not be a new idea for many in the entrepreneurship support sector, it is not common knowledge among many youth entrepreneurship promotion interventions in Africa.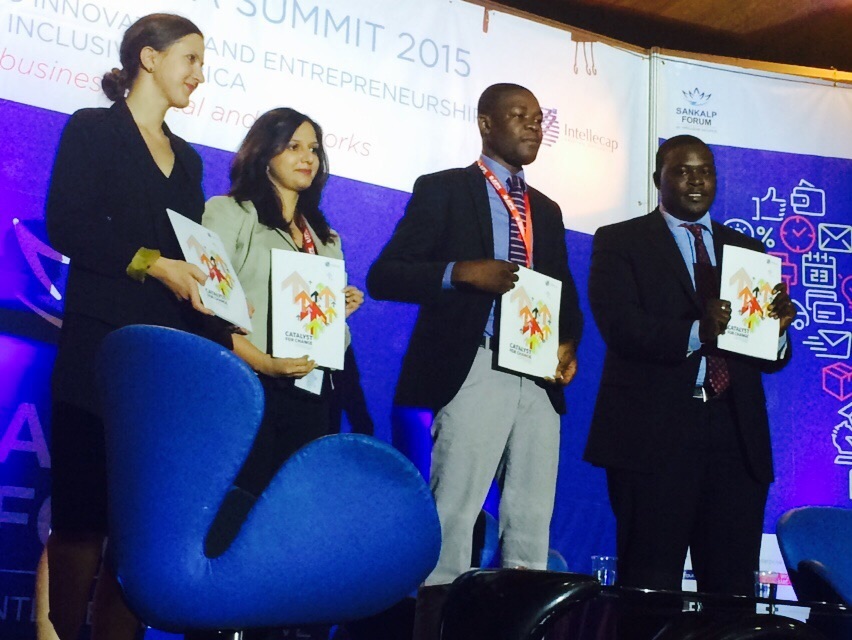 Photo credit: Intellecap
Research shows that business plan competitions and challenges have been successful in creating an excitement about entrepreneurship, resulting in a large amount of innovative ideas – but that the existing support environment has not been able to move the bulk of innovators to the next stage.
Lauren Parnell Morino from the Ashoka Change Makers' Future Forward Initiative says: "It's wonderful to drum up excitement for entrepreneurship, but sticking with it over time is hard. So many young people have tried so hard, but no training has gone towards how to effectively take the next step."
There is a lack of mentoring, affordable advice and vital start-up capital. With no credit history and limited professional experience, young entrepreneurs find it difficult to gain investors' trust and across all stages they find it difficult to access capital.
Thus they find themselves at the bottom of the 'enterprise pyramid' – facing tough challenges in accessing finance, obtaining business skills and/or finding affordable and high quality advisors to help them grow. 
The report found that 86% of the young entrepreneurs surveyed use personal finance to fund their business and 50% stated lack of business knowledge as a barrier that prevents them to grow. 
Networks are often exclusive and have a bias towards more mature enterprises. When trying to raise capital, young entrepreneurs often get eliminated at the preliminary screening stage because they have trouble articulating their business model or do not have the requisite processes and systems to convince investors of the viability of their business model. 
Tendai Pasipanodya, youth employment specialist at the International Labour Organisation (ILO), stresses: "Everyone is looking for big numbers so too many programmes are only providing superficial support in order to reach those large numbers. 
"Consequently, too few young entrepreneurs are getting the depth of support they need to really start and grow a business that will be successful over many years." While pre-incubators and incubators provide support from the idea to the start-up stage, there are very few service providers who handhold the entrepreneur to scale up. 
Collective efforts are needed to "invert the pyramid" and create an eco-system for young entrepreneurs that provides them with a continuum of support from idea to scale – preparing them to raise investments and supporting them through relevant networking and peer-learning opportunities.
Governments, donors and other support organisations can play an enabling role to catalyse youth entrepreneurship by strengthening and investing in service providers that can offer long-term and targeted support to young entrepreneurs. 
With the roots of Intellecap in the Indian social entrepreneurship eco-system, we are convinced that youth entrepreneurship can make a significant contribution to Africa's inclusive growth. 
But it will require the right eco-system of support, which combines capital, advisory services and networks. Knowledge exchange and collaboration between Indian and African eco-systems can facilitate lesson-learning on how to best deliver support and strengthen the growth of a young, ambitious generation of entrepreneurs.
"The Catalyst for Change: Creating an Eco-System for Young Entrepreneurs in East Africa" by global enterprise consultancy firm Intellecap was launched at the Sankalp Africa Summit yesterday.
Sankalp's Africa Summit in Nairobi, Kenya has brought together over 450 entrepreneurs, investors and foundations committed to inclusive development. Its 2015 speakers include Darshan Chandaria of Chandaria Industries, Chris West of Shell Foundation and Nanno Kleiterp of FMO. The summit will also celebrate some of the best early stage SMEs from around the world at the Sankalp Awards.
Header image: Nairobi, Kenya. Photo credit: Cunliffe-Moore