Girls education is the "silver bullet" for the developing world says Jeff Skoll
The fight to achieve global gender equality in education is one of the "most incredible opportunities" sitting in our laps right now, said Jeff Skoll.
The eBay co-founder and film producer, who was born in Canada, made the comments at the opening of the 12th annual Skoll World Forum in Oxford, UK.
"Countries that have gender equality are the best off countries in the world," said Skoll.
"There is a silver bullet in the developing world and that is girls' education. When girls are educated they marry older, they educate their children, they can provide for their family, they have healthier families, which means that societies are better off," he concluded.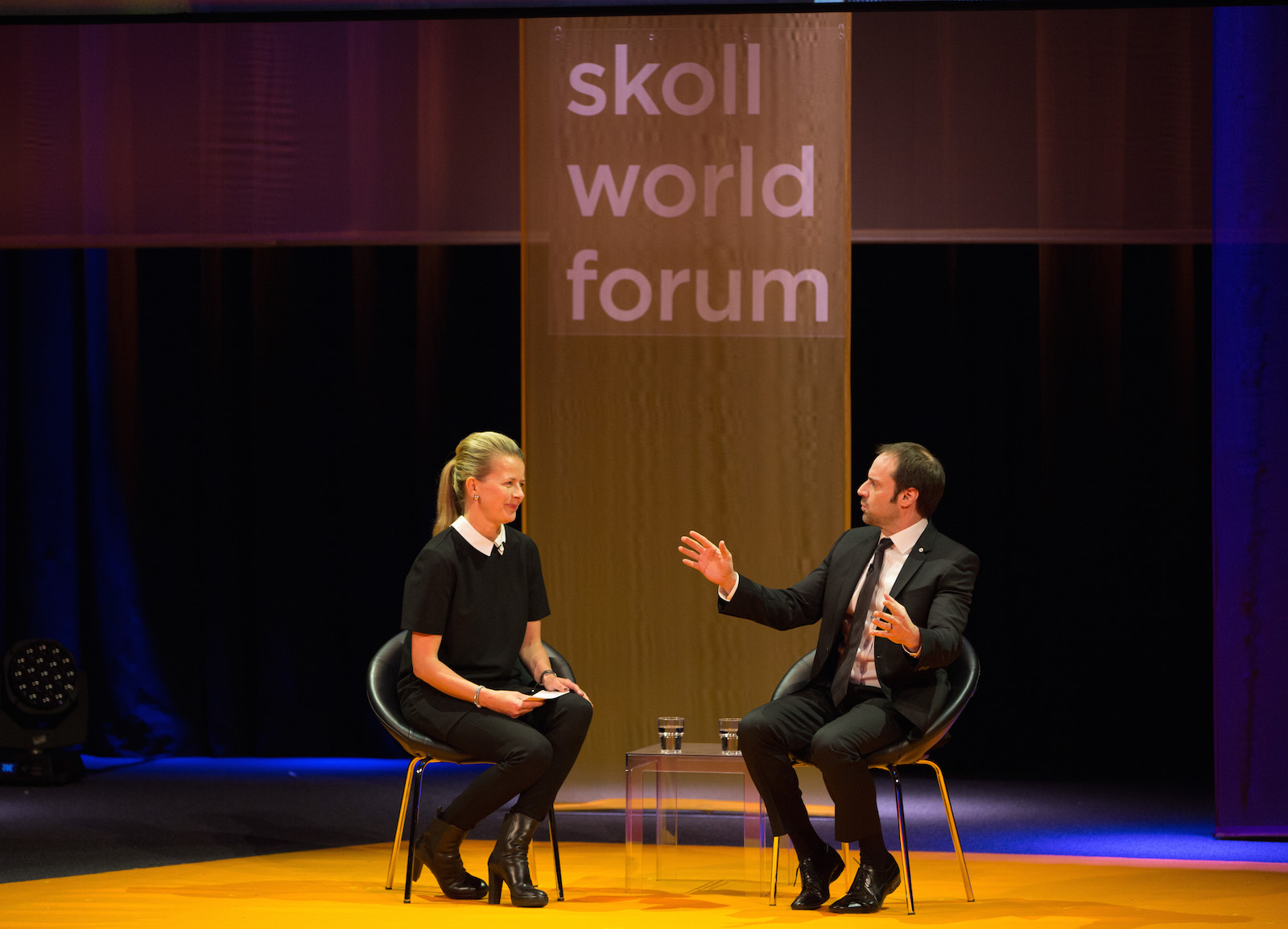 Mabel van Oranje and Jeff Skoll. Photo credit: Skoll World Forum
The Skoll World Forum on social entrepreneurship is an initiative of the philanthropist's Skoll Foundation, which aims to invest in, connect and celebrate individuals working to drive large scale, positive social impact.
In an on-stage interview with Mabel van Oranje, chair of the board of trustees for Girls Not Brides, a seemingly nervous Skoll gave a rare, personal insight into his inherent belief in trusting people, which was one of the reasons he was successful in launching eBay despite criticism and scepticism over whether the concept would work.
It has been an eventful year for Skoll, who has turned 50 and recently got married. Both his parents and wife were among those in the audience at the New Theatre in Oxford.
In response to a question about how his upbringing had influenced him, Skoll half-heartedly said: "We are products of our families and our environments...if you've heard me tell bad jokes, I get that from my Dad...the instinct to not tell those jokes, I get from my Mum." 
Joining Skoll on stage at the opening ceremony of the Forum, alongside her father, was the daughter of Archbishop Desmond Tutu, Mpho Tutu, who also reflected on her beliefs and upbringing.
"What I have taken away and will always carry in my pocket somewhere is the relationship of deep love, trust and mutual respect that my parents have for one another and it is that model of a lived faith that I hope I carry with me," she said.
Over the next two days the Forum will host a range of workshops and panel discussions that aim to provoke those in attendance to think about solutions to issues from a wide range of issues, from food security and sanitation to gender equality and conflict resolution. 
As the starting pistol was fired for the 12th Forum, Stephan Chambers, chairman of the Skoll Centre for Social Entrepreneurship and MBA director of the Saïd Business School, reflected on the impact of the previous years: "Your work shows that those motivated by meaning can be disciplined and inventive. That justice and opposing injustice are necessary everywhere and always, that ideas are powerful and that progress is possible."
Photo credit: Skoll World Forum