Skoll awardees "Occupy" Oxford in the name of social justice
Mozambican politician, humanitarian and former first lady of South Africa Graça Machel, was awarded the Skoll Global Treasure Award in Oxford last night.
Machel, widow of Nelson Mandela and international advocate for women's and children's rights, was one of five social entrepreneurs to be given special recognition on the night.
She said that sitting alongside Safeena Husain of Educate Girls, Alasdair Harris of Blue Ventures and the other winners made her, "feel so humbled and so small" and surprisingly, question "How much or well have I really done in my life?".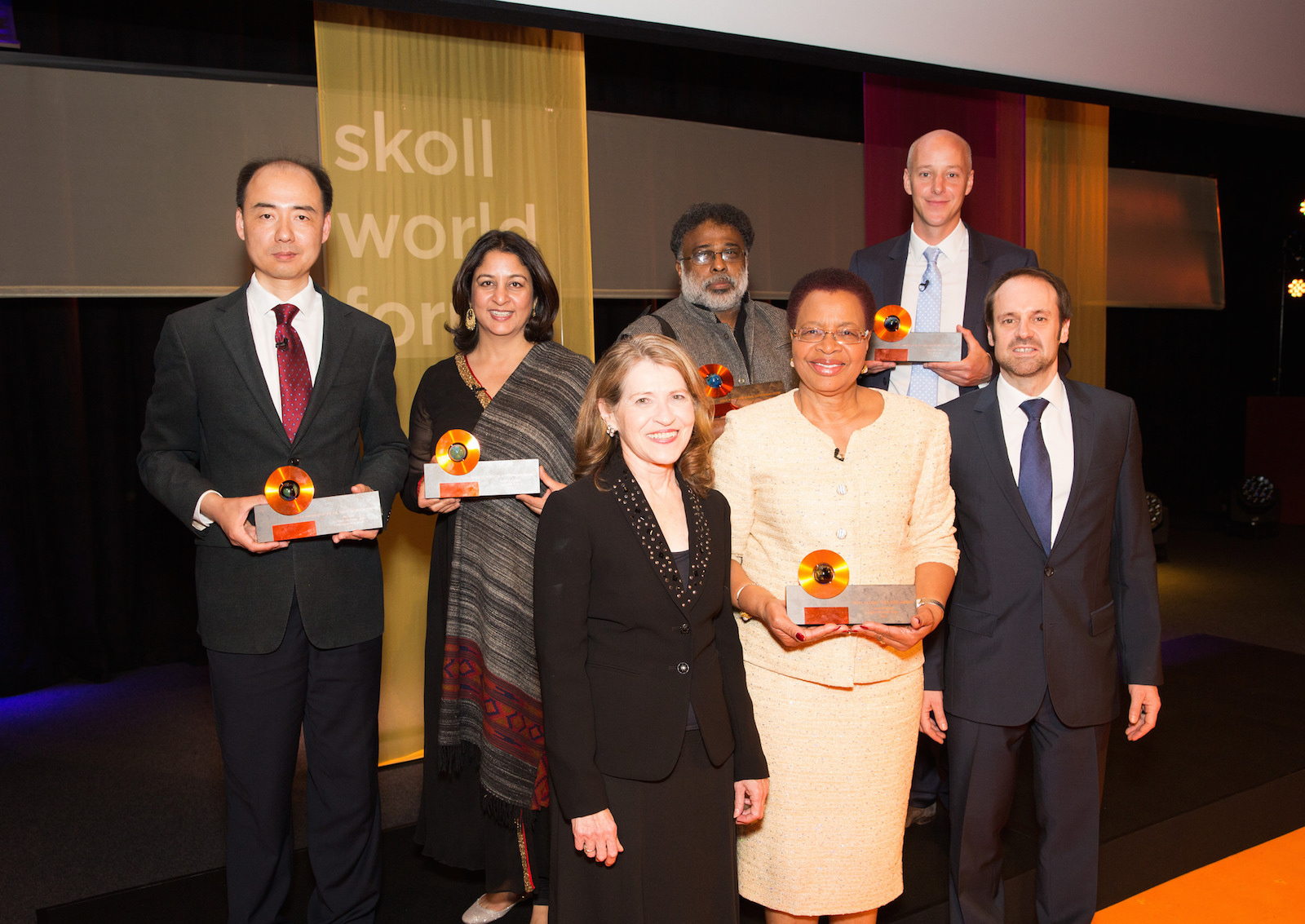 2015 Skoll award winners with Jeff Skoll and Sally Osberg. Photo credit: Skoll World Forum
Playing host for the evening was president and CEO of the Skoll Foundation Sally Osberg, who said: "Those that we honour have stepped forward to take a stand against inequality and over exploitation of the earth's resources."
"They have applied the speed and innovation of business with the scope and scale of government to shape a new social concept." 
The Skoll Awards were set up to support social entrepreneurs whose work has the potential for large-scale impact on critical social and environmental issues. They have given more than US$150m to non-profit organisations over the past 12 years.
The first of the social entrepreneurs to be recognised last night was Jagdeesh Rao Puppala, founder of the Foundation for Ecological Security, which is working to secure publicly owned, common land in India for rural communities – to provide them with a solid foundation on which to build local democracies and sustainable livelihoods. 
The organisation has so far secured community rights to just under four million acres of land, which was previously being exploited and poorly managed by companies and the government, with little or no regard for environmental concerns.
Second to be honoured was Ma Jun, who became the first ever Chinese Skoll awardee. His organisation, the Institute for Public and Environmental Affairs is working to create a mass set of transparent data on the effects of industry on the environment so that the public can hold corporations to account and campaign for them to become more environmentally responsible. 
Accepting his award from Jeff Skoll, Alasdair Harris said: "This award will help Blue Ventures engage with communities in places we've never been to before – sharing our experiences with communities across the Indo-Pacific and accelerating the opportunity to make fishing sustainable for hundreds of years to come."
Blue Ventures is working to help communities embrace more sustainable and environmentally responsible fishing practices all over the world.
With more than a billion people living around tropical coasts and hundreds of millions depending on these apparently small scale fisheries, "perhaps we need to recognise that in reality, these are the world's not-so-small-scale fishers", said Harris.
"My work as a biologist felt disconnected from the drivers and changes I was documenting – what do the wonders of biodiversity mean to a family living on the front lines of climate change? To a family struggling with the grim reality of collapsing fisheries?" he concluded.
I am Safeena Hussain and I educate girls.
Moving the geographical focus back to India, the final awardee to be recognised was Husein, founder of Educate Girls.
India has the highest number of girls in the world not in school, the highest number of child brides on the planet and the highest number of women and girls in sexual and other forms of slavery.
Over the past year, Husain and her army of education advocates have worked with over a million children. Echoing the phrase coined by education and gender equality activist Malala Yousafzai, Husain said: "I am Safeena Hussain and I educate girls".
By 2018, Husain's organisation aims to reach out to four million children each year and to "transform the lives of girls for generations to come". 
Closing the 2015 awards were the captivating Soweto Gospel Choir, who got everyone up on their feet. 
But before the audience could head off to their various dinners and drinks receptions in Oxford's precious heritage sites, Osberg made one final statement: "Tonight we Occupy Oxford. Tomorrow and in decades to come, a new social contract is being written."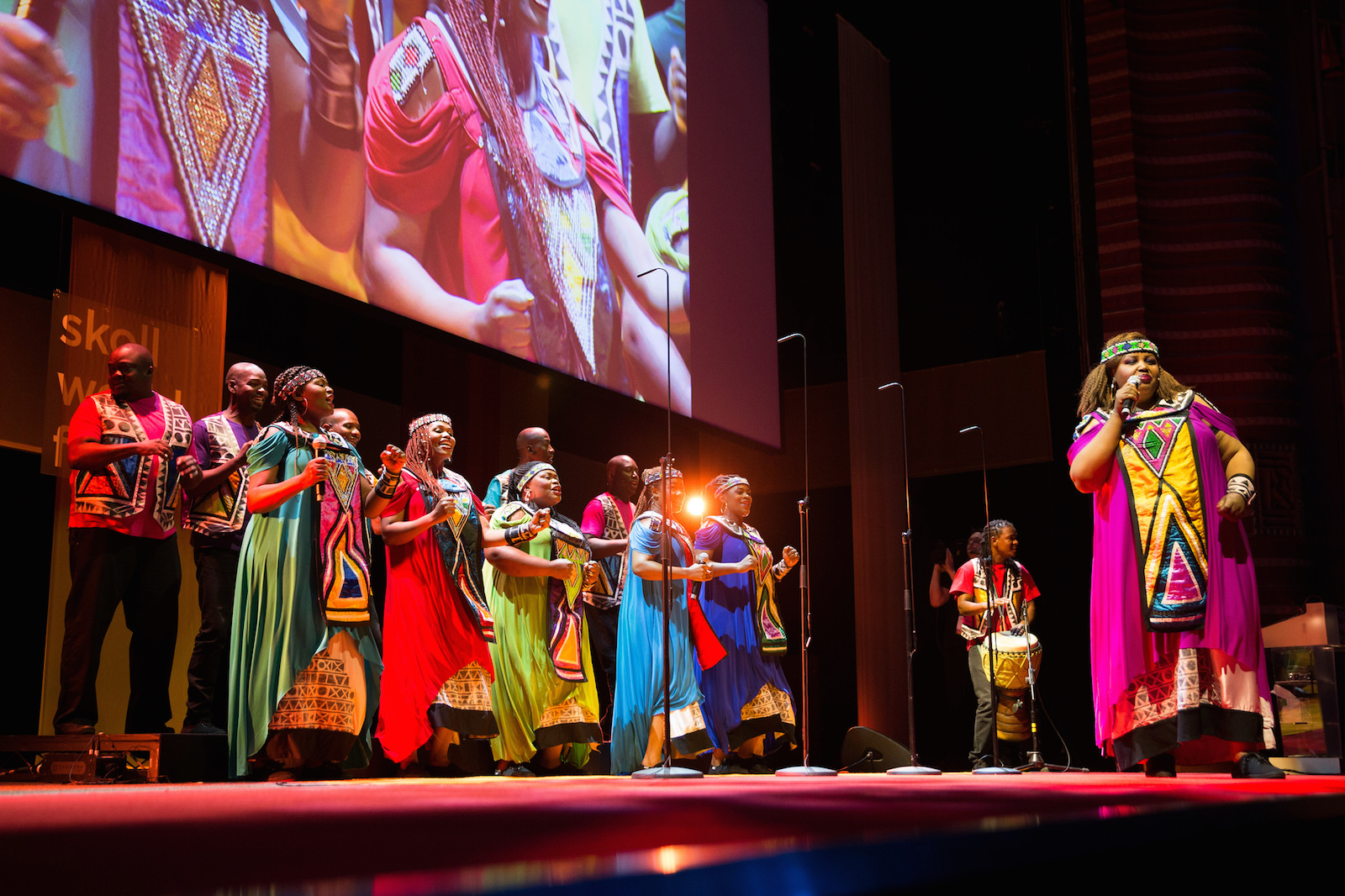 Soweto Gospel Choir. Photo credit: Skoll World Forum
Header photo credit: Skoll World Forum