The Black Cab Interviews: Nigel Kershaw
For the boss of the UK's biggest and boldest social enterprise brand The Big Issue, a cab ride around London joins the dots of his life – and his mission.
If he wasn't already busy being Exec Chair of The Big Issue and Big Issue Invest, its impact investment arm, Nigel Kershaw would make a very decent London tour guide. 
As he guided our taxi driver John on the first in our series of black cab interviews, tracing the arc of his life and career working in the social business sector, not only were we treated to some special memories, honest insights and humorous stories, but the trip also revealed a man with a razor sharp mind, an open and generous demeanour and – apparently – an indelible memory for history and architecture. 
The story of the The Big Issue is well known, so it's easy to forget how radical it was when the first copies of the magazine hit the streets. Kershaw describes the enterprise as "a business solution to the social crisis of homelessness". Building firmly on their belief of "a hand up, not a hand out", magazines are sold to vendors for £1.25, who then sell them to the public for £2.50, keeping the profit. Started in 1991, it's now sold in several countries around the globe and is the world's most widely circulated street newspaper.
Before we get into any of that though, let's begin our cab journey with the place that our interviewee has chosen to meet with us: the majestic Emirates Stadium of Arsenal Football Club in north London, where the Kershaw 'gooners' (as Arsenal supporters call themselves) have their very own plaque outside the stadium. And we're not just here because of the family football memories – but also because Kershaw's father passed on a strong spirit of social entrepreneurship to his son, alongside his love of football.
Nigel explains: "My Dad was a serial entrepreneur – he had launderettes, he showed films above Piccadilly Circus, he was in insurance for a time. Sometimes he made money and sometimes he didn't. He was also a socialist who fought the fascists in the war. So that essence of social enterprise, where there is a social and financial return, was never a contradiction for me."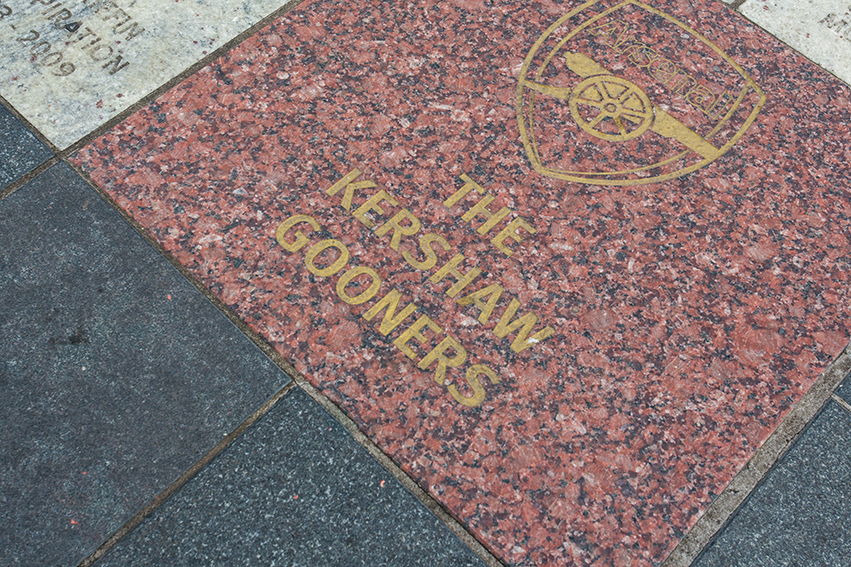 As the view of the mighty Emirates fades behind us, Kershaw directs our eco-friendly Radio Taxi to head a short distance south for the Thomas Paine memorial near Angel tube station. Paine was one of the catalysts for the American revolution of the 18th century. Nearly every rebel wanting away from the Brits was exposed to his 'Common Sense' and the memorial contains a quote that Kershaw says he tries to live by: "A long habit of not thinking a thing wrong gives it the superficial appearance of being right."
Kershaw thinks it's about questioning and challenging everything. When I ask him if that's something he takes into his own life, he laughs: "Yes! Much to the regret of some of the people that I work with. I try and turn everything on its head. That's what The Big Issue does and that's what social enterprise does."
Each of the four sides of the monument contain more resonant phrases. One of them states, "Lay then the axe to the root and teach governments humanity." Kershaw denies any bias: "I think this is about all governments. Every government we work with, we look positively at what they do to help homeless people and what they do around the dismantling of poverty."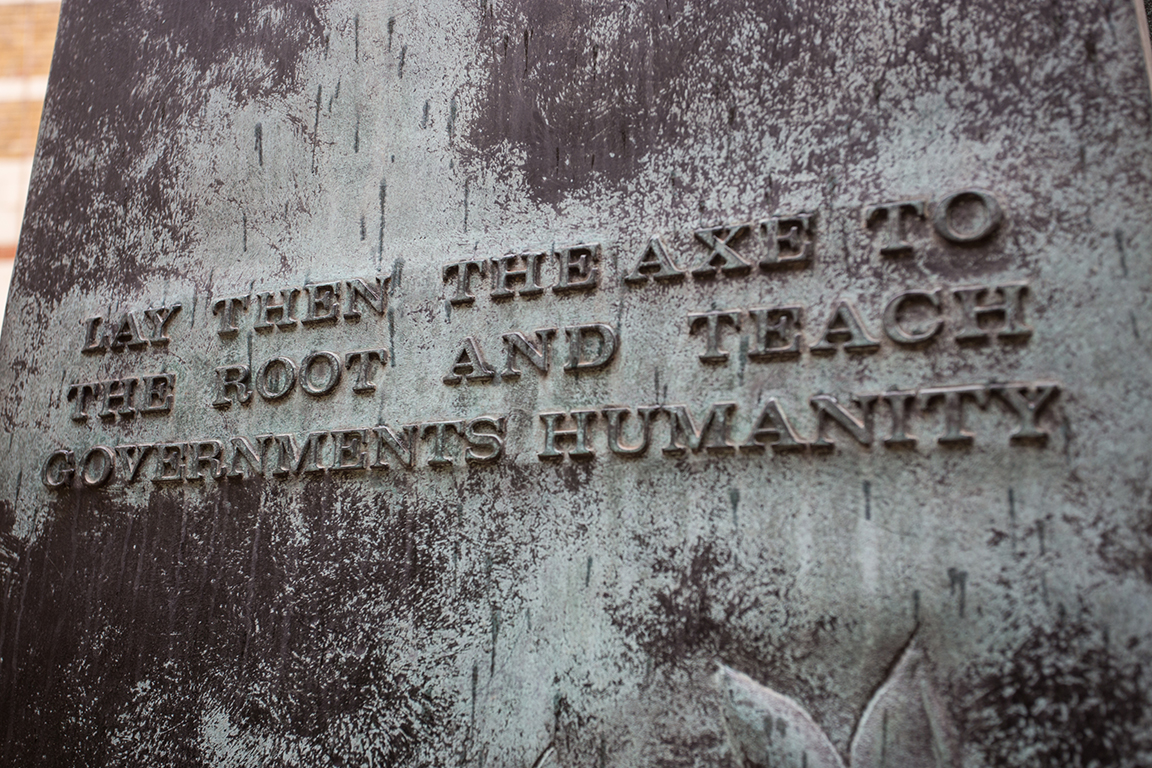 Big Issue Invest was founded in 1991, when Kershaw had the idea for "a social merchant bank by social entrepreneurs for social entrepreneurs". He explains: "It wasn't that I knew anything about finance. John Bird (the founder of The Big Issue) and I knew how to run businesses, social enterprises. It really has come to pass and not because of any strategy. It's that great Peter Drucker quote: culture eats strategy for breakfast. We knew the culture of social enterprise – we just drew it out and Big Issue Invest came into being." They've since invested £30m into 330 social enterprises.
Kershaw established himself working in the print industry. As we walk around our next stop in Clerkenwell, a small part of the metropolis sitting just east of the financial district of the City of London, he takes up the story. In the early 1970s it was, as he calls it, "a hotbed of radicalism and a hive of alternative business". It also seems it was a breeding ground for notable cultural characters. The bon vivant and (later) publishing giant Felix Dennis was there and Kershaw was part of a collective publishing the now cult radical magazine Suburban Press. Jamie Reid ("still one of my oldest friends") was another collective member. Reid later designed record covers for the Sex Pistols, the most notorious of which saw the Queen sporting a safety pin through her lip and swastikas in her eyes.
Just around the corner, on Clerkenwell Road, The Big Issue bought its first building, Fleet House. It was an early education in convincing banks to think differently. Asked if they'd made a profit in the last two years, they had to say no. When they reassessed the business and found a 15% profit from the magazine, the bank still declined to grant a mortgage.  "We said to them, 'If another publisher was making 15% profit, I bet you wouldn't say they couldn't have a mortgage because they've got a yacht in Marbella. So what right have you got to say you're concerned because we want to spend our dividend and our profits on helping homeless people?' Our auditors told us they hadn't heard that before; so we coined the expression 'the social dividend'."
We climb back into John's cab and, as we cross the river, Kershaw expands on the different facets of Big Issue Invest. As he does, we begin to see how the words of Thomas Paine that he showed us earlier feed into his work. "A long habit of not thinking a thing wrong gives it the superficial appearance of being right". Despite his radical background, Kershaw is a man of principles who doesn't think that capitalism is a dirty word. He's still something of a radical, steering some of the money that washes around in business towards social problems.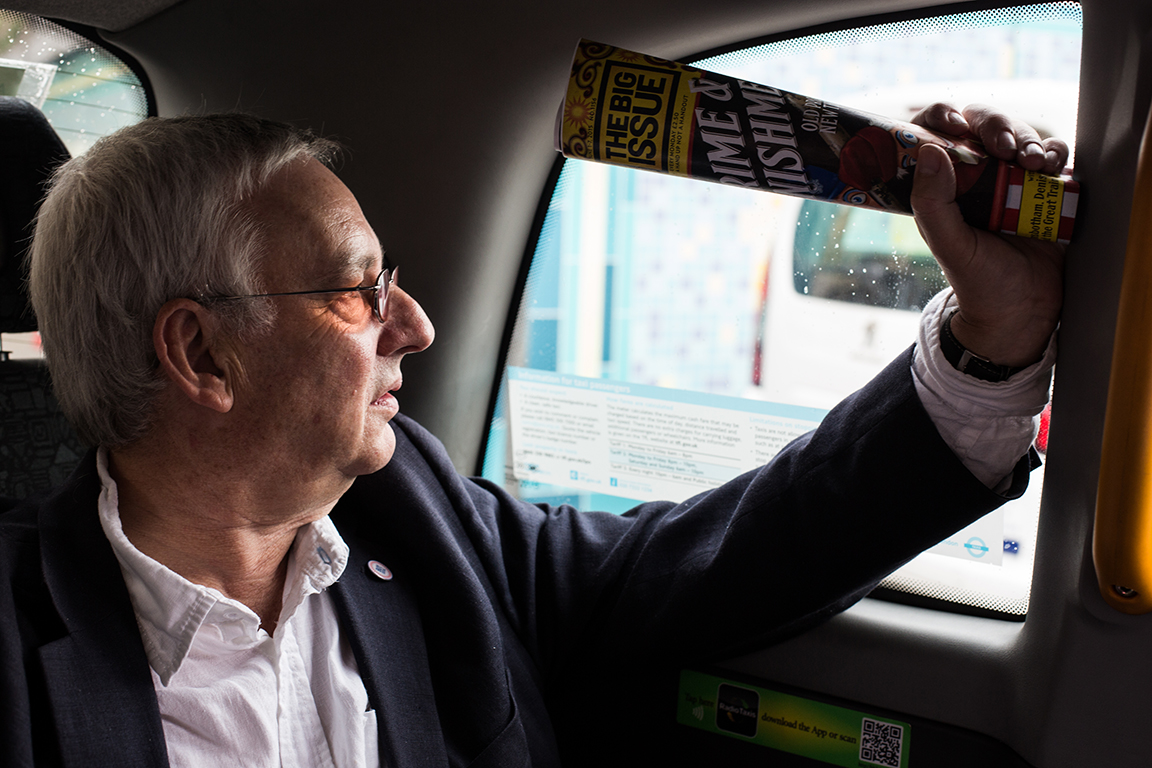 Big Issue Invest is not just an investor into social enterprises. On finding that the credit scores of social housing tenants were being affected negatively because of the status of their dwelling, Big Issue Invest set out to do something about it. It worked with credit reference company Experian to alter their criteria – if someone was paying their rent regularly this could feed into Experian's data to positively affect their credit score, even if they were in social housing.
Big Issue Invest has also worked with Threadneedle to create the trailblazing UK Social Bond Fund that Kershaw says "will democratise finance. The ordinary saver can invest and save in financial products that create social value and wealth in the UK". As we drive alongside the bustling Borough Market, now south of the River Thames, Kershaw spots the Market Tavern, a pub he used to drink in at 7am after night shifts at The Mirror newspaper's printing presses finished. The famous market is itself a social enterprise, with some of the profits partly subsidising local council rates for residents. Winding around the market parallel to the river, we arrive at The Brigade, a social enterprise bar and bistro based in a former fire station. Big Issue Invest put £200,000 into the restaurant, which delivers catering skills to those at risk of homelessness. Kershaw was recently back for their third birthday and was delighted to find that one of their students was not only a sous chef at The Dorchester, but a former Big Issue vendor. "The whole theory of what we do with Big Issue Invest was encapsulated by him."
As we head now to Vauxhall and The Big Issue's London headquarters, we stop at Coin Street, a development trust and housing cooperative more widely recognised by the London landmark that sits on top of it – the Oxo Tower. Kershaw beams as he recalls his marriage there. "It was amazing to be married in the most beautiful spot overlooking the river, in a social enterprise. Iain Tuckett, the CEO, opened up the tower and we were allowed up there to have our photographs taken."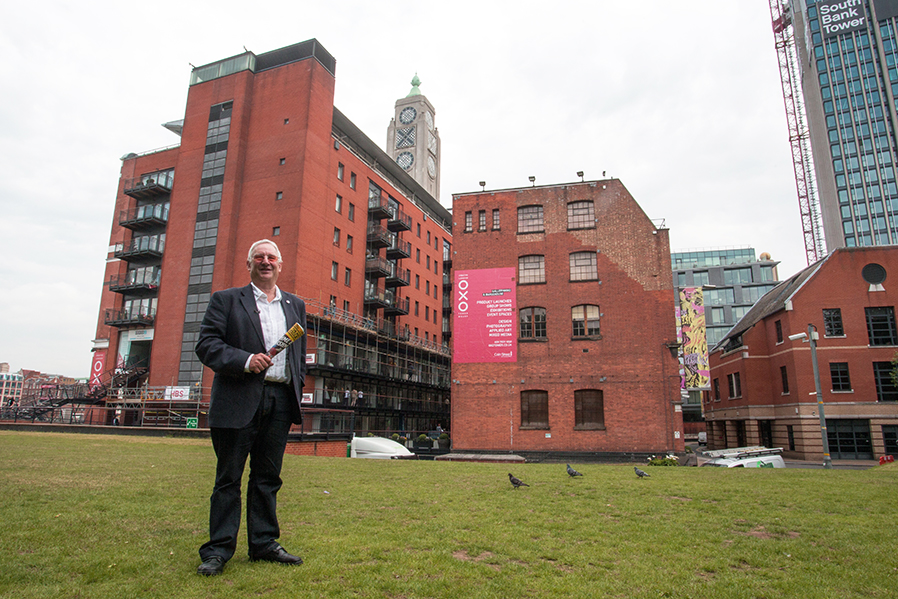 Though the social investment memories might not rival a wedding, Kershaw cites "some wonderful money going into social enterprises to do amazing things" and significant change in the marketplace over the past five years. He notes an increase in the number of investors and finance models on offer, plus a sea change in attitude to risk. "If Big Issue had looked for finance 24 years ago there is no way anyone would have invested in us. It was a completely new concept, it didn't have any metrics to work on."
He's cautious, however, about the power that investors wield, despite their excitement in getting involved with social enterprises. "My fear is people who don't understand what it's like to fight poverty in the trenches now determining whether they will invest in people by what they will do," he says. "I'm absolutely for measuring impact but I think it has to be quite light and it has to be the social enterprises themselves who determine how they do that. My fear is there will be people coming out of mainstream finance who are used to having really heavy-duty metrics who will start to impose their own idea on how we make change."
Before we drop him off at the office, we ask about the future for Big Issue Invest itself. It has recently recruited CEO James Fairweather, a man with 30 years of fund management experience, with Kershaw taking the role of Executive Chair. "He's taking us to the next step – it's about professionalising, about strategy, about accountability," he says. "The challenge for us, like any SME, is how do you grow and still retain your culture?"
In the long term, however, Kershaw believes there are huge opportunities still to develop and that the way ahead (at least the journey outside our cab ride) has plenty of adventures still to come. "We're looking at an equity fund now, which again is about creating social value, investing in companies, listed companies that create social value in the long term. We have a real opportunity to create this idea of a social merchant bank," he says. "Our core business is really scaling up the way we fuel social enterprise growth in the UK - so for us, it's really just beginning."
This article was originally published in Pioneers Post Quarterly, the printed edition of this magazine. To find out more about PPQ, including how to subscribe, click here.
Photo credit: Matthew Herring