Divine cooperative promotes economic and social equality
Have you ever wondered if your ethical purchases make a real difference? Meet Esther Mintah Ephraim, a farmer from western Ghana. Her cocoa is used by Divine chocolate (and she's also a co-owner).
Pioneers Post gets to spend lots of time with many wonderful thinkers and doers but it's fairly rare that we actually get to talk to somebody who is on the ground getting their hands dirty. When we were offered the opportunity to talk to Esther Mintah Ephraim, a cocoa farmer who is part of the Kuaka Kokoo co-operative in Ghana that supplies the cocoa for and co-owns Divine chocolate, we couldn't pass it up.
Esther Ephraim Mintah. Photo credit: Divine chocolate
Ephraim was in England as part of Divine chocolate's participation in Social Saturday and also to take part in Chocolate Week. She's the second born of six children and is in charge of 38 acres of cocoa farm – that's about the size the size of 19 football pitches.
The Kuaka Kokoo cooperative was established in 1993 following the liberalisation of the cocoa market in Ghana. Nana Frimpong Abrebrese organised farmers to set up a company to sell their cocoa to the state owned Cocoa Marketing Company, which exports it. There are now more than 80,000 people in the 1,257 societies which make up the cooperative and it supplies around 5% of all the cocoa produced in Ghana. Kuapa Kokoo also own 44% of Divine chocolate, and therefore receive dividends when they are paid.
Many of the farmers live in remote and deprived parts of the country – Ephraim pointed out the nearest town to her in the west of Ghana on a map and described it as a five hour drive away. There are often high levels of illiteracy and little infrastructure. Both Kuapa Kokoo's Fairtrade certification in 1995, and the setting up of their own chocolate company in 1998, have made important changes to the community – giving farmers access to more income to invest in family, farm and community, as well as education and training, and a more reliable way to sell their cocoa.
Ephraim's parents were also farmers and because they have told her about life before, she is able to identify the advantages of being in the cooperative and of Fairtrade. Elected farmer members of the cooperative weigh the cocoa using accurate weighing scales and pay the farmers on time. Previously farmers were at the mercy of unscrupulous buyers.
Being certified Fairtrade also means that, every tonne of cocoa sold attracts a premium of $200 when sold to the Fairtrade market, which is passed on as a cash payment to farmers but is also invested in community projects. For Kuapa Kokoo, the Fairtrade website lists these as being the sinking of wells for clean drinking water, the construction or refurbishment of schools and the provision of development officers who advise on better farming practices. Crucially these decisions about how to spend the Fairtrade premium are made by the farmers themselves.
Ephraim confirms that, compared to life pre-cooperative and Fairtrade, things have certainly improved. "There are so many improvements now compared to the olden days. Farmers were suffering from waterborne diseases. They were not getting proper training in farming, they were not getting additional money to cater for their children. We now have potable drinking water. Others have been able to expand their farms. We have a programme that is supported by Divine called Adult Literacy that trains farmers how to read and write."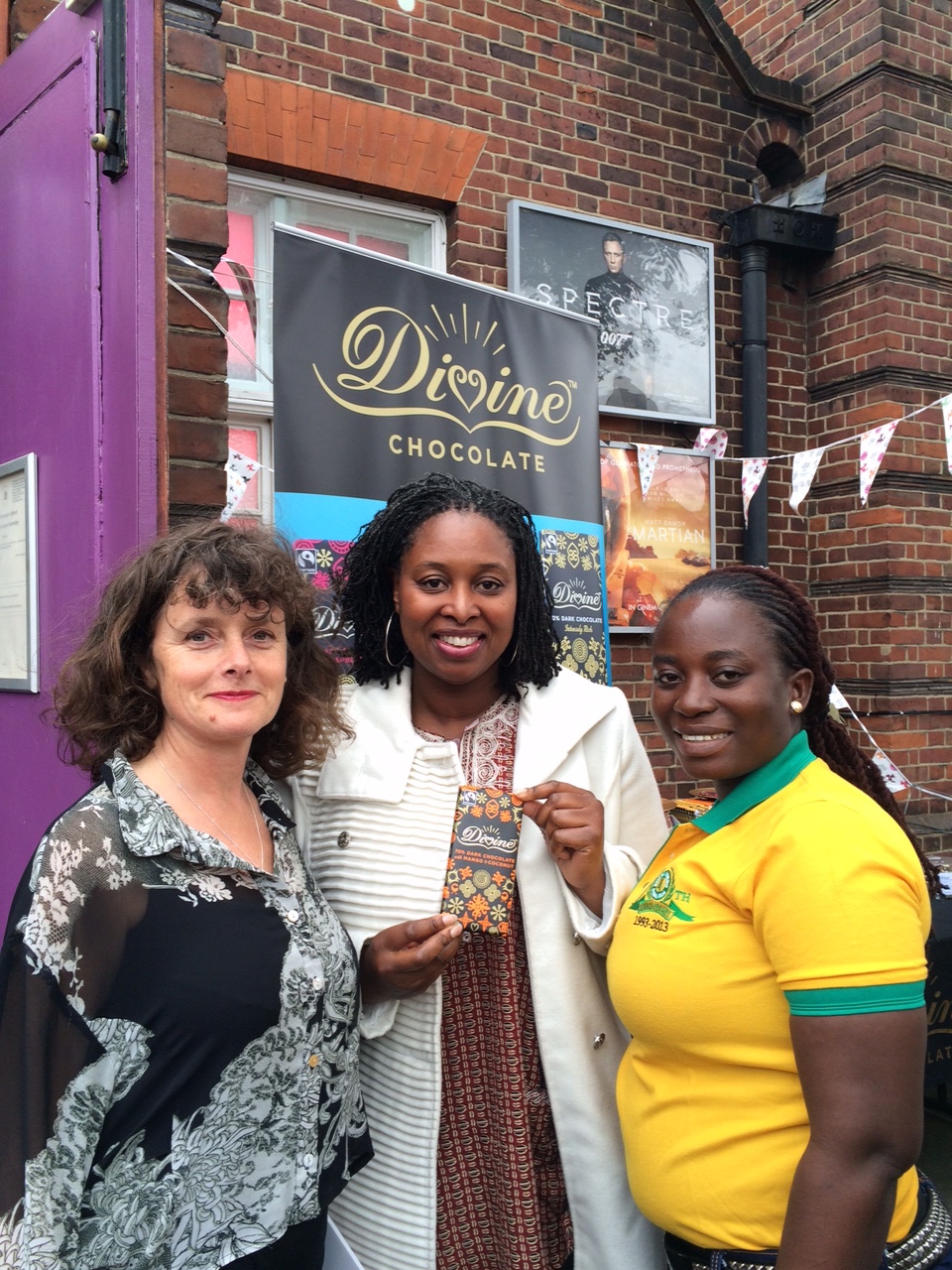 (From left to right) CEO of Divine Sophi Tranchell, Dawn Butler MP and Esther Ephraim Mintah. Photo credit: Divine chocolate
The equality of members of the cooperative also extends to gender balance. One of the objectives listed on the Kuapa Kokoo website is to 'enhance the participation of women in the decision making process at all levels of operation'. The 129 farmers in her society elected Ephraim as their recorder, which means she is trusted as the person who weighs the cocoa and pays the farmers for every 64kg sack they bring in.
She's also a protocol officer on the national executive of Kuapa Kokoo and was elected by the cooperative as an ambassador to represent them in other countries. Before 2013 she had never left Ghana; since then she has been to Australia and the UK twice. She tells me that her favourite thing in London is Tower Bridge and that her parents are very proud at her achievements, including the opportunity to travel: "They are very happy for that".
As well as the benefits to her community and her own personal achievements, the improved financial conditions from being with the cooperative has meant she has been able to pay for some of her own siblings to go to school. She could just as easily be speaking about her community when she says: "I have been empowered". If any more were needed, there can be no more compelling reasons to put our money where are values are and 'buy social'.
Photo credit: Christoffer Undisclosed