Students seek social impact with higher education choices
Today hundreds of thousands of teenagers will receive their A-level results - with many finding out whether they have gained a place on a higher education course.
According to UCAS, a record number of 424,000 A-level students obtained a place at university last year, up 3% from 2015. 
However, a report published in February this year found that the number of applications to UK higher education courses was down by 5% compared with 2016.
With an expected drop in enrolment numbers, and so much choice for applicants, UK Higher Education Institutions (HEIs) are finding ways to stand out. 
For a number of years we have witnessed an increased tie between HEIs and social enterprise. 89% of HEIs are currently working with at least one social enterprise, according to a 2016 report by Plymouth University for the British Council.  
The report profiled the Oxfordshire Social Entrepreneurship Partnership (OSEP), an initiative set up and managed jointly between Oxford Brookes University and the University of Oxford. OSEP supports existing and prospective social entrepreneurs through training, facilities, and investment.
Are students making course choices informed by ethical standards and the social enterprise work of the HEIs?
"There is now a real expectation that universities, as beacons of good practice, will be at the vanguard of ethical high standards," says Jeff Willmore, the Oxford Brookes Project Manager for OSEP. 
"There is certainly anecdotal evidence that universities that get it wrong or ignore social responsibility can do an awful lot of damage to their reputation," adds Willmore.
"Young people, who form the bulk of our student bodies, have strong principles in the main. There is an expectation that universities will have a socially responsible purchasing and employment strategy, look at social impact, be community anchors, and behave responsibly and promote personal responsibility."
Pioneers Post recently published issue 8 of its quarterly magazine, which includes a special guide to education and training for social entrepreneurs.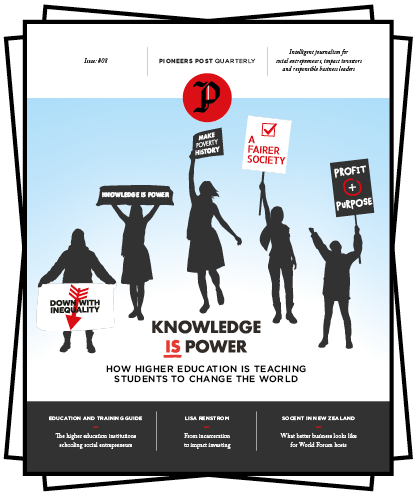 The guide contains a directory of social enterprise courses and business support that HEIs offer social entrepreneurs, as well as profiles of people and organisations that have prospered with the assistance of academic institutions.
Subscribers to Pioneers Post can read it here. Subscribing to Pioneers Post supports the production of all our content.
Photo credit: Hammersmith & Fulham Council