Education system shake up: putting entrepreneurship on the curriculum
It is time to shake up education systems around the world and put social entrepreneurship on the curriculum, concludes new thought-provoking report.
The United Nations' 1948 Universal Declaration of Human Rights explicitly recognises 'education' as a human right. Few would argue against this notion, however fierce debates have emerged regarding the higher purpose of education.
Education is considered one of the fundamental pillars of a healthy society, but how do we measure the success of an educational system? Is it based on:
attainment;
employability;
citizenship;
self-determination; or,
human advancement?
At this year's UKFIET conference on Learning and Teaching for Sustainable Development at Oxford, the British Council launched a thought provoking opinion piece – titled 'Social entrepreneurship in education' – to discuss these questions. The report, which was also showcased at SOCAP in California this month, concludes that the introduction of social entrepreneurship into educational systems could be a necessary radical reform that will better prepare children to meet the pressing social and environmental challenges that face high and low and middle-income countries alike.
Lindsay Hall is the CEO of Real Ideas Organisation (RIO), which is an early adopter of the concept of embedding social entrepreneurship education into curriculums. She reflects on the education system in England, where RIO is based: "There's a definite move away from coursework, from any of the more practical stuff."
RIO has worked with over 350 schools, including Victoria Park Primary Academy in the West Midlands, to embed the principles of social enterprise into the curriculum. For example, Victoria Park Primary has a social enterprise lead, who is responsible for driving social enterprise activity throughout the whole school and leading the school's own social enterprise.
Called Ballot Street Spice, this social enterprise was launched in 2014 and sells unique spice blends. Students, parents, the school's staff and members of the community are all involved in the business – making decisions and marketing it to the wider community.
Hall believes that operating social enterprises within schools "is a very practical way for parents and lots of community members to get involved" in young people's educational experience. There is increasingly "recognition from schools that if you're going to have successful outcomes in children and young people, it is the whole community that creates that."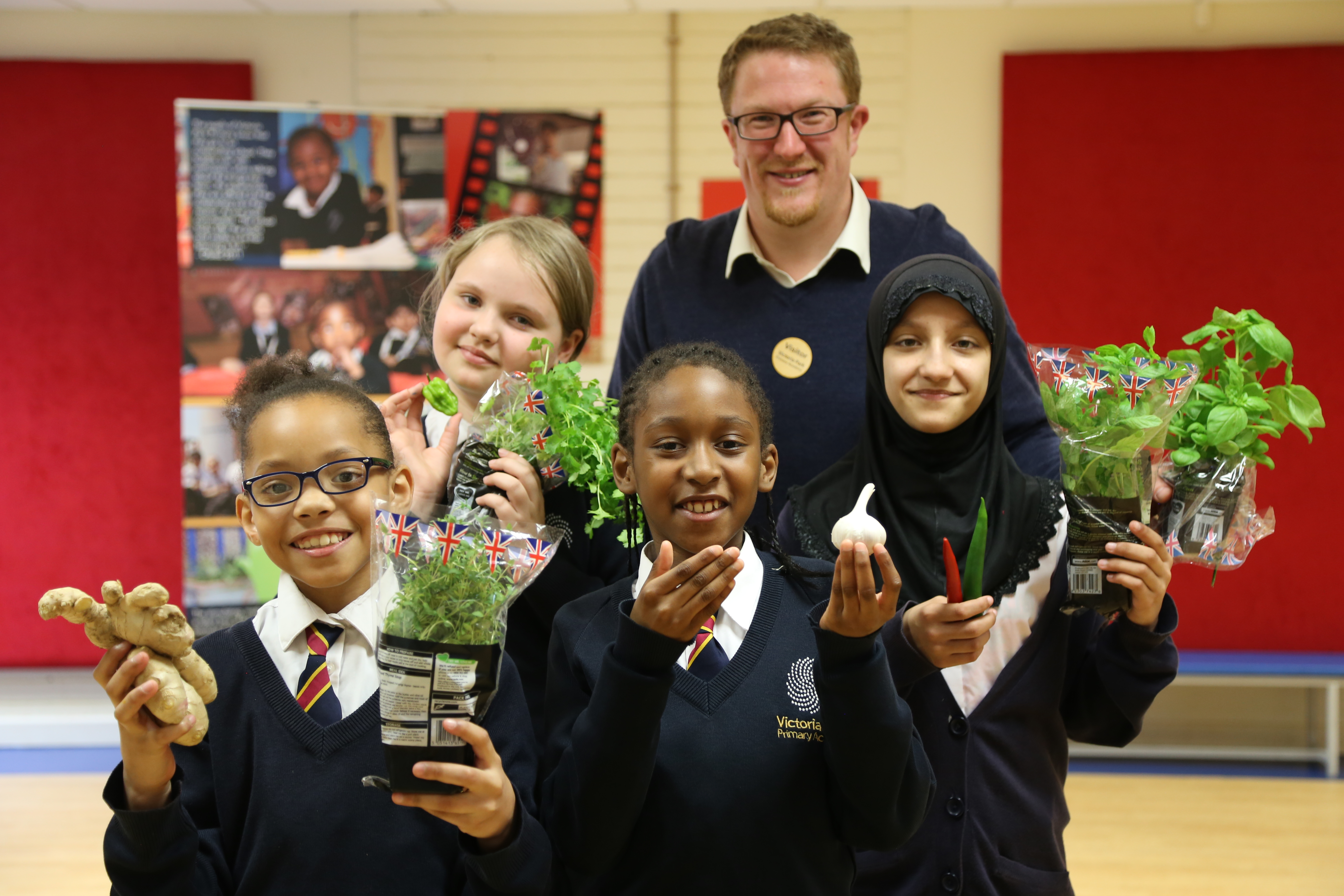 Ballot Street Spice team. Photo credit: Real Ideas Org
Neil McLean is the CEO of the Social Enterprise Academy (SEA) in Scotland, which coordinates similar initiatives. SEA has worked with the Scottish Government to reach out to over 900 schools across Scotland between 2008 and 2016 – supporting primary schools set up social enterprises and integrating 'the language and concepts of social entrepreneurship into children's [learning] experience from a young age'.
As part of its social enterprise strategy, the Scottish government has announced it aims to place a social enterprise in every school in Scotland in the next 10 years.
"We're delighted at that," says McLean. By introducing social enterprises into schools, McLean describes how students benefit from a cross-curricular learning experience. Students build confidence, develop skills in problem solving and communication, as well as improving their ability in more traditional academic subjects such as Maths.
He says: "One of the tutors involved described how the students had gone from being passive recipients of teaching to being active citizens and participants of learning. That's a pretty fundamental change in mind-set."
Zooming out: the global perspective
Richard Catherall focussed his MBA research on the competitiveness of social enterprises in public services, including education. He now works primarily in the Middle East, supporting leaders of social businesses, and is one of the authors of the British Council report.
Catherall highlights that the most surprising finding of this research was the "overwhelming support there was for the professional development of teachers" around the subject of social enterprise, which would result in greater awareness of the fit between social entrepreneurship and education.
"Across the world, there was a consensus among professional teachers that the time was right for doing this," he says.
In Thailand, another early adopter demonstrates enthusiasm to bring the relatively segregated worlds of social entrepreneurship and education together – the Mechai Bamboo School.
The literal translation of social entrepreneurship in Thai is 'business and sharing'
The Mechai Bamboo School was founded by Mechai Viravaidya and has a unique model that combines entrepreneurial education with community development. The curriculum has been designed around the Sustainable Development Goals and students take on an active role in the management of the school.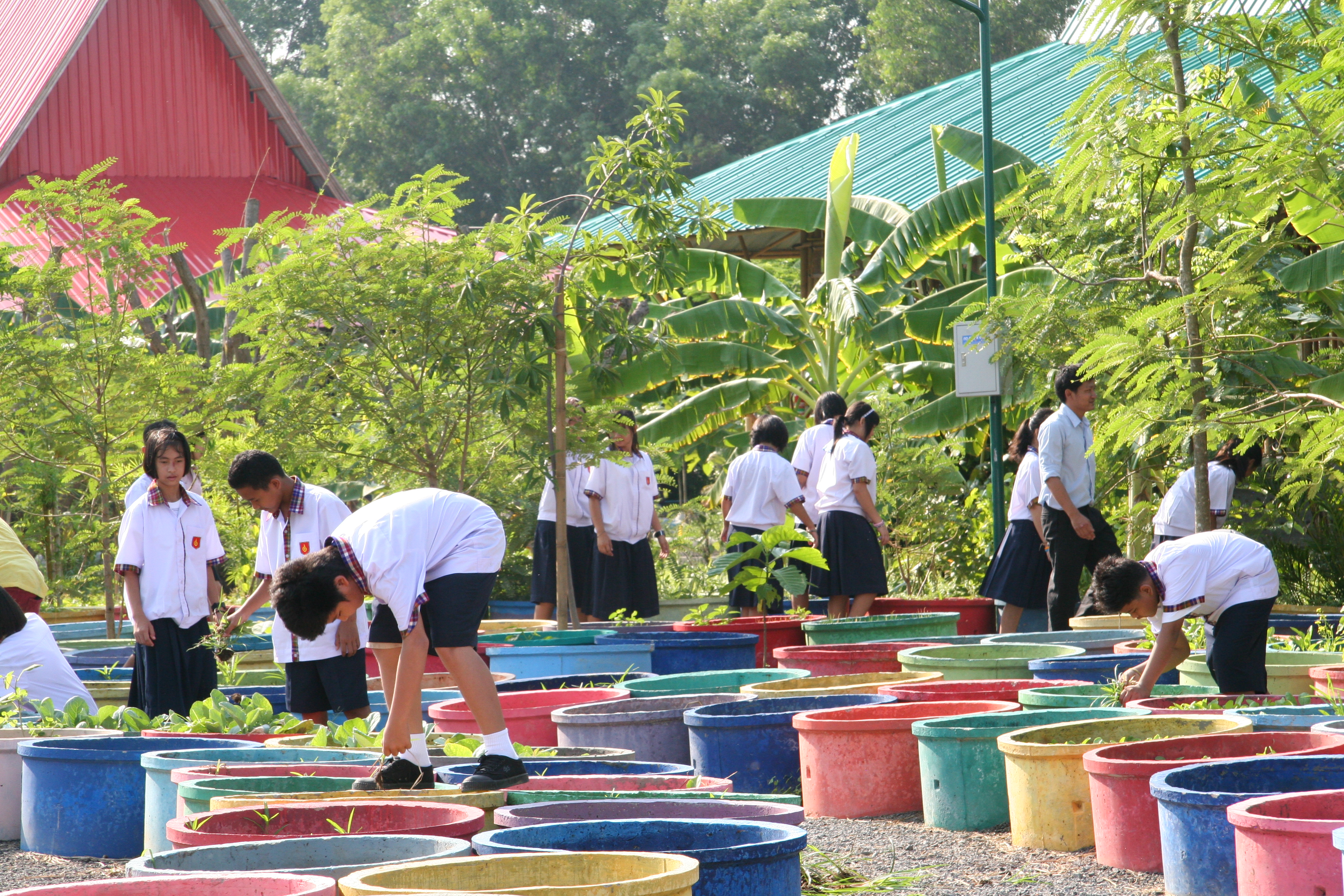 Student entrepreneurs at the Mechai Bamboo School
Viravaidya says: "I believe we should teach social entrepreneurship at every level – from primary onwards. That's what I'm trying to do.
"The literal translation of social entrepreneurship in Thai is 'business and sharing'. We have helped to develop social enterprises in schools across Thailand, including working farms, a loan fund for parents and a loan fund for students. Students and parents can practice business and it will help get them out of poverty."
While it is clear that around the world there are pockets of activity demonstrating how social entrepreneurship can become intertwined in educational systems, Catherall warns there is a risk of "thinking you've achieved the ambition" when really you are narrowly focussing on the early adopters.
Structural issues remain. For example, in lower and middle-income countries, the pursuit of entrepreneurship – social or otherwise – is often overshadowed by the desire to get a job with a multinational company that offers status and security.  
"I think we should respect that there is still this allure from high-income countries that they offer jobs; that this is a destination for talented people. That narrative is still very powerful," explains Catherall.
He continues: "In high-income countries, yes there is a higher understanding of entrepreneurship… but the type of entrepreneurship we are nurturing doesn't fit what we're now saying should be taught in schools." It is failing to address one of the most pressing challenges facing high income countries – rising inequality at home.
"For example, in America the investment largely focuses on three states… only 15% of the big businesses are focussing on the top six challenges society faces… Even in the places where entrepreneurship itself is really well understood, accepted and respected, the way we nurture the economy is still out of kilter.
"It means that neither system is particularly well joined up," concludes Catherall.
The British Council's 'Social entrepreneurship in education' report concludes with recommendations on how to further support the embedding of social entrepreneurship into educational systems. For example, implementing awareness raising initiatives that demonstrate the impact social entrepreneurship education can have among funders, educators, social entrepreneurs, academics and governments. And it concludes that if we want to address some of society's most pressing challenges we will need a whole new generation of social innovators and change makers.
To read the 'Social entrepreneurship in education: Empowering the next generation to address society's needs' report in full, click here.