Top Ethiopian social enterprise aims for the skies with air ambulance plans
A trailblazing social enterprise ambulance service has set its sights on launching Ethiopia's first helicopter ambulance.
Kibret Abebe, founder and CEO of Tebita Ambulance, revealed his ambitions to a group of national media visiting the service's headquarters in Addis Ababa, Ethiopia's capital city, earlier this month.
The visit was part of a special week of training and matchmaking between journalists and social entrepreneurs led by the reporting team at Pioneers Post and organised by the British Council, who are hosting this year's Social Enterprise World Forum in Ethiopia in October.
Kibret said there were 104 million people in Ethiopia without a single air ambulance. Tebita is also piloting an electric motorcyle service in the city to help beat the traffic, wants to train 5,000 paramedics in the next five years and is lobbying the government for $6m to open a paramedic training college.
Tebita and its founder are already well-known in Ethiopia and, increasingly, on the international stage. Kibret has numerous international speaking engagements and an Acumen fellowship under his belt. His journey to social entrepreneurship began more than a decade ago as an anaesthetist working in the city's biggest hospital, watching many victims of traffic accidents come in without any professional support. The few government-run ambulances often didn't make it to the accident in time, with people either dying or having to find their own way to the hospital. 
After an eye-opening visit to London where Kibret witnessed the effectiveness of a professional ambulance service, he sold his house to finance the new enterprise and persuaded the government to grant him the first licence for an independent ambulance service.
Recent statistics suggest that the need for Tebita – which aims to arrive with victims within 30 minutes – is as great today as it was a decade ago. Official figures quoted in the Addis Standard show that in 2016 alone 463 road crash fatalities occurred in Addis Abeba, which is roughly 13.8 deaths per 100,000 people. Kibret claims only 4% of crash victims arrive at hospital in ambulances, with the others potentially missing out on crucial life-saving measures.
As much as he wants to develop and grow the ambulance service, Kibret also wants to play a part in promoting equality: "I want to see ladies, very confident, driving an ambulance in Addis," he told the journalists. "I'm committed to giving chances for poor people, not the sons of rich people," he added.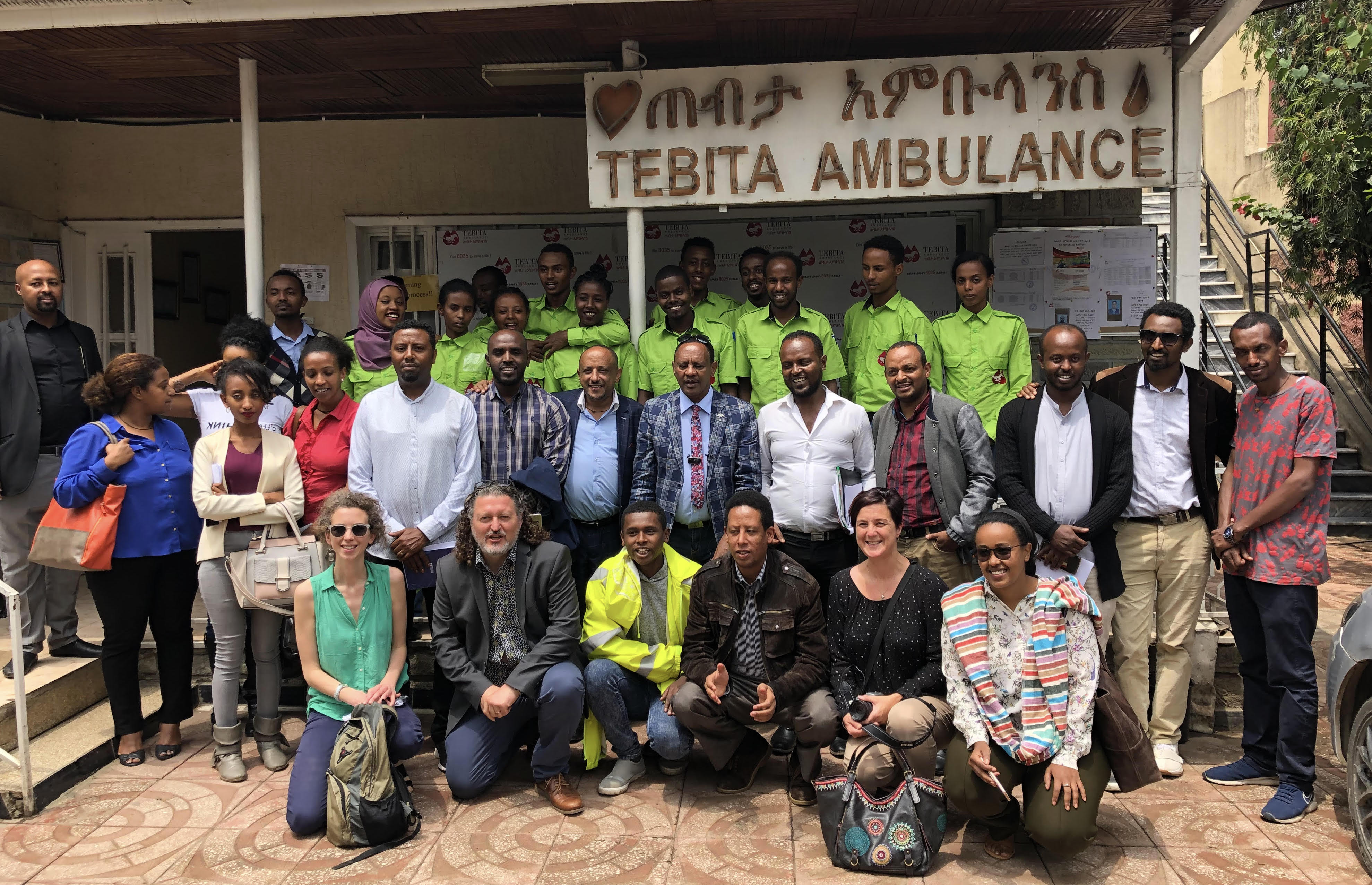 Above: staff and trainees of Tebita Ambulance, along with journalists and Pioneers Post's editorial team.
Most recently, Kibret has become the first president of the fledgling network body Social Enterprise Ethiopia, an initiative again supported by the British Council along with social enterprise support body Reach for Change Ethiopia. "We want to have a louder voice and for social enterprises to be treated in a different way," he said. 
Speaking more broadly about social enterprise, Kibret told the visiting group: "I didn't know at the beginning that I was a social entrepreneur. Because we are trying to make a sustainable solution to the problem that we see – that's why we are a social enterprise."
"Tebita's business model proves that profitability and social impact are not mutually exclusive," he told the journalists.
Tebita's business model proves that profitability and social impact are not mutually exclusive - Kibret Abebe
There are an estimated 55,000 social enterprises in Ethiopia, according to British Council research in 2017. Many journalists cover entrepreneurship and social change issues, but may be confused about or even unaware of social enterprise, while social entrepreneurs often feel that the media does not pay enough attention to their work.
This year's Social Enterprise World Forum is the 12th edition, but the first to take place in both Africa or in a developing country. Organisers expect to welcome 1,200 delegates from around the world. 
Speaking to the combined audience of social entrepreneurs and journalists during the training week, British Council's Ethiopia country director Peter Brown said SEWF would be "a massive event".
Commenting on the "winds of change" currently sweeping through the country, Brown said his organisation was "very excited" about the upcoming event: "The time is absolutely right... There's a real role for social enterprise to make a really valuable contribution to Ethiopia's growth and transformation."
Kibret said more media coverage of social enterprises would "really change the game". Tebita Ambulances currently gets around 20 to 30 calls from citizens needing emergency medical help each day, but he said there was potential for them to serve many more people if more of them were aware of the company's services.