A rich man's world? Belfast's women in social enterprise don't think so
NatWest and Pioneers Post are hosting a series of informal gatherings for our network of Women in Social Enterprise (WISE100) across the UK, and the first took place in Belfast last month. Over lunch, we learned more about some of the city's inspirational women in social business and talked about breaking down barriers: from finding the courage to speak up when you feel outnumbered, to being bold enough to talk money.
Do you ever feel that you aren't senior enough to make a strategic plan for where your business should go? Or maybe you think others won't listen to you because of your age, gender, or race?
There are numerous barriers that keep people from speaking up in the workplace, and at a lunch hosted by NatWest and Pioneers Post, we heard how some of Northern Ireland's women in social enterprise are tackling them.
Surrounded by green hills, Belfast is known for its cultural landmarks including the Titanic Museum and Botanic Gardens, as well as a lively selection of pubs. But it's not only the nightlife that's thriving – Social Enterprise Northern Ireland (SENI) estimates that the country is now home to close to more than 800 social enterprises worth £625m to the local economy, with 53% of them based in the capital. 
SENI's latest report also reveals that 43% of social enterprises are led by women (just surpassing the UK-wide figure of 40%, according to Social Enterprise UK). We meet 14 of them over lunch, representing organisations as varied as Usel, Northern Ireland's largest supporter of people with disabilities or health conditions into employment; Refuge Hot Chocolate, a hot chocolate brand set up to support survivors of human trafficking; and Mallusk Enterprise Agency, a social enterprise work space and business support provider.
Money talks
Before tucking into either the roast chicken or sweet potato curry, the group is addressed by Maeve Monaghan, CEO at NOW Group, a social enterprise which provides sustainable employment opportunities to people with autism and learning difficulties, including through its catering business and four cafés.
Earlier in her career, Monaghan says she was confident about communicating her organisation's social mission, but "would get all red and flustered" when anyone asked how much money it was making. This, she thinks, is a trait that may be more common not only among women, but also among entrepreneurs with a social mission.
However, she thinks some of the current success of the NOW Group – which now has a turnover of £3m – has been partly thanks to changing her mindset. 
"We need to be more comfortable with saying 'I love making money'. When I have been bold and said, 'I want to make a million pounds', is when I have seen the biggest shift. So say what you want out loud, and it starts to happen." 
We need to be more comfortable with saying 'I love making money'
Tell them what you want
In this day and age, is gender still a barrier in the workplace? For Nisha Tandon, founder at ArtSekta, which runs cultural activities in Belfast as a way of promoting diversity, there's no question that it has been an issue: "I have sat on various boards, and there were very few women, especially from ethnic minority backgrounds – maybe next to none."
Eventually, she has trained herself to speak up. "I learned if I kept shying off, my messages weren't clear," she says. "If you have passion about what you are doing and want to see change, you have to say what you want."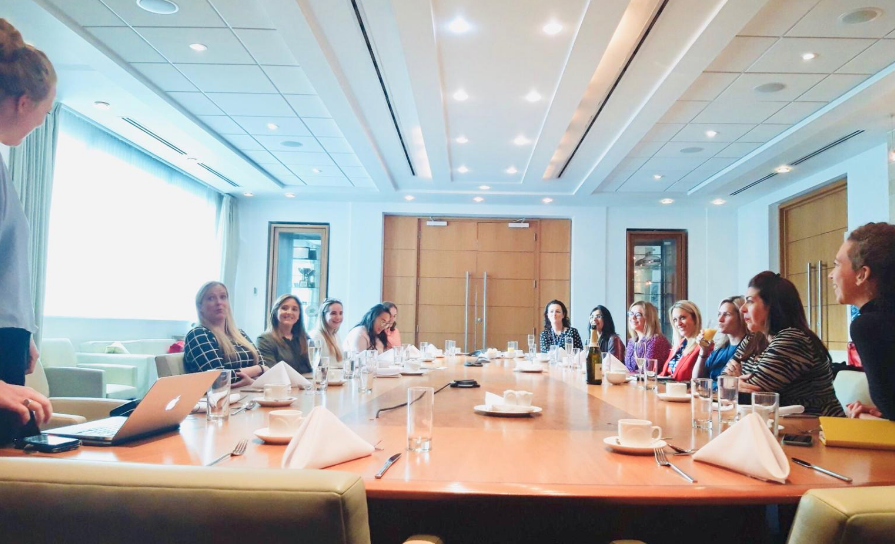 For Aimée Clint and Saan Lee, however, there's a different frustration. The pair began selling Books By Stellas – which teach children about people living with autism and can be found in 900 primary schools across the country – a few years ago when they were just 17. For them, age has been more of an issue than gender. "We go to a lot of 'women in business' events and feel quite judged. People think we're people's daughters rather than there for actual business," says Clint.
They have, however, found social enterprise networks to be more supportive. "They want to build us up to be the next leaders."
Let's get together, and… ?
And creating a support network for those who might not have one in other spheres of business is not the only benefit of coming together as a sector, the women agree as they tuck into chocolate pudding for dessert. By working collaboratively, social entrepreneurs could one day create a completely social supply chain for businesses. 
"Across Northern Ireland we have so many fantastic social enterprises," says Karen Gilgunn, marketing and business manager at Usel. "So working together across the sector will allow us to strengthen our offerings."
why are there no social enterprises producing hard hats?
But, Monaghan adds, only if they become more communicative and think more strategically about what is needed. "We're trying to get a Social Value Act but once we have it, what are we going to sell them? We need to stop duplicating what we do. We've got plenty of social enterprise cafés, why are there no social enterprises producing hard hats?"
Listen to Maeve's provocation in full above to hear more about her journey in business, and discover why she thinks "being good is no longer good enough" for social entrepreneurs.
Header photo: view of Belfast (credit: K. Mitch Hodge on Unsplash)