Get creative, collaborate – and convince investors: How to make Indonesia's economy more inclusive
Indonesia is set to become the world's fourth-largest economy. But as it powers ahead, there's a risk that the most vulnerable people get left behind: excluded or unable to benefit from economic growth. Can the country's creative businesses – which employ some 15 million people – help? And how can we support the smallest ones to grow? Our Young Storymaker reports from last month's AVPN gathering in Bali.

With its rich culinary scene, thousand-year old traditions, and hundreds of languages and ethnic groups, the world's largest archipelago has strong creative roots.
But can a growing field of creative minds, from craft-based businesses to large-scale industries, make Indonesia's overall economy more inclusive?
British Council research (to be published in the coming months) suggests so. It has found that the creative economy contributes an estimated 7-7.5% to Indonesia's gross domestic product, growing at around 2-2.5% per year and employing roughly 15 million people. The creative industries (which range from advertising to fashion to software) are creating more jobs among young people, women and elderly workers compared to other industries. They have more women owners and shareholders, more young owners, and are more inclusive and diverse than other industries in Indonesia.
Creative industries are more inclusive and diverse than other industries in Indonesia
And Tristan Ace, who leads on the development of social enterprise and inclusive and creative economies for the British Council in Asia, told Pioneers Post the creative economy can help Indonesia achieve the Sustainable Development Goals. This is both because emerging findings suggest creative businesses are more inclusive, but "also in terms of the creativity and innovation that can inspire business in the broader economy", helping others solve problems in sectors such as renewable energy and agriculture.
Staying small
However, although the creative industries have many women leaders, they are mostly running small or micro enterprises. Speaking at the AVPN Southeast Asia Summit in Bali last month, Svida Alisjahbana, CEO of GCM Group (a spin-off of Indonesia's largest women's lifestyle media group, Femina Group), expressed concern. While two-thirds of creative businesses in Indonesia are led by women, "the problem is they are all micro, so it is harder for them to move upward. The large ones are mostly run by men," she said. "These women usually work in a field that is near to them, that can be done from their house: craft, fashion, food, and education. Interestingly, funding comes after." As owners and shareholders, Alisjahbana added, women find it harder to find investors due to lack of networks and financial literacy.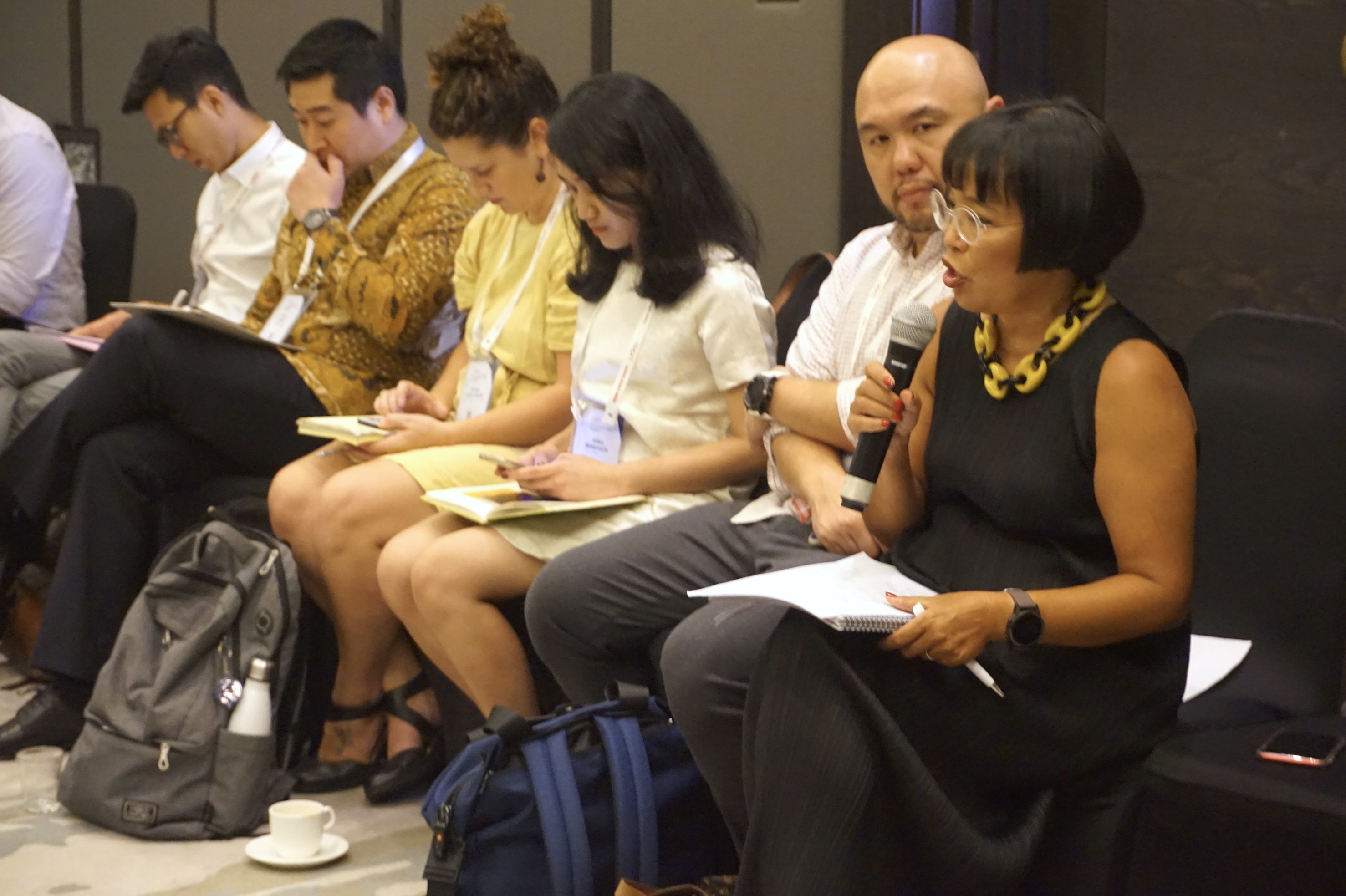 Above: Svida Alisjahbana, CEO of GCM Group, at the AVPN gathering in Bali – who says it's harder for women to rise to leadership roles: "The large creative businesses are mostly run by men".
Ace echoes this: "Creative social enterprises are typically small and emerging evidence from our research suggests that they struggle to access growth capital." And, based on data from Creative Economy Agency (BEKRAF) and Statistics Indonesia (BPS) in 2017, 92% of Indonesia's creative enterprises are self-funded and 97% only sell their product locally.
Women find it harder to find investors due to lack of networks and financial literacy
More cross-sector partnerships
Can more networking, collaboration, and partnership in the creative sectors help to solve these challenges?
One of Indonesia's top government officials suggested so, when he spoke at AVPN's gathering in Bali.
"Indonesia is a dynamic and diverse country with a great history, rich culture, and beautiful landscape," said Wishnutama Kusubandio, Minister for Tourism and the Creative Economy. "In the past decade, the country has exploded in growth and prosperity. Therefore, to find the opportunities, we need to collaborate across sectors so we [can] create a lot of innovative ideas or solutions and combine our resources for lasting impact."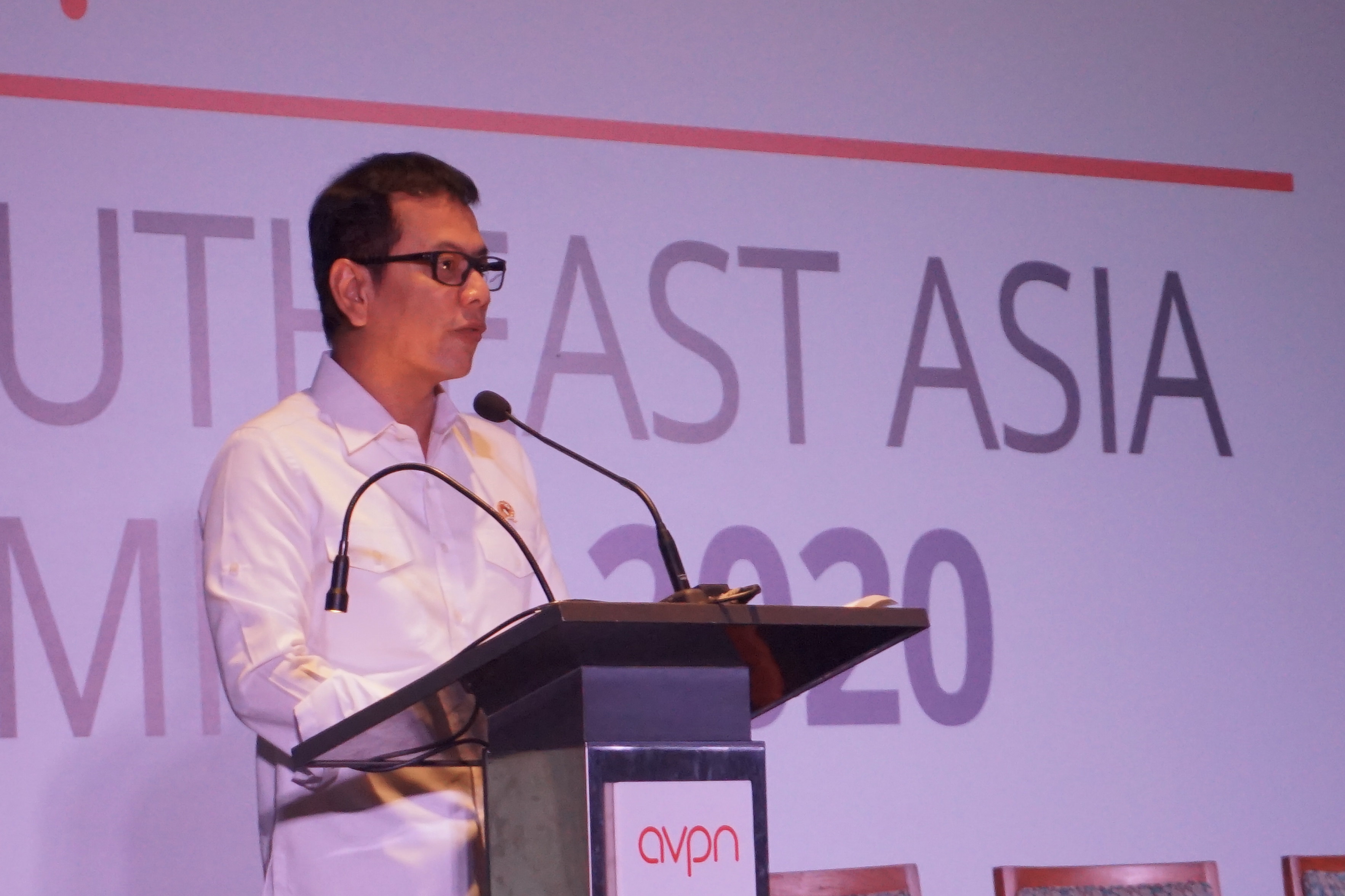 Above: Wishnutama Kusubandio, Indonesia's Minister for Tourism and the Creative Economy, speaking at the AVPN gathering.
When you create a strong ecosystem, everyone accelerates. Fadjar Hutomo, deputy chairman of financial access at the Ministry of Tourism and Creative Economy, explained how the government is currently focusing on improving financial skills and competency among entrepreneurs in the creative industry, with a programme called Kelas Keuangan. This uses online classes to teach the financial aspects of creating a business or enterprise. "There is still a lack of financial literacy from entrepreneurs in the creative industries," Hutomo said.
However, the government is not only focusing on supporting creative businesses, but also plans to educate the financial sector on investing in this sector. Hutomo promised to "improve accessibility and connection between the creative industry with investors and financial institutions". Some existing government-funded programmes include Akatara, connecting Indonesian filmmakers with investors; Food Startup Indonesia, connecting food industry players with investors, mentors and incubators; and Go Startup Indonesia, connecting startups with accelerators, funds and investors. 
Hesitant investors
But from the investor's perspective, investing in creative fields is not always appealing. "Many don't want to touch the creative industry because it is very challenging," said Leon Toh, executive director at Damson Capital, a Singapore-based impact investment and advisory firm. The challenges, he explained, relate to creative fields being so fast-changing. "­You have to follow trends... Just because you are fashionable today, doesn't mean that you are fashionable tomorrow." He admitted that there is still a lack of awareness and education among investors.
'Many [investors] don't want to touch the creative industry because it is very challenging'
Creative social enterprises need more access to finance that serves their need, said Ace. Some of that could come through innovative forms of financing – such as blended finance, where philanthropists join forces with private investors to make more flexible funding available.
For creative businesses, a priority should be focusing on cross-sector partnerships and raising awareness of the industry, for example by establishing umbrella organisations that can work with government to promote interest in the sector.
Indonesia's economy plays an important part in south-east Asia. "In our region, Indonesia has the most attractive market [to investors], with a population of 270 million people, most of them young and very optimistic with their future," said Kusubandio. "In 2045, Indonesia will be the fourth-largest economy in the world. We'll also be the third-largest emerging market with the biggest growing middle class."
Kusubandio highlighted the significant role of networking organisations such as the Asian Venture Philanthropy Network in building a strong creative economy. "AVPN is building an ecosystem of collaborations that are very practical and critical as well," he said. "The interconnection of these stakeholders (for-profit, non-profit, universities, even government) is needed for collaboration." Kusubandio also suggested his ministry and AVPN could collaborate across other industries to tackle the country's challenges.
Collaboration is already happening between AVPN and the government, with AVPN helping to connect multiple creative enterprises, such as Rumah Kelor, Tema Tea, and LAWE Creative Space: AYA Special Program, to investors, by working closely with government body BEKRAF. More opportunities like this for inclusive businesses, and strengthening the creative economy overall, would help Indonesia to build an economy that works for everyone.
Astari Sarosa is a DICE Young Storymaker – one of 14 young journalists recruited by Pioneers Post and the British Council from six countries to report on social and creative enterprise.
Header photo: Jakarta Fashion Week in 2018; Indonesia has ambitions to lead the world in 'modest fashion'. All photo credits: Astari Sarosa.