Bright sparks: Social investors and entrepreneurs named in 2021 New Year Honours
Damehood for Caroline Mason, the boss of leading grantmaker and social investor Esmée Fairbairn Foundation, plus accolades for many more – but questions around an award of 'empire' persist.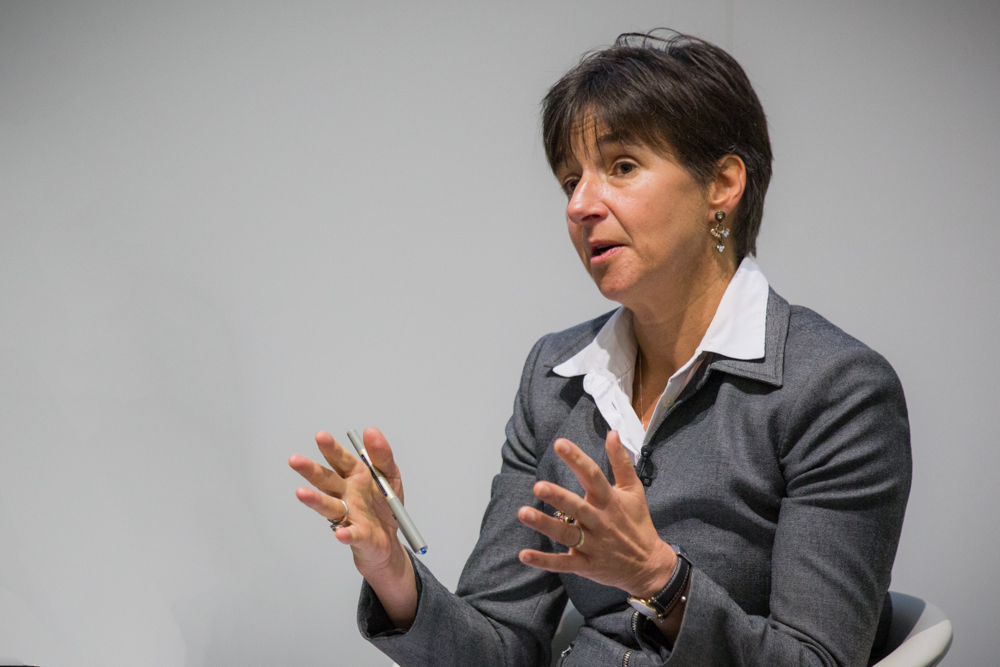 The boss of one of the UK's largest independent grantmakers has been awarded a prestigious title in the government's latest New Year Honours list.
Caroline Mason (pictured), CEO at the Esmée Fairbairn Foundation since 2013, was made a Dame in the latest round of honours, which recognise the achievements and service of extraordinary people across the country.
Before joining the foundation, Dame Caroline was chief operating officer at Big Society Capital and at Charity Bank. She was the co-founder of Investing for Good, a social investment advisory firm and one of the first community interest companies, receiving a CBE in 2013 for services to social investment. She is currently a board member of the Impact Investing Institute. 
The honours list describes Dame Caroline as "a trailblazer" in responding to the Covid-19 crisis, making an additional £16m available from the Esmée Fairbairn Foundation in 2020 and distributing most of this as fast-response grants.
The foundation spends around £40m a year on grants and has a £45m allocation to social investments. Its current strategy – published last October – commits it to focusing on three areas: the natural world, tackling injustice and nurturing creative, confident communities.
An 'uncomfortable' – or unwearable – badge
The honours are awarded by the Queen twice a year, and as well as the top-ranking knighthood and damehood, also include, in order of ranking, the CBE (Commander of the Order of the British Empire), OBE (Officer of the Order of the British Empire) and MBE (Member of the Order of the British Empire).
These titles have long sparked debate and disagreement, but may be seen as particularly problematic following the latest swell of support for the Black Lives Matter movement.
Vicki Sellick of innovation foundation Nesta, who was awarded an MBE on 31 December for services to social action, wrote in a blog post that the word 'empire' made her "uncomfortable".
"Whilst the award really has nothing to do with empire anymore, its historical attachment to empire – and so to slavery and brutality – shouldn't be overlooked. Empire has often oppressed, yet people power affirms," she writes. She decided to accept the award, however, on behalf of "the real social action heroes", naming a number of innovators such as Shared Lives Plus, which supports adults with additional needs.
Whilst the award really has nothing to do with empire anymore, its historical attachment to empire – and so to slavery and brutality – shouldn't be overlooked
Many charity sector recipients highlighted a letter published last year by previous recipients that calls for the word 'empire' to be replaced with 'excellence', and said they would add their names to this statement, Civil Society News has reported.
Others have found the decision more clear-cut. The author and co-founder of youth marketing agency Livity, Sam Conniff, last year declined an MBE, saying he could not "wear a badge of the system that causes so much harm to the same young people I've spent my career in service to". 
Eight hundred 'outstanding' individuals
Of the 1,239 people awarded on 31 December – the 'most ethnically diverse' honours list yet, with 14.2% from a black, Asian or minority ethnic background – 803 are people who have undertaken outstanding work in their communities either in a voluntary or paid capacity, according to the Cabinet Office. 
Honours include a knighthood for Guy Weston, whose 20-year chairmanship of the Garfield Weston Foundation has seen it become the largest family grant-making foundation in the UK. The foundation's total grants across the UK exceed £1bn, of which over half has been granted in the last ten years. 
Other chairs to be named include Hugh Rolo of Sheffield-based social investor Key Fund; and Larissa Joy, who chairs the Social Business Trust and the Foundling Musuem, both now OBEs.
​OBEs also went to Moira Sinclair, CEO of the Paul Hamlyn Foundation; Andrew Barnett, director of the Calouste Gulbenkian Foundation UK; Carol Mack, CEO of the Association of Charitable Foundations; and ​Fozia Irfan, formerly of the Bedfordshire and Luton Community Foundation. Peter Wanless, CEO of the charity the National Society for the Prevention of Cruelty to Children (NSPCC) since 2013, was knighted. 
Infrastructure and support organisations were also recognised, with OBEs for Caron Bradshaw, CEO of the Charity Finance Group; Adeela Warley, CEO of CharityComms; Jane Ide, former CEO of umbrella body Navca; Stephen Bediako, founder and chair of The Social Innovation Partnership; Sarah Crawley, founder and CEO of the Initiative for Social Entrepreneurs in Birmingham; and Claudia Sykes, CEO of Social Enterprise Kent. 
Founder Mursal Hedayat was awarded an MBE for her work with Chatterbox, a social enterprise that employs skilled refugees as language tutors, while Anwar Ali, founder and director of Oldham-based Upturn Enterprise, received an OBE for his services to social enterprise. 
Among the many others named are also Mary Jennings, CEO of the charity FoodCycle; Joanne Hobbs, CEO of the British Youth Council, and Patricia Wheatley, CEO of Disability Arts Online, who all receive MBEs.
Public sector workers make up 14.8% of this year's honours list and include firefighters, medical professionals, teachers, police officers and local government workers, recognised in particular for their efforts in responding to Covid-19. 
Read the full 2021 New Year Honours List. Header image by KT on Unsplash.
Thanks for reading Pioneers Post. As an entrepreneur or investor yourself, you'll know that producing quality work doesn't come free. We rely on our subscribers to sustain our journalism – so if you think it's worth having an independent, specialist media platform that covers social enterprise stories, please consider subscribing. You'll also be buying social: Pioneers Post is a social enterprise itself, reinvesting all our profits into helping you do good business, better.