Unilever takes on social inequality with 'trailblazing' supply chain targets
Consumer goods giant Unilever has pledged to spend €2bn each year by 2025 with suppliers owned and managed by people 'from under-represented groups'.
The firm announced the target yesterday as part of its efforts to tackle social inequality, which it described as one of the "world's biggest threats". Unilever had a turnover of €52bn in 2019 and has more than 400 brands, including Ben and Jerry's ice-cream and Dove beauty products. Its total supply chain spend in 2019 was €33.7bn.
Suppliers targeted in the new strategy include small and medium-sized businesses owned and managed by women, under-represented racial and ethnic groups, people with disabilities and LGBTQI+ people. 
Sustainability drives growth, lowers costs, reduces risk and is an absolute magnet for young talent - Alan Jope
Unilever will also support these businesses with access to training, financing and networking opportunities, as well as including more people from diverse groups in its advertising.
The two other headline targets are ensuring that everyone who directly provides goods and services to the company earns at least a living wage; and equipping 10 million young people with job-readiness skills, both by 2030.
CEO Alan Jope said: "We believe the actions we are committing to will make Unilever a better, stronger business; ready for the huge societal changes we are experiencing today – changes that will only accelerate. Without a healthy society, there cannot be a healthy business."
Capitalism 2.0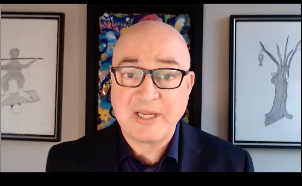 The new strategy updates the Unilever Sustainable Living Plan of 2010-20.
Speaking at the Reuters Next conference earlier this month, Jope (pictured) said the new strategy was now "very integrated… our business strategy is our sustainability strategy and vice versa."
Sustainability drives growth, lowers costs, reduces risk and is "an absolute magnet for young talent," he said. "That's why we do it – it's  a business imperative as much as a moral imperative."
Unilever's various brands would also begin marketing their sustainability credentials more explicitly to consumers, the CEO said. 
The multinational would be "very active" from now on in advocating for "capitalism 2.0". Capitalism 1.0 had many benefits for innovation and progress, said Jope, but it was also harmful for inequality and environmental degradation. 
We do not believe in a shareholder primacy model
The new capitalism, he suggested, required a "multi-stakeholder" approach.
"Our first priority is our employees, then we take care of our customers and consumers, our business partners, the planet, the societies we do business in – when we do all these things well, our shareholders will be very well rewarded. We do not believe in a shareholder primacy model."
Investors do not appear to be shying away from this belief. Just two years ago ESG [environmental, social and governance] topics were "a niche conversation" with investors, said Jope, but this has now reversed. "I spend more time discussing [that] with investors than the latest quarter's results," he said.

'Ripple effect'
Yesterday's announcement was welcomed by social sector representatives.
Pauline Gordon, director of the Social Enterprise Network Scotland and former CEO of Social Firms Scotland, praised Unilever's ambition to create social value across its supply chain, and said its commitment could "have a ripple effect on a global scale". 
Social Enterprise Network Scotland supports social enterprises that help people who face barriers to work, but, said Gordon, "we have always believed it will take a step change in other parts of the economy – across the business community, and across the public sector if we are to close the employment gap to allow all our citizens the right to work."
The Living Wage Foundation, which accredits UK employers that pay the independently-calculated Living Wage, described Unilever's commitment to paying a living wage throughout the supply chain as "trailblazing".
Danny Sriskandarajah, CEO of Oxfam GB, tweeted: "Fantastic commitment from @Unilever @alanjope for living wages/income across its global supply chain. Exactly the kind of responsible action that can help reduce inequality & break the cycle of poverty. We need to see more companies take similar steps to be 'a positive force'".
At Pioneers Post we're working hard to provide the most up-to-date news and resources to help social businesses and impact investors share their experiences, celebrate their achievements and get through the Covid-19 crisis. But we need your support to continue. As a social enterprise ourselves, Pioneers Post relies on paid subscriptions and partnerships to sustain our purpose-led journalism – so if you think it's worth having an independent, mission-driven, specialist media platform for the impact movement – in good times and in bad – please click here to subscribe.