Ex-Clarity employee aims to fight 'injustice' of 1.1m disabled people who can't find work 
A marketing manager made redundant after the high profile social enterprise, Clarity & Co., changed hands last year, hopes to turn loss into opportunity by setting up her own social business – and by providing jobs to some of her former colleagues.
Diane Cheung is today launching Melior, which, like her former employer, will sell cleaning products and will be based in east London. She is also set to hire three ex-colleagues who have disabilities or long-term health conditions, and hopes to fill all future vacancies at her company with people with disabilities. 
The new community interest company, however, is not seeking to take away business from Clarity Products Ltd., as it is now known, which was first created in 1854 to provide employment to disabled people. Cheung emphasised her start-up was "definitely not" a competitor, although said she hoped the startup would disrupt the industry in general.
It's about starting afresh, and doing things ethically, not only in terms of employment, but the products themselves and the packaging
"This is something totally new, and not intended to take any business away from Clarity," said Cheung. "It's about starting afresh, and doing things ethically, not only in terms of employment, but the products themselves and the packaging, and these aren't things that Clarity could afford to do in the past."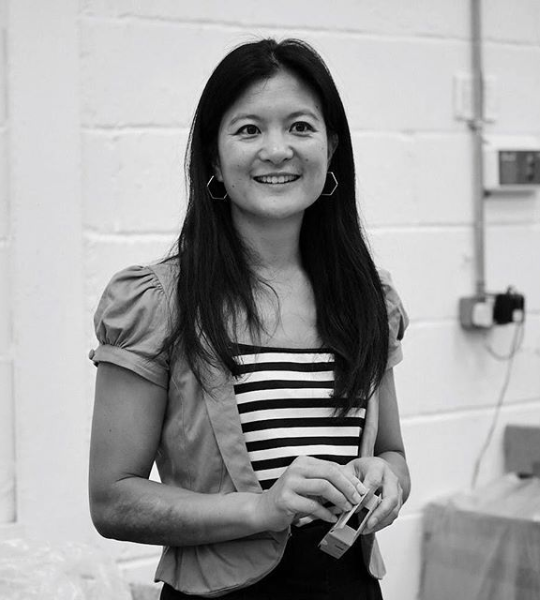 Cheung (pictured) said there were over 1.1 million people with disabilities who wanted to work but could not find any. "I've seen injustices against people with disabilities at a time they need support the most. I simply could not sit by and watch it unfold. Every bottle sold means I am one step closer to employing more people with disabilities. That's what drives me to make Melior a huge success."
Meanwhile, further issues at Clarity emerged this week as Community trade union, which represents the company's workers, told Pioneers Post it was "currently preparing new claims" over unpaid wages. The union said the claims related to "further unpaid amounts currently estimated in the region of £20,000". It also believes that 20 to 23 employees are affected by planned redundancies. 
This follows the news last month that Clarity is no longer a certified social enterprise, and that some staff had "failed to receive their wages", revealed in Parliament by Sir Iain Duncan Smith, the MP in whose constituency the company is based. To date, 27 employees have won employment tribunal cases for unauthorised deductions of wages.
Cheung said she had worked "with amazing people" in her three years at Clarity. "There was a sense of camaraderie… it was the sort of place you wanted to work forever. But unfortunately things unfolded as they did, and I thought, well, either I can get upset about what's happened or I can do something about it."
There was a sense of camaraderie… it was the sort of place you wanted to work forever
In an unusual twist, in her role at Clarity & Co. Cheung worked on a campaign that encouraged other employers to 'steal its staff' in an effort to help its workers – 80% of whom had a disability – to find new roles, thereby opening up vacancies for other job-seekers with disabilities within the organisation. While the campaign achieved some high profile coverage and received nine hiring enquiries, including from Virgin Media, "no one was stolen", Cheung said.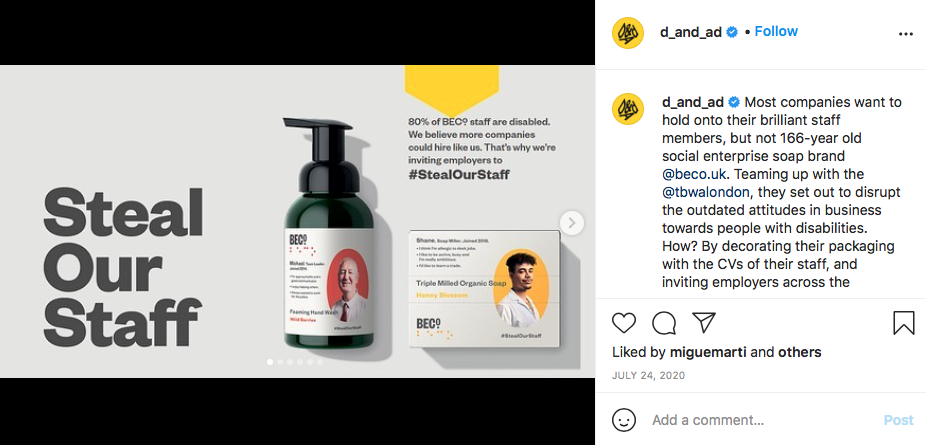 Above: the 'Steal our Staff' campaign, by Clarity brand Beco, aimed to encourage others employers to hire people with disabilities - including its own staff

Non-toxic
New social enterprise Melior will initially sell three non-toxic, "ocean and pet friendly" cleaning products developed by InnuScience – a biotechnology company that uses living organisms or their components to produce commercial products – under its own brand. Reusable glass bottles will be labelled, filled and packed by hand, and sold direct to consumers via Melior's website. Cheung is also considering a range of beauty products that does not use environmentally damaging palm oil derivatives.
Cheung, who has previous experience at large commercial food, drink and beauty brands, said the idea behind Melior – meaning 'better' in Latin – crystallised while cleaning a lot at home under Covid-19 lockdowns. Using so many chemicals made her worried about her children inhaling the fumes, and with asthma and psoriasis herself she had to be "extra careful". She discovered that biotechnology products were "mind-blowingly good", but only sold in bulk: to date, InnuScience products have only been sold to corporate clients including the Houses of Parliament, the Burj Khalifa in Dubai and Hotel de Paris in Monaco.
Hopefully it will make companies realise that if this small but very ambitious, social enterprise is doing all these things, why can't we?
Paul Twiss, marketing director at InnuScience, said Melior was "just as passionate" as his company was "about changing the way the world cleans – using nature to eradicate the use of unnecessarily harmful chemicals". 
A first-time founder, Cheung said creating a business from scratch had been a "huge learning curve", but that it had attracted an "outpouring of goodwill" from supporters, including pro bono designers and photographers. 
Melior would "disrupt" the cleaning industry "with something that is not available to consumers", she said. "Hopefully it will make companies sit up and realise that if this smallish, but very ambitious, social enterprise is doing all these things, why can't we?"
Pioneers Post contacted Clarity for comment, but had not received a response at the time of going to press.
Thanks for reading our stories. As an entrepreneur or investor yourself, you'll know that producing quality work doesn't come free. We rely on our subscribers to sustain our journalism – so if you think it's worth having an independent, specialist media platform that covers social enterprise stories, please consider subscribing. You'll also be buying social: Pioneers Post is a social enterprise itself, reinvesting all our profits into helping you do good business, better.