SKOLL 2021: 'Atom bomb' on information ecosystem demands action - Maria Ressa
Social change leaders must act now to help protect independent media and curtail "the worst of technology's manipulations", according to one of the world's most prominent campaigners for press freedom.
Maria Ressa, a veteran investigative journalist and co-founder of Philippines news website Rappler, told an audience at this week's Skoll World Forum that tackling the world's biggest problems required a staunch defence of truth. 
"In today's world, a lie told a million times becomes a fact. Without facts you can't have truth. Without truth you can't have trust. Without any of these three, democracy as we know it and beyond that all meaningful human endeavour becomes impossible. Without facts we have no shared reality and it becomes impossible to tackle the existential problems our world faces today," she said.
Without facts we have no shared reality and it becomes impossible to tackle the existential problems our world faces today
Ressa (pictured top) – who has been named one of Time magazine's Most Influential Women of the Century for her courage and work on disinformation – has faced numerous arrest warrants and political harassment by the Duterte government. She is currently appealing a conviction of 'cyber libel', which could lead to up to six years in prison.
Appealing to listeners in the closing plenary of the Skoll World Forum yesterday, she said: "In some ways I feel like I've jumped out of a plane and I don't know whether my parachute will open high enough for me to survive." Highlighting the conference theme – 'closing the distance' – she added: "What you do, at this time, matters. Please, act now. Close the distance."
Social change leaders could do three things to help, Resse said: demand accountability from technology, help independent media to survive – and simply "do more".
"You are so powerful. Help communities come together. Do more. What are you willing to sacrifice for the truth? This is it. That's the precipice we're standing on."
Referring to the American biologist EO Wilson – who said society was dealing with "paleolithic emotions, medieval institutions and godlike technology", Ressa continued: "We have to act and realise that an atom bomb has been dropped on our information ecosystem. Just like the world did after World War 2, when it created Nato, the Bretton Woods institutions, the Universal Declaration of Human Rights, we need to upgrade our medieval institutions to put safeguards around the godlike technology that is manipulating our biology – our paleolithic emotions." 

You are so powerful. Help communities come together. Do more
Social media platforms had become "behaviour modification systems", experimenting on humans with "disastrous consequences", she said, partly because lies "laced with anger and hate" spread faster than "boring facts". 
"The very platforms that deliver the facts to you are biased against facts, they're biased against journalists. They are, by design, dividing us and radicalising us."
Ressa's work to tackle this includes co-chairing a group that seeks to tackle 'infodemics' and advising the International Fund for Public Interest Media, which aims to raise $1bn a year to help news orgs survive. Her own news company is developing its own technology to build "communities of action".
'To give no trust is to get no trust'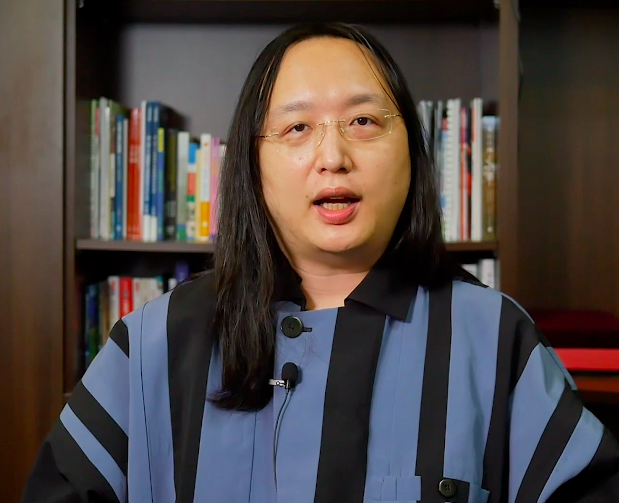 Yesterday's closing session also featured music and dance performances, as well interviews with Hollywood actor Mark Ruffalo, co-founder of the Solutions Project, which supports grassroots communities, and Gloria Walton, Solutions Project CEO and president; and with Audrey Tang, digital minister of Taiwan. 
Asked about the role of participatory democracy in Taiwan – particularly in minimising the spread of Covid-19, Tang (pictured) said: "The government needs to trust the people. The people may or may not trust back, but to give no trust is to get no trust."
"So the key to this fast counter-pandemic and counter-infodemic response is this ability to listen at scale, so that anyone with a good idea can very quickly amplify it through official participation channels to the entire country." 
Those channels include a phone line, which took more than 2m calls in 2020, Tang said. People asked for clarification on the government's counter-pandemic strategy, but also offered innovations: one professor shared his discovery that face masks could be sanitised in a rice cooker. "Compared to the old style of democracy, which is called voting, which is three bits [of information] uploaded every four years, we massively increased the bit rate." 
Time to 'over-invest' in grassroots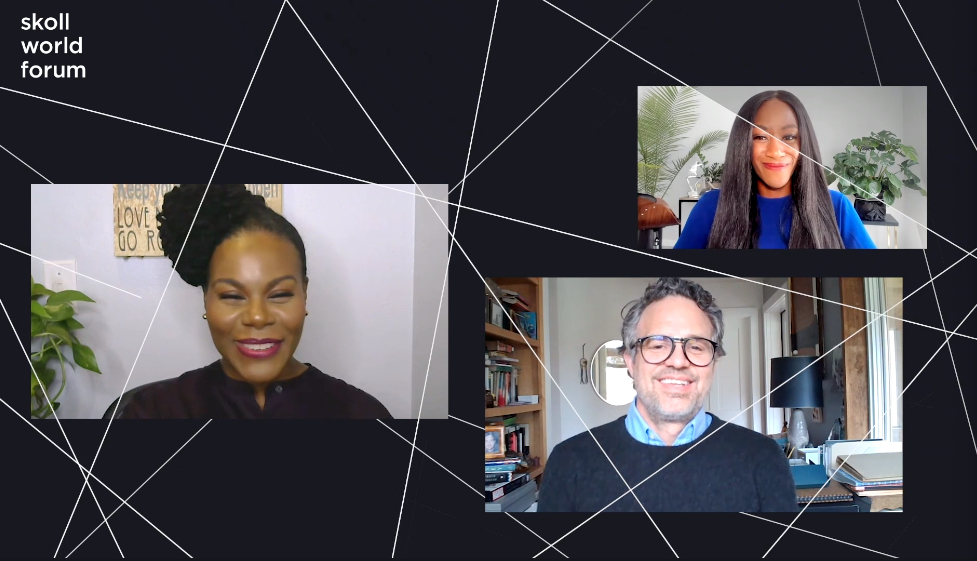 Above, left to right: Gloria Walton, Mark Ruffalo and interviewer Karen Attiah, global opinions editor at Washington Post
Walton emphasised the power of grassroots organisations, since they often looked at a problem from multiple perspectives: instead of simply having solar panels installed, for instance, they would consider who was doing the installing and what training they were getting.
She also made a case for concerted investment in communities of colour.
We have to be uncomfortable to make change happen - Mark Ruffalo
"If you're recognising that these are places and spaces and leaders that have been historically under- and disinvested in, then this is a time where, if it's about equity, you've got to over-invest, if there's even such a thing… It's not even just about levelling the playing field, we have to create a new playing field."
Ruffalo said the "really hardcore organising in the trenches" was being led by women – but that organisations were still dominated by white men, "very old-school" and "oppressive". They tended not to be open to new ways of doing things, "and I would even say not that effective". Acknowledging the privileges held by white men, he said: "You have to listen, we have to be uncomfortable to make change happen." Bringing Walton in to lead the Solutions Project had made some people uncomfortable and had been challenging. "But I am so grateful that it happened, Ruffalo said. "This is the transformation we need to make."  
Catch up on all our coverage of this year's Skoll World Forum, or watch the highlights here. 
Thanks for reading Pioneers Post. As an entrepreneur or investor yourself, you'll know that producing quality work doesn't come free. We rely on our subscribers to sustain our journalism – so if you think it's worth having an independent, specialist media platform that covers social enterprise stories, please consider subscribing. You'll also be buying social: Pioneers Post is a social enterprise itself, reinvesting all our profits into helping you do good business, better.