People of colour feel like 'temporary guests' in social impact sector
Feeling unwelcome and pressure to suppress their identity are just some of the difficulties people of colour face in the social impact sector, social enterprise and charity professionals said last week.
Panellists at last Thursday's online event, Working in the purpose-driven sector as a Person of Colour, shared painful personal experiences of working in the UK's majority white social sector – but also highlighted the powerful role of supportive networks and colleagues.
Aqsa Suleman, a project officer for equalities at mental health charity Mind, said there was still an "overwhelming sense" in the wider social sector that people of colour "don't belong". More diversity was now visible in junior roles, but the lack of progress at senior levels made it "hard to feel that you're wholeheartedly accepted", she said. 
True representation among management and board members was "the only way in which people of colour like me will feel like we're hosts in the sector, rather than just temporary guests". 
How ethnically diverse are UK social ventures?
13% of UK social enterprises are led by a person of colour. This level is broadly in line with the UK population as a whole and is higher than the figures among SMEs (5%) and charities (6%) 
18% of startup social enterprises (up to three years of age) are led by a person of colour
29% of London-based social enterprises are led by a person of colour
35% of UK social enterprises (and 68% of London-based ones) have at least one person of colour on their board 
2.8% of board directors at social investment organisations are women of colour
Sources: Social Enterprise UK, 2019; Diversity Forum, 2019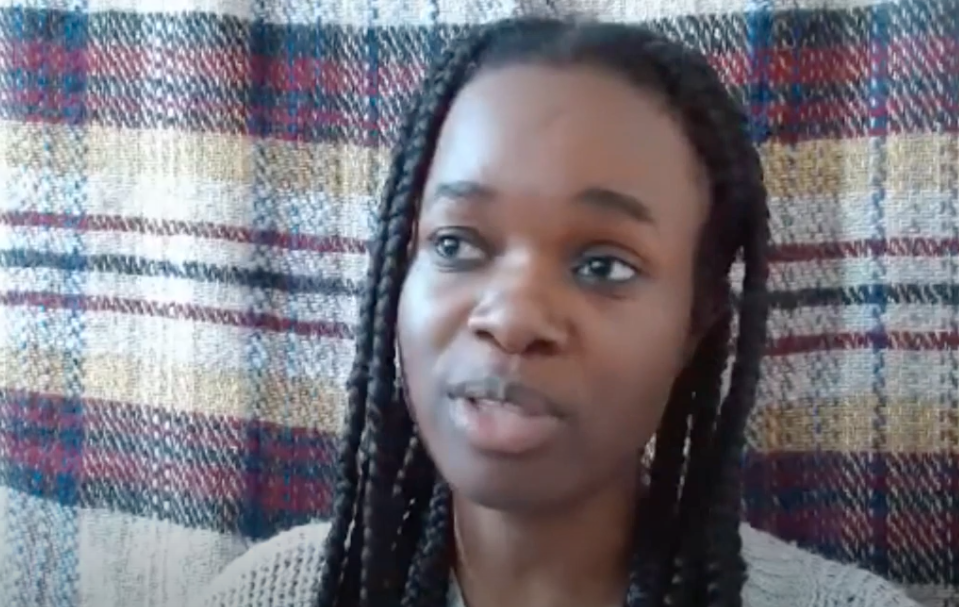 Winnie Ogwang (pictured), co-founder of youth-led research consultancy Living Proof, recalled the stress of needing to "strip parts of your identity" at work. In previous jobs she had realised she was "leaving all sorts of parts of myself at home – all sorts of parts of my lived experience, because that is what I had learned to do to assimilate". That had implications far beyond individual wellbeing, Ogwang said. "Not only was it making me less good at my job, it was also robbing the organisation of quality ideas," she said. 
It felt like, when I had my white colleagues in the room, we were taken a lot more seriously as an organisation
James Adeleke, CEO of the social enterprise Generation Success, said he faced a number of barriers in his earlier career, including lack of a professional network and not being aware of the "unwritten codes of the sector". He also told of the frustration when dealing with some corporate clients, even as a CEO with years of experience. "I've often felt like I needed a white colleague in the room to influence those discussions," he said. "It felt like, when I had my white colleagues in the room, we were taken a lot more seriously as an organisation."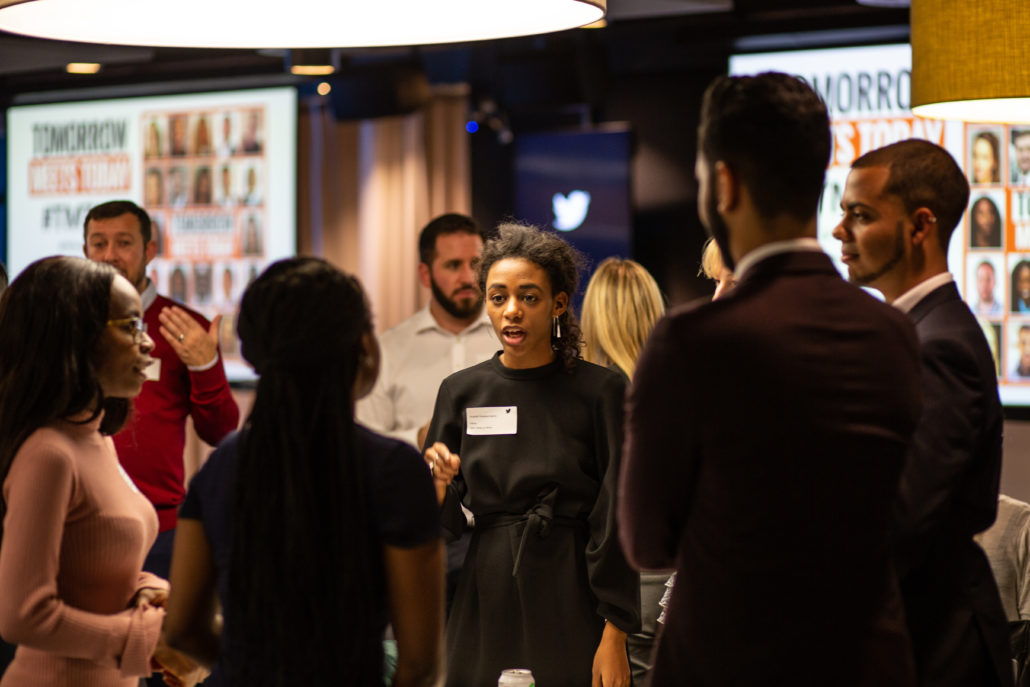 Above: an event run by Generation Success, a social enterprise that 'advances social mobility by empowering young people of diversity to reach their career aspirations', as well as providing diversity and inclusion consultancy for businesses through its commercial arm. It was listed on the NatWest SE100 list of top 100 social enterprises in 2019 (photo credit: Generation Success)
Someone to vent with
The speakers highlighted valuable support in their careers from networks such as leadership programme On Purpose, social innovation fellowship Year Here and business support organisation Social Starters. Suleman said she met some "incredible women" on the CharityWorks graduate programme; together they set up their own community for people of colour on the programme to support each other.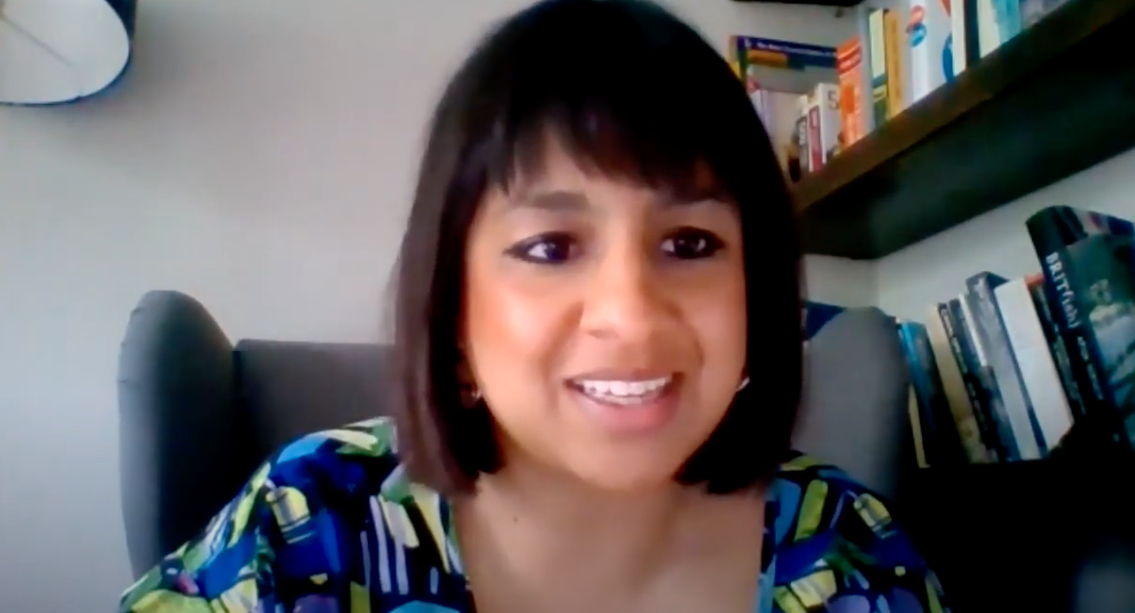 But at times these programmes drove home how far there was to go. Roshni Shah (pictured), who completed the On Purpose programme in 2019, said it opened up a valuable network and "really eased my way into the sector". But being the only person of colour in her cohort also made the sector's diversity problem "glaringly obvious". 
Groups dedicated to people of colour were therefore particularly valued. Speakers referenced, among others, POC Impact, a community for people of colour working in social impact; Bossing It, a digital network 'for womxn of colour in impact leadership'; and Charity So White, a campaign group that aims to tackle racism in the nonprofit sector. 
It's so important to find a person of colour that you can vent with
"It's underrated, but it's so important to find a person of colour that you can vent with," said Jon Cornejo, an anti-racism consultant and an organiser at Charity So White, who chaired last week's discussion. "It's so important to your wellbeing."

'Spirit of activism'
In many cases, past experiences prompted people to commit to influence change or to integrate what was missing into new organisations. 
Living Proof had a strong focus on "bringing the whole self" to work, said Ogwang. Generation Success provided diversity and inclusion training to businesses including HSBC and GSK, said Adeleke. 
And Shah said her initial experience in the social impact sector had "deepened my commitment and motivation in developing my diversity and inclusion practices and embedding those in everything I did". She now works with three organisasations that "completely embody my values" by being "actively anti-racist", committed to inclusion and pursuing an intersectional approach.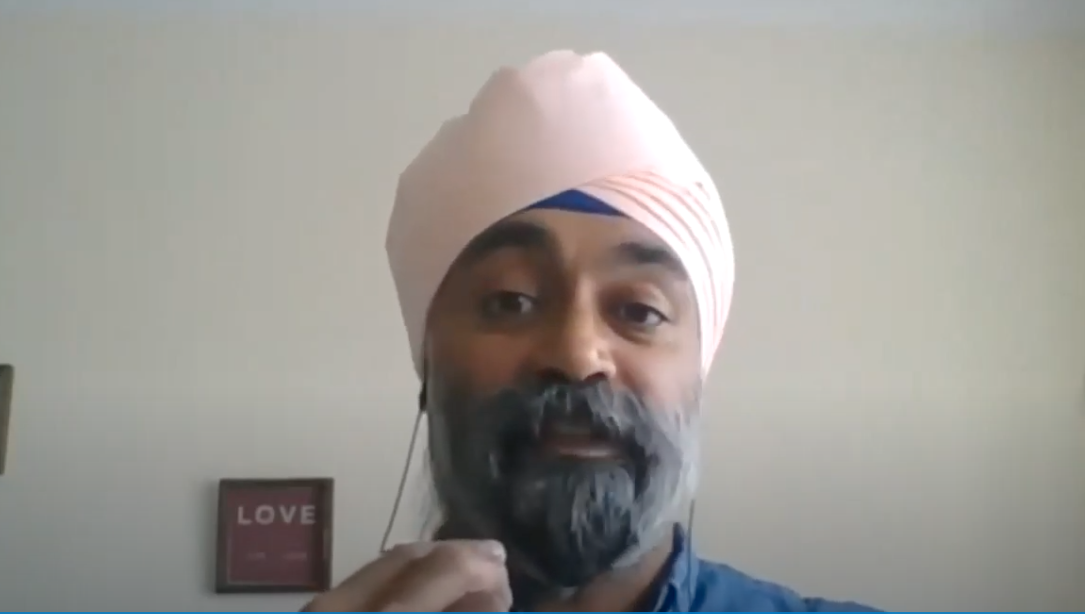 Manprit Vig is the community manager for the 2027 programme (based at the Centre for Knowledge Equity), which works with and prepares frontline professionals from working-class communities for decision-making roles in grant-making and impact investing organisations. Vig (pictured) previously completed the 2027 programme himself as an associate – and said he had "jumped at the chance" two years ago to apply, because he "wanted the system to change, to work better at serving those working in and with marginalised communities". His 2027 placement at social investment wholesaler Big Society Capital had been an opportunity to "understand and influence" funding processes and decision-making.
These are organisations that already embody these values. How do we create the larger systemic change?
Sparked by Charity So White's "spirit of activism", Suleman now aims to help Mind achieve not only "a transformative shift in our culture as an organisation but also in the way in which we engage with our supporters, service users, and our communities, to make sure that we're actively representing racialised community groups".
But the speakers also emphasised how much more needed to be done.
"As a person of colour and as a woman I feel like my representation in these spaces really matters, and has an impact, because of who I am… I feel like I'm making a difference," said Shah.
But she added: "I'm working in very small organisations, and this is where I feel safe. And these are organisations that already embody these values. How do we create the larger systemic change, which is where it's needed?"
The panel took place on 13 May 2021 and was co-hosted by On Purpose, Social Starters, Year Here and 2027. Top image: istockphoto
Thanks for reading Pioneers Post. As an entrepreneur or investor yourself, you'll know that producing quality work doesn't come free. We rely on our subscribers to sustain our journalism – so if you think it's worth having an independent, specialist media platform that covers social enterprise stories, please consider subscribing. You'll also be buying social: Pioneers Post is a social enterprise itself, reinvesting all our profits into helping you do good business, better.