Big businesses spend record £73m through UK social enterprises in 2020
Social supply chains are big business in pandemic year as Buy Social Corporate Challenge signs up 27 large firms. But reaching £1bn target will need many more contract-ready social enterprises. 
Large UK businesses spent almost £73m through social suppliers during 2020 – almost three times more than in each of the four previous years, according to Social Enterprise UK.
Pharmaceutical company AstraZeneca, Barclays bank and construction firm Wates are among the businesses signed up to the Buy Social Corporate Challenge, which aims to get high-profile corporates to collectively spend £1bn on buying goods or services from social enterprises by 2026.
Companies have spent a total of £165m through such suppliers since the challenge was created by SEUK with the UK government's Department for Digital, Culture, Media and Sport five years ago, according to the latest Buy Social Corporate Challenge impact report, published yesterday. SEUK CEO Peter Holbrook described the now 27 participating firms as "social value pioneers" who were "leading the way in changing the way business is done".
The Covid-19 pandemic has not dampened enthusiasm for buying social, with this year's spend a leap up from the £20m-£26m spent each year from 2016 to 2019.
The increase was partly due to the growing number of corporates signed up, SEUK's head of corporate partnerships, Andy Daly, told Pioneers Post. The last 12 months have seen GSK, Nestlé, NFU Mutual, John Sisk & Son Ltd and Sodexo join the Buy Social Corporate Challenge.
A few "seven-figure" contracts, momentum within the construction industry in particular, and sustainability and social value finally "cutting through" had all helped to grow total spend last year, Daly added. SEUK expects spending to increase again in 2021.
However, as then deputy CEO of SEUK Nick Temple wrote when the project launched in 2016, the £1bn target was originally planned for 2020. Daly told Pioneers Post that this had intentionally been a "very ambitious" target; as the programme progressed it became clear that it would take much longer to get there, even with clear demand from corporates. The intention now was to cap the challenge at 30 partners, he added, and to support this group to hit the £1bn target by 2026. 
These companies are leading the way in changing the way business is done and using their spending power to bring new opportunities in every part of our country
SEUK does not specify what proportion of total procurement spend its corporate partners should channel through social enterprises (though often it encourages a target of 2-3%), nor does it provide data on what partners have achieved so far. However, some companies have made specific commitments, including infrastructure firm Amey and software giant SAP, which are targeting 5% of addressable spend to social enterprises by 2023 and 2025 respectively. In late 2019, Wates announced it had spent £20m through social enterprises in its supply chain, a goal set four years previously.
Holbrook said the £165m supply chain spend to date was a "fantastic result" that deserved recognition and celebration".
He added: "Our Buy Social Corporate Challenge partners are social value pioneers; they are leading the way in changing the way business is done and using their spending power to bring new opportunities in every part of our country. The Buy Social Corporate Challenge shows us how we can address the local and the greatest global challenges of our time; addressing the climate emergency, levelling up the country, and using business to build a better and more equitable future".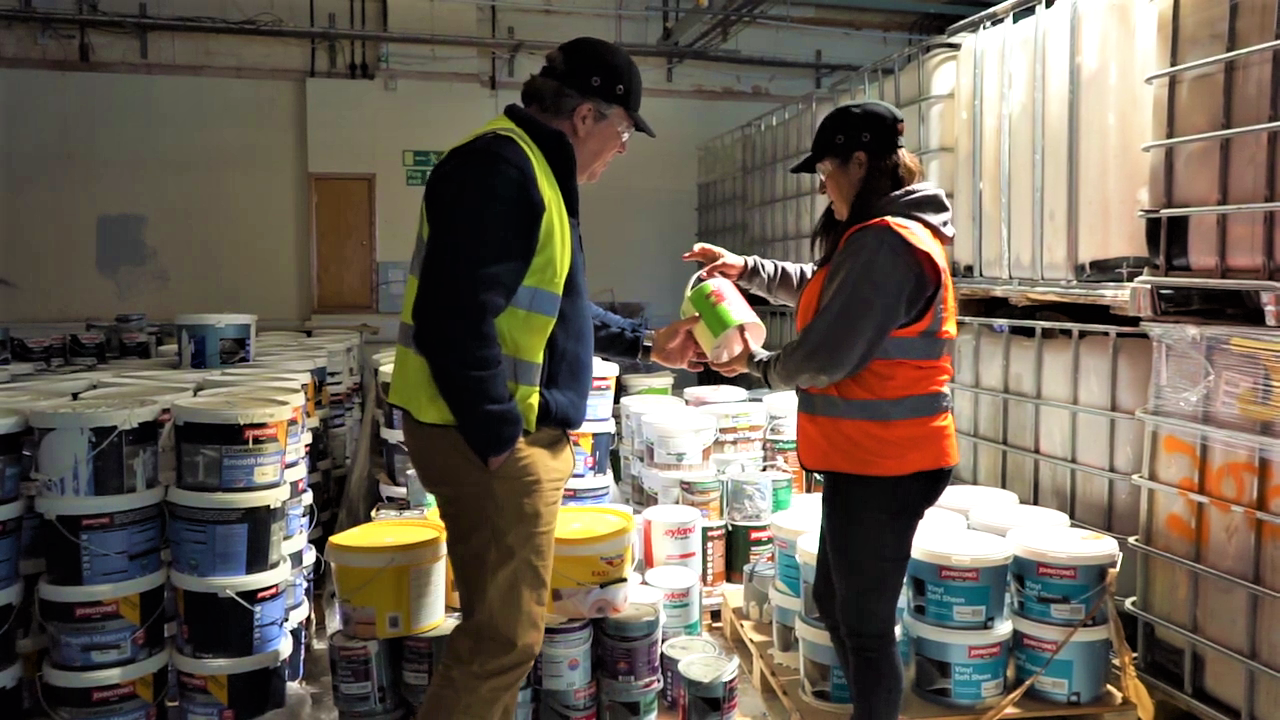 Above: Paint 360, which re-engineers waste paint back into brand new paint while creating jobs for young people, supplies infrastructure and engineering company Amey. The contract came about when an Amey procurement manager learned about the social enterprise through a local contractor (credit: Paint 360)
Jobs and revenue
The vast majority (95%) of corporates involved this year said that social enterprises were cost-neutral compared with other suppliers (though just 16% said they had helped them reduce costs). Ninety-five percent said that they delivered comparable or higher quality compared with other suppliers. The most-cited benefits for sourcing from social enterprises were supporting a business's values and purpose, increasing supplier diversity and boosting engagement among procurement staff.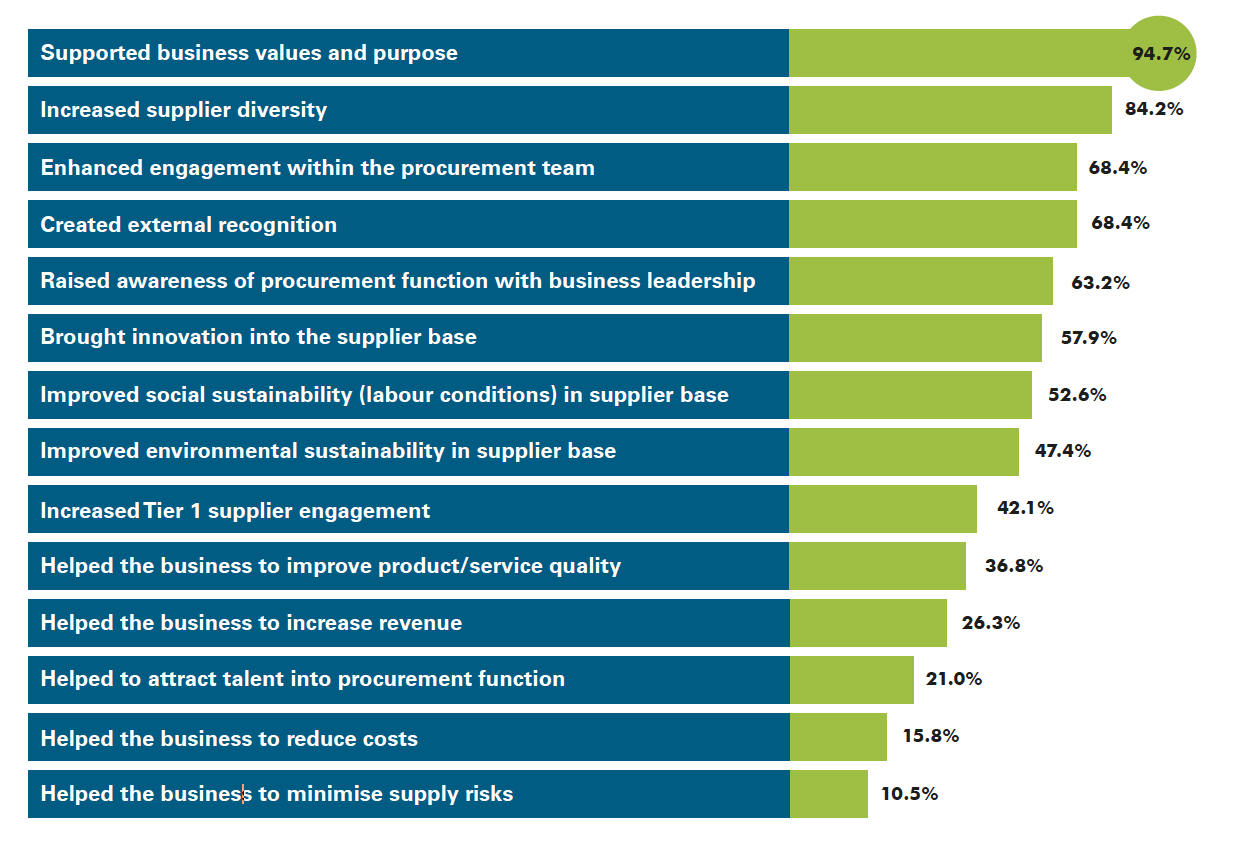 The benefits of sourcing from social enterprises, according to the Buy Social Corporate Challenge partners. Infographic from Buy Social Corporate Challenge Year 5 Impact Report
For social enterprises, corporate contracts have led since 2016 to directly or indirectly creating more than 2,000 jobs, and enabled them to reinvest more than £15m into their social missions.
Some 550 social enterprises supplied at least one Buy Social Corporate Challenge partner over the last 12 months, up from 380 in 2019. The most common category areas currently served by the social enterprises are education and skills development, research, consultancy and business support, facilities management and events.

Supply-side weakness
But, while being part of a corporate supply chain had helped many social enterprises to grow their product range and to secure contracts with other corporate clients, SEUK acknowledged that many more social enterprises operating at large scale would be needed to reach its £1bn target. It has previously said that sometimes companies seeking a social enterprise supplier in a particular area are unable to find a single one. 
SEUK is looking to grow the supplier base by identifying more social enterprises with an environmental mission – which can help corporate clients to achieve net-zero goals – and more led by ethnic minority leaders, to help companies diversify their supplier base. On the latter, Daly said SEUK wanted to do more, but had so far set "specific objectives" including on showcasing BAME-led [Black, Asian and minority ethnic] social enterprises in its communications, promoting such suppliers to corporate partners, giving extra support to BAME-led social enterprises, and partnering with organisations that reach those communities. 
Asked what factors SEUK had considered when accepting Nestlé as a partner – given criticism it faced last year for moving away from fairtrade certification for its KitKat brand – Daly said the company was "not the only Buy Social Corporate Challenge partner which has received criticism at one stage or another from campaigners. We were aware of the KitKat criticism but we are also fortunate in being able to see examples of the strongly positive work that Nestlé does on sustainability."
An ethics committee on SEUK's board considered whether they should accept certain companies, he added, and SEUK had turned away some from the tobacco industry. 
This story was updated on 23/07/21 to include a response from SEUK on the timescale of the £1bn target.
Header image: Mediorite, which aims to open up the creative industries to people from disadvantaged backgrounds, worked with PwC through the Buy Social Corporate Challenge – initially on small, defined projects and later on higher-value packages of services (credit: Mediorite)
Thanks for reading Pioneers Post. As an entrepreneur or investor yourself, you'll know that producing quality work doesn't come free. We rely on our subscribers to sustain our journalism – so if you think it's worth having an independent, specialist media platform that covers social enterprise stories, please consider subscribing. You'll also be buying social: Pioneers Post is a social enterprise itself, reinvesting all our profits into helping you do good business, better.