Tory MP calls for reform of 'operationally suboptimal' Big Society Capital
Conservative MP Gareth Davies has called for the "reformation and expansion" of social investment wholesaler Big Society Capital (BSC) – as its new CEO embraces continuity rather than change.
In a report published yesterday by the think tank Onward, 'How to scale social investment', Davies said the scope of BSC's investments should be extended beyond the social sector to increase profits and attract investors. 
"The market is still far behind where many hoped it would be by now, and where certainly it could be", said Davies, a former investment banker who was global head of responsible investment solutions at Columbia Threadneedle before becoming an MP in 2019.
BSC receives money from dormant bank accounts that it channels into social investment, encouraging other investors to join the market. But as it uses state resources, BSC is legally required to only invest (via fund managers) in social ventures that exist "wholly or mainly for the benefit of society or the environment". 
Davies said BSC's remit should be extended to cover a broader scope, notably to invest in "SMEs with social co-benefits" which may not have impact as their primary purpose but could indirectly benefit their communities. 
This would "broaden the investable universe of BSC and therefore provide greater opportunities for enhanced returns", Davies wrote. 
BSC is more focused on supporting organisations that have found it difficult to secure financing than picking winners
However, James Westhead, head of engagement at BSC, told Pioneers Post the organisation was already directing finance towards SMEs, via its investments in community development finance institutions (CDFIs, social enterprises that lend money to businesses and individuals on low incomes who would otherwise be struggling to access mainstream credit). It also invested in growing profit-making impact businesses, he added.

"Our mission is to grow investments that have a positive social impact," he said. "We don't see that our current restrictions have limited our ability to do that." 
The report criticises BSC as a "predominantly loss-making" organisation that is "operationally suboptimal", and argues it needs to shift its focus on investments that "provide a sound investment return based on a rigorous risk/return assessment".
"[BSC is] more focused on supporting organisations that have found it difficult to secure financing than picking winners or indeed optimising capital mobilisation," Davies wrote.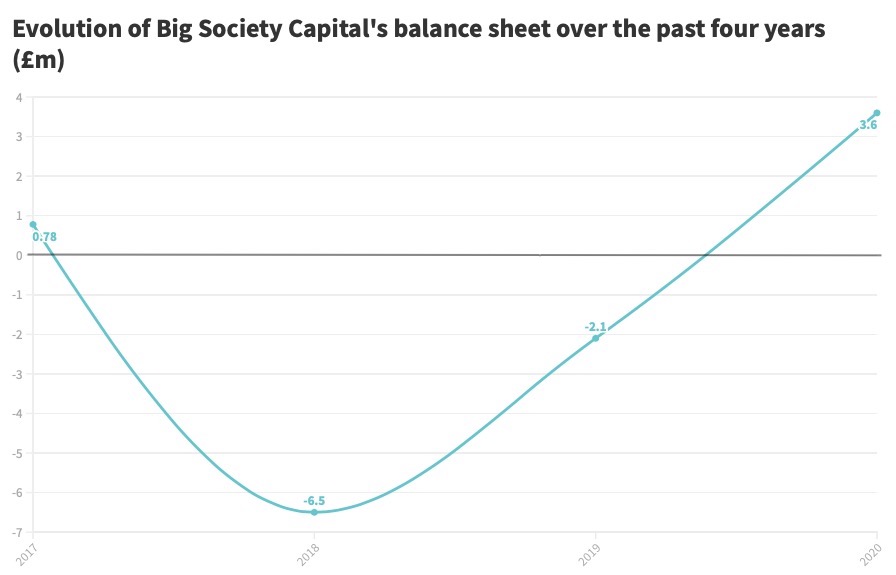 Above: Big Society Capital's balance sheet over the past four years. Davies criticises BSC as a "predominantly loss-making" organisation
But that was a false dichotomy, according to Westhead: "Our mandate is making a social impact first, rather than making a profit first," he said.
"Our function is to grow impact through investment. Sometimes that impact is best provided by opening access to more organisations that struggle to get finance, via blended finance, or guarantee schemes… Those are all about subsidising and widening access." 
At the same time BSC was also seeking to "pick winners", he added: businesses that use social investment to scale up, for example impact ventures (early-stage growth companies with a positive social impact), which often bring significant returns.
Our mandate is making a social impact first, rather than making a profit first
The focus on financial returns in social investment has been questioned in recent months. An independent review of the Access Foundation in June underlined the importance of blended finance (a combination of grants and loans) for the social sector. 
And former minister for civil society Nick Hurd, who currently chairs the Access Foundation, told the Adebowale Commission in February that social investment too often seemed driven by a "determination of what is investable", rather than what social enterprises needed.
Scrapping social investment tax relief?
Davies calls for an end to Social Investment Tax Relief (SITR), which offers tax incentives to individuals to encourage them to invest in social enterprises. Although it has only mobilised a fraction of the capital expected, it is widely backed in principle by social investment advocates, including BSC. A campaign to save (and later reform) SITR led to it being extended for two years in March 2021, but Financial Secretary to the Treasury Jesse Norman has ruled out any further continuation. Yesterday's report proposes that SITR be scrapped as early as this autumn. 
The MP also said social impact bonds, which BSC now calls social outcomes contracts, had failed to mobilise sufficient capital. Because they were complex to set up (impact investors cover the costs of a provider delivering the work, and are repaid by public bodies if positive outcomes are achieved) and returns difficult to assess, social outcomes contracts were not appealing to investors, Davies said.
But Westhead said investors were generally "very interested" in such contracts, and stressed a need instead to encourage more local and central government uptake.
One of the tools advocated by Davies were social bonds – where an organisation issues debt that can be bought and sold by investors on public markets to finance endeavours that deliver a positive social outcome. 
Recent years have seen a rise in the issuance of sustainable bonds, among others green bonds (where debt is issued to fund environmental initiatives) and social bonds. Some $450bn worth of green bonds is expected to be issued this year, according to a forecast by Moody's in July – and global issuance of social bonds is expected to reach $200bn. 
Davies said BSC could play a catalytic role in investing in such bonds to stimulate issuance and attract investors, and could even bring its own social bond portfolio to market.

Transformation vs continuity
Among other proposals, Davies also called for social investment to be moved from the remit of the Department for Digital, Culture, Media & Sport to the Department for Business, Energy & Industrial Strategy; and suggested Big Society Capital should consider supervisory control by the British Business Bank. 
Davies's calls for large-scale transformation appear to be in contrast with BSC's own vision. CEO Stephen Muers (pictured), appointed to the role in April this year, has so far embraced continuity rather than drastic change when running the social investor.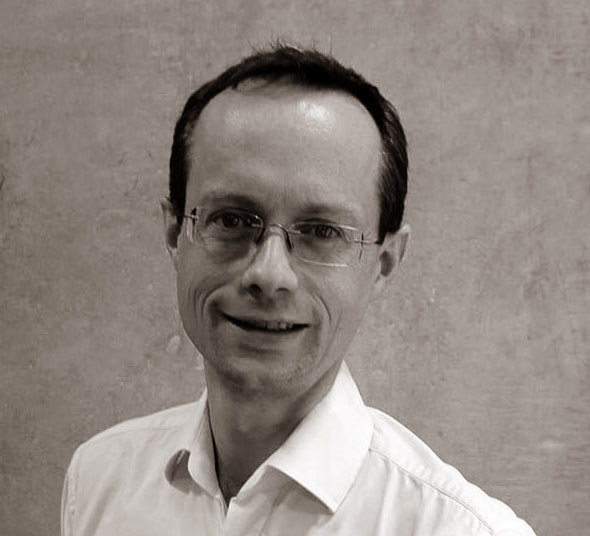 "Our approach is doubling down on what is working rather than starting off in entirely new directions and turning things upside down," Westhead said. But BSC intended to work with the MP on some of his ideas, he added.
"Ultimately, what Davies is talking about is making the case for scaling up social investment, and at Big Society Capital, we absolutely share that vision that there's huge potential for more capital to be mobilised to tackle social problems.
"At the same time, it's not straightforward to do that – and it's a pretty complicated area." 
Davies was approached for comment.
Thanks for reading our stories. As an entrepreneur or investor yourself, you'll know that producing quality work doesn't come free. We rely on our subscribers to sustain our journalism – so if you think it's worth having an independent, specialist media platform that covers social enterprise stories, please consider subscribing. You'll also be buying social: Pioneers Post is a social enterprise itself, reinvesting all our profits into helping you do good business, better.