UK social investment market jumps by a quarter to record £6.4bn
Big Society Capital estimates value of social investments in UK to be worth £6.4bn in 2020 – a 26% increase since 2019
Growth driven by surge in social property funds, which account for 45% of market; growing social lending makes up 43%
The UK's social investment market surged by 26% in 2020 to £6.4bn, as investments in social property soared and Covid-19 support schemes sustained social lending, according to data released by Big Society Capital today. This is a bigger increase than in 2019, which saw a 21% jump, but slower growth than during 2018 (when the market climbed by 39%).
"There is some momentum, and that's against a pretty challenging backdrop," said Big Society Capital's head of origination, Anna Shiel.
The year 2020 saw an increase across all types of social investment, in part thanks to Covid-19 emergency funds and government guarantee schemes that drove up lending to social enterprises and charities, according to the study. 
But the growth was primarily driven by a surge in investment in social property funds, which went up by 35% during 2020 to £2.9bn (compared with a 27% increase in 2019). Social property funds are those where both investor and investee have an explicit social mission, and does not include mainstream bank lending for affordable housing if they are not primarily motivated by additional impact. Such funds now represent 45% of the overall market size, having grown eightfold from just £356m in 2016. 
There is some momentum, and that's against a pretty challenging backdrop
2020 also saw a 41% climb in investments in impact ventures (early-stage startups with a social mission), to £670m, following even higher growth (48%) during 2019. Impact ventures had proven particularly resilient to the crisis, especially those working in the tech sector, Shiel said. The potential of impact tech ventures to solve social problems such as social isolation and poor mental health had been "clearly demonstrated" in the past few months and was likely to keep up momentum longer term, she added.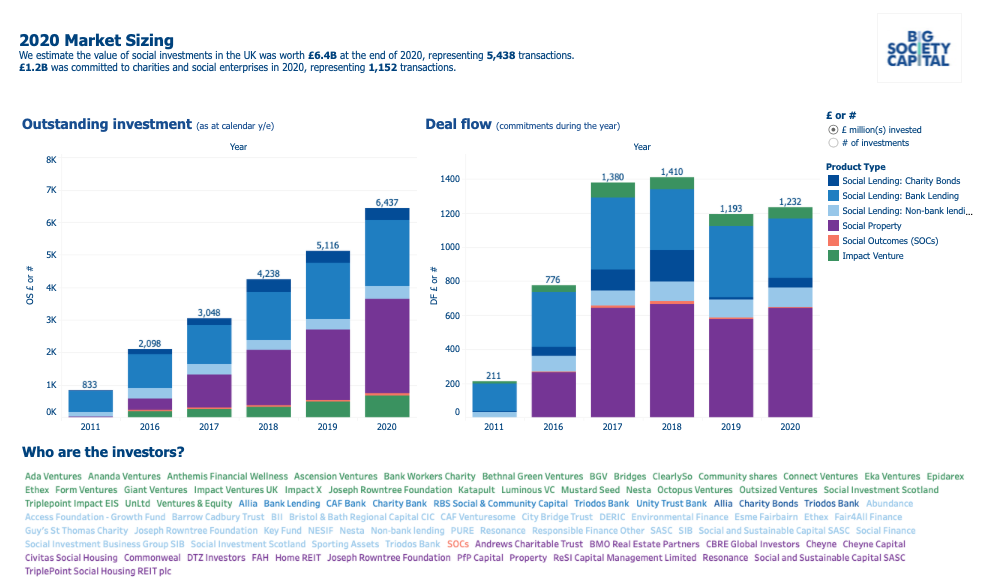 Above: Big Society Capital market sizing data estimates the social impact investment market at £6.4bn in 2020, a 26% increase from 2019
By the end of 2020, overall investment in the social impact sector had grown nearly eightfold from £833m in 2011, with much of the increase driven by the emergence of social property funds, which have been included in the research since 2016. Excluding social property funds, the market grew by a factor of 3.5 between 2011 and 2020. 
Ambitious target
Earlier this year, Big Society Capital CEO Stephen Muers stated his ambition to at least double the social investment market by 2025. Muers said this week that the 2020 increase was "only a fraction" of what was achievable, and added: "More and more investors are realising that it is possible to deliver both a social and financial return and so we are confident the market is on track to meet this ambitious target."
This is only a fraction of what we believe is possible - Stephen Muers
Shiel sounded a note of caution, saying the economic picture was still unclear while government support funds were phasing out. The 2020 figures seemed to be moving in the right direction, though, she said, with the increase driven by factors pre-dating the pandemic, such as investor interest in property and ventures. 
"There are fundamental structural drivers behind this, that correspond to demographics, to social needs, plus to a rising interest in awareness from investors and others around how they can invest in impact."
Pandemic growth: non-bank lending
Social lending – which includes bank lending, non-bank lending and charity bonds that provide loans to social enterprises and charities – represented 43% of the market at the end of 2020, at £2.8bn (a 15% increase year on year). It represented 47% of the whole social investing market in 2019.
Non-bank lending to social enterprises and charities (which includes loans issued by debt funds, foundations, CDFIs, blended finance funds and others) has grown much more rapidly during the pandemic, climbing by 17.7% to £387m (compared with an increase of just 4% in 2019). The number of non-bank lending deals also went up, from 687 to 715. One of the reasons for this increase, Shiel said, was that many funds in this category were funneling Covid-19 emergency money, for example the Resilience and Recovery Loan Fund, set up by Social Investment Business with funding from Big Society Capital.
Bank lending climbed by 17.6% to £2bn, following a steady increase since 2019. The number of deals however dropped, from 330 during 2019 to 269 during 2020.
By the end of 2020, the amount invested in charity bonds was relatively unchanged at £368m. The money invested in social outcomes contracts edged up only slightly with a 4% increase; outcomes contracts (or social impact bonds) were criticised recently by Conservative MP Gareth Davies for their low uptake. 
Shiel said the overall UK market was characterised by a "real mix" of investors, including institutional investors. The various products now available meant that most investors could find a product that both matched their mission and their ability to take risks: less risk-savvy institutional investors, for example, tended to be attracted to social property funds, which are considered relatively low risk. 
Big Society Capital research also shows that 63% of enterprises using social investment are in the 40% most deprived areas, Shiel said.
The market sizing data will be integrated into further research by the Impact Investing Institute, which will also look into institutional capital.
Header image: Money photo created by jcomp on freepik.com
Thanks for reading our stories. As an entrepreneur or investor yourself, you'll know that producing quality work doesn't come free. We rely on our subscribers to sustain our journalism – so if you think it's worth having an independent, specialist media platform that covers social enterprise stories, please consider subscribing. You'll also be buying social: Pioneers Post is a social enterprise itself, reinvesting all our profits into helping you do good business, better.