Growing fashion's regenerative future: Community Clothing's Patrick Grant
The decline in the UK's textile manufacturing industry in the last century has "torn apart" local communities and made way for a fashion industry that's destroying the planet, says social entrepreneur and The Great British Sewing Bee star Patrick Grant. He explains that his social enterprise, Community Clothing, seeks to reverse the loss of jobs and grow a regenerative future.
Fashion designer Patrick Grant, known by many as a judge on the UK BBC TV series The Great British Sewing Bee, founded the social enterprise Community Clothing in 2016. His goal: to reverse the effects of manufacturing job losses and to produce high quality clothing that is beneficial to the community and to the planet.
Speaking with 2020's SE100 Resilience Champion Paula Gamester (pictured), founder of The Sewing Rooms, at the Social Enterprise Futures conference last month, among the issues he discussed were the impact of the UK's textiles manufacturing decline on local communities, what needs to be done to make fashion more sustainable and the future that he envisions for a regenerative textile industry.
Economic rifts: creating jobs in textiles manufacturing
Grant (pictured below) was familiar as a child with parts of the UK like the Isle of Harris and the Scottish borders where textile manufacturing was a significant part of what provided jobs, as well as the social "glue" that bound communities together.
You see huge economic rifts that the loss of these jobs have created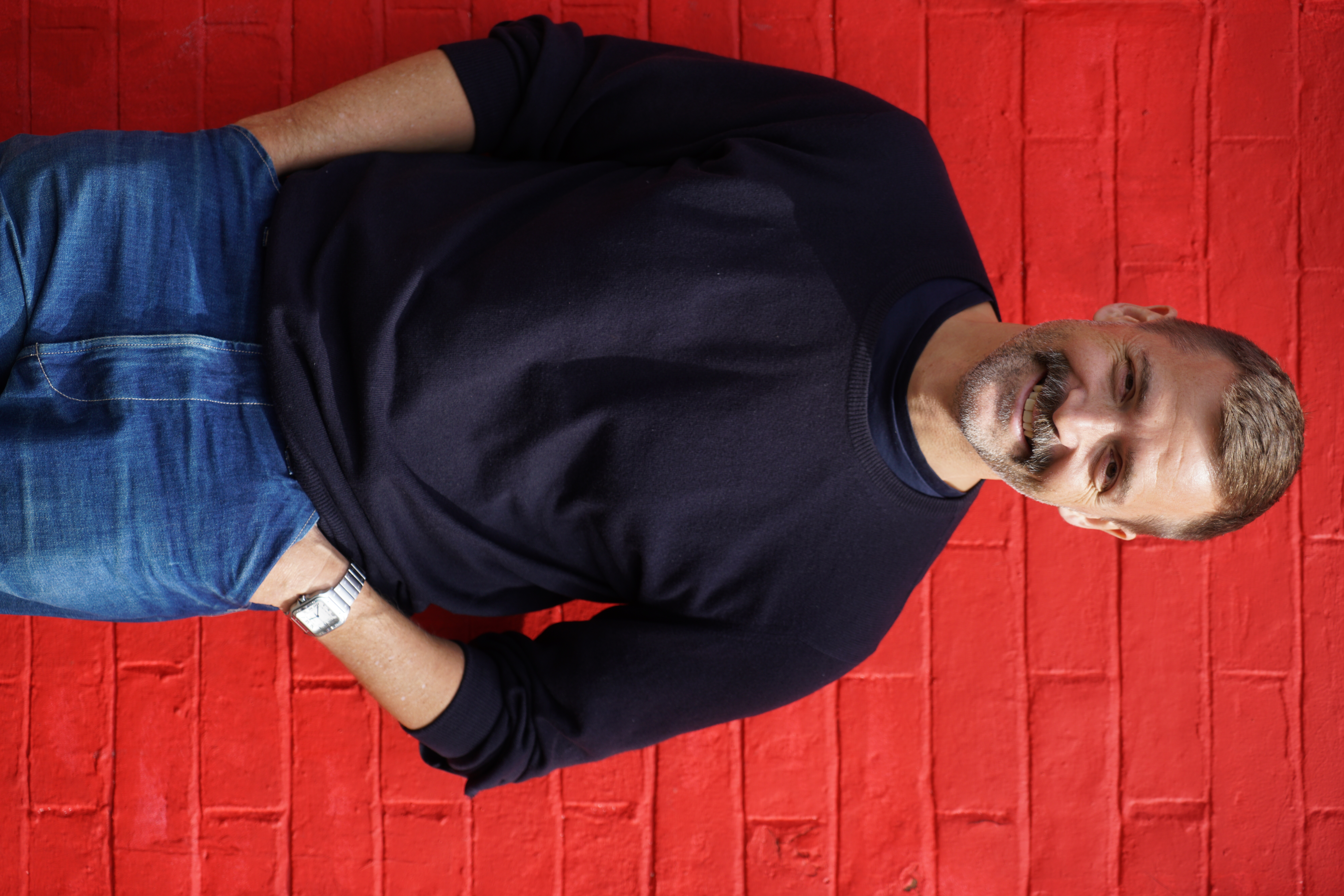 "I think great manufacturing businesses play an incredibly important role in society, and I think the loss of a lot of manufacturing jobs here has created social problems that are costing us lots of money." he said, "You see huge economic rifts that the loss of [these] jobs have created."
He continued: "In the time that I've been working, I don't know how many thousands of people have lost their jobs in the textile industry… I wanted to do something to stop that decline and to reverse it if I could."
He argued that we should switch from buying ten cheap things that are made with poor quality materials by people who are paid very little, to buying one good thing that was made locally out of good materials by employees who were paid well. According to Grant, this would not only reduce our carbon footprint – it would also support communities that are right on our doorsteps.
"That is the idea behind Community Clothing," he said. "It is an employment creation scheme and it is also about trying to help build a pipeline of people who want to come into the industry."
Making fashion sustainable
Beyond creating good manufacturing jobs for local communities, Community Clothing also produces fashion in a way that is sustainable. This is achieved through using responsibly sourced natural materials, and ensuring the durability of their products.
Grant discussed the importance of transparency in sustainable manufacturing: "When you know where everything is done – where the cloth is woven, where the jerseys are made, where the cotton is grown… that kind of traceability allows customers to feel certain that they're not supporting something awful."
Patrick Grant's five top tips for a sustainable wardrobe
Buy less, and buy better – rather than buy a lot of cheap clothes that don't last long, buy one piece of clothing that will last a lifetime.
Learn to repair clothes and be proud of wearing repaired clothing – sew patches onto flawed clothing to give it a new lease of life.
Buy it preloved – a huge amount of clothing already exists, so if we never bought anything brand new again we would hardly go naked.
Redesign and upcycle – make something new out of something old, instead of buying something new made out of new oil-based materials that have been mined from the ground. Traditionally, old things always became other things – even an old pair of knickers could be 'transformed' into a duster.
Wash less – we do not need to wash our clothes anywhere near as much as we've been led to believe. Hold off on the laundry loads and you will get a lot more life out of an item of clothing.
On sustainability and the fashion worlds, Grant argued that there are "two camps".
"There's one camp that says 'we're going to reduce [our] carbon footprint. We'll carry on pumping out the same volume… we'll just do it in a way that's 20-30% less harmful to the planet.'"
He continued: "And then there's a whole other school of thought that says the whole system is totally redundant and not fit for purpose and we need to rethink things."
"That's where we sit."
Growing fashion's regenerative future
As part of an effort to make its fashion regenerative, not just sustainable, Community Clothing was allocated some unused land by the council. They used this land to grow flax and woad as part of the Homegrown Homespun project, in collaboration with The  Super Slow Way and North West England Fibreshed. Often referred to as the UK's 'forgotten crop', flax is the plant that's used to produce linen, and used to be grown all over the country. Woad is a source of indigo dye that's also native to the UK.
It needs to go beyond sustainability now
"We planted this field, we didn't water it or irrigate it in any way, we didn't put pesticides or herbicides or any kind of fertiliser down, and [the flax] grew like mad," said Grant.
He continued: "We harvested it and dyed it with indigo extracted from our woad and we made this very beautiful piece of linen denim cloth that will actually be more hard-wearing than cotton denim."
"It needs to go beyond sustainability now," he said. According to Grant, rather than just sustaining our planet we need to actually give back, and build systems in the fashion industry that are regenerative. Like growing a field of flax.
Building a social enterprise
Grant looked back at the history of social enterprise in the UK. "There was such an enormous wave of positivity behind social enterprise as the model that was going to save capitalism from eating itself," he said, "and I think a lot of things have happened that crushed that a little." In particular, he noted that the economic downturn of 2007, Brexit and now the pandemic have caused these setbacks for UK social enterprises in the last two decades.
He continued: "We really need to go back to a system where the benefit of business predominantly goes back to the community in which it sits."
It feels amazing to build something that you know is doing good
"What I don't like is the system that is highly growth predicated, where the benefits of the business are extricated and taken elsewhere for a small number of pe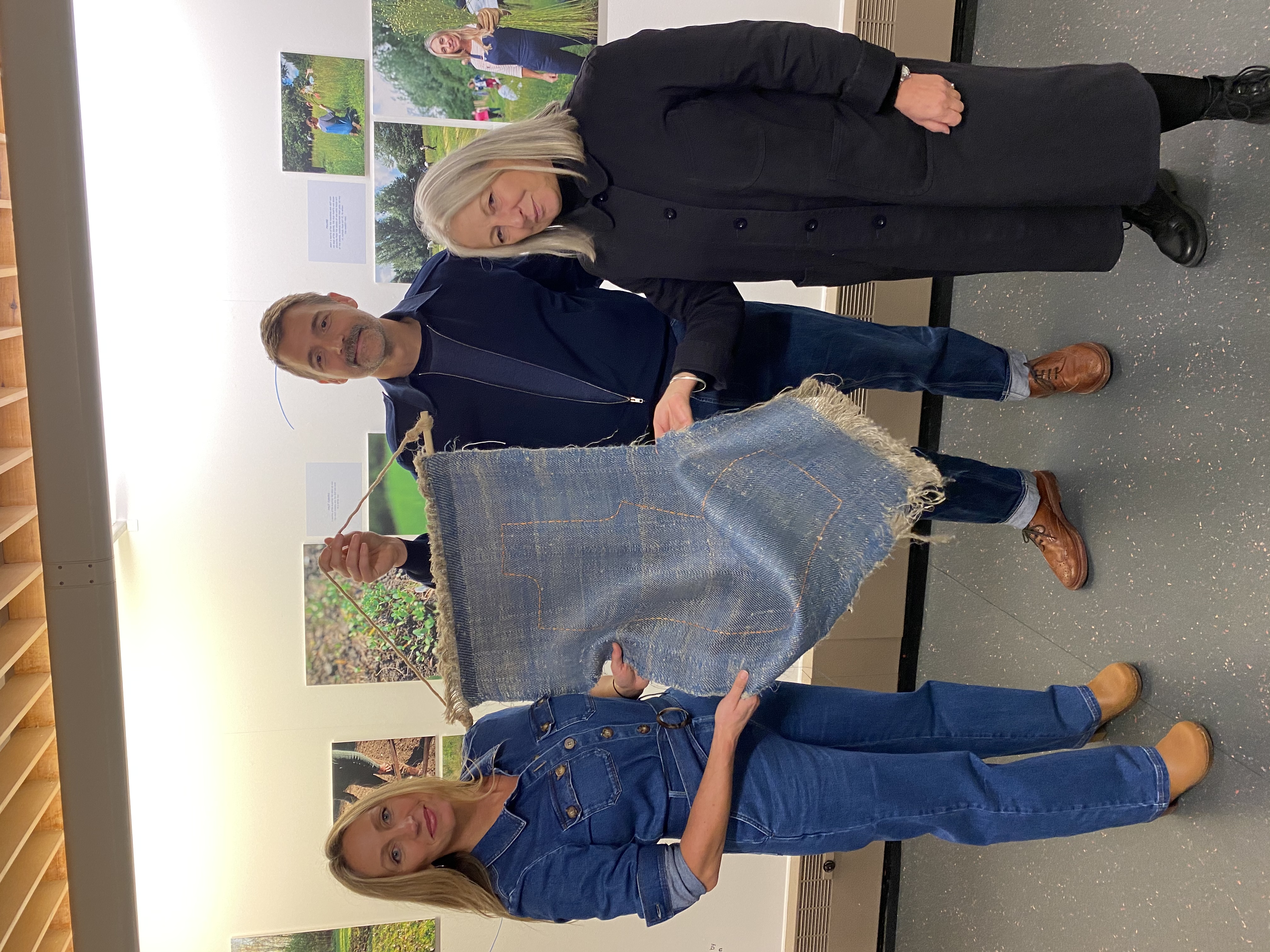 ople to grow rich on."
For Grant, the perks of building a social enterprise go beyond the good it does for the community and environment – the positive outcomes are personal, too.
"It is so rewarding to build a business where you can feel the benefits of it all around you… it feels amazing to build something that you know is doing good."
Header image: Homegrown Homespun, a collaborative effort with Community Clothing, The Super Slow Way and North West England Fibreshed, courtesy of Bea Davidson. Top two images courtesy of Paula Gamester and Patrick Grant, bottom two images courtesy of Bea Davidson. Pictured above with Patrick Grant holding handmade linen: Justine Aldersey-Williams (left), founder of North West England Fibreshed and director of The Wild Dyery, and Laurie Peake (right), director of Super Slow Way and the British Textile Biennial.
Thanks for reading Pioneers Post. As an entrepreneur or investor yourself, you'll know that producing quality work doesn't come free. We rely on our subscribers to sustain our journalism – so if you think it's worth having an independent, specialist media platform that covers social enterprise stories, please consider subscribing. You'll also be buying social: Pioneers Post is a social enterprise itself, reinvesting all our profits into helping you do good business, better.