Mental health and gender targeted with Asian pooled funds
A pooled fund targeting US$3m of investment was launched this week to support the mental health of young people in Asia by Malaysia's minister of youth and sports.
The first investors into the Asian Youth Mental Wellbeing Fund include Chevron and Yayasan Hasanah, the foundation of the Malaysian government's sovereign wealth fund, Khazanah Nasional. The aim of the fund, run by AVPN, is to raise the first US$3m within three years from philanthropists and the private sector.
A committee of young leaders will identify priority areas and evaluate applications for grants, which will be unrestricted rather than being tied to specific projects.
This fund will help our young people feel confident about themselves again and able to go out and execute their dreams
Announcing the fund this morning at the AVPN Global Conference, the minister, Hannah Yeoh, said: "This fund will help our young people feel confident about themselves again and be able to go out and execute their dreams."
The fund is open to social enterprises and non-profit organisations, and applications will open in September 2023.
Asia gender fund recipients announced
Earlier this week, AVPN announced the first eight recipients of funding from its Asia Gender Equality Fund. 
Selected from nearly 300 applications, they are Azad Foundation in India, Badabon Sangho in Bangladesh, dZi Foundation in Nepal, Enrich Hong Kong, Kenan Foundation Asia based in Thailand, Korea Social Investment Foundation, Nomi Network in Cambodia and Sindh Community Foundation in Pakistan. 
Each will receive unrestricted funding over several years, in line with AVPN's commitment to advance trust-based philanthropy. The exact investment amounts have not been revealed.
The fund was launched last year and aims to raise and deploy US$25m within its first five years to support initiatives run by non-profit organisations to improve economic outcomes for women and girls in Asia. Investors include Fondation Chanel, Bill and Melinda Gates Foundation, The Target Foundation and members of AVPN's Asia Gender Network.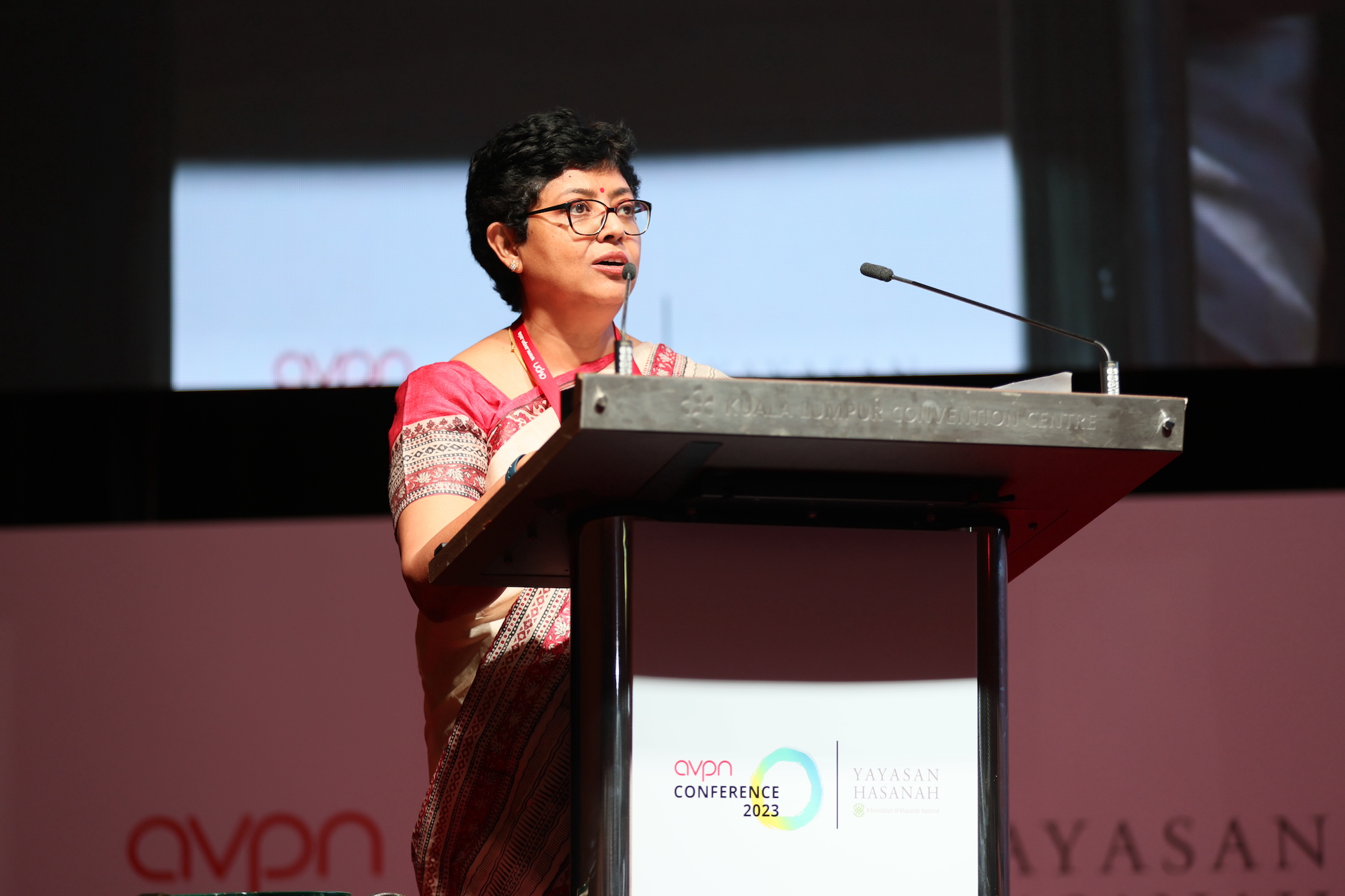 Announcing the recipients at the AVPN Global Conference 2023, Moutushi Sengupta (pictured), chief of capital mobilisation, said that the high rate of applications showed there was a huge demand for this kind of support and that AVPN hoped to bring in more capital to the fund.
Mercedes Vargas, president of the Lopez Group Foundation and one of the members of the Asia Gender Network, said: "You hardly ever hear about unrestricted funding. This fund will allow the grantees to be able to operate and stabilise their organisations, not just their projects."
Header photo: Launch of the Asian Youth Mental Wellbeing Fund during the AVPN Global Conference 2023, pictured left to right: Dr. Nur Anuar Abdul Muthalib, Head of Education, Yayasan Hasanah; Moutushi Sengupta, Chief of Capital Mobilisation, AVPN; Naina Subberwal Batra, CEO, AVPN; Dato' Sri Hajah Nancy binti Haji Shukri, Minister of Women, Family and Community Development, Malaysia; Hannah Yeoh, Minister of Youth and Sports, Malaysia; Dato' Shahira Ahmed Bazari, Trustee & Managing Director, Yayasan Hasanah; Teechawan Yanudom, Social Performance Specialist, Asia South, Chevron Asia Pacific Exploration and Production; Dr. Neerja Birla, Founder & Chair, Aditya Birla Education Trust. Photo credit: AVPN
Thanks for reading our stories. As an entrepreneur or investor yourself, you'll know that producing quality work doesn't come free. We rely on our subscribers to sustain our journalism – so if you think it's worth having an independent, specialist media platform that covers social enterprise stories, please consider subscribing. You'll also be buying social: Pioneers Post is a social enterprise itself, reinvesting all our profits into helping you do good business, better.