Family business: the women starting afresh in Cairo's creative sector
Three sisters fleeing the war in Syria are among those who have learned new handicraft skills through a UN-run project, and who are now selling their wares via social enterprise Yadawee. Our DICE Young Storymaker Nour Ibrahim reports from Cairo – and, for the Pioneers Post podcast, interviews Yadawee founder Hisham El-Gazzar.

When sisters Samar, Ebtessam and Amal El-Safady fled to Egypt from Syria, none of them thought they would still be living and working in Cairo seven years later.
However, with the Syrian crisis continuing, their plans to return home never became a reality and Samar, Ebtessam and Amal are now settled in Egypt indefinitely with their families.
With free time on their hands, willingness to learn – and some uncertainty about what they were signing up for – the three sisters encouraged each other in 2013 to join a new project called NilFurat, an initiative run by the UN Refugee Agency (UNHCR) that aimed to empower women in countries around the Nile and Furat rivers by teaching them creative skills.
Amal recalls: "Ebtessam and Samar told me: 'Amal, there's a project that we signed up to be part of and we'd like for you to join us.' At first, I was hesitant because I lived far away."
When she joined, she found a group of women from "almost all nationalities" and cultures: Egyptians, Syrians, Ethiopians, Sudanese.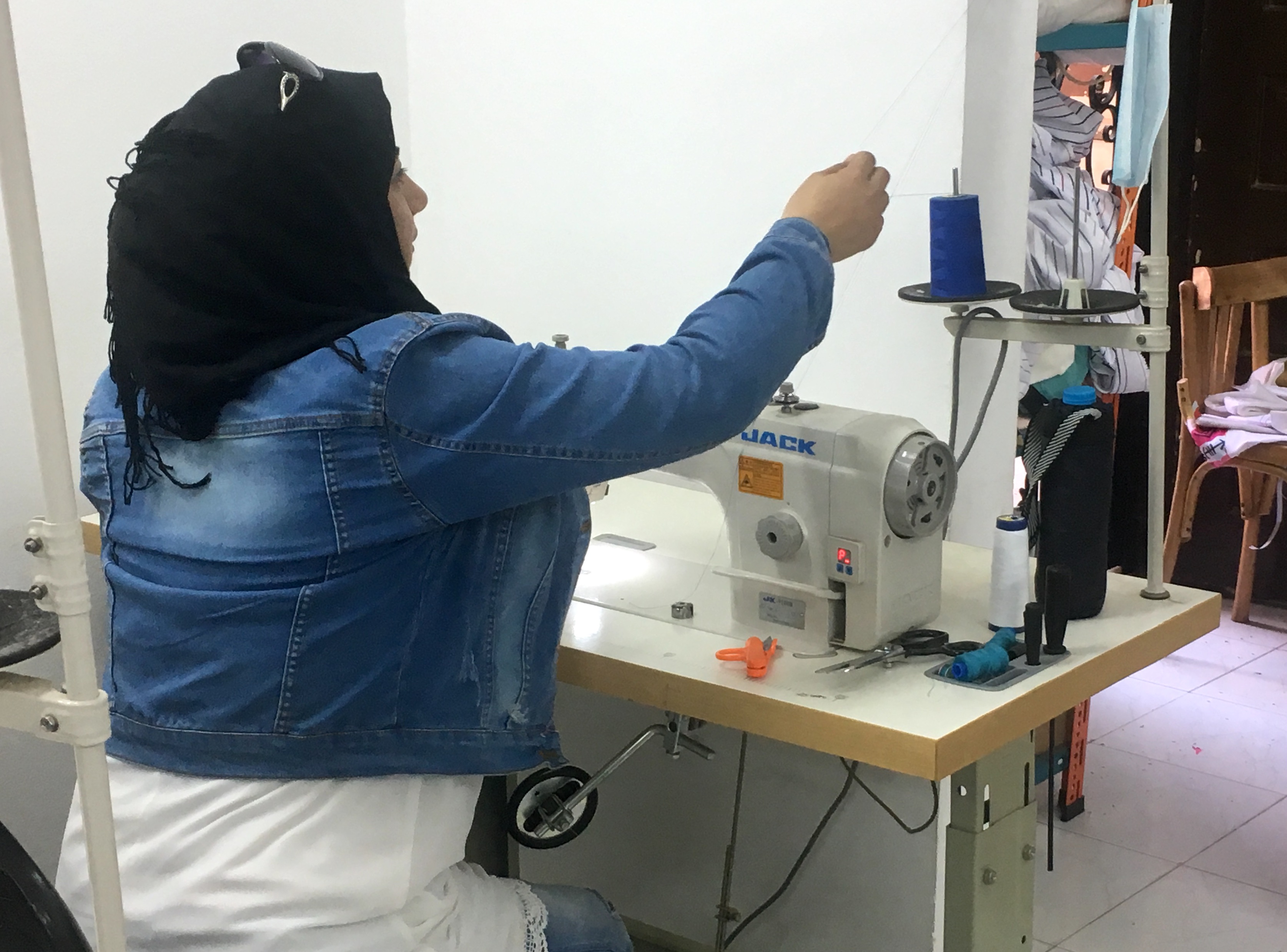 Above: Amal El-Safady had never worked back in Syria but a couple of years after moving to Egypt, she joined NilFurat to help with her family's expenses. She is currently responsible for the printing section of NilFurat's workshop.
"We started with very simple handicrafts: needle and thread work. We learned decent skills at the beginning like designing a product, concept, drawing and production – to take it from an idea to a product. We underwent extensive training and now we can sew, print, design and produce a full product," explains Amal, who like Ebtessam had been a housewife back in Syria (while Samar was a seamstress and now works at Nilfurat and at her own hairdressing salon).
'We underwent extensive training and now we can sew, print, design and produce a full product' - Amal El-Safady
Almost four years later, NilFurat is still going strong, and now serves as a 'cluster' – or creative hub – for Yadawee, a social enterprise that produces and exports Egyptian handicrafts.
Over the years, Yadawee has worked with several clusters, and typically those which have formed organically. "Organic clusters are the ones where no one has interfered, especially the government, in forming them – so they were formed naturally and they grow naturally," explains Yadawee's founder, Hisham El-Gazzar. "Egypt has around 145 'organic' clusters, 90 of them working with handicrafts."
Listen to the clip below to hear Yadawee founder, Hisham El-Gazzar, on how his social enterprise began, why it works with producer clusters, and some of the common issues artisans face.
These clusters manufacture products from textile, stone, marble, wood and glass and they are located across Egypt in villages including Foa, Akhmim, Neqada and Dakhla Oasis, according to Annan El Sherbiny, Yadawee's projects manager.
A partnership to support artisan training
Yadawee is partnering with Al Fanar, a UK-based venture philanthropy organisation that invests in social ventures that educate and empower women, youth and refugees in the Arab world – one of 28 collaborations to receive a grant from the British Council's DICE Fund, which aims to tackle entrenched issues of unemployment and unequal economic growth in five countries and the UK.
The Yadawee-Al Fanar project supports Egyptian artisans who face competition from imported handicrafts as well as rising raw material prices and labour costs, and lack of government support. Individual artisans are getting trained in design, startup management and basic financial literacy, with a particular focus on disadvantaged and underemployed women and youth in Cairo as well as more distant governorates.
"NilFurat is a project that started in 2013, and it includes refugees from Syria, Sudan and Ethiopia and some Egyptians to represent the hosting community," El Sherbiny says. "The project started to help [these women] have a sustainable income," she adds.
Last year, Yadawee got funding from the British Council's DICE Fund (see box) to partner with the UK-based Al Fanar, enabling it to support more artisans. The funding supports technical training and the expansion of Nilfurat and four other Yadawee crafts clusters across Egypt, as well as mapping the sector.
A family of workers
Ekram Abuzeid is responsible for operating the NilFurat workshop. Having worked in the fields of handicrafts and fairtrade goods for more than 14 years, she has now been working for Yadawee for about a year.
Abuzeid works closely with the beneficiaries and manages production deadlines. She says when she first joined, the production process worked well, "but the atmosphere was more charged" – referring to the dynamics between workers from different backgrounds.
"Being able to bring together different nationalities and create a family-like environment among them is among our biggest challenges," she says.
'Being able to bring together different nationalities and create a family-like environment is among our biggest challenges' - Ekram Abuzeid
While Abuzeid admits that there have been occasional instances of power conflicts (whether caused by jealousy, different learning paces or partisanship), the workshop remains a haven for many of the workers.
"We have breakfast together, we have coffee together, we joke together. On busy days, everyone is occupied with their work of course but on more relaxed days, it's like a family," Amal El-Safady says.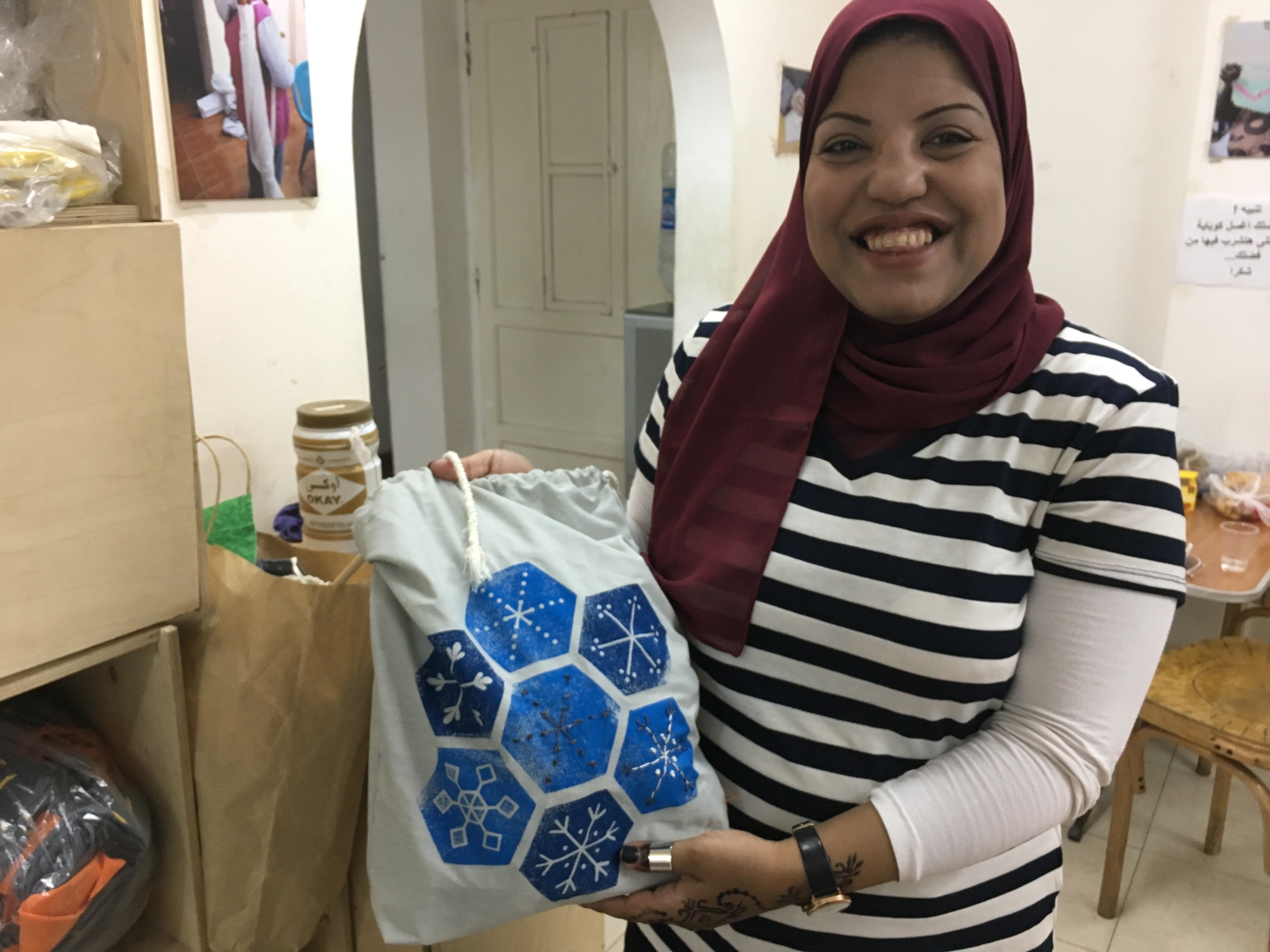 Above: Ekram Abuzeid is responsible for operating the NilFurat workshop. With more than 14 years' experience in producing and exhibiting handicrafts and fair trade goods, she is currently nearing her first year with Yadawee. Ekram says NilFurat is different from other projects she has worked on because of the diversity of its artisans.
One of the eldest workers at NilFurat is Aida Om-Ezzat. Many of the NilFurat artisans – including El-Safady – consider Om-Ezzat as their mother. Being the real mother of several children and also a grandmother to 15 – yet forced to leave her home in Homs, Syria – Om-Ezzat found some solace in her work at NilFurat.
"One of my friends told me there was a project and I wasn't feeling psychologically well at the time because I had left my children separated in different places and was only able to [bring] the two unmarried ones with me. That devastated me," she says. "I was crying every day. When I came here, I started feeling much better and I started seeing the people here as my own children."
A new start
The organisation's flexible working hours allow artisans like Om-Ezzat to come and go at their own convenience, making it possible for them to take care of their relatives, fulfil other commitments and to travel from homes which can be some distance from the large Egyptian capital.
"Some have special circumstances, some have other jobs, some are old housewives," says Abuzeid. "But when we have a [customer] order, the 20 or 25 that we work with are all here working around the clock."
The flipside of that flexible working arrangement means that artisans don't get a fixed salary, but instead get paid according to how much they produce each month (plus transport expenses). Huweida Abdulrahman, a Sudanese mother of four who works primarily on sewing at NilFurat, tells me the pay is "not much", but is positive about the opportunity to make her own money.
Before working for NilFurat, Abdulrahman had worked as a housemaid, but she eventually quit after it took its toll on her health. That was when she heard about NilFurat from a relative.
"I never thought in a million years that I would have worked – I couldn't even use a sewing machine before. Now, I use machines and generate an income that I can use to pay for my own needs and, as you know, women have a lot of commitments," she says.
Different levels of talent and skill among artisans at NilFurat can sometimes create some challenges that the organisation must manage carefully. Some artisans learn quickly, allowing them to earn more and climb to higher positions; others can then get frustrated and discouraged. Where possible, NilFurat tries to offer its artisans training and skills development opportunities to help them discover their strengths across the different areas of printing, sewing and packaging.
Amal, who was part of the very first group of artisans to join NilFurat, has learned a lot over the years but is still eager to learn more. "There are so many techniques in printing that I still want to learn." She also uses the internet to learn new skills online: "I connect with others who work on similar products and benefit from their experience but it's not enough for me. I want to learn more."

While NilFurat originally set out to help refugee artisans secure sustainable incomes and to foster creative talents from different cultures, the artisans have found it also provides a (perhaps unexpected) support community, and a chance to make a new start.
"I want to prove to my kids that life doesn't stop at anything – not at war, not at being away from family, not at being distant from people," says Ebtessam. "A lot of the time my children tell me: 'Mom, you are working a lot, where are you?' But I tell them that life will go on with or without me so you have to rely on yourselves – like I am relying on my work."
Nour Ibrahim is a DICE Young Storymaker – one of 14 young journalists recruited by Pioneers Post and the British Council from six countries to report on social and creative enterprise around the world. 
Header image: Huweida Abdulrahman, a Sudanese refugee, who has been living in Egypt for eight years, and joined the Nilfurat project four years ago. All photo credits: Nour Ibrahim.