Why design and creativity can change the world – if they're open to all
Creativity is set to become one of the most in-demand skills of the future. From Cape Town, our DICE Young Storymaker reports on efforts to democratise the world of design and to bring creative education to new audiences.

When Lukhanyo Bhele observed his son having an experience with robotics for the first time at the Open Design Afrika festival, he wasn't sure whether the 9-year-old was more excited to explore a new gadget or to experience a part of Cape Town that he'd never seen before. 
Suné Stassen (pictured), founder of Open Design Afrika, shares this anecdote when we meet. The child's experience reflects two of the ways the festival makes an impact, she says: exposing people of all ages to innovative design thinking, and creating a space where people of diverse ages, races, classes and backgrounds can interact.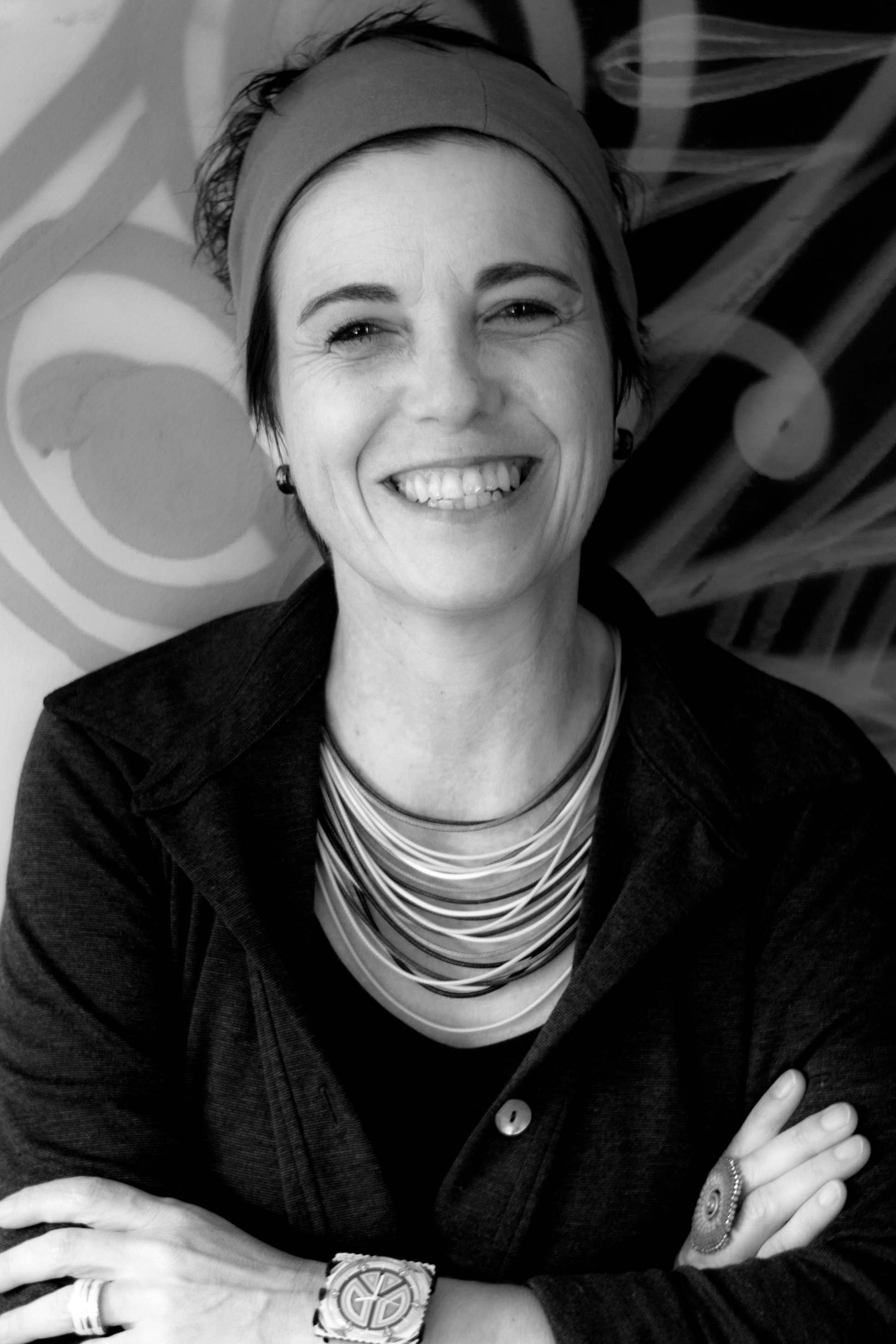 "ODA wants to make a change that's not only community-based but systemic, and that means reaching people from different walks of life," she says. "But more importantly it means bringing all of these people together. It's a creative way to expose people to new ideas and skills, while creating a sense of community and nation building; something so critical especially in this country where our history is one of racial segregation." 
Open Design Afrika is a Cape Town-based social enterprise which aims to harness innovation, design thinking and entrepreneurial thinking to create positive social impact. Through methods like social media campaigns and platforms like the festival – which has been running annually since 2013 – ODA offers an opportunity to learn more about design, design thinking and the ways in which it can make communities better. 
Dimpho spoke to Sune Stassen on the sidelines of the Open Design Afrika festival about social change that's powered by design thinking, why creativity is crucial for social entrepreneurs, and how design education can potentially drive more inclusive economic growth in South Africa. Listen below to hear some highlights from the conversation.
Love podcasts? Don't miss out on ours! Catch up on all our podcasts and subscribe free on iTunes or SoundCloud.
Solving problems
The term often makes people think of things like architecture or interior design – but design and especially design thinking is much broader, according to the founder. 
"We're really talking about teaching people the principles of design that can help them solve problems in their everyday lives and in their communities," Stassen says.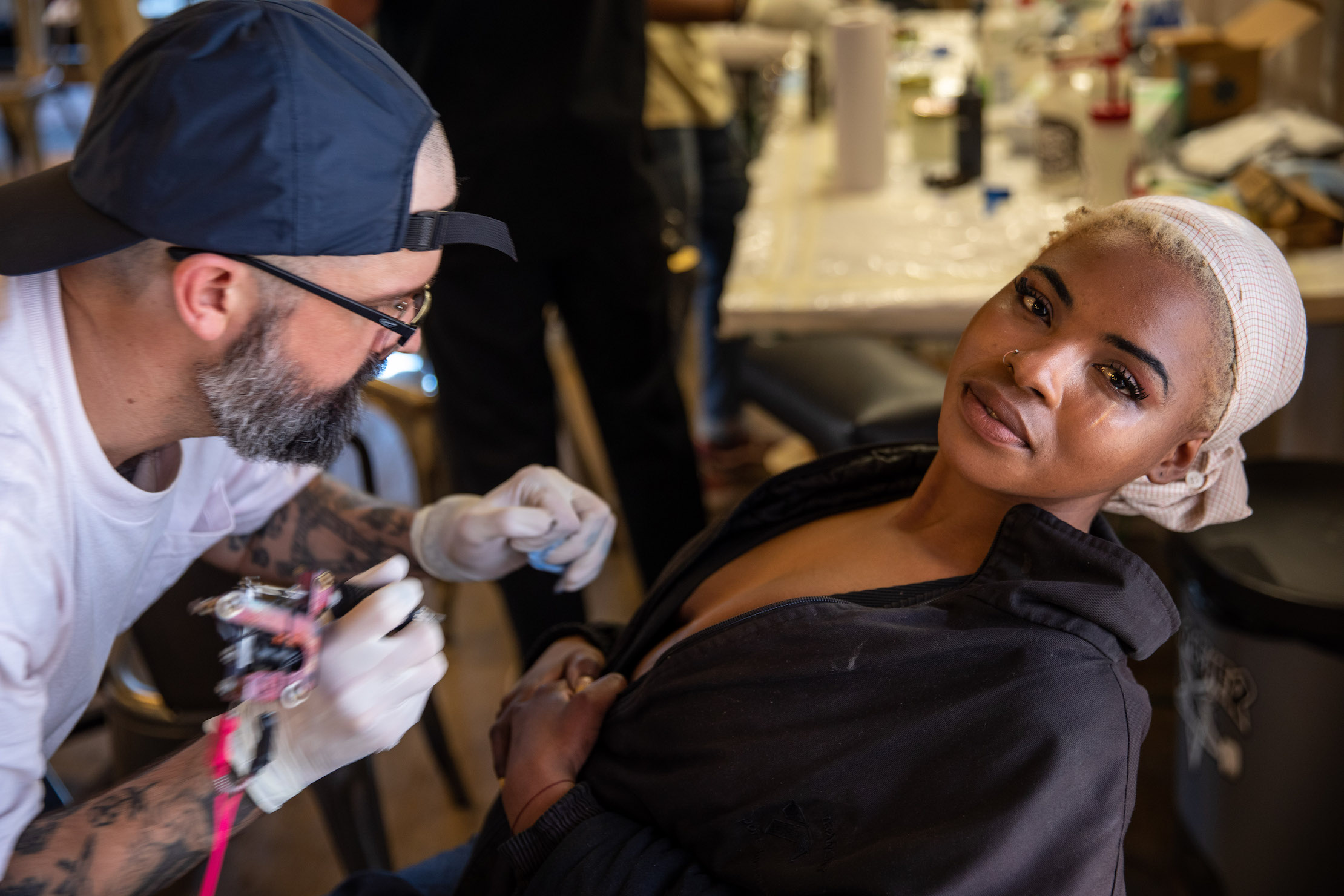 Above: Human Rights Tattoo event at the 2019 ODA festival. Human Rights Tattoo aims to spark social change through the power of art, and is tattooing the Universal Declaration of Human Rights on 6773 people around the world. 
A practical example is the story of a 24-year-old engineer from Cameroon who designed an innovative medical device known as the Cardipod - a touch-screen tablet that enables heart examinations such as the electrocardiogram (ECG) to be performed at remote, rural locations while the results of the test are transferred wirelessly to specialists who can interpret them.
'It's a creative way to expose people to new ideas and skills, while creating a sense of community and nation building'
"By thinking creatively about the health problems in his community which include poor healthcare and a lack of proper medical resources, he was able to design something that makes healthcare efficient and cheaper for both the patient and doctor. He combined his knowledge of engineering and software development together with the problem-solving principles of design thinking," Stassen says. "These are principles of design and creative thinking that we try to teach people during the festival."
She also believes that young people should learn design-led innovation, so much so, that she was part of a team who advocated for design to be integrated in formal education. "We launched our Making The Difference Through Design programme in the Western Cape to 121 schools in 2006. By the end of the following year, the programme had been adopted by 400 schools across three provinces," Stassen explains.
Open access
Last year's Open Design Afrika Festival took place in October at the Castle of Good Hope in the City of Cape Town. During the 10-day programme, festival attendees could choose from the Maker's Market for social entrepreneurs, workshops on creativity, painting, tech and robotics and the Black Filmmakers Market.
Although Cape Town was named the 2014 World's Design Capital and is recognised as a UNESCO City of Design, accessibility to creative spaces remains an issue; art galleries, creative hubs, tech and innovation centres are still based in the city, too far for those living in townships and informal settlements to access. This is starting to change: last year saw the opening of the first art gallery in the township of Langa.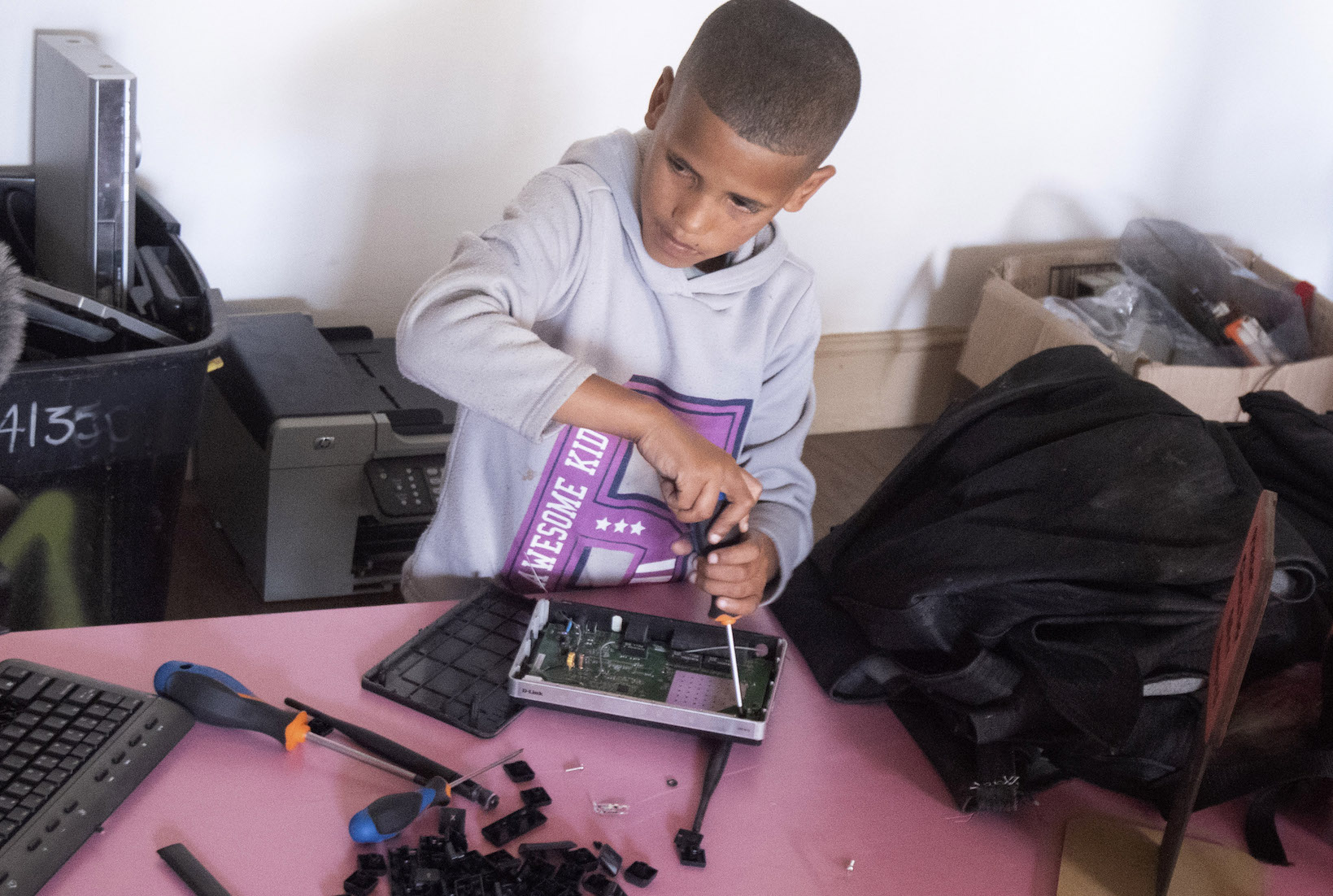 Above: a visitor at 2019 ODA's Family Makers Weekend in 2019.
And ODA aims to make design more accessible: all its events are free of charge thanks to funding and support from its strategic partners. "It's important that we keep the festival free-to-attend so we can make it inclusive. We want people who are normally locked out of the opportunity to experience this kind of creative education to benefit too," Stassen explains. As a social enterprise, ODA relies on strategic partnerships to make the festival happen and to keep the space accessible. These include a partnership with the City of Cape Town Municipality, the official sponsors and host city of the festival.
Open Design Afrika also used the momentum of the festival to launch the Wetopia Academy, a year-long programme which will see the Open Design Afrika team facilitate educational workshops on creativity and design with marginalised communities in Langa and Kensington, which battle with myriad social issues like a lack of proper housing and unemployment. "These are two of the biggest townships in the city and they carry so much potential," she says, "but often the people who live there don't immediately see the opportunities that exist within that community."  
Dimpho Lekgeu is a DICE Young Storymaker – one of 14 young journalists recruited by Pioneers Post and the British Council from six countries to report on social and creative enterprise.
Header photo: participants at the Wetopia inspiration day during Open Design Afrika. All photo credits: Open Design Afrika.