Issue #8: The Education Issue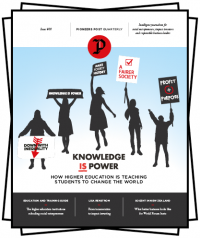 The digital version of the eighth edition of our print magazine Pioneers Post Quarterly can be found below. We'll be adding individual articles in their usual format over the coming weeks and months. Problems reading the issue? Contact us at hello@pioneerspost.com
Cover feature: Alongside engineers, lawyers and scientists, higher education institutions are now teaching social entrepreneurs. We explore how.
SE100 Data Report: UK social enterprises are in rude health. Find out about their growth in our survey of over 2,000 of them.
Global Focus: The Social Enterprise World Forum is in New Zealand this year, in September. We find out how social enterprise is doing there.
Investor Profile: from prison to profits. Lisa Renstrom went from behind bars to using her money to help the environment.
Challenging Leadership: are you the difference between your social enterprise surviving and thriving?
PLUS: How construction firm Wates is using social enterprises to make a difference and we ask: why can't corporates behave?