On air: The live radio show tackling mental health taboos
SNAPSHOTS FROM ADDIS Ahead of the Social Enterprise World Forum in October, Pioneers Post travelled to this year's host city Addis Ababa in Ethiopia to meet some of the entrepreneurs trying to use business as a force for good. This time, we go behind the scenes at a pioneering mental health service that combines awareness-raising through radio programmes with free or subsidised counselling services
It's hard to argue with Endalkachew Assefa when he says people "love" Erk Mead's programmes.
More than 10 million Ethiopians tune in to the three weekly Amharic-language shows, not counting listeners from the US and the Middle East. Fana FM, one of the radio stations that broadcasts them, has named Erk Mead shows its most popular four times since it began over ten years ago.
The programmes tackle tough issues. Co-founder Endalkachew (pictured below) describes one show as a "psychosocial education" programme, with guest psychologists and psychiatrists invited to discuss topics like anxiety, stress or trauma. Another is a sort of reality show that invites couples to try to resolve conflict or address different parenting styles; the newest series tackles adoption.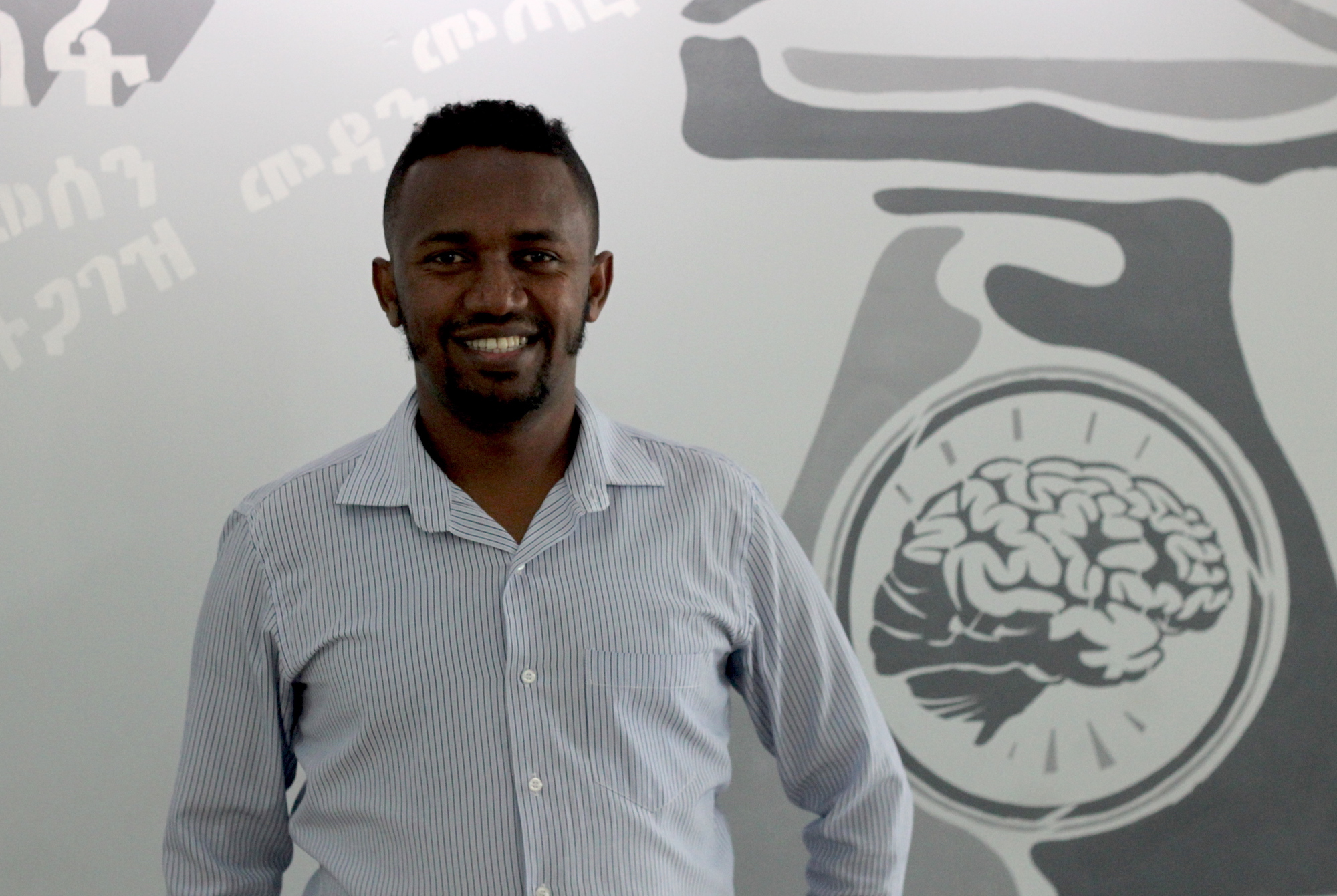 Above: Endalkachew Assefa pictured in the Addis Ababa office.
These days personal matters are more openly discussed in Ethiopia, says Endalkachew, who has degrees in education and in counselling. But when he and his co-founder, Tigist Waltengus, first developed the idea – devised in a campus coffee shop while studying together at Addis Ababa University – psychology was "a taboo". People generally considered understanding the mind as unscientific as palm-reading, he says, even though mental health issues are widespread: 27% of the population have some form of mental health issues, according to figures Endalkachew cites from the Ministry of Health.
People generally considered understanding the mind as unscientific as palm-reading
Endalkachew and Tigist wanted to create more awareness of this. While volunteering at an NGO, they'd seen "a lot of problems" among kids troubled by conflict with their parents or other issues: such worries were stopping them from studying and affecting their education.
Serving the community
Erk Mead claims to be the first in the country to use live radio to tackle psychological issues. Today, it employs 16 people, including nine counsellors, who give face-to-face counselling and mediation services from its eighth floor office in Addis Ababa. Radio show guests get free support (counselling, psychosocial therapy, referrals and so on), while other clients pay according to their income, ranging from 50-800 Birr (roughly £1.30 - £21).
The radio shows are largely funded by commercial advertising: sponsors include Birhan Bank, Amhan General Hospital, and other corporate firms (they also help cover the costs of counselling for low-income clients). Though structured as a private company with shareholders, Erk Mead describes its mission as "solving the social and psychological problems of the community." And Endalkachew says he and his colleagues have recently started to see themselves as part of the social enterprise space – crediting the British Council for "opening our eyes" to the sector and prompting them to make contact with other social purpose organisations. Since a training programme in June (delivered by Pioneers Post), they have also invited other social entrepreneurs onto their shows.
They have recently started to see themselves as part of the social enterprise space
Erk Mead's reach is set to grow further. Participation in a scale-up programme run by the NGO Reach for Change, which included training and the support of an experienced consultant over many months – has resulted in both bigger ambitions and healthier profit. There are plans to increase to six shows per week, and the company has begun earning solid revenue from YouTube advertising, an avenue they had previously overlooked. The company is also expecting a grant of 1m Birr (£27,000) from Reach for Change, which will be used to expand its services (including its YouTube programming) and to implement a wellbeing programme in schools. It is getting support from Growth Africa too, an accelerator, to prepare for further growth.
Build it, and they will come
What does the company know about its impact to date?
Endalkachew points to their work in addressing taboos. Before, he says, "no one talked about his marriage, his problems, his conflict… a lot of people committed suicide." Although a big part of Ethiopian culture is to sit together and talk, especially over food or coffee – Mead refers to sitting together at dinner – people generally "don't want to talk to professionals," he says. Yet when they opened, clients came. The morning Pioneers Post visits the premises, 18 clients have already come for their appointments.
A big part of Ethiopian culture is to sit together and talk, but people generally don't want to talk to professionals
They've gained international recognition too. Earlier this year, Erk Mead's programme manager Ephrem Bekele Woldeyesus was named a top 30 innovator in the World Health Organization's Innovation Challenge – beating off nearly 2,500 entries from 77 countries.
But perhaps the most powerful story of impact is a university graduation medal, displayed among Erk Mead's other trophies and given to them by a client, who commends the staff for their "contribution in my successful life journey." If one of the co-founders' original goals was to ensure people could focus on their studies without being troubled by personal problems, in this case at least, it seems to have worked.
Header and teaser photos: Erk Mead teams on air. Photo credits: Erk Mead