Staying afloat: The Ethiopian venture determined to bring healthy water to all
SNAPSHOTS FROM ADDIS Ahead of the Social Enterprise World Forum in October, Pioneers Post travelled to this year's host city Addis Ababa in Ethiopia to meet some of the entrepreneurs trying to use business as a force for good. In June we met the team behind Desert Rose Consultancy, who are taking on the challenge of the country's 90 million people without access to safe drinking water at home
The day we visit the Desert Rose Consultancy office and assembly plant in Addis Ababa, the machinery is silent, and only a few manufacturing staff are around.
The company's household water filters – which they claim are the only ones entirely manufactured in Ethiopia – have outer containers repurposed from the cylindrical packaging used by a pharmaceutical company. But that firm has just stopped selling them, meaning
Desert Rose may need to import similar pieces from overseas, incurring import tax along the way. Until that's resolved, production has stalled. On top of that, the cost of some other materials has doubled since sales began in late 2017, according to co-owner Thomas Berger. "Business is really tough at the moment," he says.
Berger, a Swiss anthropologist, and Andrew Smith, a British engineer, set up Desert Rose 11 years ago. The move was prompted, Berger tells us, by a disillusionment with the flourishing "NGO economy" they witnessed working in eastern Ethiopia and the "unhealthy patterns" created by dependency on aid. Today, he runs two companies employing more than 30 people in total: one that publishes local language materials, and Desert Rose, which alongside the filters, also does intercultural training and consulting, and designs educational games.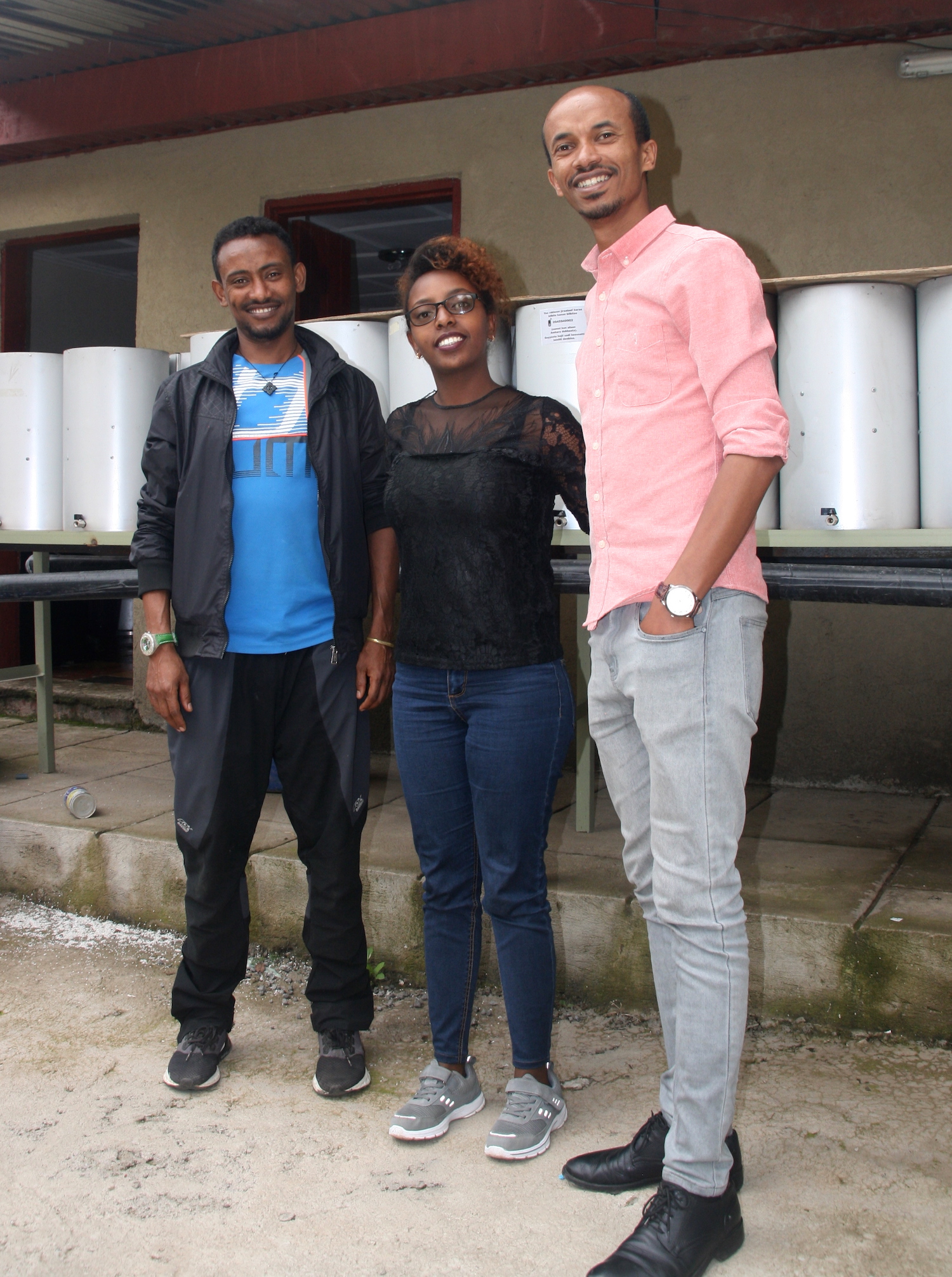 Minch, the water filter brand, targets low-income consumers – of which there are plenty: 60.5m Ethiopians don't have access to safe drinking water, according to WaterAid. Desert Rose cites other research that finds 90m don't have access to low-risk drinking water in their homes – and that's the issue they want to solve, with a product that can be used within any home.
Three years in development, the filter removes 99.9% of e.coli bacteria by a mechanical process, without using chemicals. Administrative manager Yared Abera (pictured, on the right) says the product is easy to use and maintain, lasting up to two years in rural areas, and up to five years in the towns. There are comparable products available, but none developed and manufactured in Ethiopia. Meanwhile domestically-produced household treatment and storage products tend to be either bulky or delicate, says Yared, and don't perform as well as imported products.
Uncertain future
To date the company has produced nearly 1,000 filters, half of which were bought by Oxfam – there are benefits of working within an NGO economy, Berger admits – with the rest sold to other charities, community and church groups, and salespeople.
But the future looks uncertain, at least for the Minch part of the business, which is not yet breaking even. Given the target customer, bringing the retail price down is essential (the aim is to sell at around US$25 per piece; currently it's about $70), but it's difficult to get round the rising cost of materials.
Given the target customer, bringing the retail price down is essential
And investment is needed, for example in new machinery. Minch has attracted some private investors in Europe, and in late 2018 got a grant from an international NGO partnership – but when they needed to redesign their product due to a flaw, the grant no longer covered this and payments were stopped.
There are other challenges. Ethiopia ranks 159 out of 190 in the World Bank's Ease of Doing Business index, and some business owners struggle with lengthy delays and overcomplicated processes. Nor does the government yet recognise social enterprises as a specific form of business, which means they don't benefit from the kind of support available in some other countries. That may change: the fledgling network Social Enterprise Ethiopia is pushing for better policies, and this month's Social Enterprise World Forum will no doubt draw attention to potential of the movement.
All hands on deck
Catching up with Yared by phone in October, we hear that the container supply is still an issue, so the team have begun researching how they can design viable, homegrown alternatives themselves to the out-of-stock packaging.
That may take some time, but Yared is still upbeat. "We've almost sold all the filters we had in our stock," he says. "We have lots of requests." He still believes they can find ways to reduce costs and make the product affordable to those who most need it.
In the meantime, they're sustaining the business in other ways.
'We are passionate about people, and people reaching their potential'
The consultancy arm is going strong, with Desert Rose staff helping clients including international schools and embassies with things like cross-cultural communication, facilitation and moderation. (Their top tip when working with Ethiopians: greetings are extremely important.)
The team is also busy on the gamification strand of the business: the current project is a maths game for kids.
Such educational games are a potential growth area, says Yared. NGOs are one potential customer, but also families – particularly the parents keen to engage their kids in "family time" or something more constructive than watching TV or scrolling through smartphones.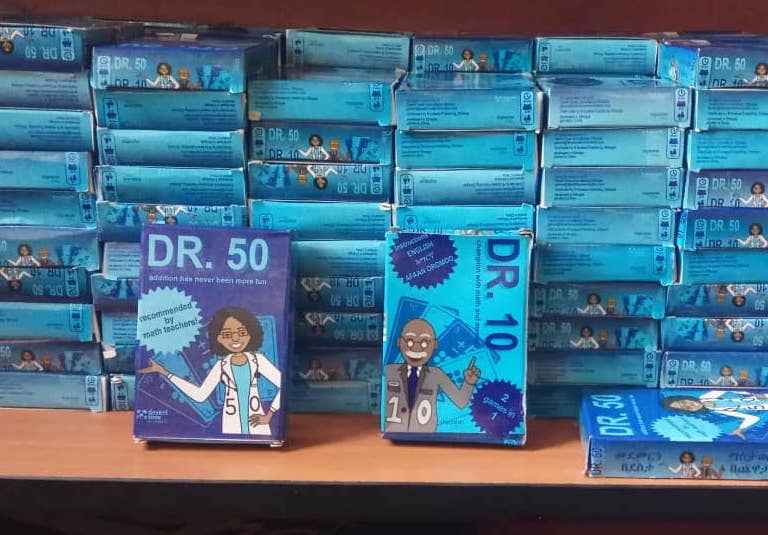 Desert Rose Innovation sees a strong business opportunity in designing and producing educational games. Gabisa is a game for farmers; Endod promotes handwashing; Dr 50 and Dr 10 (pictured above) help children to learn maths. (Photo credit: Desert Rose Innovation)
How do staff members adapt to switching from one arm of the business to another? Yared says they continuously learn from each other, and that it's like being "on a small boat": "All of us have a task." Aside from printing, every aspect of making the games is done in-house, and almost all the staff are involved in brainstorming and testing them.
Deploying the skills of the team members responsible for physically manufacturing the filters, three of whom are deaf, was a little more difficult.
"We needed to find other ways of making money," says Yared. The team "brainstormed some ideas", coming up with 12, and finally settling on woodwork. As we speak, Yared's colleagues are building a table, and the team are working to find customers interested in handmade products.
"We're not only a social enterprise," says Yared. "We are passionate about people, and people reaching their potential, and being supported."
Header photo and above: Some of the Desert Rose team pictured in front of Minch water filters including Abraham Getahun, production manager; Yeabsera Terege, laboratory head; Yared Abera, head of administration. Photo credits: Julie Pybus.