Ethiopia's economy is skyrocketing, its reformist prime minister is admired worldwide and its social enterprise scene is buzzing – which makes it the perfect venue for this year's Social Enterprise World Forum which takes place this October. On a visit to Addis Ababa, we explore the challenges as well as the huge opportunities that are facing the country's young social entrepreneurs.
"I don't want to live in the USA or the UK, I want to live here, in Ethiopia."
Kibret Abebe is one of Ethiopia's most well-known social entrepreneurs. Although he has travelled the world, he's explaining to a group of visiting journalists that his heart lies in his homeland.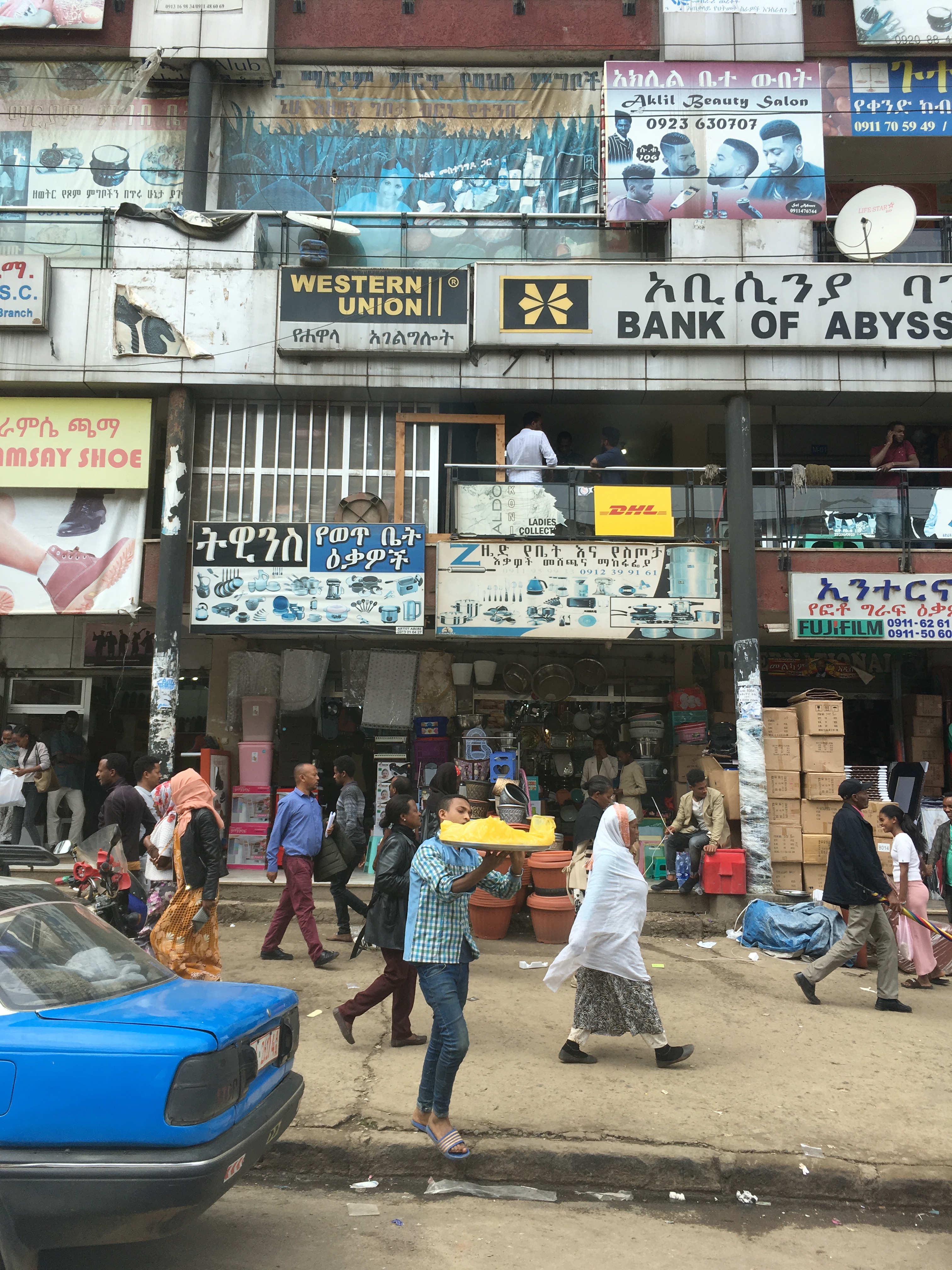 Outside the walls of the headquarters of Tebita Ambulance, the enterprise he founded more than a decade ago, sprawl the streets of Addis Ababa, Ethiopia's capital city, which demonstrate clearly the points he's making. Addis hosts prestigious international organisations like the African Union and the UN Economic Commission for Africa, the fossilised remains of "Lucy" – an ancient ancestor of humanity – are displayed in the national museum, and the smell of coffee, which Ethiopia introduced to the world, is ever- present. But it's impossible to ignore the fact that many of its citizens are sheltering in corrugated iron shacks, that the roads are crumbling and there are too many small children wandering the streets. It's a country with much to be proud of, but it's got lots of problems too. Kibret acknowledges this. But what excites him is the thousands of Ethiopian social entrepreneurs with the ideas and enthusiasm to solve these problems.
And he has led the way. He founded Tebita Ambulance after, as a hospital anaesthetist, he witnessed how many road accident victims had to rely on taxis or private transport to get to medical assistance. Tebita is a social enterprise which today not only runs a fleet of 20 ambulances, but also trains paramedics, is piloting medical motorbikes and aims to soon launch the country's first helicopter ambulance. Employing around 90 staff and with an annual turnover of US$420,000, the company is financed in a variety of ways, including charging patients who travel in the ambulance for their journey as well as providing emergency services for the national football team.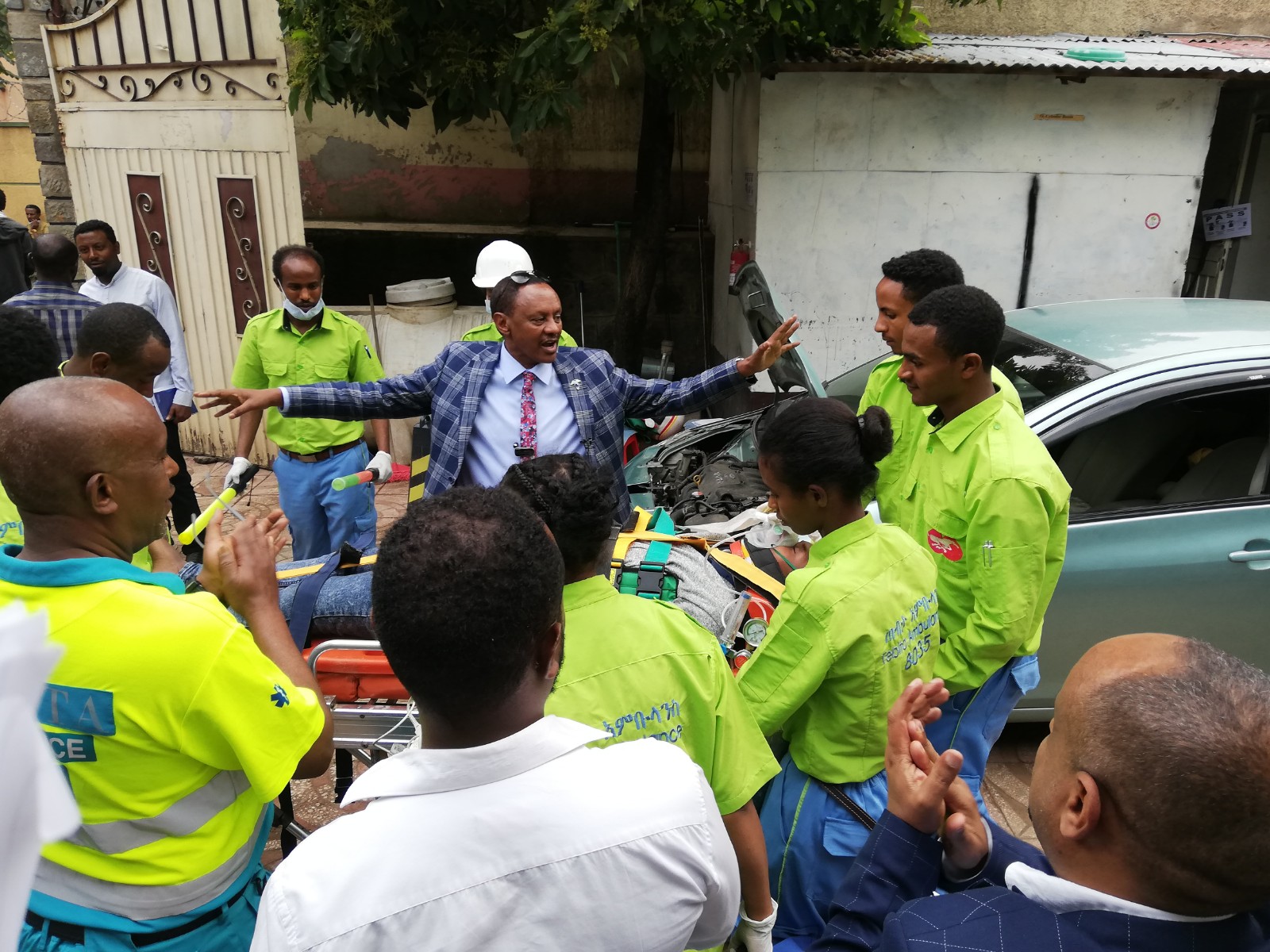 "I didn't know at the beginning that I was a social entrepreneur," Kibret explains to the journalists who are visiting as part of two days of training about Ethiopian social enterprises. He just wanted to create a sustainable solution to the problem he saw. Today he is an Acumen fellow and shares his experiences as a social enterprise leader worldwide. He is also the first president of Social Enterprise Ethiopia, a new group which aims to support the country's nascent social enterprise sector. 
The energy and potential of Ethiopian social entrepreneurs like Kibret mean that Addis Ababa has been chosen as the venue for this year's Social Enterprise World Forum – the first developing country to host the renowned event. In October 2019, around 1,200 people from all over the world will gather to share ideas and hear from speakers exploring topics such as solutions to the world's refugee crisis, the youth agenda from an African perspective and making use of indigenous knowledge.
The winds of change are blowing across the mountains of Ethiopia. And there's an opportunity for social enterprises to make a real contribution to this change – Peter Brown, British Council
Gerry Higgins, the founder and managing director of the Social Enterprise World Forum, explains why Ethiopia caught the eye of the organisers. "The quality of the social enterprises in Ethiopia is extraordinary," he says, emphasising that this year's SEWF will showcase social enterprise in Ethiopia as well as Africa more widely. 
Higgins adds that he's impressed by "the innovation, the energy, the approach to addressing social issues without a lot of resources". Social entrepreneurs in Ethiopia, he points out, "are highly innovative and I think the world has a lot to learn from them".
A nation of contrasts
Ethiopia has a population of 105m, making it the second most populous African nation after Nigeria. It's classed by the World Bank as a low-income economy, with its per capita income of just $783 making it one of the poorest of the poor. Like much of Africa, it's a country with a lot of young people – 70% are under 30. Some see this growing labour force as a burden in the face of already high unemployment, others see this "youth dividend" as an enormous opportunity to increase the country's prosperity.
Ethiopia is 173rd out of 189 countries and territories on the Human Development Index (which looks at wider inequalities than simply income). Its adult literacy rate is just 39% and more than a quarter of the population lives below the poverty line.
For people trying to do business, challenges abound. Before Pioneers Post visited Addis in June 2019, the government imposed a week-long internet blackout, reportedly to stop students cheating in their summer exams, which crippled communications and froze online transactions (including our visa applications). Outside the insulated world of the city's international hotels and embassies, Addis Ababa's electricity supply is intermittent and workplaces, shops and restaurants are forced to run on generators for several hours each day. 
Yet Ethiopia's economy is skyrocketing. It's the fastest growing economy in sub-Saharan Africa, according to the World Bank, with growth averaging more than 10% a year between 2006/07 and 2016/17. The country aims to reach lower middle-income status by 2025 through accelerating industrialisation and growing its private sector.
The country's reformist prime minister, Abiy Ahmed, who took office in April 2018, has been hailed worldwide as a positive influence: the peace deal he secured with neighbouring Eritrea along with moves to liberalise the economy and attract foreign investment have been widely welcomed. What's more, he has freed 60,000 political prisoners and appointed women to half the posts in his cabinet. Earlier this year, he was awarded the UNESCO Peace Prize.
There's a long way to go though. At the end of June, a failed coup in the country's northern Amhara state, spurred by ethnic divisions, saw five regional leaders killed, as well as the uprising's ringleader. Unrest like this discourages foreign investment and it points to forces that threaten to tear Ethiopia apart; the country's population is made up of more than 80 different ethnic groups.
But the British Council Ethiopia's Nebiyou Worku urges outsiders not to get overwhelmed by the negative points about his country which too often hit the headlines overseas. "Things are looking up for us," he says. "There's a positive energy: we are creating jobs and solving social problems."
Ethiopians have been social entrepreneurs for a long time – Melat Yosef, social entrepreneur
And one thing that Nebiyou is really excited about is that tens of thousands of people have begun to tackle the challenges that they see before them, using what is becoming increasingly recognised in the country as a social enterprise approach. A study published by the British Council in 2017 estimated that at the time there were around 55,000 social enterprises in Ethiopia, and today there are likely to be many more.
As is frequently the case in markets where the concept of social enterprise is new, there is no distinct legal form for social enterprises in Ethiopia. In practice, social enterprises may be micro or small enterprises, sole proprietorships, private limited companies or co-operatives And, as Melat Yosef, managing partner of Ethiopian social enterprise VitaBite Nutrition points out, it's also important to acknowledge Ethiopia's traditional mutual support associations, such as iquib and idir, which continue to operate within the alternative economy.
"Social enterprise may appear to be a new concept, but the idea of it is certainly not. Ethiopians have been social entrepreneurs for a long time," she says.
Young and optimistic
The British Council study found that social enterprises are young, and so are their leaders. Three-quarters of the enterprises began after 2010, and nearly half of the leaders are under 35 years old. Many (44%) exist to create employment and 31% focus on improving health and wellbeing. Social entrepreneurs are positive about the future, with 85% expecting their turnover to increase in the coming year.
Yet one of the greatest challenges for these social entrepreneurs, according to the research, is access to capital. During Pioneers Post's visit to Addis we talked to several entrepreneurs who relied on family money, volunteer time and loans from friends rather than anything more formal.
Lack of support and advice services is also a problem. And, in addition to the practical problems of communications and power that Pioneers Post witnessed, some entrepreneurs told us about bureaucratic difficulties where licences or certain permissions would not be explicitly refused, but constantly delayed. It's no surprise, therefore, that Ethiopia ranks 159 out of 190 in the World Bank's Ease of Doing Business survey 2019; worse than average for sub-Saharan Africa, although better than neighbouring Somalia and Eritrea which fill the index's last two places.
"In Ethiopia, social entrepreneurs are setting up despite the system," says Higgins. "Ethiopia is not resource-rich in terms of availability of funds for feasibility, ideation and so on. There's a lack of infrastructure." And, he adds, there's less social procurement which (in spite of various hiccups) benefits some social enterprises operating in richer economies.
Kibret and his co-founders at Social Enterprise Ethiopia want to see big improvements for social enterprise. They want legal recognition for the concept as well as specific government policies. Working with the British Council, which has been supporting social enterprises in Ethiopia since 2015, practical support is being provided and relationships are being developed with the government, a task that has been frustrated by frequent changes in ministerial briefs over the past 18 months.
There are other organisations too which are playing a supporting role. These include Reach for Change, an incubator which has had a base in Ethiopia since 2015 supporting social enterprises that work with children. In Addis, xHub offers work space along with business support to aspiring social entrepreneurs. And Renew is an Addis-based impact investment firm founded by an American couple.
Although the most recent research from the Global Impact Investing Network shows that most impact investment in East Africa is focused on Kenya, it identifies Ethiopia's vast but underdeveloped market as a significant opportunity for impact investors. Talks have begun between Ethiopia and the Global Steering Group for Impact Investment to establish thecountry's own National Advisory Board for impact investment, bringing it in line with other more developed nations.
Will SEWF be the catalyst?
Many people hope that the Social Enterprise World Forum will be a catalyst for change in Ethiopia. It's not just about the final event in October, but the momentum that's created before, during and afterwards. The Pioneers Post team visited Addis in June to not only report on existing social enterprises, but also to introduce local journalists to the concept of social enterprise – this included a study trip to Tebita Ambulance's HQ – as well as to deliver communications training to Ethiopian social enterprises to help them make the most of the publicity opportunities that the Social Enterprise World Forum will bring.
Peter Brown, the British Council's director for Ethiopia, believes that now is the right time for Ethiopia's social enterprises to take off. "The winds of change are blowing across the mountains of Ethiopia," he told the social entrepreneurs and journalists attending the training in June. "And there's an opportunity for social enterprises to make a real contribution to Ethiopia's change."
As government interest in social enterprise has waxed and waned in recent months, there's a hope that the Social Enterprise World Forum will help the people at the top really recognise the important role that social enterprise could play in Ethiopia's upward trajectory – by providing jobs at the same time as tackling social problems on the ground.
Ethiopia's social entrepreneurs have got their sights set high. "With the many challenges we face as a country, organisations that focus on both generating revenue and creating social impact can be great catalysts for the transformation and development of our country," says Melat. "With social enterprise, we can build a more equitable Ethiopia." 
And Kibret wants to see support from the highest level. "At Social Enterprise Ethiopia we want to have a louder voice," he tells the visiting journalists. "We want a policy for social enterprises to be treated in a different way. The only thing now is how can we really convince the prime minister?"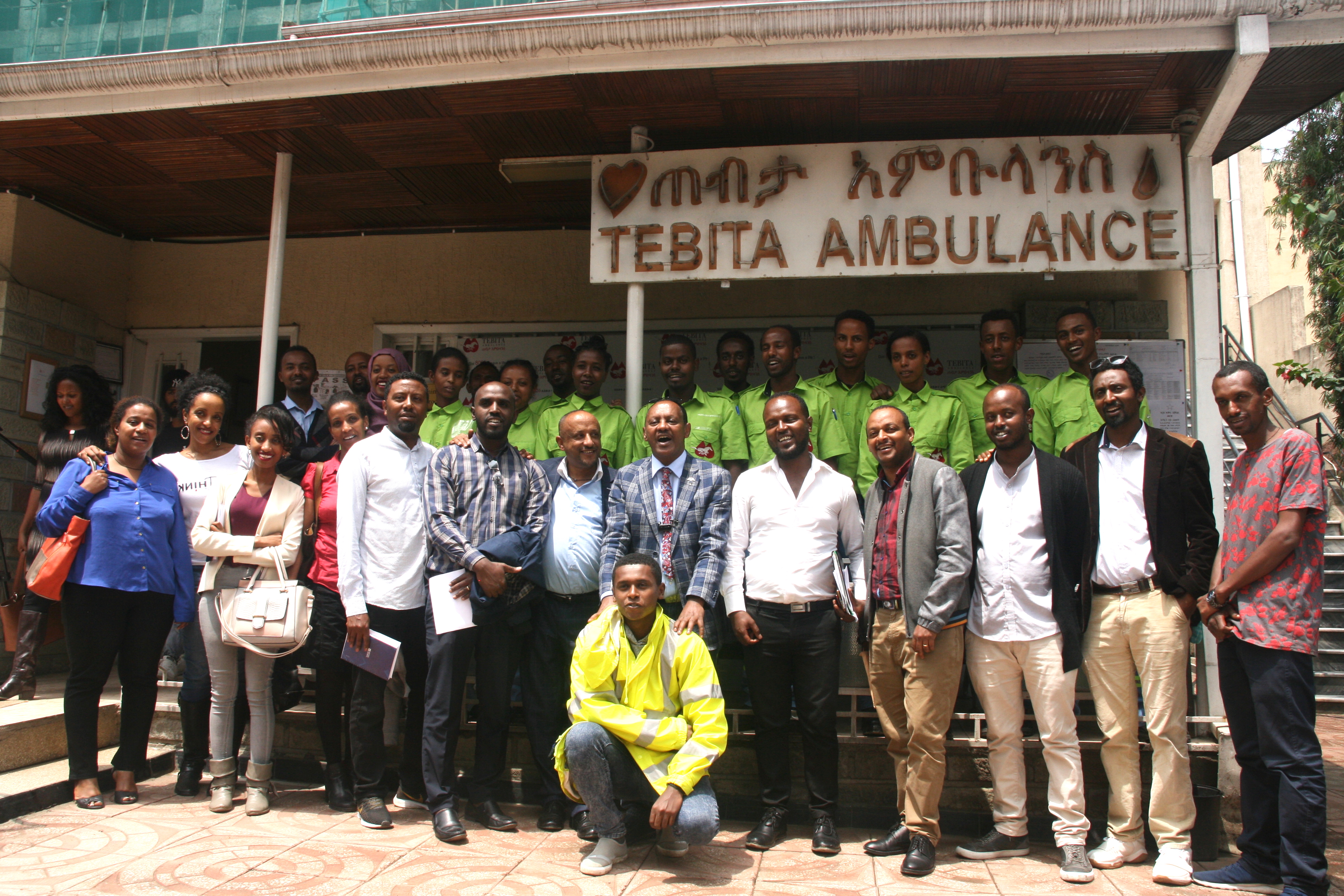 The journalists move out to the courtyard to watch Tebita's paramedic students demonstrate how to remove an injured man from a car crash. Afterwards, they all pose, grinning, for a group photo with Kibret – smiling the most broadly – in the centre. This man seems to have convinced his media guests that social enterprise can change Ethiopia for the better – we look forward to seeing how his enthusiasm is echoed at October's Social Enterprise World Forum.
Social enterprise in action in Ethiopia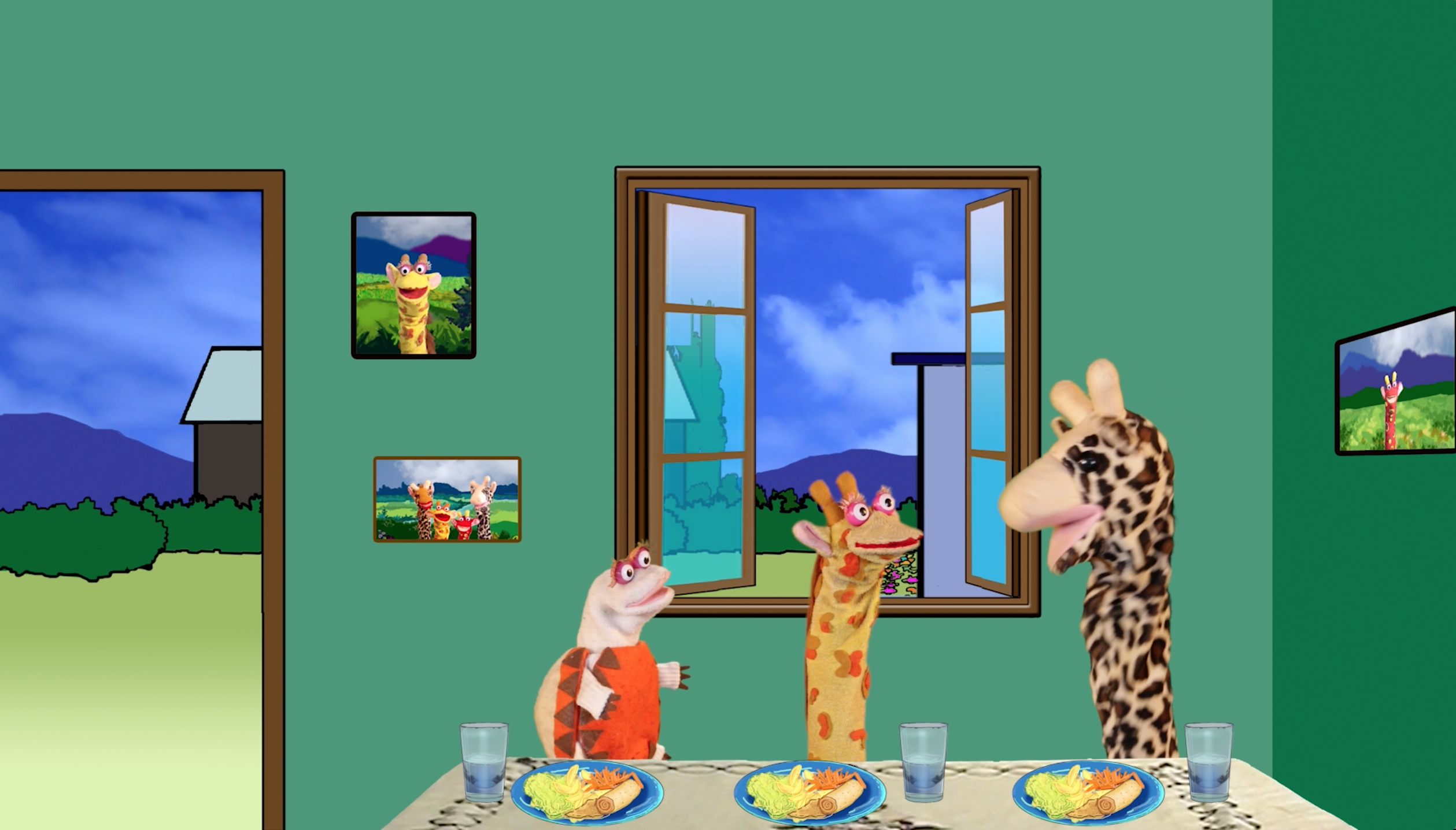 Whiz Kids Workshop: Founded by primary school teacher Bruktawit Tigabu, this social enterprise brings educational TV shows, radio programmes and books to the homes of children across Ethiopia. The most well-known is Tsehai Loves Learning, a TV show for three to six-year-olds featuring an animated giraffe. Read our interview with Bruktawit.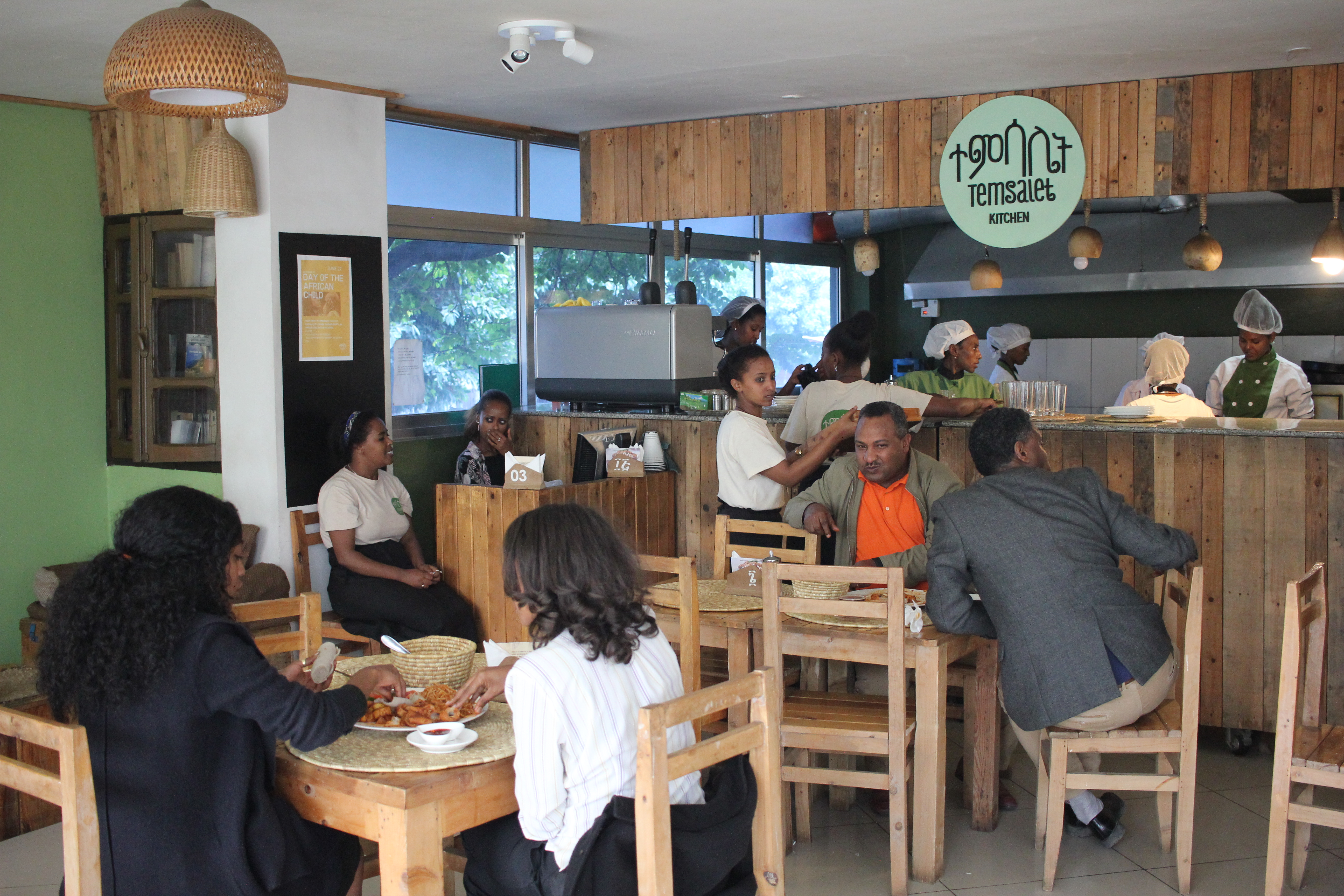 Temsalet Kitchen: Three young women established this Addis Ababa-based restaurant and catering company in 2015 to provide training and employment for vulnerable women. Its menu – which features traditional Ethiopian as well as global dishes – attracts local office workers as well as passing travellers. Read about our visit to Temsalet.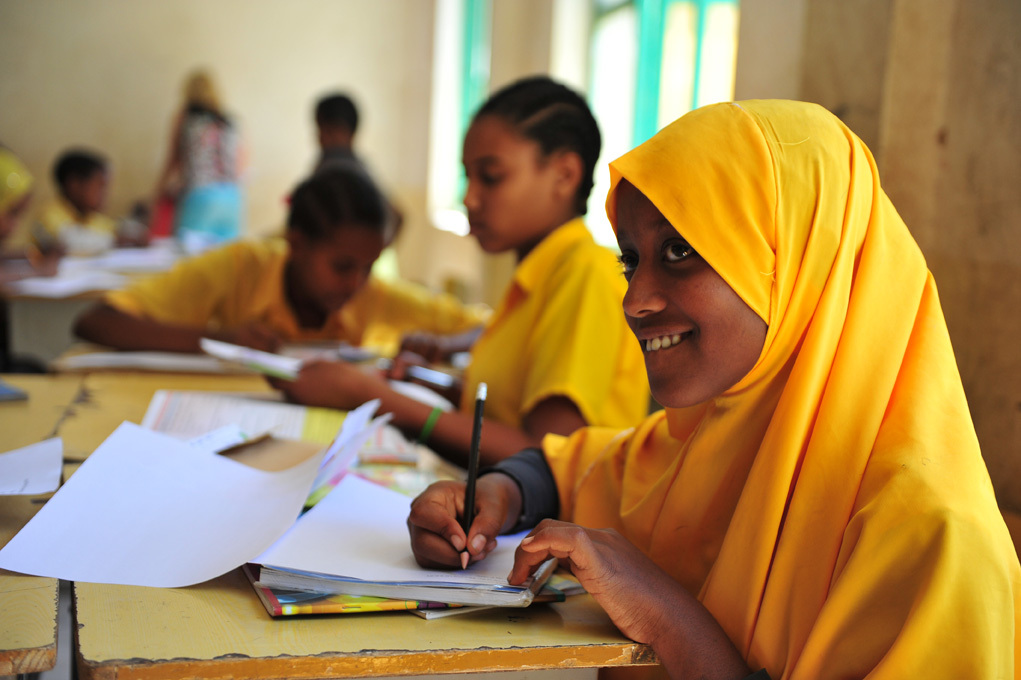 Jerusalem Children and Community Development Organisation (JeCCDO): Originally a charity set up in 1985 to support Ethiopia's orphans after the famine, the organisation's director Mulugeta Gebru is now exploring social enterprise to bring new income streams to support its work. Read our interview with Mulugeta.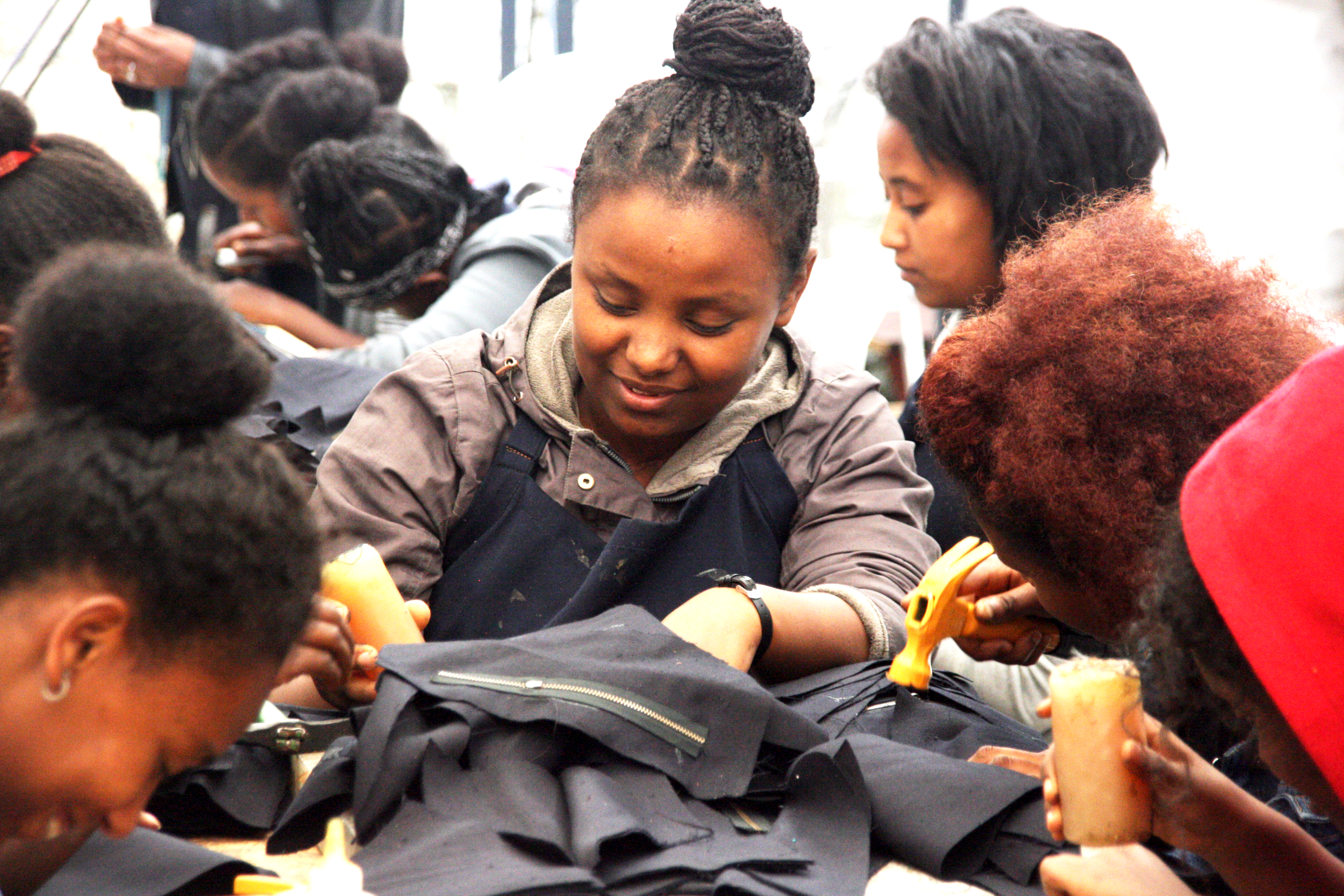 Sabegn: A shop filled with handmade handbags and wallets plus photography, artworks and other artisan products provides a sales space and support for first-time sellers, while a leather workshop at the back creates employment for local young people. Sisters Elsa and Eyerulsalem founded this enterprise in Addis after being inspired by their mother's approach to providing employment for everyone. Read about our visit to Sabegn.
Header photo: View from Entoto Mountain outside Addis Ababa by Arne Hoel/World Bank, published under a Creative Commons licence