Tech-savvy generation has Ghana at their fingertips
Bitcoins for West Africa, an alternative to PayPal and the African Spotify are some of the innovations streaming out of Accra, Ghana. 
In the Ghanaian capital a thriving community of young entrepreneurs has emerged. The tech-savvy groups are joined together in ecosystems of innovation, many of them creating solutions to local problems. Healthcare, payment solutions, agriculture, real estate, music and art are among the areas they are looking to improve. 
Rising four stories above the vibrant streets of the Osu district in Accra, the offices of iSpace Foundation look like any other block of flats from ground level. But as you walk up the final flight of stairs your feet connect with phrases like "be bold", "be brave" and "believe". Motivational words that dare young minds to live out their ambitions. iSpace strives to enable the next generation of Ghanaians take charge and shape their community to resemble what they wish they had grown up in. 
"We see ourselves as social entrepreneurs rather than businessmen and we try to change things through innovation," says Josiah Eyison, co-founder of iSpace. "We know we have to give back, you can't leave it to government."
iSpace's members sign up to a policy where they split their time, dedicating 20% of it to charitable projects and 80% to their own enterprise. 
There used to be only a handful of web designers in the country, who charged next to monopolistic fees for their skills. Now that several tech hubs have risen to prominence, offering seed funding, workspaces and mentorship, supply is catching up with demand and fees are lowering.
Skipping a generation
Josiah Kwesi Eyison is passionate – and he needs to be. As the co-founder and business development manager of i-Space, Josiah has to reach out to his potential protégés and convey to them the same message that inspired him to take a leap away from his comfort zone. 
Having grown up and studied in the UK, Josiah describes his Ghanaian homecoming to be "more out of blind passion and crazy patriotism than from a profitable standpoint." 
"I think skipping a generation is SO possible. We need to have a situation were the young feel empowered, that they are part of the conversation," he says. He calls for a stronger commitment to homegrown ideas and describes Ghana's leading politicians as "dinosaurs" who see new technology as a "threat".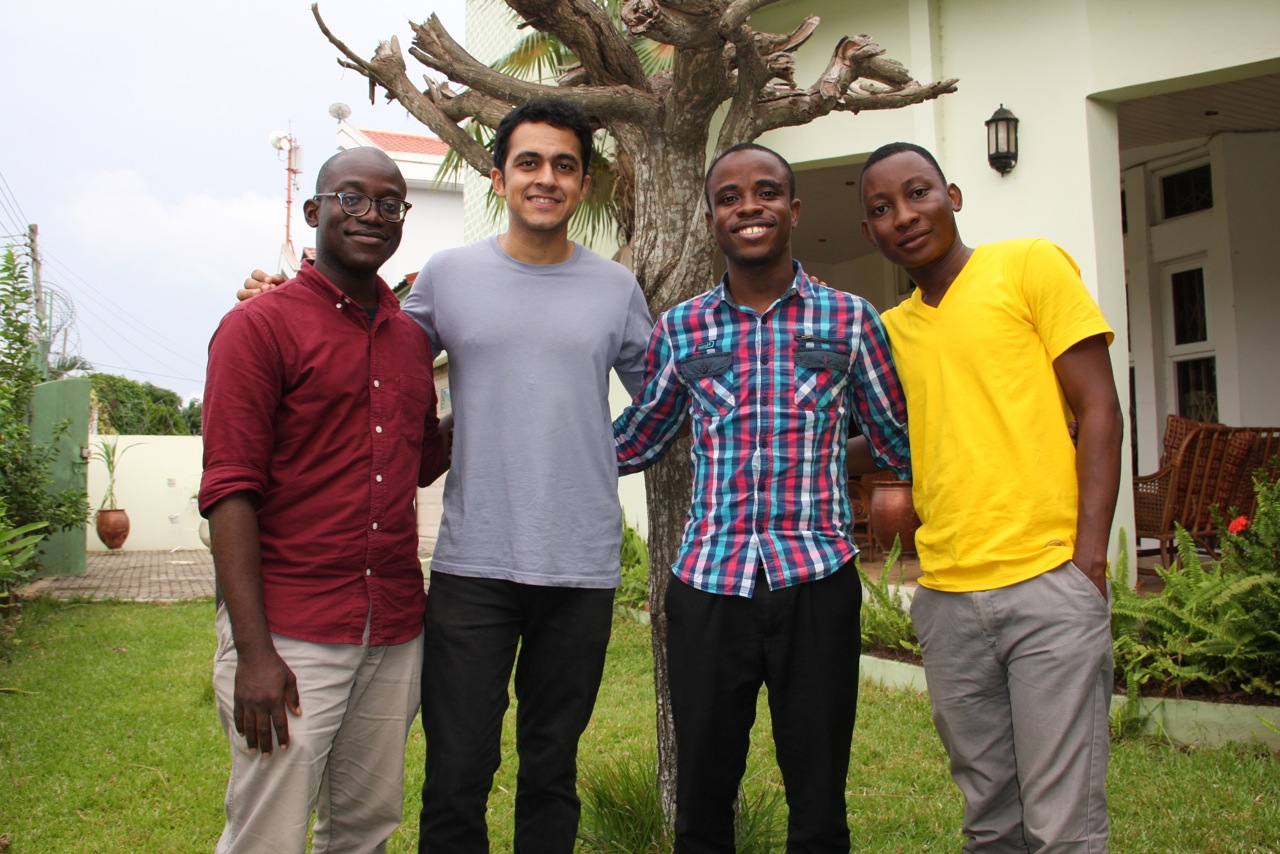 Emmanuel Quarty, Nikunj Handa, Precious Nyarko and Kelvin Nyame
African rhythms for export
An entrepreneur working out of iSpace is about to launch the African version of Spotify – 'afBeats'. Louis Manu saw the potential for a music streaming app when he discovered that a massive number of Ghanaians downloaded African tunes to make them their phone ring tones.  
"Everything is about bridging the gap between Africa and the West. People are coming up with amazing, innovative ideas that break boundaries," Louis says.
Research suggests there is clearly potential for afBeats. A 2013 Gallup survey found that 81% of households owned at least one mobile phone and that since 2008 there had been a 6% average annual increase in the number of households owning at least one device. As well as this Ghana's population is relatively young – 57% of people are under 20 years old.
However, recent economic woes might pose a hindrance to the growth of the technology sector. Inflation has exceeded 15% and the national currency is constantly depreciating against the dollar. Ghanaians now have less money to spend on unessential products and services – such as music.
With afBeats, Louis is also seeking to supply to expatriates with an appetite for African music. "African songs were so difficult to find in the West. I'm trying to put our music in a place where everyone in the world can access it," he says.
Business not politics
Just a few blocks from iSpace, Hub Accra provides a workspace where like-minded entrepreneurs can cobble together with high-speed internet connections and mentorship. 
Social entrepreneurs fix the problems and promote change.
"Because of unemployment people are looking at alternatives. Here they learn how to create their own job, their own wealth," says one of Hub Accra's board members Edison Gbenga Ade. 
Edison is also the founder of Agripro – a company which aims to make the agricultural sector in Ghana more economically efficient. 
Edison disagrees with Josiah's sentiments towards Ghana's ruling elite. He does not see politicians as obstructing innovation but rather as passive facilitators of progress. "Government shouldn't play a big part in business anyway. Social entrepreneurs fix the problems and promote change," he maintains.
Best of two worlds
In East Legon, on the outskirts of Accra, Meltwater Entrepreneurial School of Technology (MEST) provides training, investment and mentoring for aspiring tech entrepreneurs. Students are encouraged to alter some of the deep-rooted impracticalities of traditional systems in Ghana. 
It's the best of two worlds – local network and international experience.
The school receives around 1000 applications each year for their two-year, fully sponsored training program from local Ghanaian universities. This year they have expanded recruitment to also include Nigerian graduates. After completing the two years, graduates can apply to an incubator program which involves mentorship and seed financing of up to $200,000 for Sub-Saharan startups. 
Incubator fellow Emmanuel Quarty highlights the perks of having computer whizzes returning to their home country after being educated abroad. "It's the best of two worlds – local network and international experience," he says. 
Emmanuel does not consider iSpace or Hub Accra to be competitors but rather players in a mutually beneficial game of progress. 
PayPal banned in Ghana
Precious Nyarko is a MEST graduate and the CEO of PaySail – a payroll software that enables company employees to receive money directly to their mobile phones each month. 
African businesses face a lot of unique challenges, with PayPal banned in several countries and employees being paid cash over the counter. But Precious points out that there has been a big technological shift during the last 5 to 10 years, with mobile phones being used in more innovative ways. 
"A lot of the payroll solutions were created to work in Europe or the US. People were trying to bend these to suit the needs here in Ghana. We saw that that was wrong and created a new custom experience," he says. 
Property listings
Another successful MEST startup, meQasa, is a listing site for properties to buy and rent, with access to a network of trustworthy real estate agents. 
"The whole system is unstructured. There is no law deciding who becomes a real estate agent and that was a problem. We make sure customers meet the right people and don't get duped," says CEO of meQasa, Kelvin Nyame.
Why put $3 million on a plane to pay the Black Stars? 
Bitcoins to increase transparency?
"Why put $3 million on a plane to pay the Black Stars?" says Emmanuel Quarty to accentuate the high transaction fees incurred when sending money in and out of Africa. He was startled by the ludicrous method of paying Ghanaian players' bonuses during the football World Cup in Brazil. 
Remittances remain a huge problem in Africa. When Africans living abroad try to send money back home, the amounts usually carry a transaction fee of 12%. It also takes an average of 2 to 3 days for the money to be received. 
"Bitcoins have no transaction fees. It's like sending an email – instant," says Nikunj Handa, CEO of Kitiwa, who is trying to get Africans to use the decentralised digital currency. 
Each year about $32bn in remittances comes into Africa. Nikunj says that they are modest estimates and that the number is actually $69bn – "If you take people smuggling in cash with all sorts of means into account." 
"If we make it super cheap for people to send money through legal channels the government is going to have way more transparency when it comes to money laundering," he says. 
Hackathon
Meanwhile, back at iSpace the 'hack4good' competition is underway in which computer programmers, graphic designers and interface designers join forces for a full day to disentangle social problem. Josiah Eyison speaks to the enthusiastic crowd: "I'm not gonna give you the three grand today. I want to see a prototype within a given timeline, then you'll get the money."
The hopeful bunch is divided into four groups – sexual health, mental health, sex education, and streamlining health policies using technology. Decibels bounce of the walls as the group members pitch their ideas to each other. 
Kayode Radoslav Osunsanya, a Nigerian programmer, has eagerly anticipated the hackathon and thinks this sort of networking will enable him to push harder in his future ventures.
"This is a youth tech-movement coming up with fresh ideas that can make the future better, be it in Africa, be it in another place," he says.
Photo credit: Erik Hoffmann