Ones to watch: 10 social ventures fighting for gender equality
From solar powered suitcases to help women in Uganda give birth safely to high end fashion that supports victims of human trafficking, Clare Jones selects 10 social ventures that are fighting gender inequality around the world.
Last week, the UK general election was historic for a number of reasons; both Labour leader Ed Miliband and Liberal Democrat leader Nick Clegg resigned, while the Scottish Nationalist Party (SNP) celebrated a landslide victory, winning 56 of the 59 seats in Scotland. 
The election has also resulted in "a record number of women in Parliament" – with one in three MPs now female. Cathy Newman wrote in the Telegraph that while the result was "still out of kilter with the equal gender split in the country at large", it was "a big improvement on the 22% elected last time round".
She concluded: "Perhaps the message on gender parity is beginning to get through in Westminster." 
The social enterprise sector has long been a champion of gender quality – outperforming SMEs and FTSE100 companies in numerous reports on levels of diversity. Just last week Social Enterprise UK's research revealed 40% of UK social enterprises are led by women, in comparison to 18% of SMEs.
Clare Jones from impact investment company ClearlySo presents 10 leading social enterprises championing female empowerment around the world… 
From solar suitcases to Pippa Middleton's fashion favourites 
There are organisations around the globe offering sustainable interventions that help to build a better world for women. 
One of these product-based innovations is the Solar Suitcase. This is a solar energy kit that helps women in developing countries to give birth safely at night. In countries like Uganda, where there is a one in 35 risk of women dying as a result of pregnancy complications, the environmentally responsible equipment is potentially lifesaving. 
Another entrepreneur, Arunachalam Muruganantham, has created hygiene products that both promote women's health and employ them in small, community-owned factories where the products are created (you can watch his TED Talk to hear more about how he did it). 
There are also a number of businesses promoting female empowerment starting up, growing and scaling here in the UK. Some of those will be based here but have an international impact – like Aduna, a company that sells baobab based products and nutrient-dense foods and an investee of the Clearly Social Angels network, which creates sustainable livelihoods for women in sub-saharan Africa through their ethical supply chain. 
There is also Beulah London, which sells high-end fashion in order to raise awareness of and support women in India who are survivors of human trafficking (and yes, this is Pippa Middleton in a Beulah dress).
Many businesses, however, are creating social impact that is firmly rooted in UK communities. For example Who Made Your Pants offer women from disadvantaged backgrounds training and employment through selling underwear made from recycled fabric…
As well as flexible-working agency for parents, the Timewise Foundation.  
Parenting is also the name of the game for Parents 1st CIC, which offers peer support for vulnerable parents – beginning in pregnancy and continuing through childbirth and early family life. 
Looking ahead to supporting girls as they grow, The Girls' Network is a business running a mentoring scheme for girls from disadvantaged backgrounds. It connects them with women from a range of industries, providing them with networks of successful women to help end the poverty of aspiration and self-worth amongst girls in both mixed and single-sex schools.
Many enterprises also focus on inclusion; the Bristol-based Silai Centre is home to a project where isolated and disadvantaged women (particularly those from Asian backgrounds) with specialist skills in in sewing and upholstery are able to put their talents to work in a safe and supportive environment. 
At the 2015 Skoll World Forum on social entrepreneurship, Jacqueline Novogratz talked about how "it is only justice, not charity, that will end poverty". She talked about the dignity of work and how dependency is the antithesis of this, which reflects the ethos behind another UK-based enterprise: Mazi Mas. This is a pop-up restaurant that employs migrant and refugee women. Its founder Nikandre Kopcke explains that she started Mazí Mas "in part to celebrate the seminal role that women have played in keeping food cultures all over the world alive, and to preserve some of their individual culinary legacies", as well as to create sustainable employment.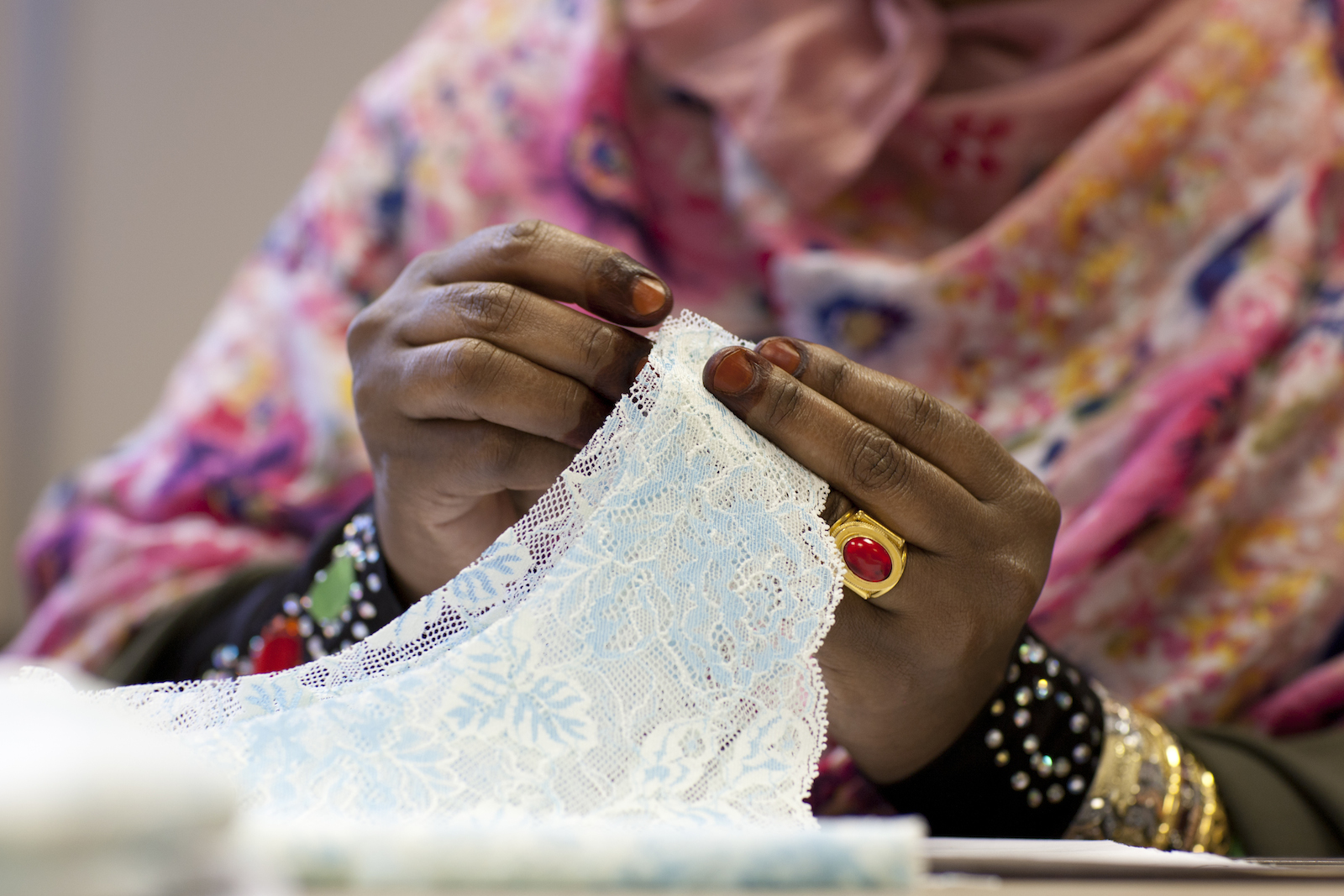 Photo credit: Who Made Your Pants 
Women empowerment is about equality and the idea of "leaving nobody behind". Of course, there are many businesses creating change for boys and men as well (such as Action Acton, which helps unemployed young black men into work).
Leaving nobody behind, then, must mean investing in innovation, in sustainable solutions that push for equality and support the most vulnerable – these businesses are just a few of the hundreds of thousands doing exactly that. 
Photo credit: Sharon Mattheson-McCutcheon