Social Labs: enabling citizens to co-create and co-design innovations
As cities grow in size and significance, they can become sites of complex social problems – but also hubs for exploring possible solutions. While every city faces distinct problems, they all share a need for innovative approaches to tackle today's challenges.
This essay is one in a series on future trends for innovative cities, written by the leading thinkers of the Mayor of Seoul's Social Innovation Global Advisory Committee. First up: Ada Wong, founder of the Make A Difference initiative and The Good Lab in Hong Kong
Mr Park Won-soon is Asia's first social innovation Mayor. In his role as Mayor, he has introduced social innovation policies to facilitate social change, bringing government closer to citizens through collaborative governance. In the last few years I have seen how the Seoul Metropolitan Government became facilitator and catalyst, giving the people of Seoul opportunities to share their views (as in participatory budgeting) and enabling social innovations to be tested (as in allowing government car parks for sharing economy and car share initiatives).
Short of having a visionary innovator as Mayor, how might other cities facilitate their citizens to participate and influence policy making? Could a small innovation that originates from people in the community become city-wide policy? Are there ways to build trust between government and civil society?
That was the starting point of my enthusiasm towards the idea of social labs. Social Labs are laboratories where one experiments with finding small, local solutions to (big) social problems. There are all kinds of social labs in the global landscape. Some call themselves design labs, change labs, digital labs or living labs, but whatever they are called, they are incubators for new solutions.
Social Labs are anchored in neighbourhoods with real people, real stories and real issues
In 2016, the non-profit Make A Difference (MaD) Institute decided to form a community-driven public sector innovation lab with a grant from the Hong Kong Jockey Club Charities Trust. Three years later, we have knocked on the doors of three government departments and completed three labs (on innovations for better public libraries, parks and public space, and more walkable and healthier streets), and are preparing for the fourth one (on modernisation of markets). These Social Labs are anchored in neighbourhoods with real people, real stories and real issues.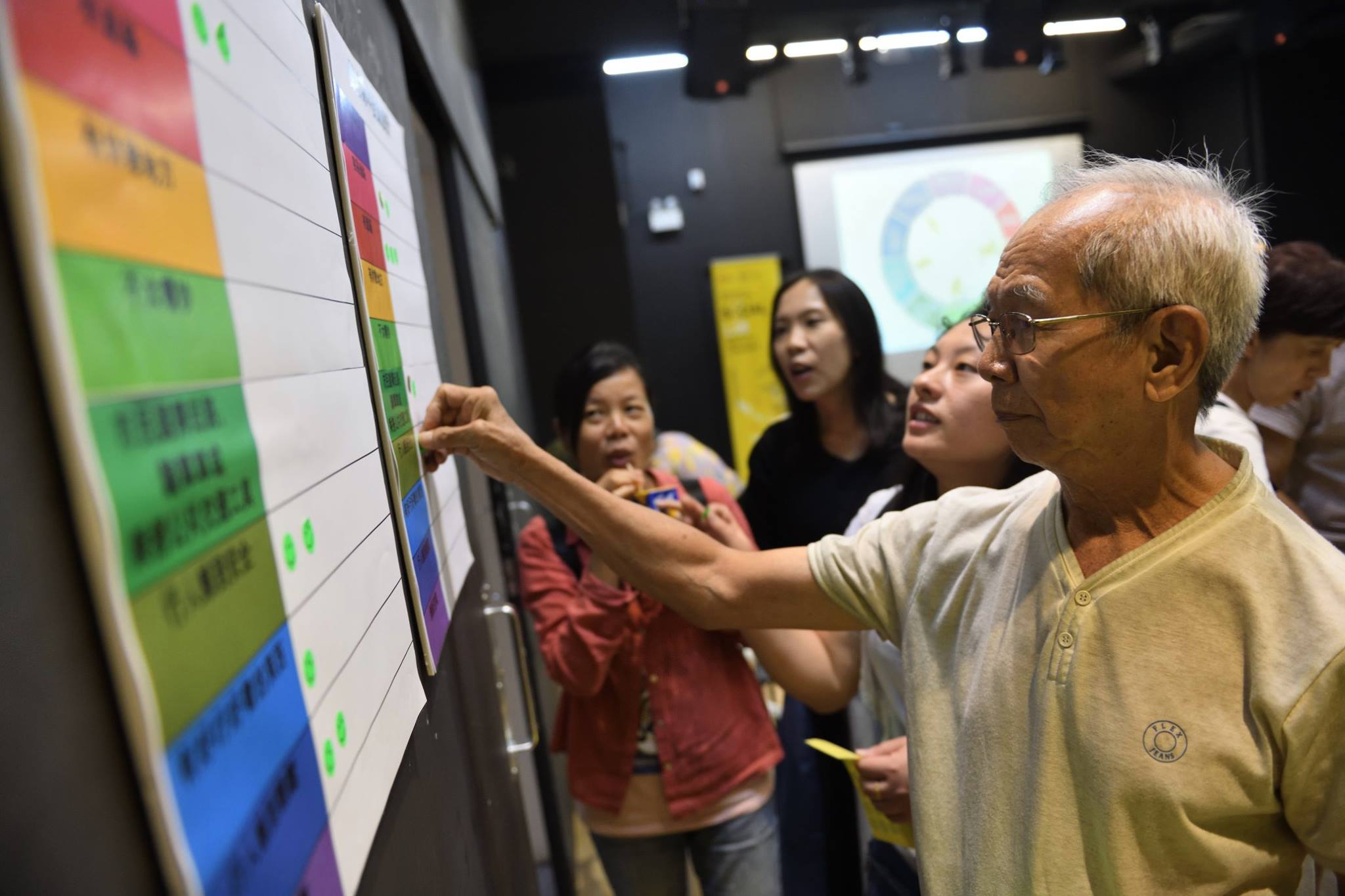 Above: A Healthy Street Social Lab in Hong Kong. Having talked to community residents about how walkable and safe the neighbourhood is, the lab team produced a few prototypes, and then invited residents to come and vote – using green dots – for those they found most relevant and interesting. Photo credit: Make a Difference Institute
At each Social Lab, the lab team works with citizens closely to find out where challenges lie and experiment with alternative scenarios, and to come up with services and policy recommendations. As the MaD Social Lab is not steered from within government, insights gained and recommendations need more advocacy before adoption. On the other hand, the MaD Social Lab has been more successful as a platform for citizen-government collaborations where small scale prototypes could be experimented on. While social labs around the world might have more immediate outcomes and policy change, the MaD Social Lab could be seen as a process innovator, enabling citizens to co-create and co-design new services and policies with government to respond to different challenges.
As a prototype before the launch of the MaD Social Lab, we experimented with a one-week 'Lab Sprint' in 2015 with Kennisland, an Amsterdam-based think-and-do-tank which runs social labs in the Netherlands, as our lab partner. We explored issues faced by the homeless and elderly communities in a grassroots community in Hong Kong. We openly recruited our lab team of 30+ young people and the feedback was overwhelming – it was over-subscribed within a few days by young people from diverse backgrounds, all eager for new ways to contribute and be engaged. During the one-week Lab Sprint, lab team members worked day and night, made interesting discoveries and prototyped workable community initiatives. We felt there was thirst for platforms that encourage participation and empathy.
There was thirst for platforms that encourage participation and empathy
Our next surprise was the enthusiasm of participating civil servants during the three Social Labs. I witnessed how the social lab experience gradually changed them from being reluctant team members (as they were identified by their seniors to join the Social Lab) to appreciating the story collection and prototyping process of a social lab. One senior librarian remarked, "I have been working in libraries for a long time, and at work I talk directly with the public all the time. But those communications tend to be formal and direct, with many complaints. In contrast, Social Lab collects in-depth stories. I got to sit and talk with neighbourhood folks, and take the initiative to understand their inner thoughts and feelings about the library. That was very different from our usual form of engaging with readers."
Most social labs, including ours, prioritise people's stories over dry statistical data to better sense the urgency for action and reinstate an empathetic dimension to policy-making. We see this as a big takeaway for civil servants to see beyond data.
Public sector innovation is often seen as daunting and not easy to sustain. Social labs offer one way of overcoming the innovation barrier as they provide a safe space for experimentation and for failure. This safe environment is a co-created hybrid space, so when the prototypes did not work well, there is also a safe distance between the failed experiment and the relevant government office.
To reiterate, innovative cities need innovative ways for sustainable collaborative governance, like what Mayor Park has done for Seoul. Social labs are by nature pro-innovation; they are also temporary and will dissolve after a short lab period. Perhaps it is the limited time and space on this platform that has enabled more trust to develop, for citizens and civil servants to work, learn and experiment together.
This essay is one of a series curated by the Social Innovation Exchange (SIX) and made possible with the support of the Seoul Metropolitan Government. It is republished here with their permission. 
Photos: Hong Kong street, by Thomas Patrick on Unsplash