Ladies who lunch: "I can push beyond my own glass ceilings"
It's 2020 and we're back with more Skype lunches with leading women in social enterprise. Kicking off the new year is Andrea Gamson from _SocialStarters, who took home the 2019 WISE100 award for Women's Champion. The co-founder discusses a life-changing experience in Thailand, how 'monk days' can help mental health, and plugging the skills gap in social enterprise.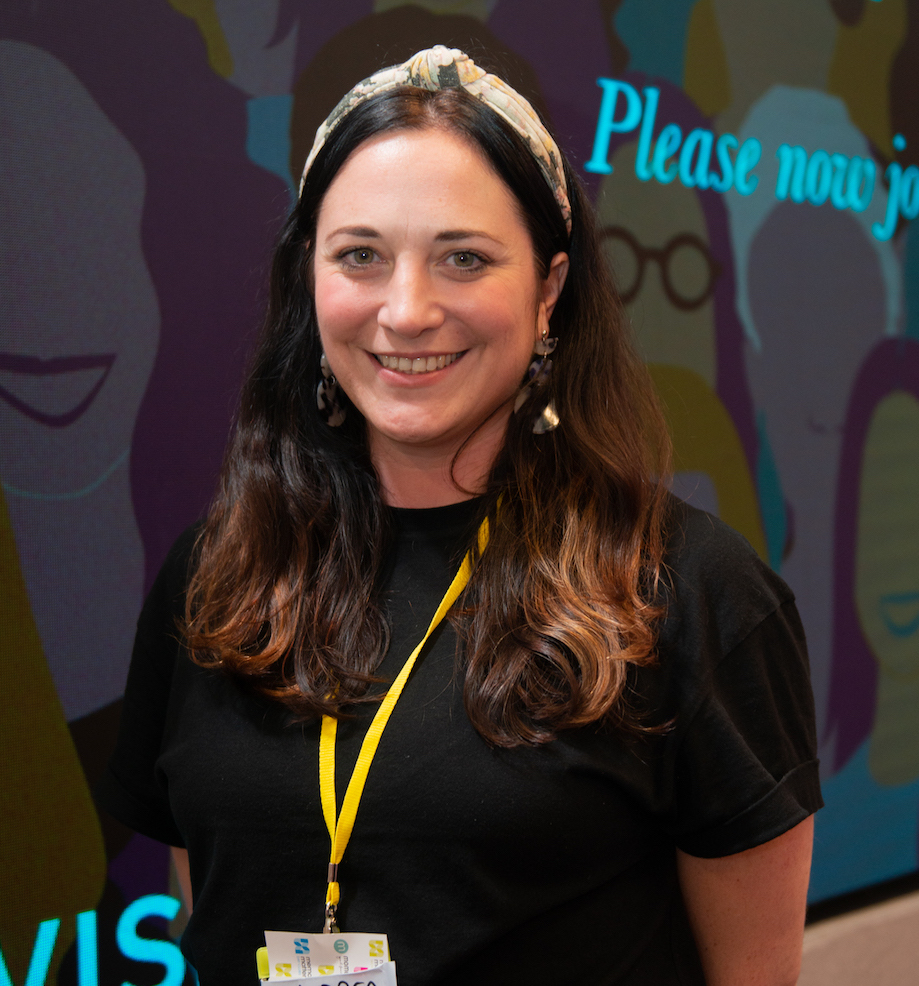 In 2004, Andrea Gamson was aged 24 and on her first career break, when she woke up one morning in Ko Lanta, Thailand, to the tsunami "rolling past [her] hut". 
"Life was never the same after that moment. It changes you, when you survive something like that and so many people don't. You literally feel compelled to do something that matters."
Triggered by one of the largest earthquakes ever recorded, the tsunami was a disaster on a scale that's barely imaginable; about 228,000 people died.
It's a heavy topic to accompany our lunch conversation, which we're having over Skype on a chilly December morning. Andrea is calling in from her home in Deptford, south east London, having just heated up her homemade soup (as had I) – in an effort to counteract the pre-Christmas gorging.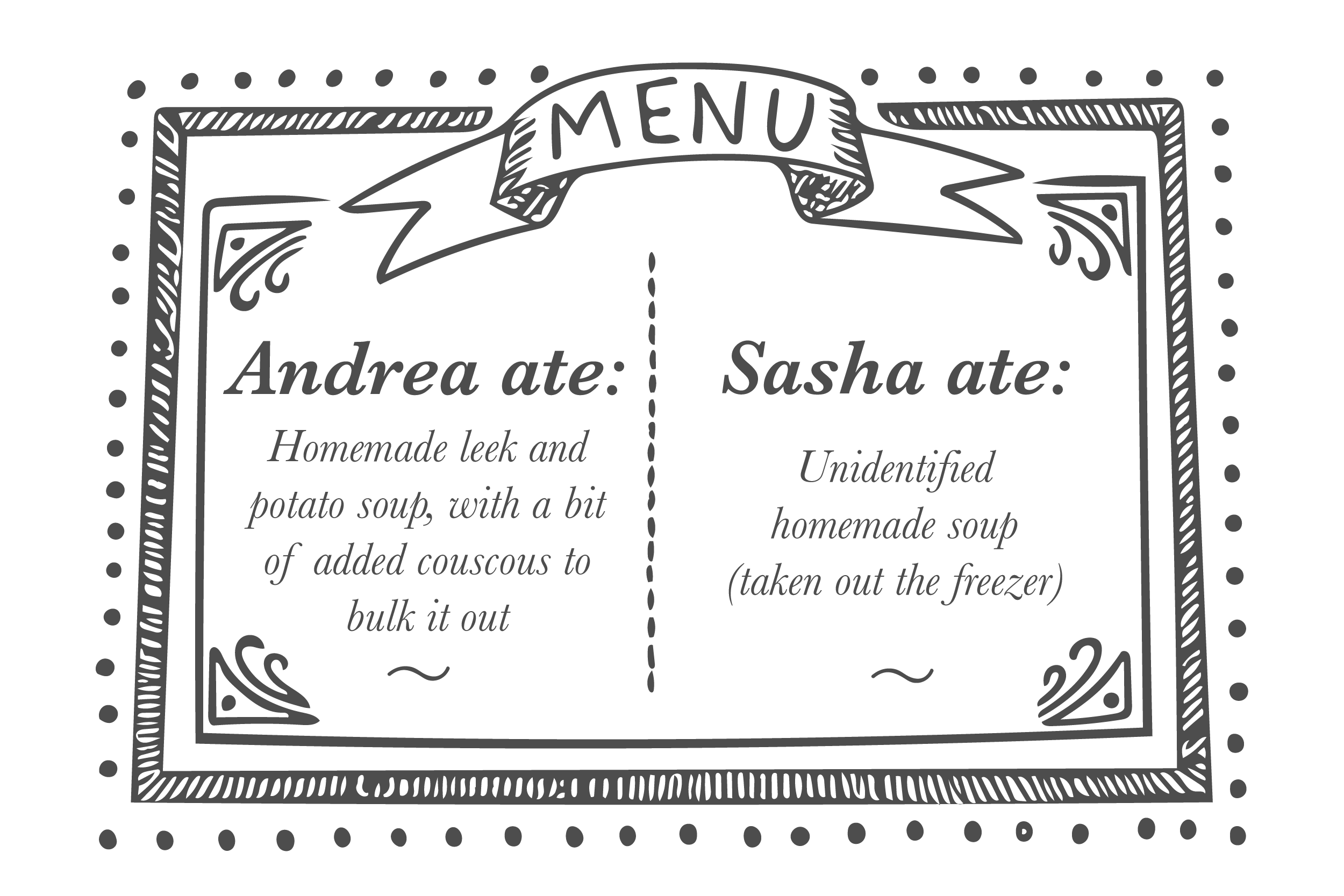 The experience in Thailand was a wake-up call, Andrea tells me. She had previously been working in advertising, which she loved, but felt as though she "fell into it and got stuck". She eventually quit her job in mainstream advertising, moving to youth-led creative agency Livity while also mentoring prisoners in Brixton with New Bridge Foundation.
Ten years after the tsunami, following a string of experiences working in rehabilitation, social enterprise consultancy and voluntary roles, Andrea found herself in Kenya in 2014, meeting and sharing skills with social entrepreneurs (though many of them wouldn't have used this term to describe themselves). The project turned into _SocialStarters, and by 2016, with co-founder Anna Moran, the pair had launched 15 six-week accelerator programmes in Kenya, India, Sri Lanka and Brazil, matching local grassroots social entrepreneurs with volunteers with the skills to support them. 
More recently, the focus has been on supporting businesses closer to home.
"The last few years have been a period of testing and experimenting – how can we take our overseas experience to our own home turf? It felt remiss of us not to test our model here," explains Andrea.
Today, _SocialStarters matches UK-based business professionals with social entrepreneurs who need business support. The programme runs twice a year, each time matching 15 social enterprises with 15 highly-skilled volunteers over an eight week period, completing specific assignments linked to the social enterprises' most pressing business challenges.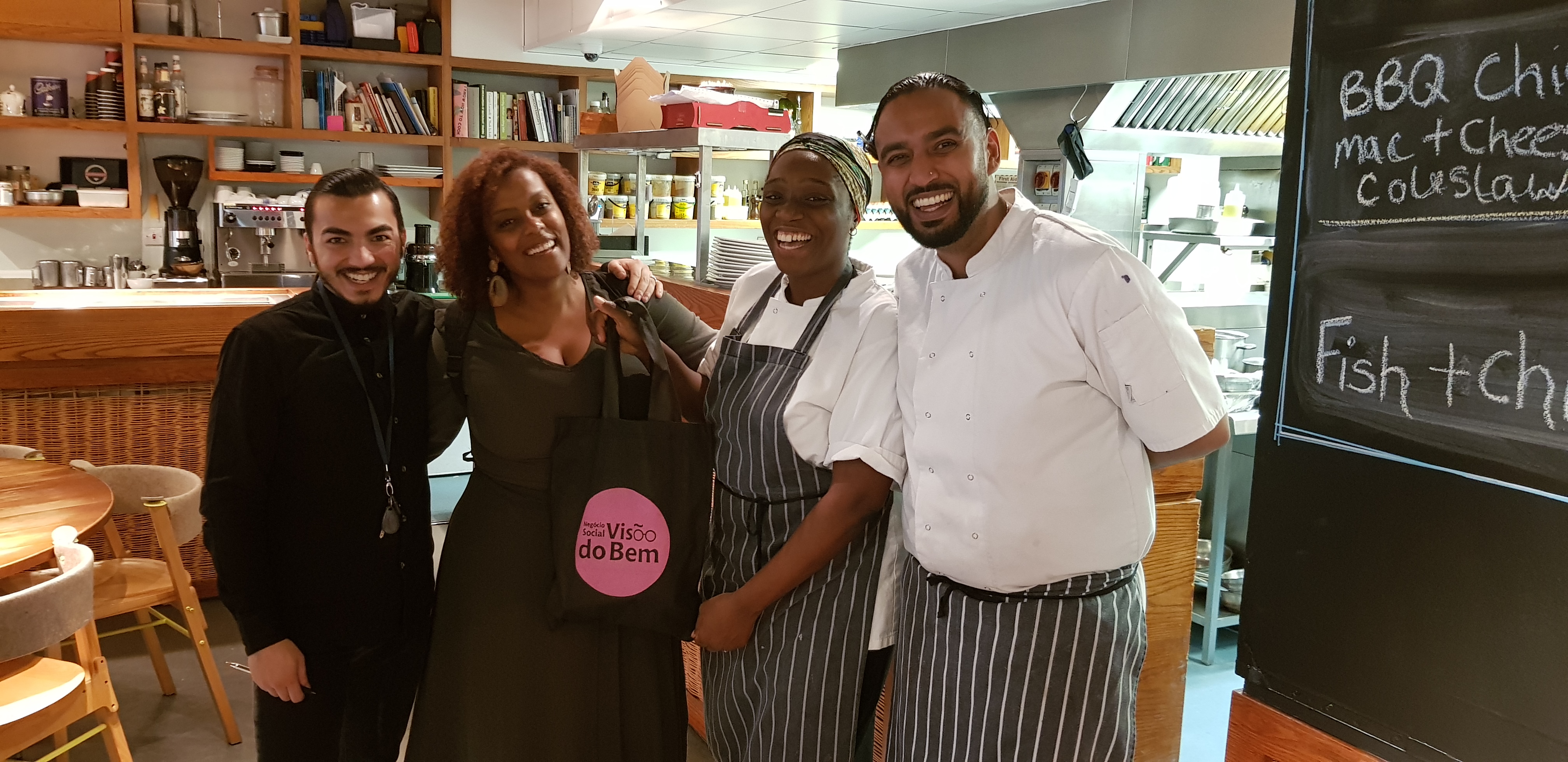 Above: Ana Lúcia Barbosa Santos (second from left), from Rio de Janeiro's Vision of Good, which gives subsidised eye glasses and vision tests to low-income families, meets staff from Shoreditch Trust's Waterhouse Restaurant (which employs young people facing personal challenges), as part of an exchange programme within the Women's Impact Network (Rede Impacta Mulher). The network is run by _SocialStarters and Brazilian NGO Asplande, with support from the British Council's DICE programme.
The clever thing about _SocialStarters, explains Andrea, is that it's a win-win situation. The volunteers typically work in the corporate sector but are looking to transition into the social space. Most have between 10 and 20 years experience in marketing, operations or finance careers; volunteer alumni include the ex-managing director of Renault UK as well as directors from Google. For them, it's "a unique opportunity to sit alongside a social entrepreneur, and learn about social enterprise from the inside". 
Social entrepreneurs, meanwhile, get access to "highly specialised and often unaffordable senior business experts" who can "plug a skills gap" in their organisation – often at a critical time in terms of its growth. 
So far, _SocialStarters has supported almost 450 social entrepreneurs and enterprises across six countries, and placed nearly 400 consultants and mentors with social enterprises, non-profits, NGOs, social purpose organisations and businesses.
But how does the business model work? That, says Andrea, is "the audacious part": both the professional volunteers and the social entrepreneurs pay to join the programme (the UK fee for professionals is £1,280; for social enterprises it's £3,160, which SocialStarters says results in at least £8,100 worth of consultancy time). As of December 2019, _SocialStarters was just breaking even, but Andrea is speaking to different partners, hoping to start making the programmes profitable. 
Knowing when to stop
Leadership has brought its own lessons for the co-founder. In 2012, the pressure of work almost had her at breaking point, when her boss at Livity, the youth marketing agency where she was working at the time, suggested that she go on a meditation course. "I was blown away by how profound it was for me," recalls Andrea. "It was the beginning of my journey to realising that I don't need to be trapped by thoughts, that I can push beyond my own glass ceilings and the limitations that I'd created."
It was the beginning of my journey to realising that I don't need to be trapped by thoughts
Andrea took this experience and applied it to the way that she runs _SocialStarters. Her team are all entitled to take an unlimited number of 'monk days' – the "evolution of the duvet day" where employees can take the day off work if they're having a difficult time with their mental health. But it's hard to truly relax when taking some time out, she admits. "There's this weird feeling of guilt… but [instead] we should feel proud of ourselves!" On the Tuesday we speak, at least, she seems to be putting it into practice, though: with a spare hour that morning, she decided to watch a Christmas movie. 
Understanding how her mind works (and what it needs to be looked after) actually boosts productivity, she tells me. "When I've got a deep piece of thinking to do, I create a ritual around it. I create a serene environment – it's hard to get there, you can't just dive into that zone". This involves choosing the right sort of music, making a large pot of tea, and warning people that she's "going dark".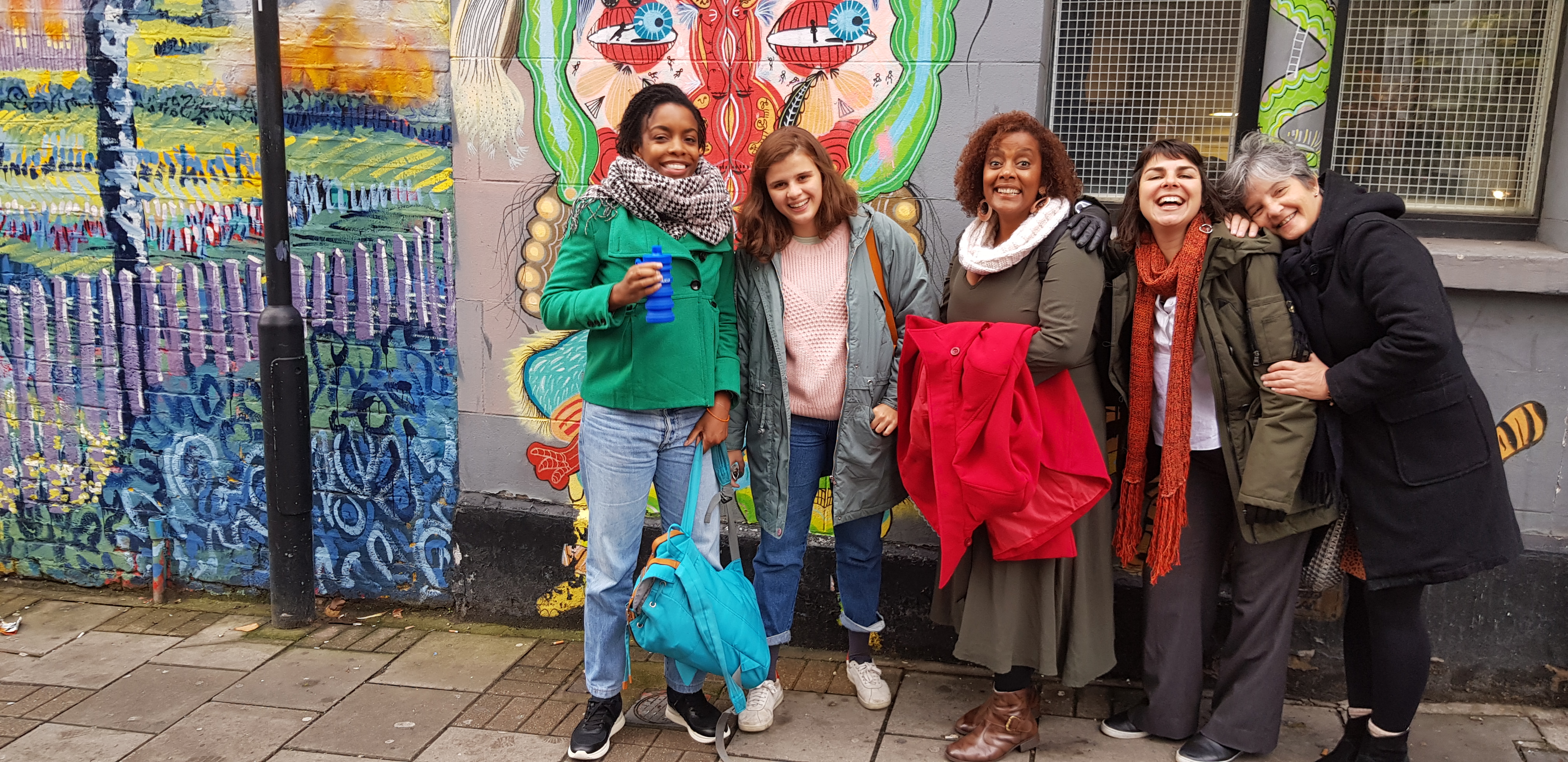 Above: Participants of the Women's Impact Network incubator programme during their visit to London in late 2019.
Perhaps this is easier when you work remotely? "When I worked in an office environment I'd take fewer lunch breaks… When I'm working from home I can cook," says Andrea, who is now mid-way through her homemade leek and potato soup. "I've got better at earmarking that time, I'll often read a book or catch up with the news, or put my washing on!"
Making time for breaks doesn't seem to be negatively impacting her business. As well as managing the corporate volunteering programmes, the organisation also delivers a range of social enterprise support programmes with the aim of building skills and capacity in social impact ventures. One of these, in Sri Lanka, is partnering with the British Council and local NGOs, "working in rural areas where enterprises are demonstrating traits of being socially or environmentally impactful". Their incubator programme in Brazil focuses solely on women, helping them transition and develop their impact by putting frameworks and structures around what they're doing. By June this year, it will have supported 60 female entrepreneurs from favelas in Rio De Janeiro. 
The focus on women is intentional: 73% of participants on _SocialStarters' volunteer consulting programmes are women. Despite her WISE100 award, Andrea says she "never set out to be a champion of women". Still, she says, it feels natural to want to "redress gender inequality in business, because it shouldn't exist". Things are looking up in that respect, she says, but "women still have to put up with a lot of corporate bullshit, especially when they have children". 
Women still have to put up with a lot of corporate bullshit, especially when they have children
So where do we go from here? "Investment targeted to women and, with that, more investors who are female," she replies. More generally, she says she'd like to see "entrepreneurship and leadership taught in all schools, and every corporate firm providing pro bono mentors."
An ambitious goal for change. Andrea's goals for _SocialStarters are ambitious too. Her vision is to build on the work they've been doing in Sri Lanka (and Brazil prior to that), to support NGOs to deliver social enterprise programmes in countries that don't have a lot of support. She's realistic about the future, though: "a plan is just a plan, but it's good to set intentions". 
For Andrea, social enterprise is the only way forward. "Getting out of a non-profit mindset into a commercially-driven one" is key, she says. And not just for reasons of financial sustainability: "Social enterprise gives all people a safe place to thrive and be the person they want to be... There's something so refreshing about that." 
 
Key figures: _SocialStarters
Year founded: 2014
Legal structure: Company limited by shares; currently also setting up a non-profit entity 
What it does: Builds skills and capacity in social enterprises so they can do business better and make more impact
Primary business market/audience: Social enterprises / ethical businesses; corporates; civil / social sector
Business model: Hybrid - a mix of consulting fees, programme delivery contracts and grant funding
Region: UK, international (currently Brazil and Sri Lanka)
Annual turnover: £104,000 (2019)
Key social impact metrics: 440 social enterprises supported; 388 professionals matched; $1.6m in pro and low bono consultancy time unlocked
Header photo: _SocialStarters & Asplande's Social Impact Incubator 2019/20 cohort. (Portrait photo by Pioneers Post; all other photo credits: _SocialStarters).