From Rio to London: Brazilian female social entrepreneurs meet their UK counterparts
Brazil's coastal city Rio de Janeiro might seem worlds apart from the UK's London borough of Hackney. But both are home to a growing number of social enterprises – and many of them are run by women. On a recent visit to east London, three female Brazilian visitors are inspired by British women's work in social enterprise.
With 41% of UK social enterprises led by women, and more than half having a majority female workforce, it might be easy to think that social business is successfully taking on UN Sustainable Development Goal number 5: "to achieve gender equality and empower all women and girls."
But globally, women are still marginalised – and social enterprise reflects it. A 2017 study by the British Council of women in Brazil, India, Pakistan, the UK and the USA found the gender pay gap in social enterprise was 24%, the same as the global average, with 46% of women saying they came across barriers in running their social business due to their gender. These include greater demands from family life, less access to finance, fewer women role models, and greater prejudice and discrimination. 
Last November Pioneers Post met three Brazilian women social entrepreneurs taking on these challenges, while also tackling specific social issues within their own communities.   
People don't take me seriously because I'm a woman
"People see me like, 'ah, she's just playing with a social project'. They don't take me seriously because I'm a woman," says Ivi Felix, whose market in the industrial outskirts of Rio de Janeiro, Mantiquira, provides a platform for 60 local artisans to sell products including tropical fruit, cakes, and handcrafts. It is also used as a space for creative groups and artists to showcase their work, and Felix hopes it will bring back a sense of community to a neighbourhood in danger of being dominated by large supermarket chains.
Pioneers Post met Felix during a week-long exchange trip to London as part of Rede Impacta Mulher (the Women's Impact Network), a business incubator programme that she has been a part of for the past year. The programme is run by UK social enterprise incubator _SocialStarters in partnership with Brazilian NGO Asplande, and is supported by the British Council's DICE programme.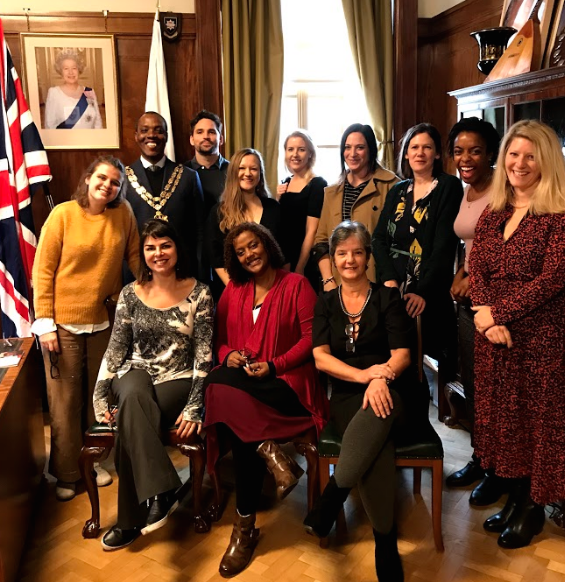 Tackling the 'triple burden' of race, gender and poverty
The business incubator programme provides everything from marketing and finance advice, to networking opportunities for social entrepreneurs in favelas or the underprivileged suburbs known as periferias in Rio who face the "triple burden" of race, gender and poverty. It has so far supported 60 women in Rio – including Felix – who says, for the first time, it has enabled her to understand that "what I am doing is a social enterprise".
During the exchange, three women from the programme had the chance to meet representatives from social enterprise learning programmes Year Here and Social Ark, social business support body Allia, and Hackney Cooperative Developments, which provides office space and business support to organisations based in Hackney, London. They also travelled to Bournemouth University to take part in a Women in Entrepreneurship conference as part of Global Entrepreneurship Week, where they met Sukanya Ayatakshi Endow, a senior lecturer in entrepreneurship. The aim was to exchange entrepreneurial skills and knowledge between grassroots female entrepreneurs from different parts of the world.
Ana Lúcia Barbosa Santos, another entrepreneur on the exchange, was struck by the similarity between social problems in the UK and Brazil after meeting people like Cat Whitehouse and Bella Rodriguez of London's Waterhouse restaurant, which provides catering training for young people who have faced personal challenges such as mental health issues and homelessness. 
Inspiration to keep moving forward
But, says Barbosa Santos, "I am amazed at all of the entrepreneurs coming up with a different type of solution to solve them here." The trip has inspired her to keep working hard at Vision of Good, her social enterprise which provides subsidised eye care to low income families in the favelas of Rio, and has supported 4,200 people in its first two years. 
Much of the exchange was based in East London's Hackney, which in November was named a 'Social Enterprise Borough' by Social Enterprise UK, the UK's representative body for social enterprises. And when Pioneers Post met the group, they were just about to speak about the successes of their social enterprises so far to attendees at Hackney's Social Enterprise conference, which gathered together a room full of some of the borough's 350 social entrepreneurs. 
Often the social entrepreneurs don't recognise themselves as such, they see it as an elite label that doesn't apply to them
Jiselle Steele, senior project lead at _SocialStarters, sees many similarities for women social entrepreneurs in London and Rio. As well as sharing an Olympic legacy, she says, the difference between "people who are doing well and those who aren't" is very significant in both cities – though perhaps more visible in Rio. 
"I also think there's a lack of recognition for social enterprise that's happening in both," she adds. "Often the social entrepreneurs don't recognise themselves as such, they see it as an elite label that doesn't apply to them – but they're the ones doing the grassroots work." 
However, Steele says: "In both Hackney and Rio, it's incredible to see what women social entrepreneurs are able to achieve in the face of barriers, including extra family pressures, domestic violence, and patriarchal attitudes towards women in business."
"Pain is universal, it's not a Brazil thing," adds Clarisse Seixas – whose social enterprise MIMOS provides natural and sustainable cosmetic and hygiene products, and trains women from Rio favelas to make the products for their own communities. "But I'm mesmerised by the inspiring women here in the UK taking on these challenges using social enterprise."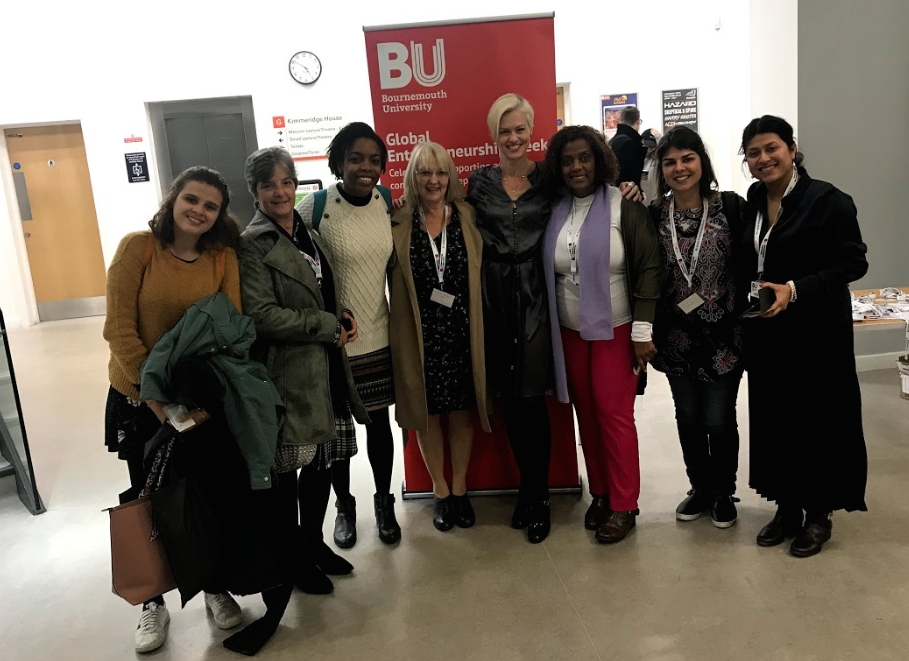 Header image: A social enterprise tour of Hackney. From left to right: Jiselle Steele of _SocialStarters, Alice Bastos of Asplande, and the Brazilian social entreprenuers: Ana Lúcia Barbosa Santos, Ivi Felix, and Clarice Seixas