SKOLL 2021: 'Climate is a people problem'
Gina McCarthy, Mary Robinson and other leading women in the fight against climate change emphasise at the Skoll World Forum that scientific solutions alone are not enough – people's needs must be considered too.
There is no solution to climate change that doesn't involve tackling social inequalities and injustice, according to a panel of women leaders speaking at the Skoll World Forum 2021 on Tuesday.
The climate crisis intersects with social issues, and tackling it needs to take into account people's needs as well as the science, delegates heard at the online event which runs between 13 and 15 April.
"We're recognising the intersectionality that climate is not a planetary problem, it is a people problem," said Gina McCarthy (pictured), who is currently the White House's first national climate advisor under US president Joe Biden, and who led the US Environmental Protection Agency during president Barack Obama's administration.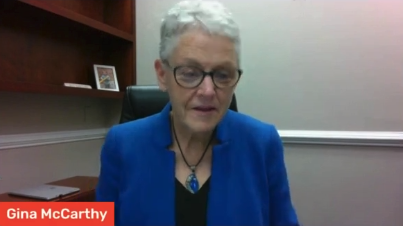 "And in order to solve it, you can't simply just look at how best to reduce greenhouse gas emissions, without being cognisant that people need to have good jobs, people need to make a significant amount of money in order to live well. And they deserve that opportunity."
Her comments echo the Biden administration's strategy to act on climate change (he recommitted the US to the Paris Agreement hours after being sworn in as president), while focussing much of his American Rescue Plan – a stimulus bill to help the country recover from the Covid-19 fallout – on supporting disadvantaged communities.
We're recognising the intersectionality that climate is not a planetary problem, it is a people problem
Disadvantaged communities, in the US and around the globe, were bearing the brunt of climate change, while lacking the resources to address it, something that had a major impact on communities of colour, Gloria Walton (pictured), president and CEO of The Solutions Project, said. The Solutions Project is an organisation that aims to accelerate the transition to clean energy by supporting grassroots climate changemakers and innovators through grants, networking media exposure.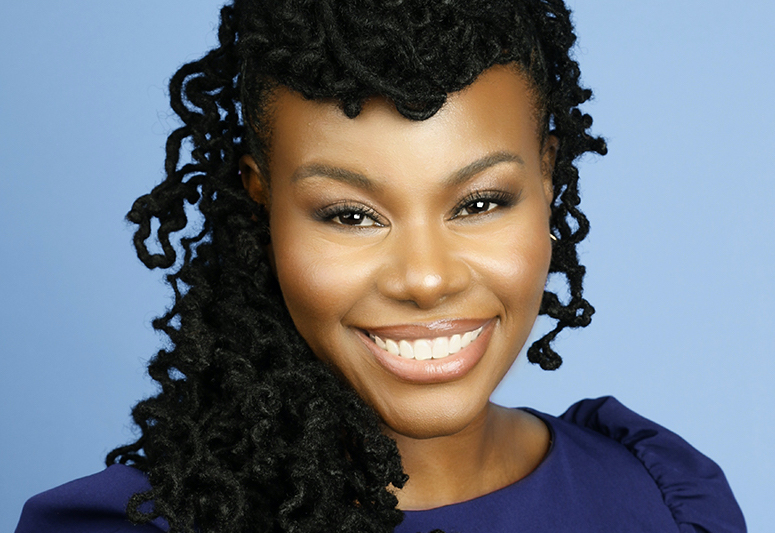 "Yes, this is about racism," she said. "It's the very same communities that are disproportionately impacted by environmental degradation and state violence today, that are the same red line communities of yesterday," she added, referring to 'redlining', a US housing policy in the 1930s that prevented inhabitants of African-American neighbourhoods from accessing mortgages.
"Decisions were made to create messed up conditions, decisions were made to disinvest and under-invest in these communities, and violence and harm was exercised against these communities." 
Her organisation creates "intersectional climate solutions rooted in racial justice", by providing grant funding to organisations led by, and serving, black people, indigenous people, immigrants, women and other people of colour. Being at the frontline of inequalities and of the climate crisis, these people were also the ones able to provide solutions, given the right support. They were "at the forefront of replicable models and transformative climate solutions", she added.
Mary Robinson, chair of The Elders, former chair of the Council of Women World Leaders and previous president of Ireland, said: "Climate change affects the poorest countries, the poorest communities, small island states, indigenous peoples. They have an existential experience that the richer parts of the world are only beginning to now find." 
Meanwhile, developing countries "want to go green, but they're not getting the technology", she said. "It's expensive to go green, you've got to have the technology, the training, the skills. We haven't shown enough solidarity to let them go as green as they would like to." 
We haven't shown enough solidarity to let [developing countries] go as green as they would like to
Among a number of other leading roles, Robinson was the UN Secretary General's Special Envoy on Climate Change leading up to the Paris Agreement in 2015, and has published a book, Climate Justice – Hope, Resilience and the Fight for a Sustainable Future, in 2018. She also set up the Mary Robinson Foundation – Climate Justice, which operated between 2010 and 2019.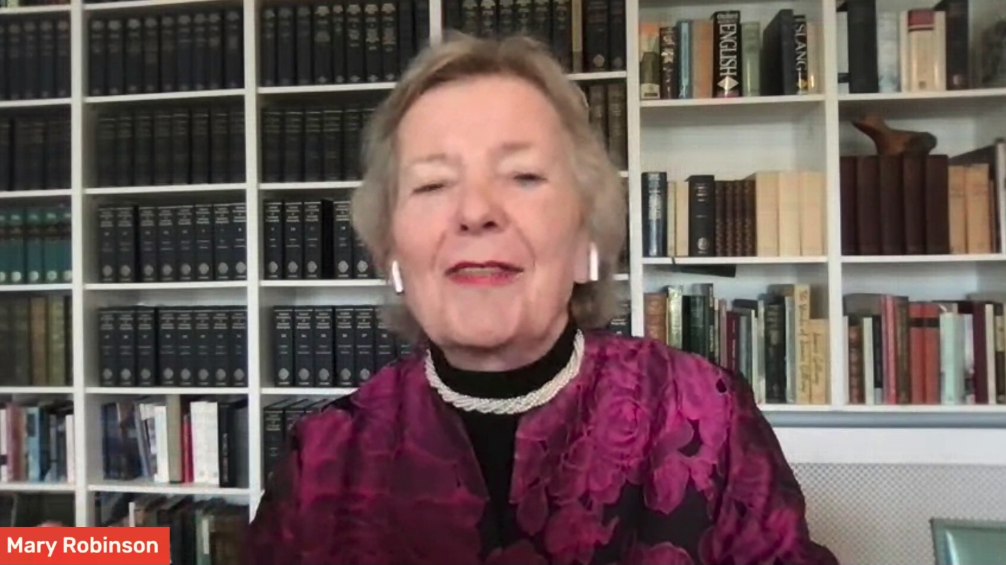 Robinson (pictured) shared her experience at the 2009 UN climate conference in Copenhagen – which was considered a failure as states failed to come to a meaningful agreement. "We realised that the climate discussions were far too technical...talking about emissions reduction, scientific, nothing about people," she said. 
The following year, a network of women leaders on gender and climate – the Troika+ of Women Leaders on Gender and Climate Change – was formed, which brought to the conference the "international frontline voices" of women who spoke from their experience in disadvantaged communities. "The delegates, who were mainly technicians, of countries fighting their corner, were absolutely bowled over by this reality that has been spoken around the table by these women." 
Xiye Bastida, climate activist with Fridays for the Future (a movement started by Greta Thunberg where young people stage 'school strikes for climate' every Friday), who lives in New York but was born and raised in Mexico as part of the Otomi-Toltec indigenous peoples, said fighting climate change required us to go back to our roots as human beings and our connection to the planet. 
"If we don't have that reciprocity and love for Mother Earth, we can't really move forward with solutions that are disconnected from what we're supposed to be connected to," she said.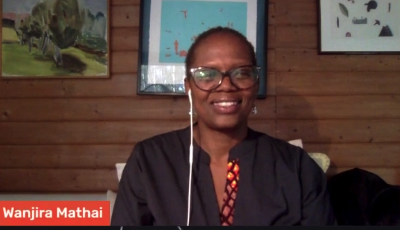 Wanjira Mathai (pictured), vice president and regional director for Africa at World Resources Institute, a non-profit organisation that promotes environmental sustainability and economic opportunity, said that putting resources in the hands of local leaders who know what's best for their communities was the key to enable them to address climate injustice and "build the necessary resilience to overcome not only the climate crisis, but all manner of shocks that are part of the planetary boundaries that we are crashing through at the moment". 
"One of the things that we need to commit to, really seriously, is investing in local leadership, because that is where the action will be. And those are the people [who] will lead the change at the local level – and that's where it happens.
"I really love this concept, that climate change is about people," she said. "It is about people, but it's about cracking through greed, selfishness, and apathy."
Top picture: Flood damage in Manila, Philippines 2012. Credit: AusAID on Flickr.
Thanks for reading Pioneers Post. As an entrepreneur or investor yourself, you'll know that producing quality work doesn't come free. We rely on our subscribers to sustain our journalism – so if you think it's worth having an independent, specialist media platform that covers social enterprise stories, please consider subscribing. You'll also be buying social: Pioneers Post is a social enterprise itself, reinvesting all our profits into helping you do good business, better.